We recently attended Superzoo, a pet industry trade show where all the newest products are showcased, in search of the coolest, cutest, and most innovative finds for felines.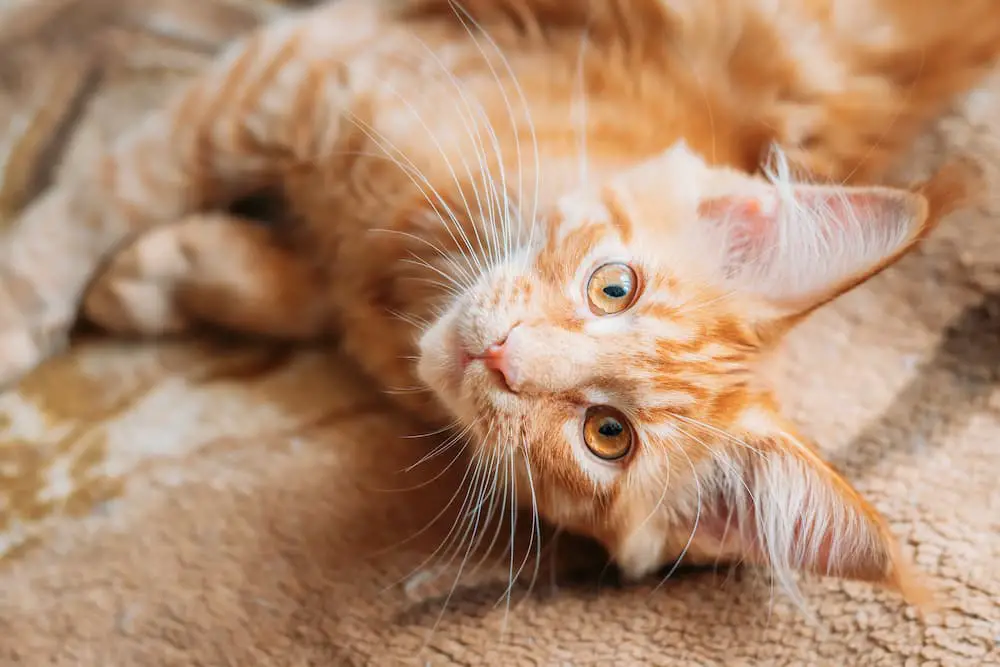 After perusing hundreds of booths, we've rounded up our 8 favorite new products for cats and cat lovers. From innovative new toys to gadgets and gizmos that make life with cats easier, there's sure to be something on this list that your feline friend will love. So without further ado, here are the 8 coolest new products for cats and cat lovers – just in time to begin your holiday shopping!
The Catington Post is reader-supported. That means, if you make a purchase through links on our site, we may earn an affiliate commission. All images and names which are not the property of The Catington Post are the property of their respective owners.
1. Finally, an exercise wheel that doesn't take up so much space!
We've all seen the (very cool, but very large) exercise wheels for cats that require about 5′ of empty floor space. These wheels are amazing for multi-cat homes and cats, like Bengals, that need to run, run, run. But, they've traditionally been a little too large and a little too cumbersome for the average cat—until now.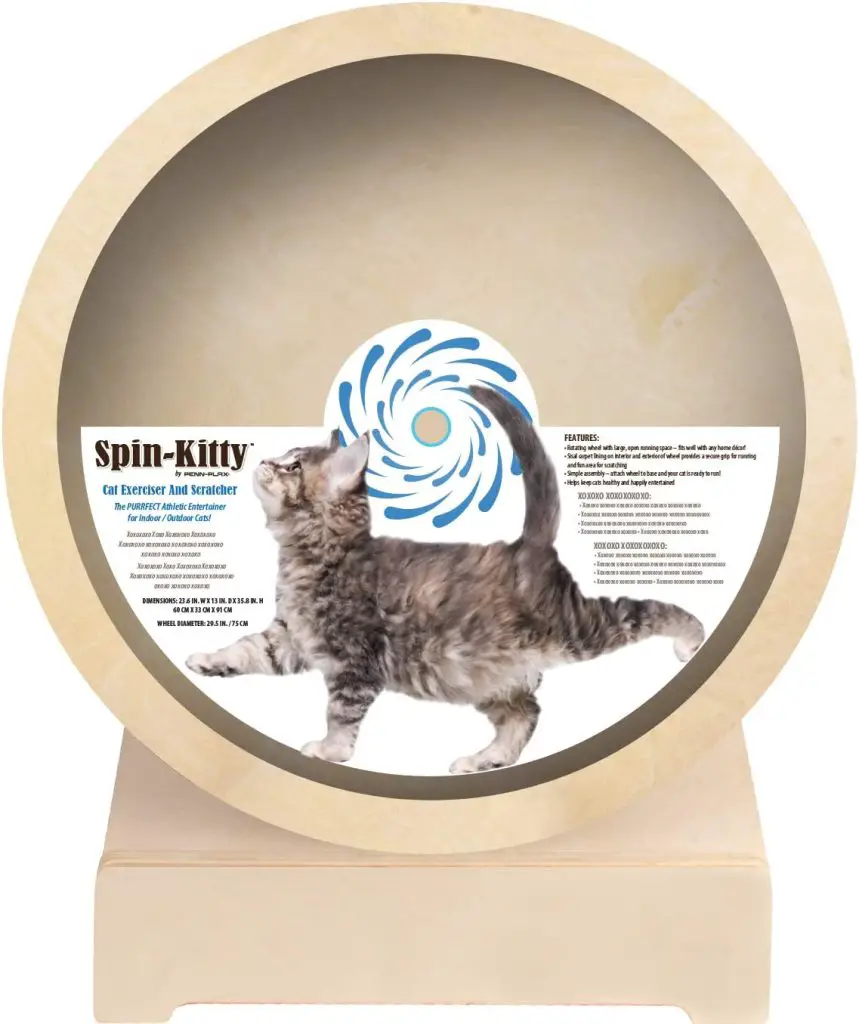 The Spin Kitty™ Cat Exerciser & Scratcher by Penn-Plax is a sturdy rotating wheel that provides ample space for running, without taking up so much space in your home. Plus, because it's lined with sisal and carpet both inside and out, it provides a secure grip for running and areas for stretching and scratching. (There's also a slightly smaller version of this wheel attached to a cat tree—genius!)
2. A supplement made to support your aging cat's cognitive brain health!
With a couple of cats entering their golden years at home, we were thrilled to see one of our favorite supplement companies, Super Snouts, had released a new product made especially for seniors.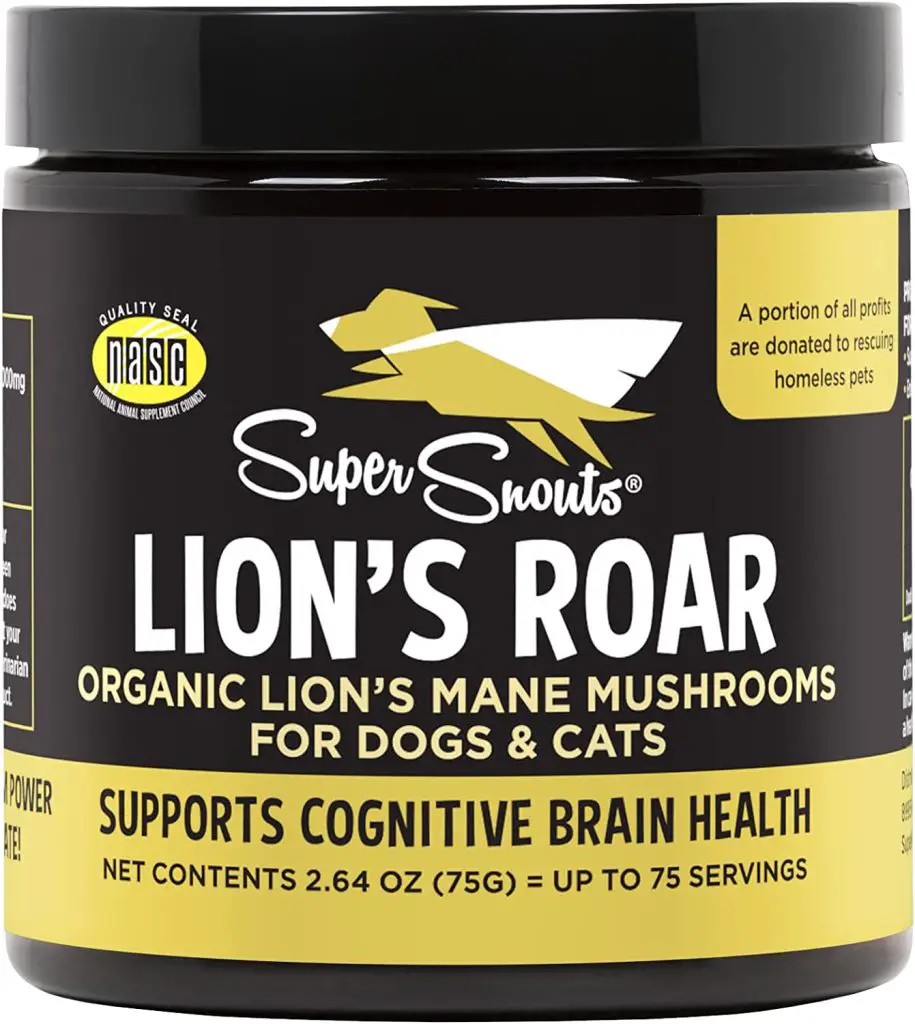 Super Snouts™ Lion's Roar is a cognitive brain health supplement for cats (or dogs) made with organic Lion's Mane mushrooms which have been shown to support mental clarity, focus, and memory health in both humans and animals. Lion's Mane contain bioactive compounds that have the ability to maintain protective enzymes and support a decrease in oxidative stress. Plus, the mushrooms contain two special compounds that may even promote the growth of brain cells.
3. A solution to everything you hate about the litter box!
Unless you've toilet trained your cat, there's a good chance you've lamented about the litter box a time or two. They're smelly, they're messy, they take up too much room, or the cat shovels litter out of the box then tracks it through the house… But now—there's a solution. (Do you also hearing angels singing?)
Privy Kitty is a wall-mounted outhouse for your indoor cat. This genius invention lets you keep kitty safely inside while she does her business outside. It takes up no space inside your home and keeps odor, litter, dust, and mess conveniently outside. Unless you're a skilled handyperson, you'll likely need a contractor for installation—the process is no more involved than adding a dryer vent or wall-mounted doggy door, and the rewards will be well worth the effort! Learn more at privykitty.com.
4. An easy and accurate way to take your cat's temperature.
This was a product we'd been eagerly awaiting since seeing the prototype a year ago. Anyone that's had a sick kitty knows exactly how unpleasant to take your cat's temperature—for you AND for your cat! Now, there's a better, easier, fear-free, pain-free way to get an accurate reading of your cat's temperature WITHOUT a rectal thermometer (yay!)
The Mella Home Thermometer is the first thermometer ever to accurately measure your pets' temperature under the foreleg (a.k.a. – in your cat's armpit!). Since it's so fast (you get an accurate temperature reading in about 15-seconds), easy, and fear-free, pet owners can better monitor their cat or dog's health with regular temperature readings at home and track temperature readings —and changes— in the accompanying Mella Health App. Visit www.mella.ai to learn more about the Mella Home Thermometer and some other exciting health monitoring solutions for pet parents coming soon.
5. OMG. There's a Squishmallows cat bed!?
Yep, you heard that right. The squishy, soft, colorful pillow pets that have taken the world by storm have taken on a new shape – cat beds. (and dog beds, too, I guess).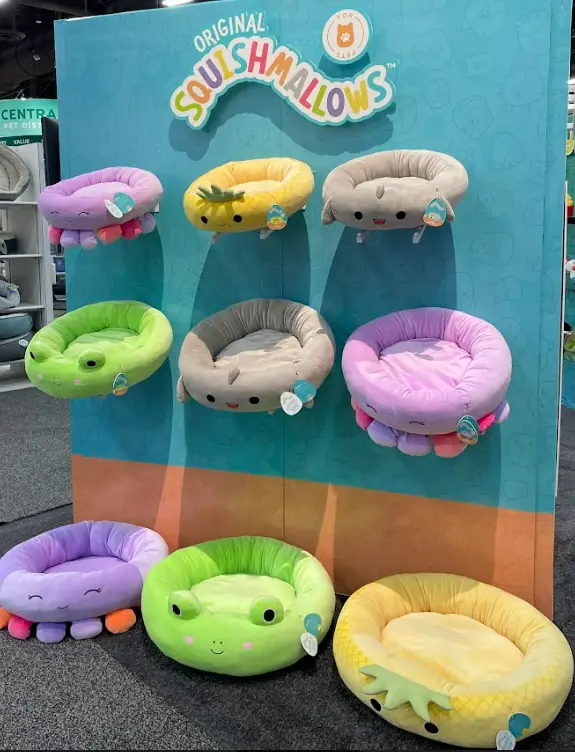 A lot of competitors have tried, but no one has quite managed to match the squishy, marshmallow-ey softness of a Squishmallow. And soon, that same cozy softness will be available in a range of colorful, fun beds for your best feline friend. At the time of this article, Squishmallow Pet Beds aren't quite available yet, but we'll update this article with a link as soon as they are – SOON! (though, if you're super saavy, you miiiight be able to find an older version on eBay or Poshmark, as they were sold in Canada for a brief period of time! Sshhhh!). Check back for an updated link soon. But, if you simply can't wait, we think these squishy round rainbow-fur cat beds are pretty cool, too!
6. Powder that turns pee, poo, and puke into a sweepable solid!
Cleaning up cat pee, pet poo, or piles of puke has never been easier. Here's an exciting new product that puts the fun in cleaning up funk!
Do you have a cat that likes to knock your drinks onto the floor and then judge you as you clean up? This stuff works on food and drink spills, too.
Sprinkle & Sweep instantly absorbs messes and odors after accidents. It allows for quick and easy cleanup of stinky pet accidents and urine—just sprinkle it on, sweep it away, and dispose of any messy accident in the home. No more drippy paper towels (or accidentally touching the mess with a bare hand—ick!). While Sprinkle & Sweep works on all kinds of messes, there's an added bonus for cat moms and dads. A sprinkle on top of your cat's litter keeps litter box odors at bay, too!
7. The lickable treats your cat can't get enough of now come with added health benefits!
If you haven't yet bribed, spoiled, or catered to your cat's demands using Churu treats, run—don't walk—to your nearest pet supply store and stock up immediately. But, before you do… check out these new functional versions of every cat's favorite treats!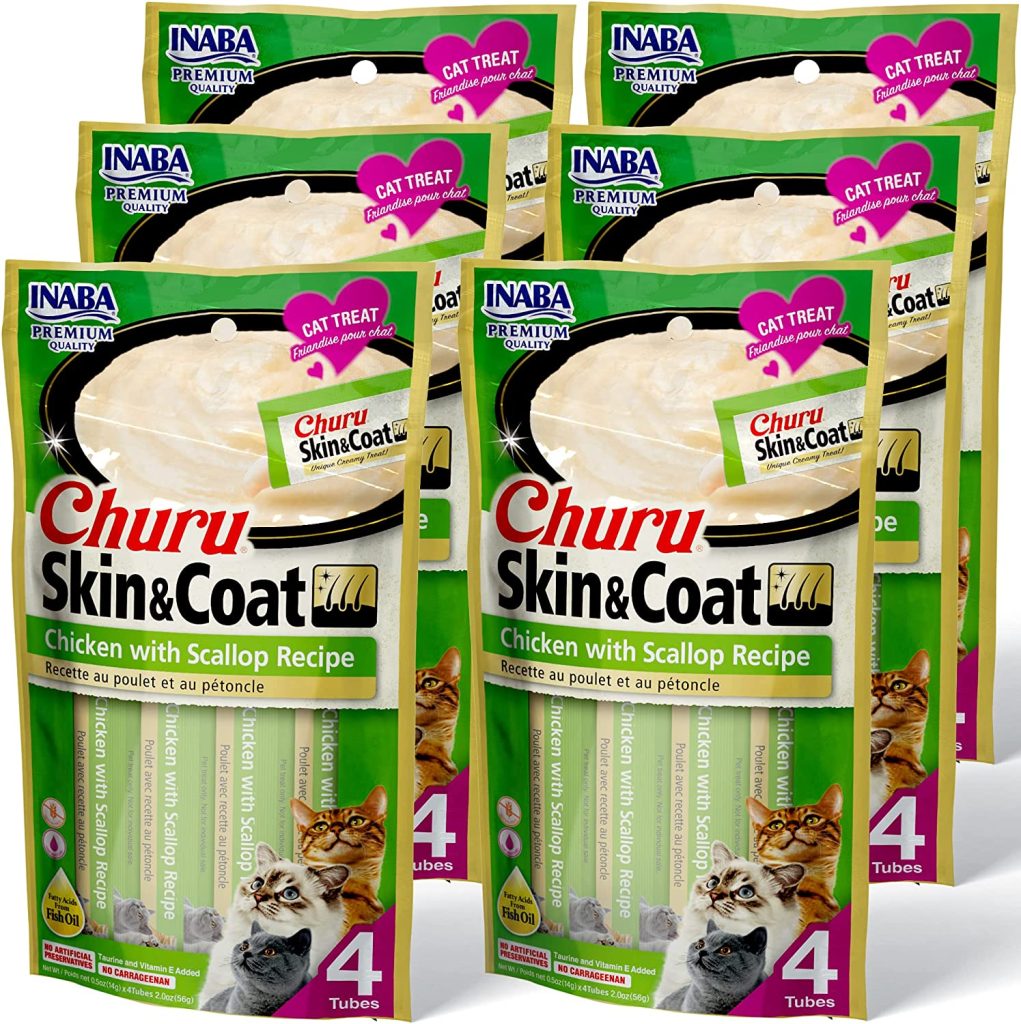 New Churu Functional Treats for Cats include varieties for Skin & Coat health and Hairball Control! The Skin & Coat treats are enriched with omega-3 and 6 fatty acids to help maintain healthy skin and a shiny coat. The new (so new they're not in stores just yet!) Hairball Control treats are made with insoluble vegetable fiber to help support a healthy GI tract and control hairballs. Don't worry, we won't tell your cats they're getting a healthy boost with their treats, that'll be our little secret!
8. Hours of fun and nail grooming in one!
If you'd told me a few weeks ago that there existed a fun and easy way to file my cat's nails, I would have laughed and laughed and then pinched you because, surely, you must've been dreaming. Well, I'm here to tell you—such a thing exists.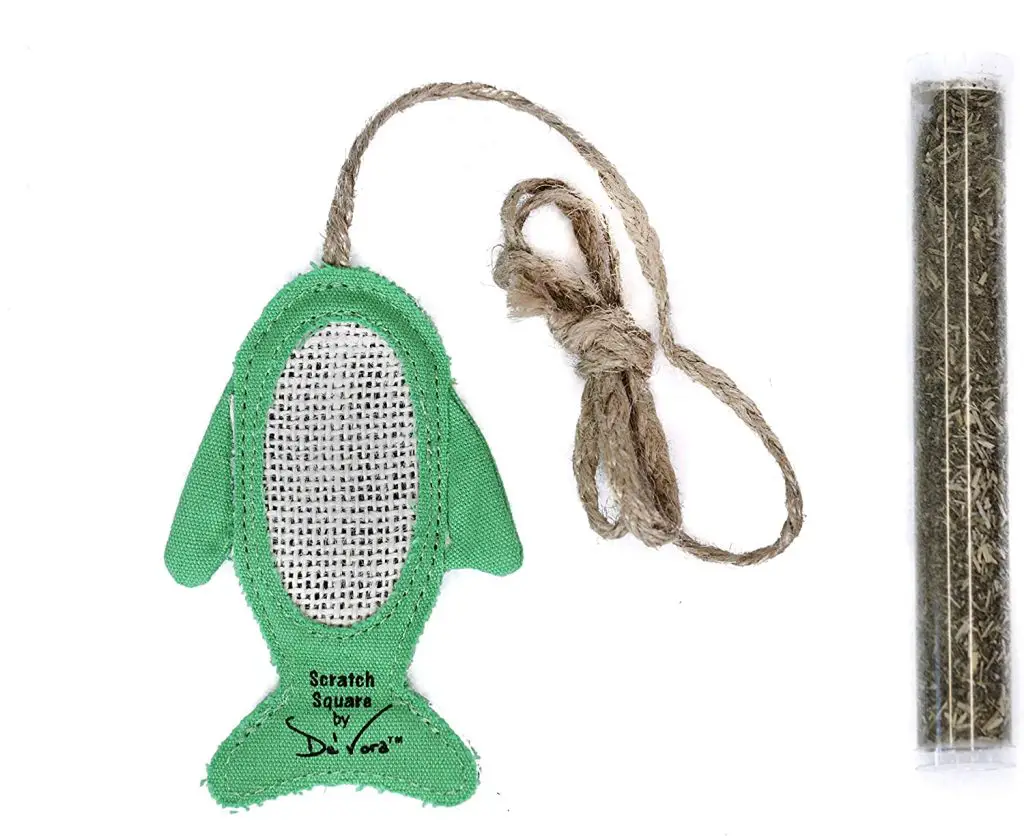 The Flying Fish by De-Vora is so much more than just a really fun toy your cat will love. Yes, this toy actually causes your cat to file their own nails! Here's how it works: The fish's tail is actually a tiny pocket. Open that pocket and fill it with your cat's favorite treat or catnip, then dangle the toy, drag it across the floor, or attach it to a doorknob or scratching post – whichever your cat prefers. Your cat will attack, scratch, kick, paw, and enjoy the heck outta this little fish, not knowing that the simple act of playing is filing the tips of those pointy claws they've been saving for the corner of your sofa. Everybody wins!
So there you have it, the 8 coolest new products for cats and cat lovers we found at Superzoo 2022. We hope you found something on this list that your feline friend will love.