Whether you're looking for a heartwarming true story of loyalty and companionship, want to understand how your cat's brain works, or are in the market for a simply-can't-put-it-down novel that'll inspire you to cuddle your furriest friend a little closer, you'll find it in this list of 10 new cat books to read in 2021.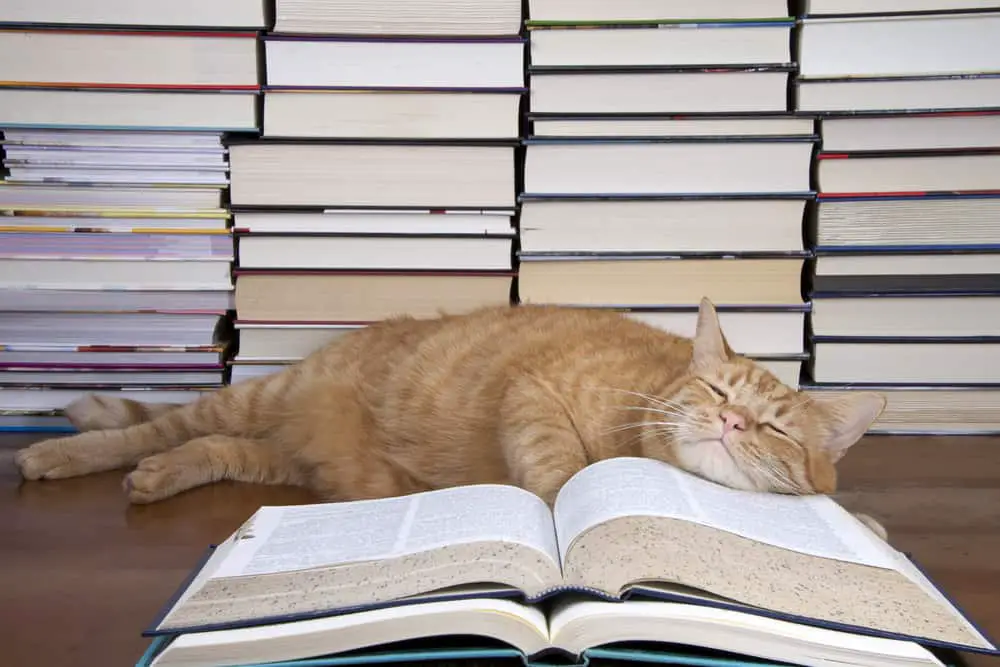 by Dr. Paul Koudounaris and Baba the Cat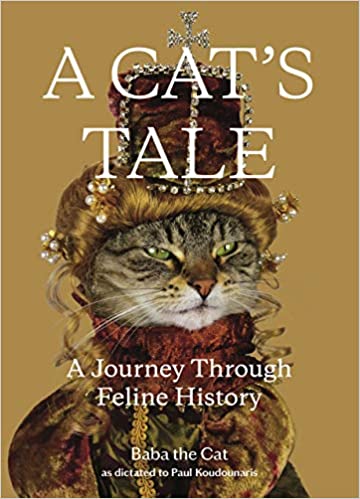 Since the dawn of civilization, felines have prowled alongside mankind as they expanded their territory and spread the myth of human greatness. And today, cats are peddled on social media as silly creatures here to amuse humans with their antics. But this is an absurd, self-centered fantasy. The true history of felines is one of heroism, love, tragedy, sacrifice, and gravitas. Not entirely convinced? Well, get ready, because Baba the Cat is here to set the record straight.
Spanning almost every continent and thousands―yes, thousands―of years, Baba's complex story of feline survival presents readers with a diverse cast of cats long forgotten: from her prehistoric feline ancestors and the ancient Egyptian cat goddess Bastet to the daring mariners at the height of oceanic discovery, key intellectuals in the Enlightenment period, revered heroes from World Wars I and II, and the infamous American tabbies. Baba, a talented model in addition to a scholar, goes beyond surface-level scratches, pairing her freshly unearthed research with a series of stunning costume portraits to bring history to life.
A paws-on journey through the feline hall of fame, with in-depth research and four-legged testaments that will make you rethink who defines history, A Cat's Tale is a one-of-a-kind chronicle that introduces readers to the illustrious ancestors of their closest companions and shows, once and for all, that cats know exactly what they're doing.
---
By John Gray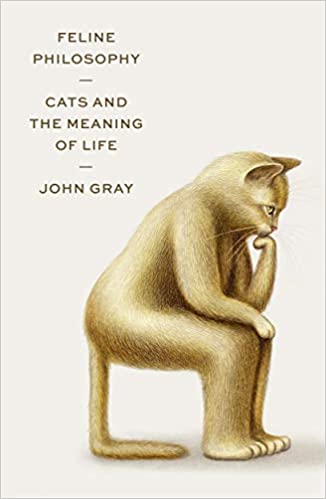 The author of Straw Dogs, famous for his provocative critiques of scientific hubris and the delusions of progress and humanism, turns his attention to cats―and what they reveal about humans' torturous relationship to the world and to themselves.

The history of philosophy has been a predictably tragic or comical succession of palliatives for human disquiet. Thinkers from Spinoza to Berdyaev have pursued the perennial questions of how to be happy, how to be good, how to be loved, and how to live in a world of change and loss. But perhaps we can learn more from cats–the animal that has most captured our imagination–than from the great thinkers of the world.
In Feline Philosophy, the philosopher John Gray discovers in cats a way of living that is unburdened by anxiety and self-consciousness, showing how they embody answers to the big questions of love and attachment, mortality, morality, and the Self: Montaigne's house cat, whose un-examined life may have been the one worth living; Meo, the Vietnam War survivor with an unshakable capacity for "fearless joy"; and Colette's Saha, the feline heroine of her subversive short story "The Cat", a parable about the pitfalls of human jealousy.
Exploring the nature of cats, and what we can learn from it, Gray offers a profound, thought-provoking meditation on the follies of human exceptionalism and our fundamentally vulnerable and lonely condition. He charts a path toward a life without illusions and delusions, revealing how we can endure both crisis and transformation, and adapt to a changed scene, as cats have always done.
---
by Dean Nicholson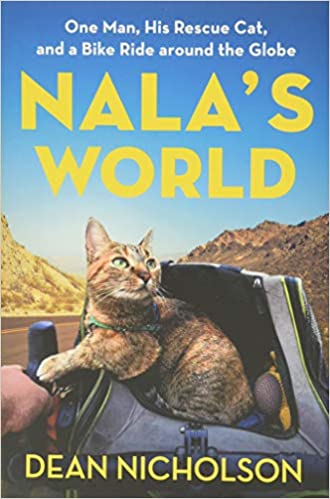 Discover the heartwarming true story of a life-changing friendship between a man and his rescue cat, Nala, as they adventure together on a bike journey around the world — from the Instagram phenomenon @1bike1world.
When 30-year-old Dean Nicholson set off from Scotland to cycle around the world, his aim was to learn as much as he could about our troubled planet. But he hadn't bargained on the lessons he'd learn from his unlikely companion.
Three months after leaving home, on a remote road in the mountains between Montenegro and Bosnia, he came across an abandoned kitten. Something about the piercing eyes and plaintive meowing of the bedraggled little cat proved irresistible. He couldn't leave her to her fate, so he put her on his bike and then, with the help of local vets, nursed her back to health.
Soon on his travels with the cat he named Nala, they forged an unbreakable bond — both curious, independent, resilient and adventurous. The video of how they met has had 20 million views and their Instagram has grown to almost 750k followers — and still counting!
Experiencing the kindness of strangers, visiting refugee camps, rescuing animals through Europe and Asia, Dean and Nala have already learned that the unexpected can be pretty amazing. Together with Garry Jenkins, writer with James Bowen of the bestselling A Street Cat Named Bob, Dean shares the extraordinary tale of his and Nala's inspiring and heart-warming adventure together.
---
by American College of Veterinary Behaviorists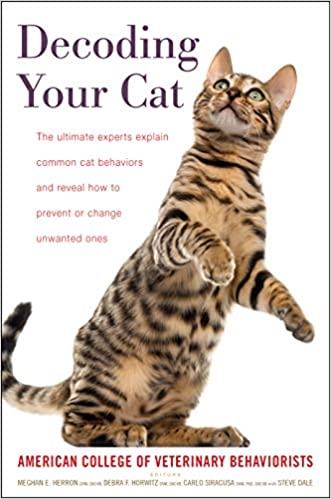 The cutting-edge, scientifically accurate, definitive book on the most popular behavioral issues that cats face
In the United States, one of the predominant reasons that owners abandon or give up their pets (often leading to euthanasia) is because of unwanted behaviors. Many have tried to instruct proper cat training, but this is the first book of its kind to provide an in-depth understanding of the underlying reasons for a cat's problem behavior, the essential key to unlocking the best for your cat and avoiding pitfalls. Decoding Your Cat gives owners new insight on promoting their cat's physical and psychological health and wellness and maintaining a long and fulfilling relationship together. 
Written by the leading experts in cat behavior from the American College of Veterinary Behaviorists, with an introduction by animal expert Steve Dale, this book conveys the newest and best information on cat behavioral science in a fun, interesting, and understandable way. Together with anecdotes from real life situations and the science behind how cats relate to their world, Decoding Your Cat empowers owners to provide a home environment that is happy, safe, and functional, to identify and seek treatment for medical health problems, to understand how to deal with unwanted behaviors, and in general to help cats live longer and fuller lives.
---
by Erin Merryn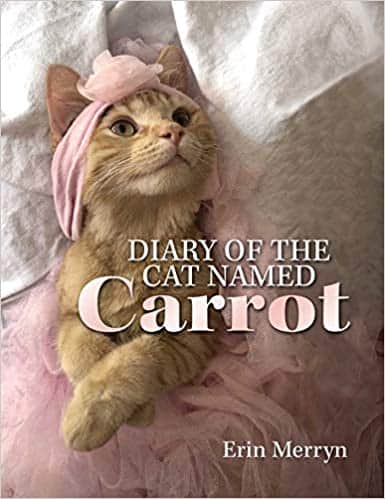 Celebrate a year in the life of the Cat Named Carrot, as she goes from humble beginnings in a shelter to a loving home with a family of three adorable little girls and internet stardom.
Bailey was certainly no ordinary cat—an orange tabby who gained fans around the world when his humanlike antics went viral. Sadly, when 14-year-old Bailey died, his family grieved their loss. They'd never find a cat quite like him—or would they? 
Then along came Carrot, an orange tabby kitten born as a stray, who appeared just as Erin Merryn and her young girls Abby, Hannah, and baby Claire were mending their broken hearts. Written in the voice of Carrot, follow her remarkable journey from shelter cat to top Instagram celebrity feline. Much like Bailey did, she loves spending time with her human family: making mischief with her girl gang; going joyriding in a pint-sized pink Barbie Jeep; doing arts-and-crafts projects; modeling a pink tutu and flowery headband; enjoying a spa day complete with fluffy robe and cucumber eye treatments; celebrating Christmas, Easter, and every holiday in between. It's no wonder that Carrot's videos have gone viral—garnering millions of views on Ellen, the Dodo, Good Morning America, Access Hollywood, People, and many more. 
Complete with four-color photos that will leave readers purring with delight, the journal of this sweet, adorable kitty with personality to spare shows us that the human-animal bond runs more than fur deep. It is love that will last a lifetime! 
---
by Gary Rich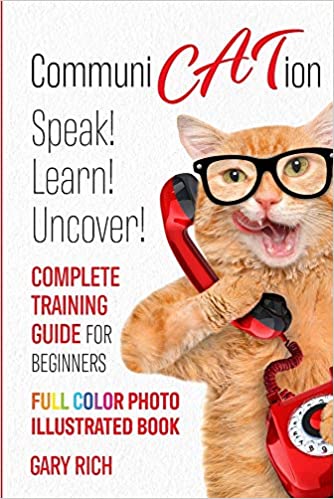 Do you have a great relationship with your cat?
Do you believe that you could communicate with it better?
This book will show you how!
Cats are among our favorite animals to keep as pets. They often are a poor second place when it comes to understanding and communicating with them, with dogs believed to be far better at interacting with us. But this is a misconception and when we put just a little effort into it we can understand our feline friends much better.
This book, Communication: Speak-Learn-Uncover, will help you to understand your cat in ways that you had previously not thought possible, with an insight into:
What language to use when speaking to your cat
Making a connection
Body language
Your cat's unique personality
Affection, Cat behavior, What your cat really wants аnd more…
Following on from How to Educate Your Cat, Communication: Speak-Learn-Uncover takes your relationship to another level and allows you to uncover many of the secrets to communication that are still to be learned.
If you have always wanted to know the best ways to speak to your cat then this book has all the answers that will enable successful communication on every level.
---
by Belinda Alexandra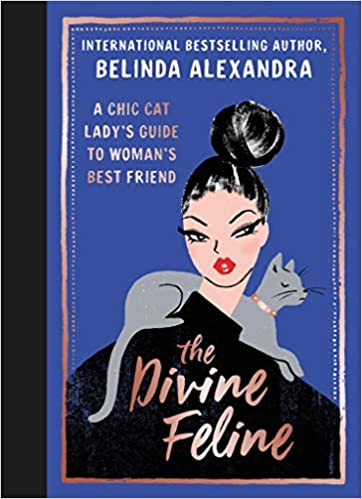 Cats and women share many traits: beauty, elegance, sensitivity, affectionate natures, a knack for nurturing, and a love of the luxurious. Cats also embody the feminine dark side, with a tendency towards neurosis and fear of change. Then there are the qualities that a cat possesses which women long to emulate: fighting fiercely to protect herself, never saying yes when she means no, and being unafraid to claim the best seat in the house for herself.
Cats are loyal to those who love them but couldn't give a toss about what others think. They don't suffer self-esteem issues or worry if they're overweight. And then, there is that enviable air of mystery, that slinky walk… oh to be a cat! They're the ultimate totem of female strength.
Belinda Alexandra, writer and ardent cat fancier, makes no apology for celebrating the special bond between women and their cats. In The Divine Feline, she details her own experiences with cats, describing the relationship between women and cats throughout history and solving some behavioral and philosophical issues in a whimsical and practical way. Viva la cat lady!
---
by Claire Belton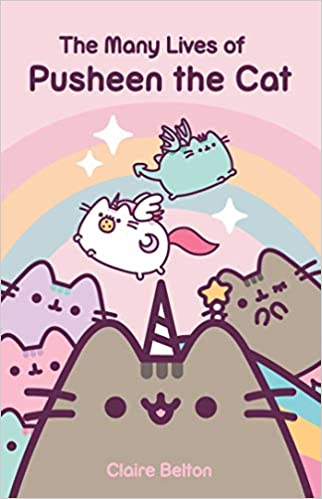 A delightful new collection of comics from Pusheen in all of her adorable forms—from the classic gray tabby you know and love, to her unicorn, dragon, alien, mermaid, dinosaur, and even dog alter egos—Pusheen always lives life to the fullest!
We all know Pusheen, the pleasantly plump cat who has warmed hearts and tickled funny bones of millions worldwide with her signature animated bops, bounces, and tail wiggles. Now you can learn what makes her purr and find out why so many have already fallen in love with her. This delightful collection of comics and illustrations features some of the most popular and purr-fectly adorable Pusheen comics you know and love, plus a healthy serving of never-before-seen material. The Many Lives of Pusheen the Cat is a treat for cat lovers and comics fans alike.
---