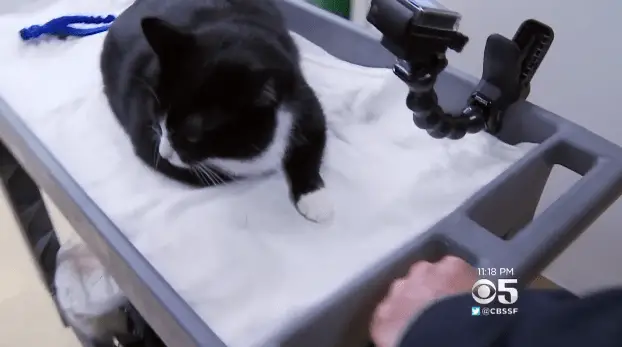 Among the nurses, doctors, patient care techs, candy stripers and personnel at UCSF Medical Center in San Francisco, there's a new – slightly furrier – staff member. A purrfectly trained black and white tuxedo cat who answers to the name Duke Ellington Morris. And, both patients and staff think Duke is one cool cat.
He's part of the hospital's animal-assisted therapy program in partnership with the San Francisco SPCA. The program is run by Steven Foster, who told the local CBS affiliate:
I was skeptical of the idea until I met Duke and was, like, this works for us.
The staff who are involved with the animal-assisted therapy program are very careful to make sure the animals are very safe to be in the ICU. All the animals who participate in the program are fully vetted and healthy. But, most importantly, the goal is to facilitate healing, promote wellbeing, and share a little love – and it takes a certain type of animal to be a therapy pet. Duke, a rescue, is a pretty mellow cat. You can pet him, stroke him, and he helps the patients feel "connected."
Studies show pet therapy can reduce blood pressure, pain, stress, anxiety, and depression. While most therapy animals are dogs, there are many cats, birds, bunnies, and even pigs in animal-assisted therapy programs around the country. The program at UCSF has been around for 35 years.