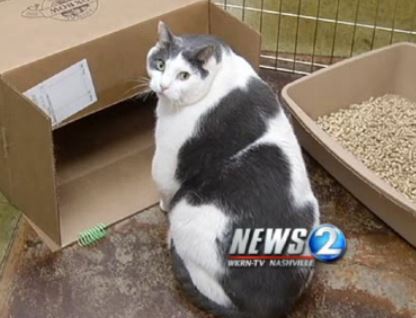 It seems our nation's obesity epidemic doesn't just affect humans! Buddha the cat has been ordered to get in shape, or risk his health.
Buddha weighs in at a staggering 31-pounds! That's more than twice the average weight of most cats. Because Buddha was rescued from Metro Animal Control in Tennessee, his new caretakers, owners of "The Cat Shoppe," don't know his history.
"Our vet believes he was on people food. And we believe it too because when we were eating our lunch here the other day he went bonkers wanting our lunch," Penny Adams, owner of The Cat Shoppe, told Fox6.
For now, Buddha spends his days lounging in his pen at the store, just picking at the food provided to him. Adams says Buddha would prefer to be eating lunch with store employees! "We know he likes pasta because that's what we had for lunch here and he wanted some of that," Adams said.
Despite his enormous size, Buddha has a squeaky clean bill of health. His bloodwork and heart are all within the healthy range. However, his veterinarian says he must lose weight to keep it that way.
"To me, it's neglect to let a cat get this large.  Of course everybody likes a good fat cat story, and it's a little comical to see, but in the end it's his health and we want what's best for him," Adams said.
Under his veterinarian's watch, Buddha will begin a strict diet of cat food (no more pasta!) and exercise, like walking on the kitty treadmill, to get him down to a healthy weight.
Adams hopes to help Buddha lose one third of his current body weight (that's 12 pounds! – a whole cat!) in about a year, after which time he can begin the process of finding a loving forever home.
To learn more about Buddha and his extreme weight loss challenge, watch the full report at Fox6 News.