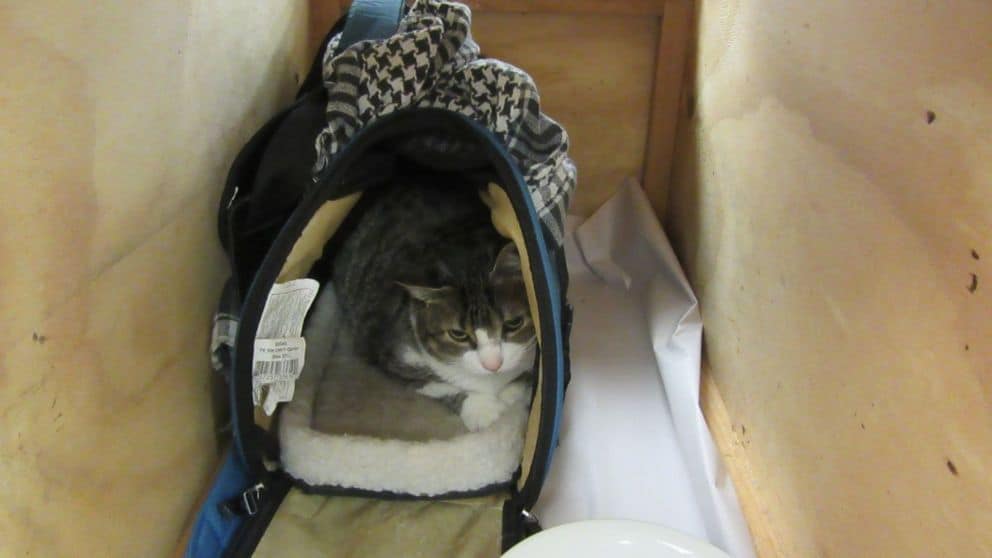 We all would love to take our beloved kitties on vacation with us, but it's usually not a viable option – especially if you're traveling internationally, to a place like New Zealand that has fairly strict rules in place when it comes to crossing their borders with animals! Well, a Canadian woman just couldn't bear to leave her 4-year-old cat Bella behind and managed to sneak her in a handbag onto a 7,000-mile, 14-hour-long flight from Vancouver to Auckland.
Bella and her human's holiday was cut short when border agents discovered the smuggled kitty upon their arrival at the Auckland Airport. According to the Ministry for Primary Industries:
The woman only declared dirty boots to biosecurity officials at Auckland Airport when she arrived from Vancouver, failing to reveal she had hidden a cat in the small handbag she had carried aboard the flight.

"She was very reluctant to have the hand bag x-rayed, saying it had already been checked by our quarantine officers. She only revealed the cat after we insisted the bag will have to undergo further biosecurity checks."
She has planned to spend a nice vacation with her hubby and her cat, but after the incident at the airport, the woman (and Bella) were refused entry into New Zealand and instead forced to return back to Canada on the next flight out.
Craig Hughes, MPI's Manager North Passenger and Mail said, "We believe this was a deliberate and very stupid attempt at smuggling. There are strict biosecurity rules in place to stop imported cats and dogs from introducing pests and diseases into New Zealand. The passenger clearly decided those rules didn't apply to her."
Whether your pet is leaving or entering New Zealand, there are requirements you have to meet. Find out what you need to do when exporting and importing pets by following these step-by-step guides.
New Zealand has strict regulations for importing pets. Cats and dogs from most approved countries must have an implanted microchip and be kept in quarantine for a minimum of 10 days after arrival to ensure they don't introduce non-native ticks, parasites, and diseases into the country.