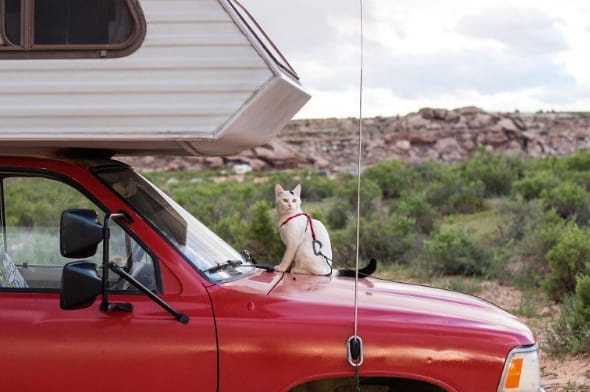 Meet Vlad the Explorer – the adventure kitty who has been traveling the country with his humans Cees and Madison Hofman since 2016. When the Hofman's graduated, they decided to travel to all 59 national parks – and take Vlad with them – to celebrate their accomplishment, and the 100-year anniversary of the National Park Service.
The Hofman's share their adventures on Instagram:
Madison Hofman told PEOPLE:
"From the beginning we wanted to train Vladimir to be an adventure cat. We wanted to share our adventures with him. So really, it's all he knew since he was a kitten. He's never really been outside on his own — always with us on a leash. Honestly, he loves it. He totally understands how it works to hike down a trail, and can even follow us off leash."
See the rest (yes, they are ALL there!) on their Instagram page. And, check out all the fun photos of Vlad and his family on their adventures across the country.