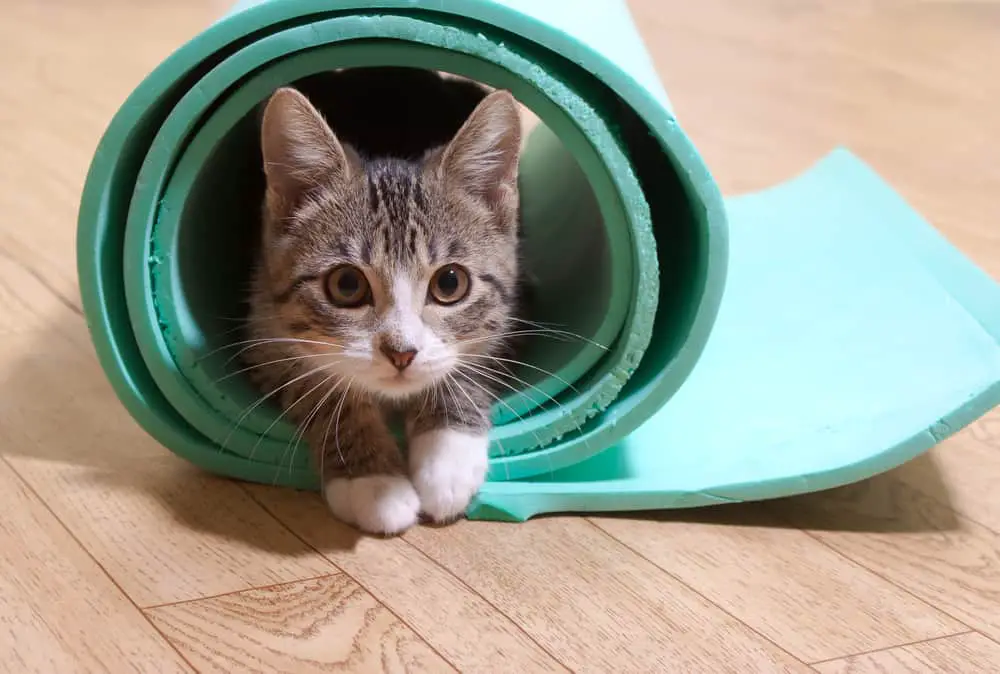 If you think about it, cats are basically yogi masters. A full-body stretch, arched back, purring with pure relaxation… So it's no surprise that when cats and yoga are married together in the same class, the result is pure purr-fection.
Carla Jean Whitley is a reporter, yoga instructor, and cat lover, who aspires to be a professional cat lady. She had the bright idea to throw a 'cat yoga birthday party' for her 35th birthday. The concept was simple – a dozen or so students practicing yoga in a room full of cats! The problem, though, was where to find a room full of cats.
In her own words from AL.com:
I approached the Greater Birmingham Humane Society about this party months in advance of my July birthday. There's no way this will come to fruition, I thought. But oh, was I wrong. GBHS responded enthusiastically, and said they had already toyed with the idea of cat yoga classes. I said, "Then I'll happily bring you a test group and provide instruction!" The day after my party, I wrote a proposal for an ongoing, public class.
This week, her dream became a reality. And NPR reporter Melanie Peeples was there to document the event. Listen below:
Yes, it is filled with women – 13 of them, to be exact, not counting the instructor. And yes, someone is wearing cat leggings. Another has cat earrings and cat ear barrettes. And someone's boyfriend is sitting over by the door, on his phone. The women have paid $10 each for yoga instructor Carla Jean Whitley to lead them through poses like downward-facing dog.
So far there has only been one session, (and one of the cats was adopted during classs!) but it was so popular that Greater Birmingham Humane Society has decided to make cat yoga an ongoing event! If you're in the area, you can take a cat yoga class on the third Sunday of each month. Class costs only $10 and benefits Greater Birmingham Humane Society.
Sign up at GBHS.org/cat-yoga