As many people are famous, so are many felines!  There are many things that can make a cat famous, from the internet, getting wrapped up in politics, or just being an oddball.  This will be a three part series, composed of fifteen famous cats.  The first article is about the cats that have charmed our hearts, made us laugh, and are trying to help society by using the internet.  Please join us later for Part Two: Paws of Power and Part Three: Those Odd Furballs.
The Cat with the Grumpy Face
Many people recognize and are familiar with "Grumpy Cat" from the famous meme that depicts a grumpy feline with a negatively comedic outlook on life.  Her real name is Tardar Sauce and she was born April 4th, 2012.  Although she looks like a Ragdoll or a similar breed, she's actually a Domestic Short Hair; her mom being a calico and her dad, a gray and white striped tabby.  She became famous in 2013 after a photo of her was uploaded on Reddit.  After that, Tardar Sauce was all over social media outlets like Facebook, Youtube, Twitter, Instagram, and Tumblr.  Her face is permanently 'grumpy' because she suffers from feline dwarfism and an underbite, though it doesn't affect her lifestyle! She has her own movie, book, and has been featured in several news outlets, such as New York magazine and the Wall Street Journal.  She uses her status to help shelters and charities with appearances and donations.
The Feline with the Hanging Tongue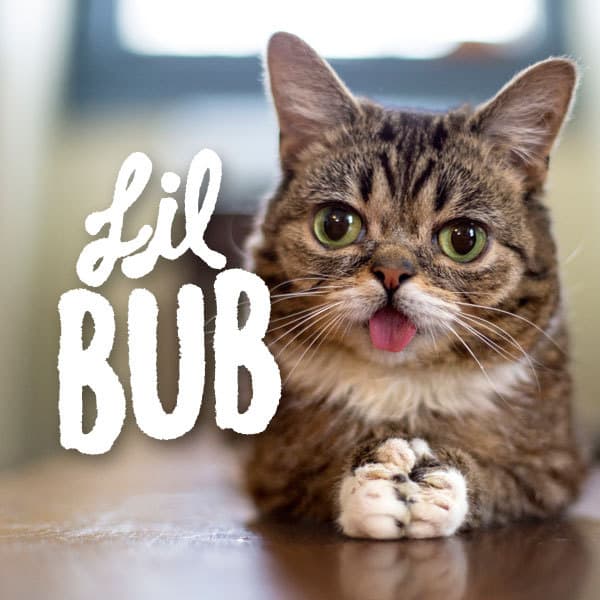 Lil BUB was born in July of 2011 with many genetic issues such as dwarfism, a much smaller lower jaw in comparison to the upper jaw, as well as no teeth (which is why her tongue sticks out all the time). A perma-kitten, she will always be kitten sized, and she's a polydactyl – with 22 toes!  She was placed in a rescue so she could receive care.  Her owner, Mike Bridavsky adopted her at eight weeks old. Her fame started when Bridavsky posted her picture on social media and it went viral in 2012.  When Lil BUB was a year old, she was diagnosed with osteopetrosis, making her the only cat reported born with the disease, which causes her bones to become more dense over time. As time went on, some specialists and fans were able to suggest treatments and she was able to play like a normal kitty. She's a talk show host, stars in an award-winning documentary, and has her own book.  This cat has helped raise over $300,000 dollars through meet and greets and online stores for charity!
The Kitty with a Round Face
Maru is a Scottish Fold cat born May 24th, 2007 who became very famous in Japan and later internationally from YouTube.  Maru is a bit chubby, giving him a rounded face.  Maru is the Japanese word for 'round,' a very fitting name for him.  However, his owner came up with the name 'Maru' before he received the kitten.  He's famous for his curiosity – and his love of boxes.  He is usually sleeping in smaller boxes or playing like a goofball in larger ones. His videos have 800,000 views per video, which equals out to over 200 million views.  He's been featured in the New York Times and Entertainment Weekly, as well as his own DVD, books, and blog. He now has a featured friend, Hana, in some of his videos.
The Feline with his Own Statue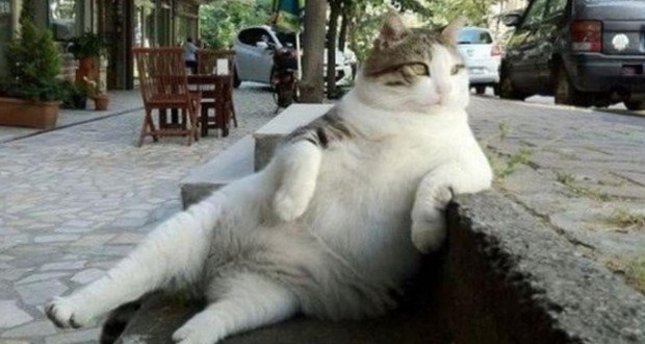 Tombili lived in Istanbul, Turkey where he roamed the streets and mingled with passersby.  He's famous for lounging around, having a good time, especially on steps.  His fame picked up in 2015, when the people of Turkey started to share his pose and takes selfies with him.  Tombili's fame peaked when his laziness was uploaded on the website 9GAG and it went viral. It spread to social media websites and started a meme. Sadly, later that year, after being ill for over a month, Tombili passed away.  A petition was signed, with over 17,000 participants, to have the city construct a statue in his honor.  His signature laid-back pose is now memorialized by that statue in his favorite spot.
The Cat with the Longest Fur
Colonel Meow was born in 2011 and adopted out from Petco, after being rescued by the Seattle Himalayan and Persian Society.  In 2012, his fame struck after his owner Anne Avey uploaded a picture of him on the internet, showing off his nine inch long fur coat.  He was also an angry looking cat, and in combination to his long fur, became the subject of many memes on The Daily What.  He enjoyed roaming the streets on a leash, talking to other celebrity animals, and drinking scotch. His fan base was dubbed "Minions."  In 2013 was granted a place in the Guinness World Record book for longest fur coat.  Sadly, at the age of two, Colonel Meow passed away from heart issues.  Though his minions were devastated, many memorial posts and videos were made in his honor.
Those cats sure have raised a lot of money for shelters, haven't they?  Thank you for reading the first part of the three part series about fifteen famous cats.  The next part is about cats who've contributed to America through politics. 
About the Author: My name is Danielle Stone, and I went to school to be a Veterinary Technician.  I have always loved animals and I've had a couple of cats and a dog.  Oh and I love Felix the Cat!