A stray cat named George recently gave birth to an unusual litter of kittens.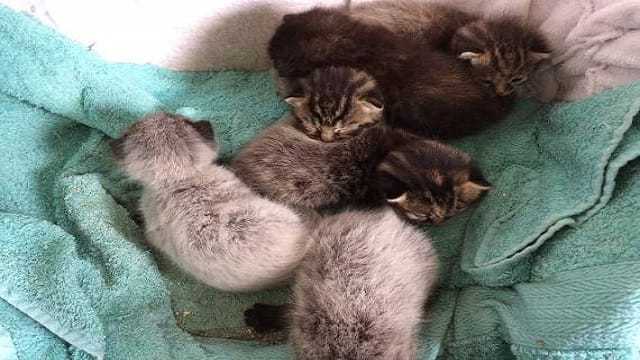 The kittens have a white\grey overcoat over their true colors – 2 were completely covered in this fur, while 4 had this unusual fur on their back legs and hips. Georgie gave birth to the litter at the Forest of Dean Cats Protection center where she was brought by a Llandogo resident who couldn't keep the stray at home as she had other cats.
Over the next few weeks, the cats started losing this unusual overcoat, revealed their true colors. The staff at the center has never seen a case like this, so they started researching literature on this unusual overcoat. Maggie Roberts, the head vet at the center, found something indicating a phenomenon called "fever coat", which develops when the mother has a fever during pregnancy. The black kittens she gives birth to are more affected by this phenomenon as it was the case with the litter.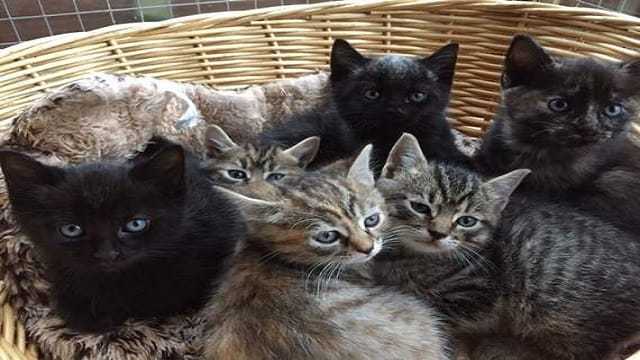 The unusual kittens are in perfect health and have been adopted in loving homes just like their mother Georgie.
Source: The Best Cat Page
 (function (d,s,n,id) {
   var js, fjs = d.getElementsByTagName(s)[0];
   if (d.getElementById(id)) return;
   js = d.createElement(s);
   js.id = id;
   js.className = n;
   js.src = "https://stream.playbuzz.com/embed/sdk.js?embedId=0b47f7c3-ee05-4bca-902e-3ec50d86ebec";
   fjs.parentNode.insertBefore(js, fjs);
 }(document,'script','playbuzz-stream','stream-sdk-jssdk_Woof_catingtonpost'));