The Amazon Prime Early Access Sale is a new shopping holiday that's exclusive to Amazon Prime subscribers. What better way to get ahead of the holiday shopping rush than by taking advantage of some incredible deals and major price cuts?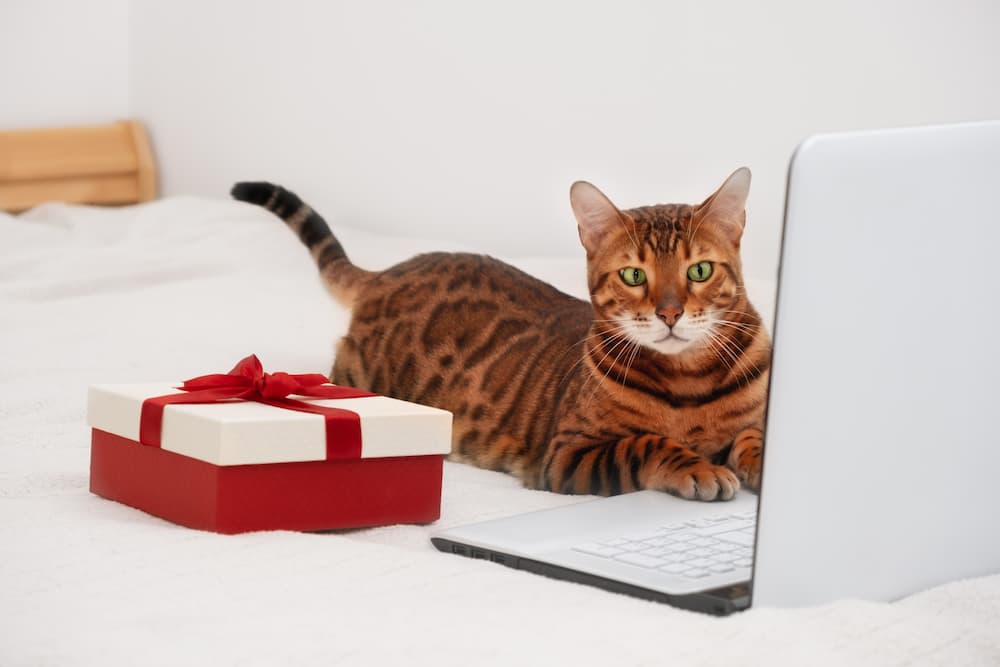 The Prime Early Access Sale runs on October 11 and 12th. Don't worry if you don't have Amazon Prime, you can sign up for a free trial just to take advantage of the deals!
While Prime Early Access Sale deals reach across all categories on the online superstore (like this Fire HD Tablet for only $44.99!), we've scoured the pet category to bring you the Best Prime Early Access Deals for Cats!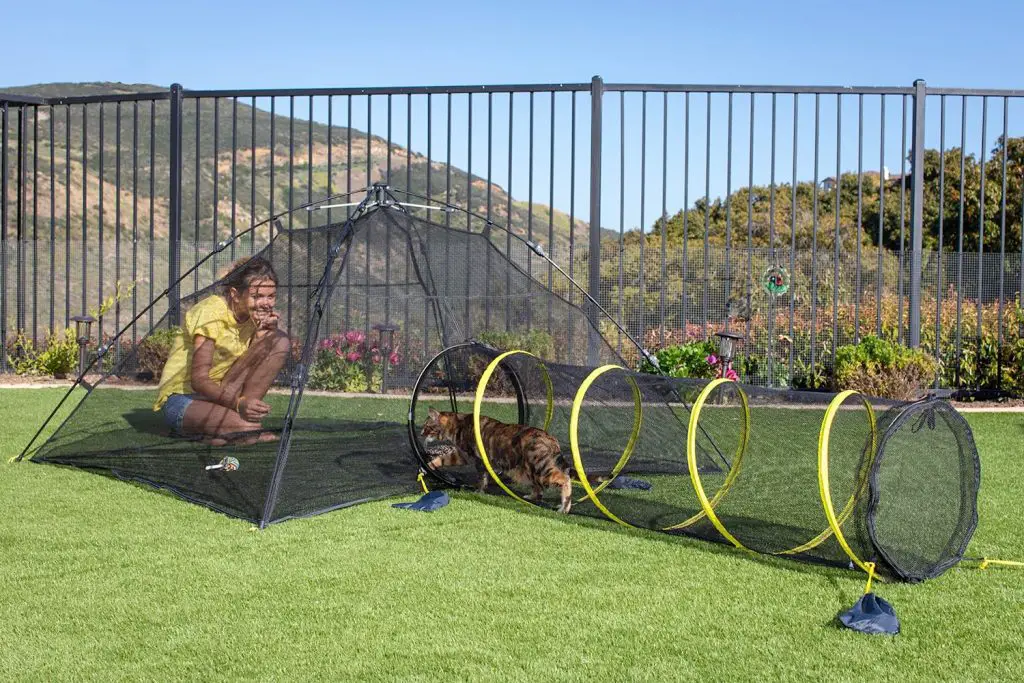 Give your pet a breath of fresh air with the Outback Jack Kitty Compound. The safe way to bring your indoor pet into the great outdoors, this handy little compound provides over 30 square feet of fun in the sun, plus an attached tunnel that gives them new ways to explore. It sets up easily with no tools, and it folds tightly into a convenient carry bag. Finally, your pet can go wherever you go. Allowing them to maintain their natural instincts yet stay totally safe, it's the best of both worlds. It comes with everything you need to let the outdoor bonding begin, and there are no tools required!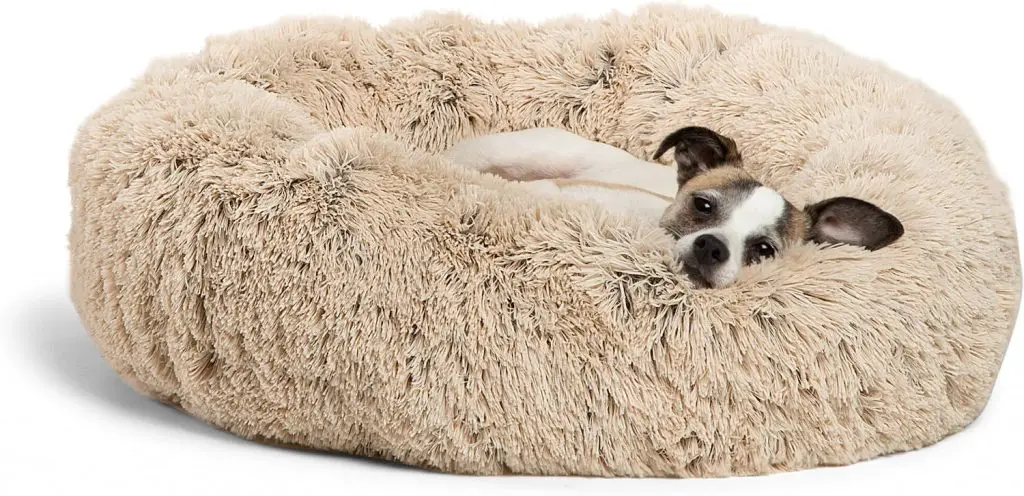 They may have a dog in the product photo, but this Original Calming Donut Pet Bed is our cats' absolute favorite! For dogs and cats who like to burrow, the bed creates a perfect space for cuddles and top-notch snuggling. The innovative cuddler shag design provides better sleep, supports joints, and offers a calming, self-warming effect. With a water- and dirt-resistant bottom, this calming pet bed helps prevent messes from reaching your floors. When accidents happen, toss the bed (the small size 23″x23″) into the washing machine for easy cleanup.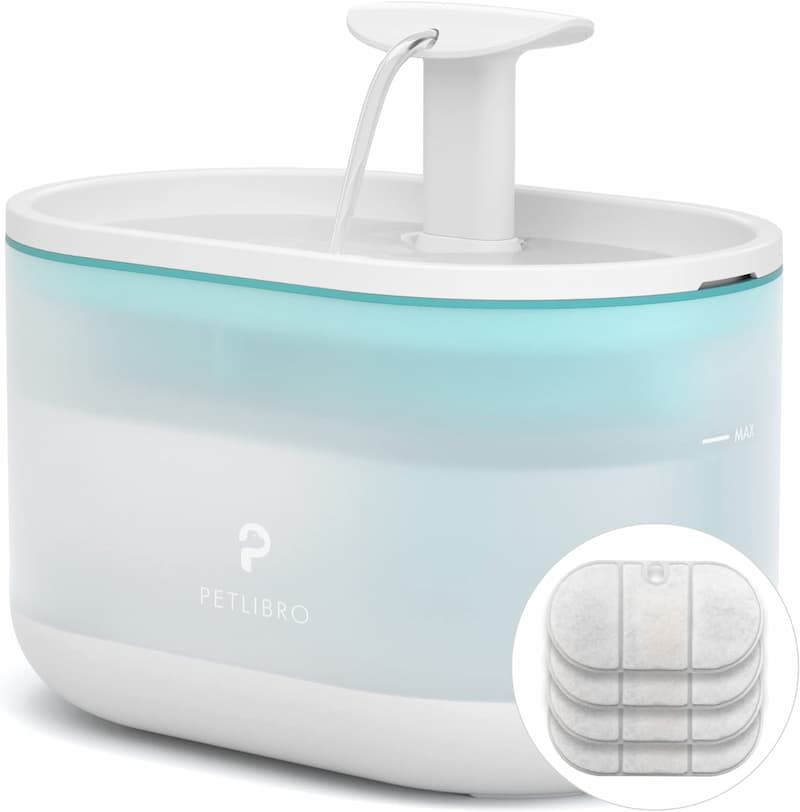 Many pet owners are unaware of the hydration needs of their pets. Pets wouldn't notice, but you should. The PETLIBRO Capsule Automatic Pet Water Fountain with a 5-level filtration system and two water flow modes provides clean and fresh water for your cats, enticing them to enjoy running water to prevent kidney and urinary diseases. Plus, this fountain's unique design means it's not going to be another task on your already full to-do list. The Capsule's 2.1L container is enough to keep refills sparse and its translucent exterior lets you easily gauge when it's time to top-it up again.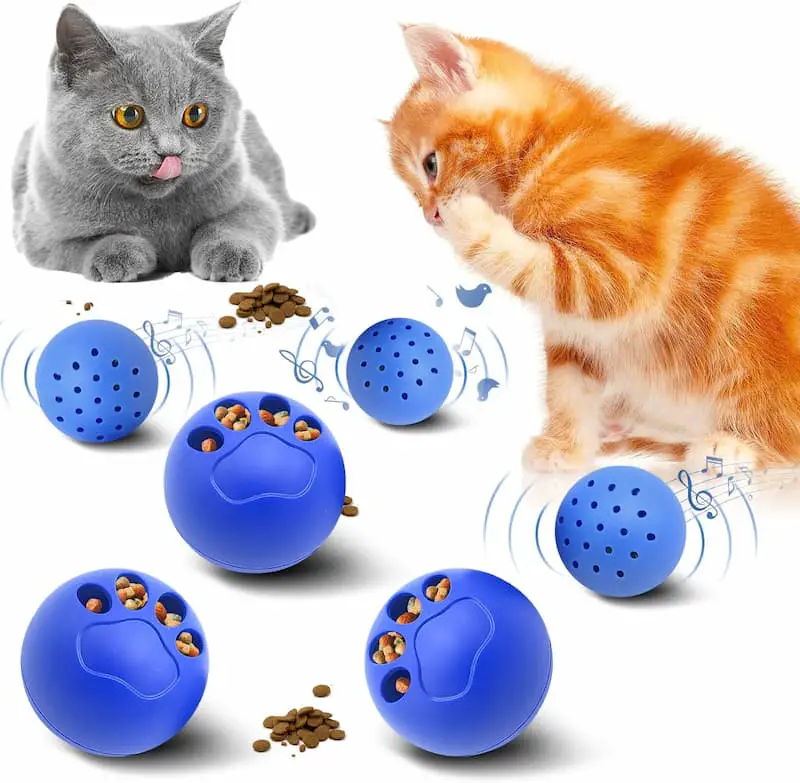 Looking for a fun toy to keep your kitty entertained? Look no further than this set of interactive ball toy feeders! This toy is perfect for cats to play together, and is great for stimulating your cat's natural playful instincts. Plus, the ball can be filled with cat food or treats, which will add an extra layer of excitement to your cat's playtime. With its high-frequency jingle, this ball is sure to get your cat's attention and keep them occupied for hours on end. So bring home the interactive ball toy today and help your cat have some fun!
24% Off These Cat Wall Shelves for Playing, Lounging, and Climbing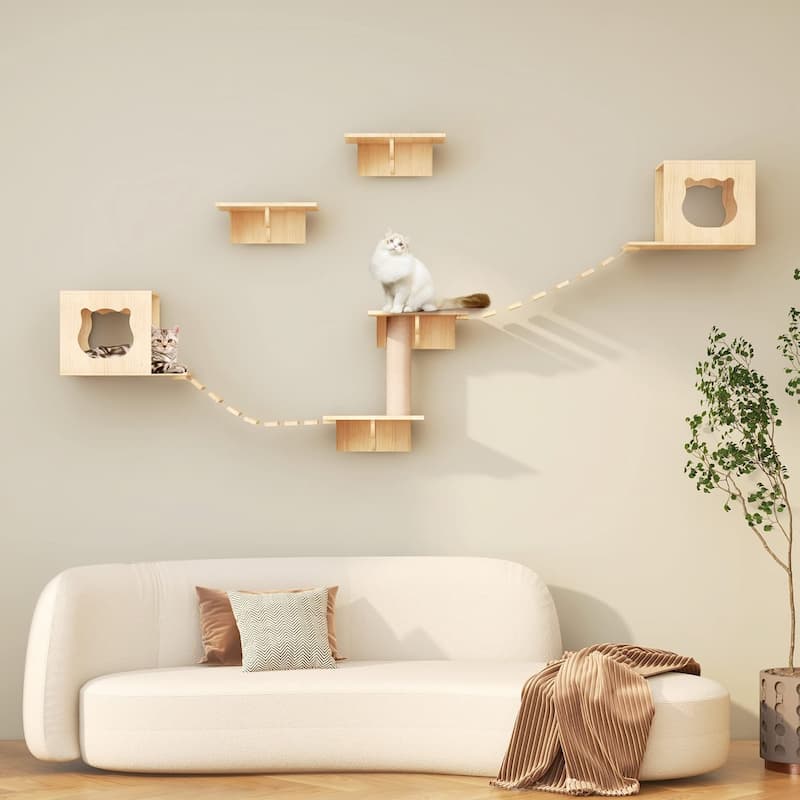 Looking for a way to give your cat a little bit of the fun of the outdoors without having to worry about them getting lost? Look no further than this wall-mounted cat furniture! Not only does it give your cat a place to play and explore, but it also helps keep your floors clean by providing them a place to scratch. Plus, it's versatile enough to fit any style of home decor.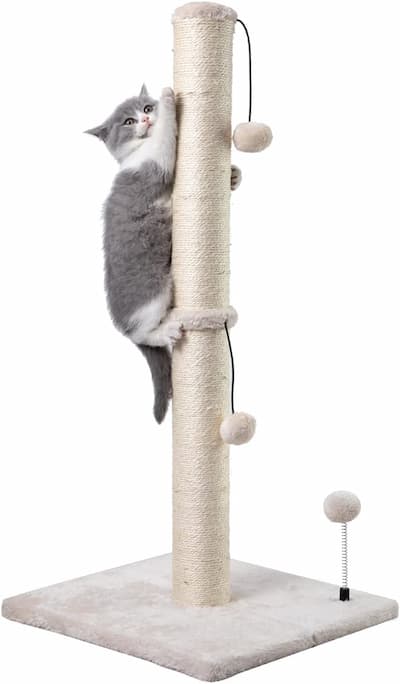 The MECOOL Basics Cat Scratching Post comes in two sizes for either kittens or adult cats. Featuring a naturally fibrous construction, your cat will take great joy in clawing the rope pillars and batting around the included interactive hanging ball toy attachment. A great scratcher, especially a vertical scratcher like this one, helps keep your cat from damaging carpets, furniture, curtains, and more. It's easy to assemble—just screw all the parts together and the cat scratching post is ready to use.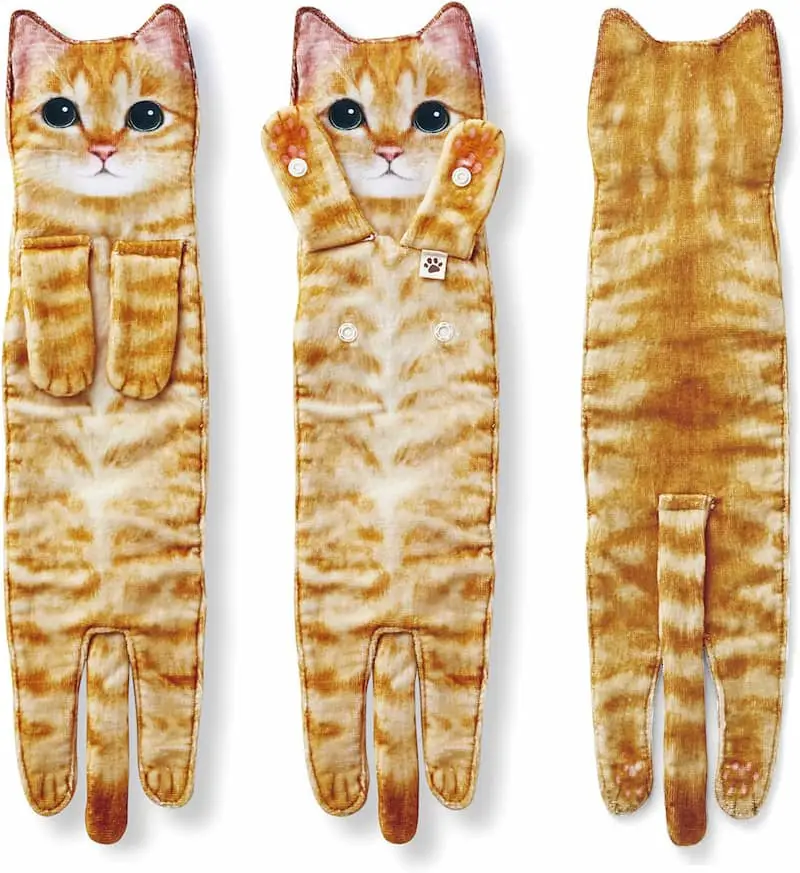 Who wouldn't love a towel that looks like their favorite pet? This fun and functional cat towel is sure to make your guests smile. The realistic pattern on the back, tail, and paws is so lifelike, they might even think they're looking at a real cat! But the best part is the snap button on the hand that prevents the towel from slipping off. So when you're done wiping your hands, you can give your kitty a big hug! These towels come in a huge variety of colors and fur patterns, so you're sure to find one that matches your best furry friend!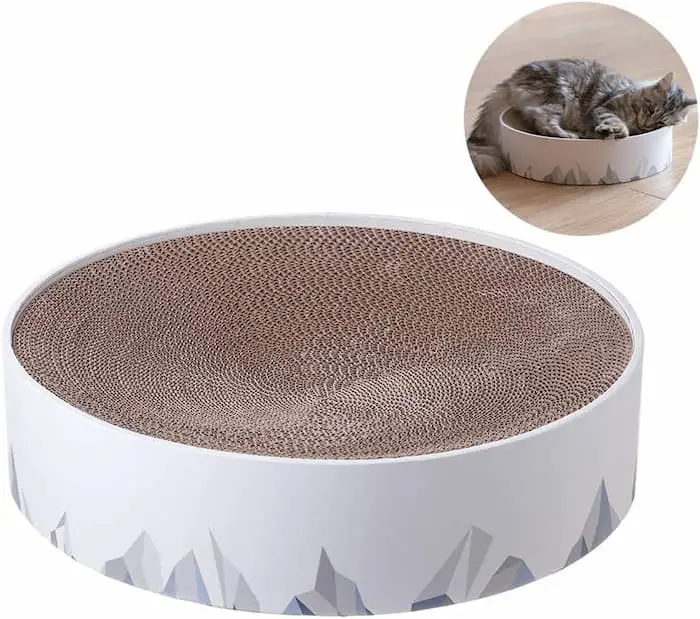 This corrugated cardboard piece doubles as a cat scratcher and a lounger in one! Satisfy your cat's natural scratching instincts while reducing the risk of damage to your carpets, curtains, and furniture. The unique round shape makes it not only easy for your cat to use, but also more comfortable for your cat to lounge in. The bowl-shaped design contours your cat's body, offering your cat a comfortable and peaceful place to rest. You'll be amazed at how much your cat LOVES this bed-turned-scratcher!
More deals go live throughout the sale, so be sure to check for updates right here!
The Catington Post is reader-supported. That means, if you make a purchase through links on our site, we may earn an affiliate commission. All images and names which are not the property of The Catington Post are the property of their respective owners.