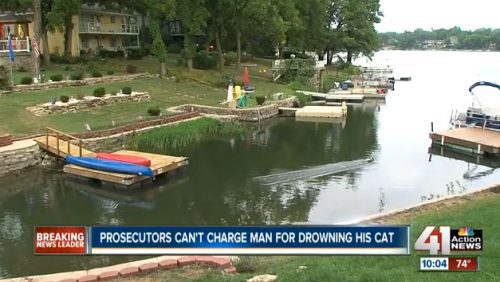 As shocking and disgusting as this headline is…more shocking is the fact that it's true.
Missouri's current animal abuse law prevents prosecution of residents who kill their pets. In fact, it says that an animal's owner can kill the pet in any way. The 30-year old law prohibits killing animals in certain ways or intentionally causing injury or suffering to animals. It does not apply to "the killing of an animal by the owner."
The spotlight is on Missouri's current animal abuse law after a Kansas City area man drowned his cat in Lake Waukomis after it scratched his fiance. According to a police report, on Sunday, July 14th, 2013, Thomas Newhouse admitted that he put his so-called vicious cat in a carrier and drowned the pet in a Platte County lake. It's reported that the cat bit and scratched the man's fiance and daughter-in-law.
Newhouse and his fiance made the decision to end the cat's life the night before, when the scratching incident occurred. After attending church, he put the cat in a carrier, took it to the dock behind his home and submerged the cat and carrier in the water until the cat was dead. There were several eyewitnesses, including children. A witness called 911 and Newhouse was cited for drowning his cat (a misdemeanor).
Platte County Prosecutor Erick Zahnd refuses to press charges, saying, "I find the manner in which this animal was killed disheartening, but the law says an owner can kill an animal in any way."
He continued, "If a person's intent is to cause suffering or pain to an animal, that's still a crime, but in this case the only evidence was that his intent was actually to kill this animal. Even though the animal may have experienced suffering during that killing, the law says an owner cannot be prosecuted."
The act, and the fact that prosecutors say it was completely within legal limits, has caused enormous public outcry – including an online petition to have the law changed and charge Newhouse with felony animal cruelty charges.
Thomas Newhouse committed a horrific act of cruelty – in broad daylight, in front of children – and was only given a citation. This man should be charged with felony animal abuse. It's even more disturbing that he planned to end this cat's life the night before. If this family felt comfortable enough with the cat to wait a day to drown it, why not admit the cat into a shelter or, at the very least, have him humanely euthanized by a veterinarian?
What are your thoughts about Missouri's absurd animal abuse law?