Monthly subscription boxes are all the rage these days. No matter what your interests, there's a service that'll deliver a veritable treasure chest of unique goodies right to your door every month. So, it's no surprise that you can find subscription boxes made especially for cats, too!
With so many boxes available, each touting their own service as the best, how do you choose the one that's right?
Here's a hint: Pet Gift Box!
So, what exactly is Pet Gift Box?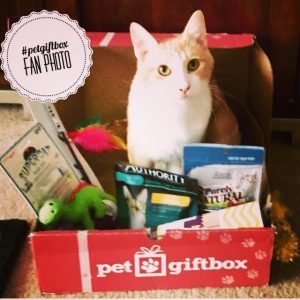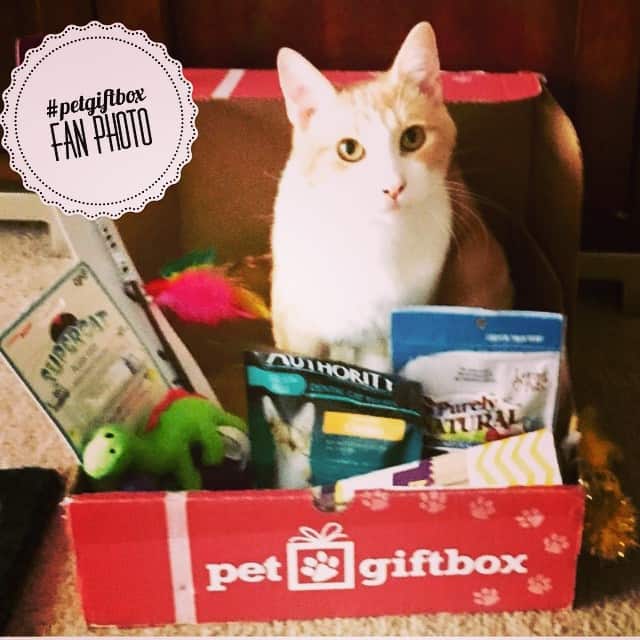 Pet Gift Box is a monthly subscription service – for your cat! Each month, a box full of hand-picked, cat-approved surprises will be delivered, right to your doorstep. The boxes include about 5 to 7 goodies specially selected for your kitty, based on whether your feline friend is a boy or girl (or both, for multi-cat homes!).
While some competitor boxes focus mainly on toys or treats, Pet Gift Box offers up a bit of everything, from fun, unique toys and natural, all Made-in-the-USA or Canada treats and snacks, to grooming products, first aid essentials, and healthy pet products, you (and your cat!) are guaranteed to be delighted with each month's assortment.
What's more, all this arrives at well below the cost of shopping for these things separately.
Subscribers have the option of joining for a 1, 3, 6, or 12-month plan, either for your own cat or as the perfect gift for your favorite kitty friends, with plans starting as low as $18.99/month. And, what sets Pet Gift Box apart from the other subscription boxes out there, you can make a monthly payment rather than paying for your entire subscription all at one time!
Best of all, Pet Gift Box donates a portion of each sale to America's VetDogs, providing assistance to veterans with disabilities. So, you'll feel good about not only treating your own cats to a special monthly surprise, but for helping other animals and people in need, too!
Pet Gift Box is fun – for you AND your cat!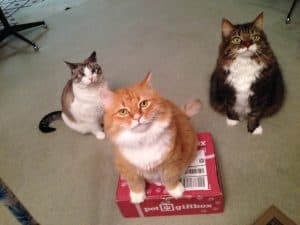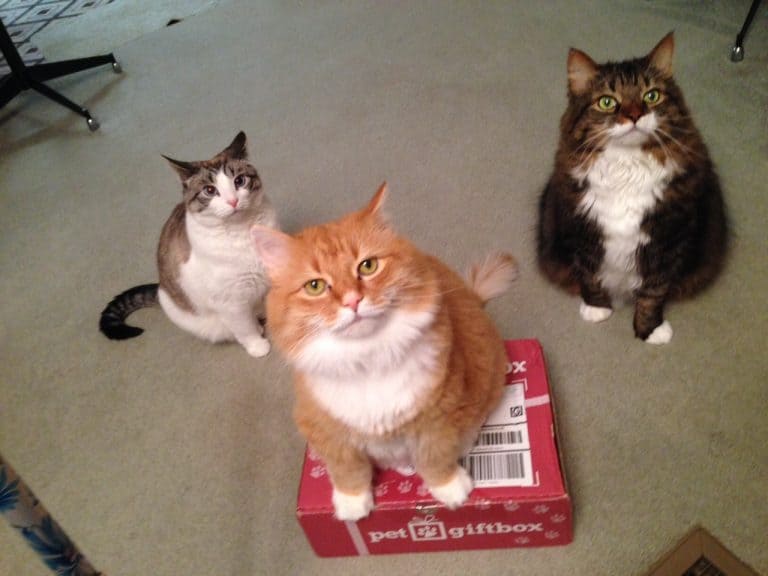 You think you get excited when a package is delivered? Just wait until your cats realize it's a Pet Gift Box!
When the November Pet Gift Box arrived at my doorstep a few days ago, my cats knew right away there was something special inside, just for them! They all gathered around to "help" me open the box and stuck their paws and noses in it to inspect all the Thanksgiving-themed goodies that were stuffed inside.
The box, which was hand-labeled with my cats' names,  was packed to the brim with goodies – full-sized goodies, none of those dinky, throwaway sample packs! Pet Gift Box promises between 5 and 7 goodies each month – and this box was no exception.
As a picky pet parent, my cats only get the very best, especially when it comes to their food and treats. I was pleasantly surprised (and thankful) to find that every edible in the Pet Gift Box was made in North America. There wasn't a single item in this box that I wouldn't happily treat my cats with – from the Temptations Tantalizing Turkey treats, the the Cranberry Cabernet treats, and the Weruva Pumpkin Patch Up…all sticking with a theme, that makes Pet Gift Box stand apart from their competitors. Fun!
While food and treats are always a favorite, the Pet Gift Box was also jam-packed with toys. We got a Wacky Turkey Feather Wobbler that spins, wobbles, and bobs to keep kitties captivated, and an Autumn Fun Scratch n' Shape scratch pad with organic catnip. There was even a holiday bow-tie for kitties that'll help my cats look fancy for their photos!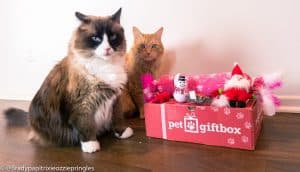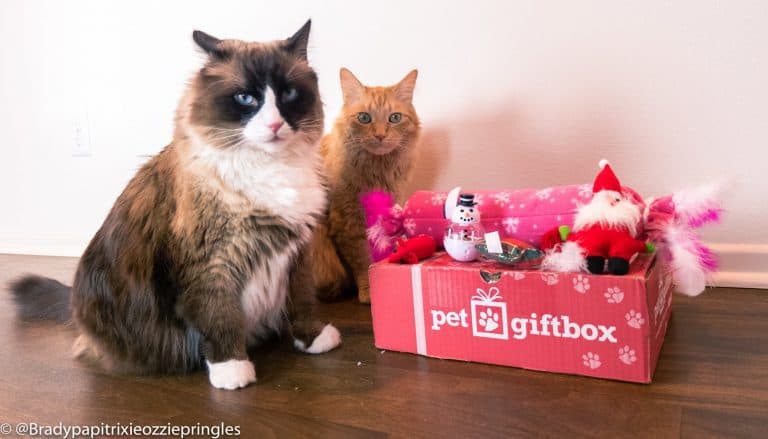 The cats and I were so thrilled with the November Pet Gift Box that we've signed up for 12 more months of surprises. All in all, the goodies in our box would have cost nearly $50 to purchase separately – but we'll be getting an equally impressive box every month for a fraction of that price!
To my delight, our December Christmas-themed Pet Gift Box arrived quickly. Sticking with the December Christmas theme, included in the box was a Temptations Snacky Snowman treat dispenser toy, a snowflake crinkly catnip kicker by Multipet, and a holiday stocking filled with 8 purr-fect kitty toys – balls, mice, and catnip pillows. There was even something for me in the box – a Pet House Candle by One Fur All with a fabulous holiday scent.
Ready to treat your cats with the gift that keeps on giving? Pet Gift Box is offering friends of The Catington Post 50% OFF your first box! Just enter the coupon code "yappymeowyear" at checkout! Click here!
When you get your first Pet Gift Box, come back and tell us what you think!
Meet our product testers:
Walter, Mandy, Olivia, Baldar, Boris, and Norman – 6 cats eager and willing to test any product that comes to Catington Post HQ! They were given a complimentary Pet Gift Box to review.