The names we choose for our cats can reveal a lot about our pets, our passions, or our cats' personalities. And, they often reflect the things that matter most to us. Whether they showcase our interests or reflect what's happening in the world around us, 2022 saw a lot of new cats, and a lot of new cat names!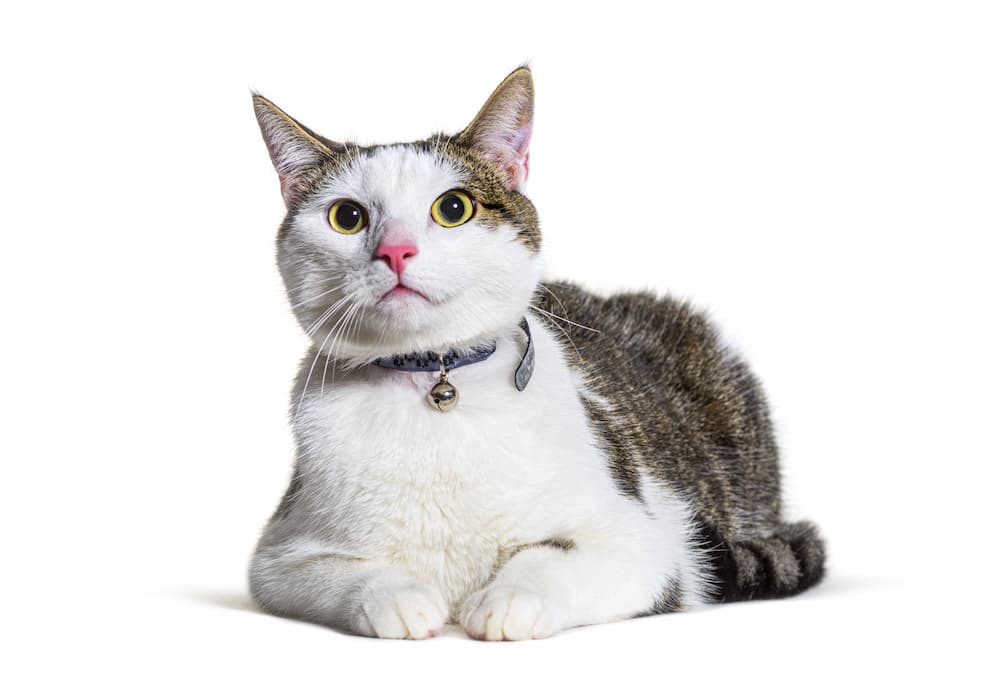 Rover.com, the world's largest online marketplace for loving pet care, just released its tenth annual Top Pet Names Report. From adventurous food preferences and pastimes, to favorite TV shows and nostalgic pop culture icons, pet names are a reflection of the passions and preoccupations that defined the year. This year's report draws from millions of user-submitted pet names provided by Rover pet parents over the last decade, and breaks down the most influential trends leading up to 2022.
A Decade of Bella and Max: 10 Years of Top Pet Names
Just like the trends that influenced them, the names we give our pets evolve over time to reflect the world we live in.   
The year 2020 introduced Covid-19 pandemic-inspired names like Covi, Rona, and Fauci and those continued to trend upward in 2021, as the pandemic dragged on. According to new data from 2022, a return to "normal" might be on the horizon with pandemic-inspired names like Rona and Covid trending down. Instead, it's now the widespread availability of Covid-19 vaccines driving inspiration in 2022 with the name Pfizer trending up 185% for dogs. As a cat name, Covid is still trending up (62%) along with Dr. Fauci at 82%.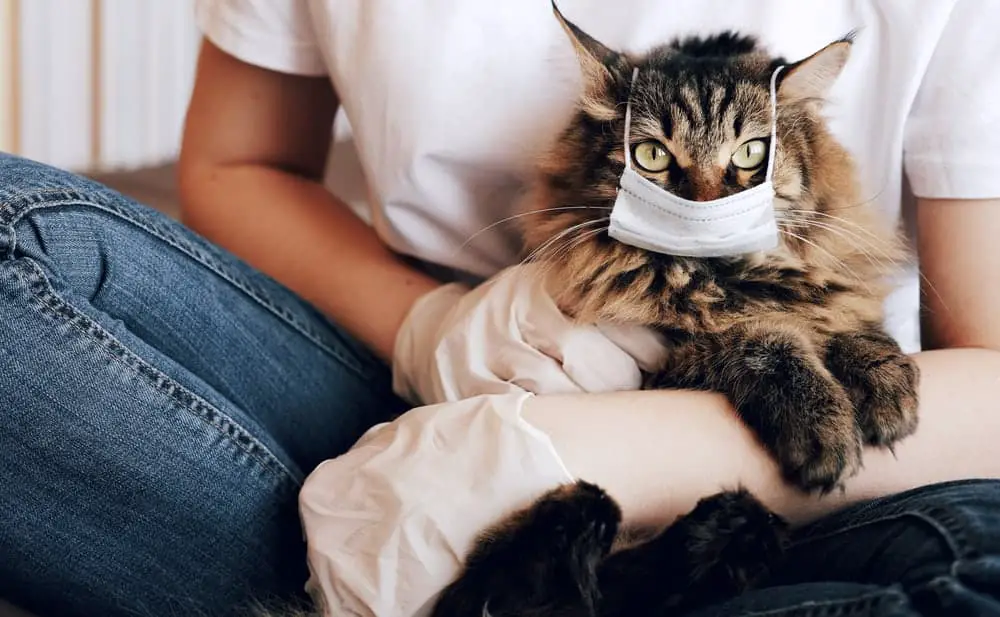 Pet parents love food-themed cat names
As taste buds and foodie trends evolve, so do food-inspired pet names. Classic food-inspired names like Ginger and Peanut were trending for dogs in 2014 and 2015, while food-inspired names took a backseat in 2016 and 2017 due to increasing popularity of human names and "Stranger Things". Renewed popularity for food-themed names emerged in 2018, with brunch-inspired names like Biscuit, Muffin and Waffles trending up for dogs. Brunch continued to inspire pet parents again in 2019, with Rosé and Croissant trending for dogs while Mocha and Latte were up for cats. In 2022, the top-trending food-inspired names are Hotpot (1,085%), Sashimi (785%), Pastrami (485%) and Calzone (435%) for dogs, and Roll (182%) for cats–perhaps driven by pandemic-related comfort foods and increased emphasis on takeout.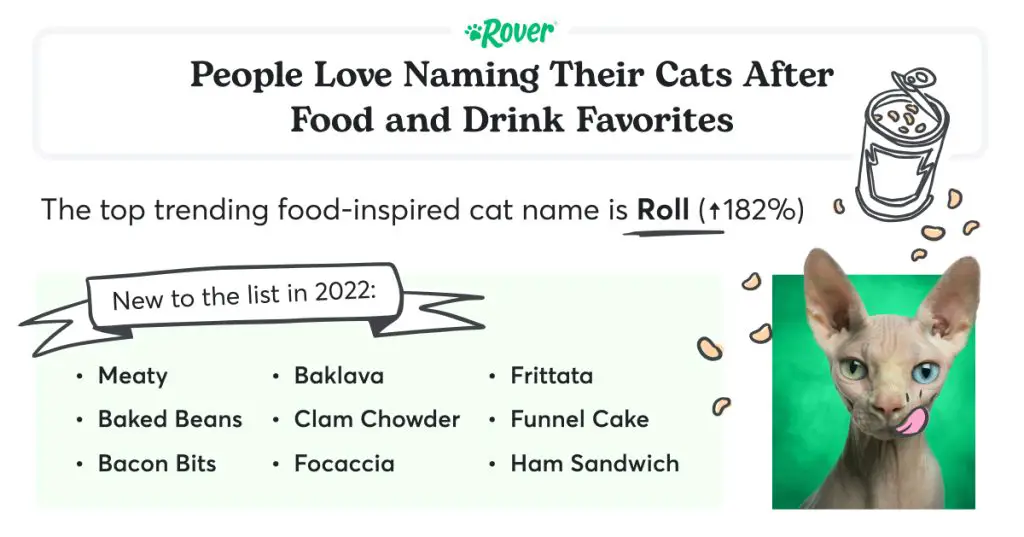 Life imitates art when it comes to the names we give our pets
Entertainment was a top inspirational category for dog and cat names throughout the last decade, with names inspired by "Game of Thrones" (2014, 2017, and 2019), "Stranger Things" (2016 and 2017), "Star Wars" (2014, 2015, and 2017), and "Harry Potter" (2015 and 2018) trending in multiple years. In 2018, Rover survey results revealed that one third (33%) of pet parents named their dogs after characters from TV shows, a trend that continues in 2022. Inspired by the popular "Game of Thrones" prequel series, "House of the Dragon," the names Targaryen (185%) and Daemon (45%) are trending up for dogs. Gen Z's favorite drama "Euphoria" didn't just inspire fashion trends this year—it also inspired the #1 trending dog name of 2022, Fezco, up 3,714% for dogs and 182% for cats. Other "Euphoria" characters driving inspiration include Rue ( 35%) and Faye ( 24%) trending up for dogs, while Maddy (35%) and Rue (24%) were trending for cats.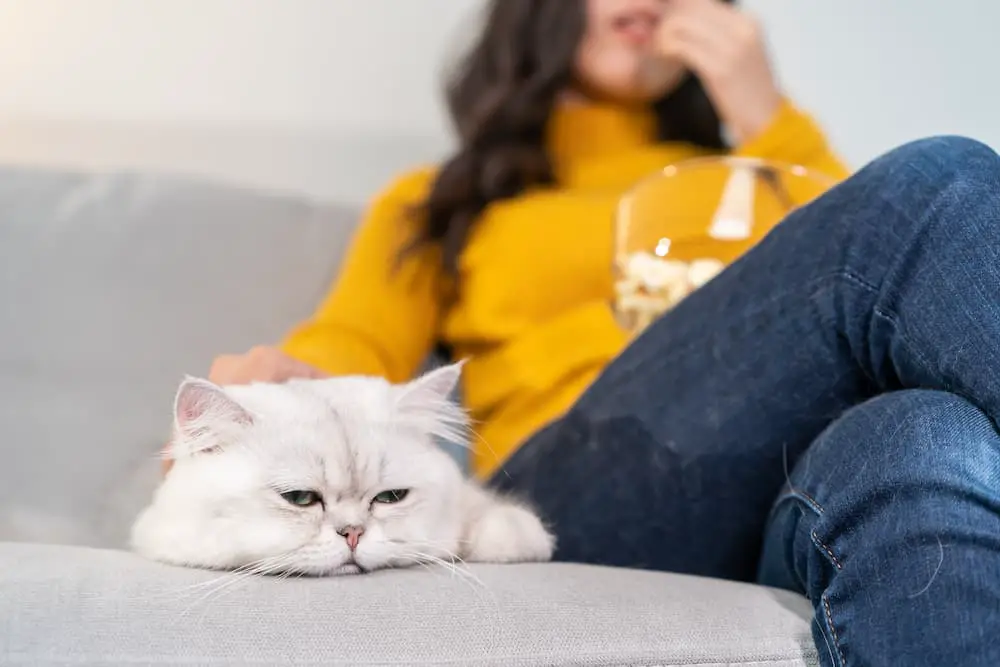 Are pet parents the new fashion trend experts? This year's report breaks down which luxury brands are in and which are out for 2022 (according to dog parents). Move over Coco Chanel (trending in 2016): luxury brands like Bottega (185%), Burberry (135%), and Hermes (24%) are inspiring dog names in 2022. Notably, despite global popularity of luxury brands like Gucci and Balenciaga, both are trending down this year as dog names. For cats, however, Gucci is trending up 27%, with Louis Vuitton (32%) and Prada (46%) rounding out the top-three. 
More 2022 Highlights
Each year, Rover's Top Pet Names Report unveils the people, places, and events that defined the previous 12 months. This year is no different with new, unique names and trends inspired by 2022–spoiler alert, nostalgia was big this year.
A lot has changed over the last decade, but some things remain the same. After claiming the #1 spot nine years in a row, Bella was eclipsed by Luna as the most popular female dog name in 2022, making Luna the #1 name for both female dogs and cats for the first time. Max takes the top spot for male dogs once again—marking ten consecutive years of the name's popularity—with Oliver in first place for male cats. 
Streaming Services Rein Supreme
Apparently, we do talk about Bruno. Disney's 2021 debut of "Encanto" took pet names by storm in 2022, with Mirabel (1,485%), Isabela (93%), and Bruno (26%) among the top 10 trending Disney and Pixar-inspired names for dogs. Mirabel is up 932% for cats.
Inspired by the Emmy Award-winning American sports comedy-drama series of the same name, Ted Lasso was added to the list for dogs in 2022.
"Yellowstone" took over living rooms in more ways than one in 2022. The name Yellowstone is trending up 485% for dogs, with Dutton (294%), Teeter (125%), Rip (100%), John (81%), Beth (64%), and Kayce (31%) also trending up. The top trending "Yellowstone"-inspired name for cats is Dutton, up 682%.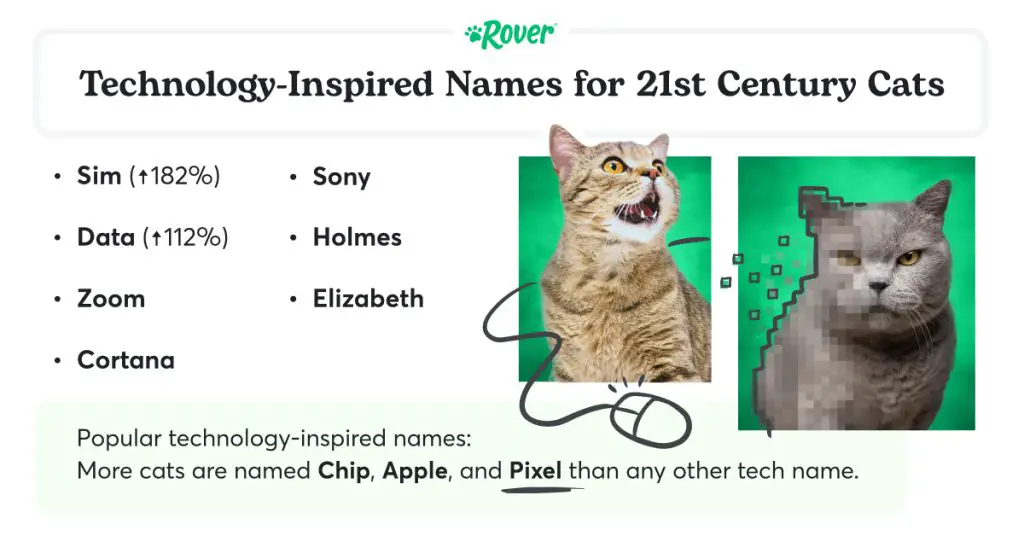 Retro Pop: What's New is Old
Following this year's film biopic, the name Elvis Presley is trending up 51% for dogs and 82% for cats in 2022. Meanwhile, Elvis Pugsley is up 85% for dogs while Elvis Purrsley is trending by 32% for cats.
 In Memoriam
The top trending names associated with the beloved celebrities who passed away in 2022 include: Ivana (285%), Betty (32%), Estelle (18%), and Meatloaf (16%) for dogs and Judd (319%), Betty (47%) and Russell (32%) for cats.
The late Queen of Disco Donna Summer may have inspired pet parents in 2022: the name Donna is trending up 26% for dogs and 20% for cats. 
In-memoriam of the late Jeopardy host, the cat name Alex Trebec appeared on the list for the first time in 2022.
Music-Inspired Names Take Center Stage
A return to live music came with a surge of pet names inspired by artists who took the main stage in 2022. The names Bieber (185%) and Styles (25%) are trending up for dogs, while Kitty Gaga (382%), Meghan (51%) and Stallion (85%) are trending for cats.
Are cat parents more likely to be self-described Billie Eilish fanatics, or "Eyelashes"? Both Eilish (182%) and Billie (13%) are trending up for cats in 2022.
Comfort Foods, Niche Flavors, and Seltzer
The top-trending comfort-food cat names this year are Roll (182%), Green Bean (162%), Casserole (102%), and S'More (102%).
The ongoing hard seltzer craze bubbled up some trending pet names this year: The name Truly is trending up 74% for dogs while the name White Claw is up 32% for cats. For the first time, the dog name Seltzer appeared on the list in 2022.
To see the top male and female cat names and trends of 2022, please visit here.
The Catington Post is reader-supported. That means, if you make a purchase through links on our site, we may earn an affiliate commission. All images and names which are not the property of The Catington Post are the property of their respective owners.
Methodology 
The Top Pet Names 2022 report was developed by Rover between September and October 2022. Results are based on analysis of millions of user-submitted pet names provided by pet parents on Rover.com. This report is not endorsed or sponsored by any of the brands, celebrities and businesses mentioned within.
About Rover 
Founded in 2011 and based in Seattle, Rover (NASDAQ: ROVR) is the world's largest online marketplace for pet care. Rover connects pet parents with loving pet care providers who offer overnight services, including boarding and in-home pet sitting, as well as daytime services, including doggy daycare, dog walking, and drop-in visits. Millions of pet parents have booked a service on Rover, with more than 500,000 pet care providers across North America and Europe.