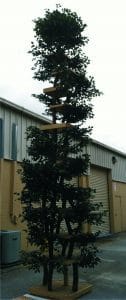 Every day, Guinness World Records inspires ordinary people to do extra-ordinary things! Pet Tree Houses has done just that. Crafting the World's Tallest Cat Scratching Tree at 16' 10" measured to the highest platform and over 20' tall including the leaves!
Pet Tree Houses, a family-owned cat furniture company out of Sanford, Florida, was commissioned by a family in West Linn, Oregon to design a tree for the two story "catmosphere" they had custom built for their four rescue cats. Besides being very tall, the tree needed to be safe and sturdy, as well as functional and aesthetically pleasing – for both the cats and their humans.
Shelley DelRocco, President of Pet Tree Houses, said "We are so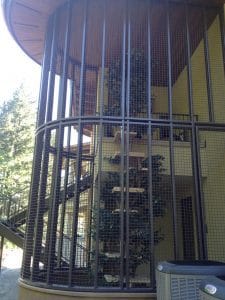 happy to be able to give the animals a safe place to play and rest, which makes them more at ease in an indoor environment. Pet Tree Houses' entire product line uses real trees and synthetic silk foliage to bring out your cat's true nature encouraging them to scratch and stretch on the gnarled branches. We love helping the pets, as they are our true inspiration."
Every month, thousands of entries are submitted to Guiness to become World Records. But, only 5% are actually accepted and become records. Check out the video submission that Pet Tree Houses sent to Guiness – and get a closer look at their amazing tree house!
Join us in congratulating the folks at Pet Tree Houses! If you'd like your own version of one of their unique cat trees, not to worry – they have them in all sizes!
Visit www.PetTreeHouses.com.