US-based company, ThinkGeek has just made it even easier for cat lovers to express themselves…just like their cats do! Targeted at those who do cosplay, the "Twitchy Kitty" cat tail and ears, help dress up as a feline, move your ears, and twitch your tail just like a cat.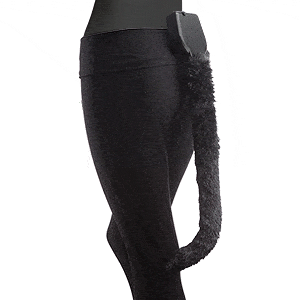 The tail, powered by four AA batteries, is simple to use. Just attach it to your waistband with a clip. It swishes and swirls and curls up like a real cat's tail. The Twitchy Kitty Animatronic Ears are remote controlled  and can shift into eight different positions that depict a cat's emotional state. Stuck in traffic? Ears flat. Hear something down the hall? Twitch left ear.
Do you need a tail and ears? Twitchy Kitty Electronic Tail can be ordered directly from ThinkGeek for US$34.99. The Animatronic Ears are priced at $30.