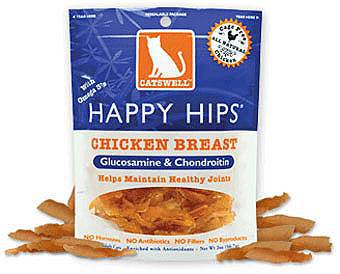 Despite repeated efforts by cat owners in the United States to stop the import of all chicken jerky treats from China, a few companies have held firm that their products were completely safe and did not include trace amounts of unapproved antibiotics responsible for the massive chicken jerky recalls of 2012.
One of those brands was Catswell…
The recall was announced in a letter to consumers at the Dogswell website: (Dogswell is the manufacturer of Catswell treats)
Dogswell and Catswell Voluntary Market Withdrawal
A Letter from Company Spokesperson, Brad Armistead
Dear Fellow Pet Parent:

At Dogswell, our number one priority is the safety of our products and the health of our canine and feline customers. We strive to make and sell only the highest quality treats and food with added vitamins that provide great taste and functional benefits such as improved hip health, skin and coat health, and other benefits.

During routine testing of our products, the New York State Department of Agriculture & Markets (NYSDAM) discovered that a sample of our Dogswell Happy Hips Chicken Breast Jerky contained trace amounts of an antibiotic residue that has not been approved for use in the United States. It is important to note that this antibiotic is accepted for use in other countries (including the European Union), and there is no evidence that products containing trace amounts of this antibiotic pose a health risk for pets or humans. Since we were notified by the NYSDAM the week of July 22nd, we have made the decision to voluntarily withdraw Chicken Breast and Duck Breast jerky under the Breathies, Happy Heart, Happy Hips, Mellow Mut, Shape Up, Veggie Life, Vitality, and Vitakitty brands that are labeled with a "Best Before" date of January 28th, 2015 or any earlier date. The vast majority of these products were distributed before March 1st of this year. No other products are affected.

Since January, we have been using state-of-the-art testing procedures to ensure that our chicken and duck products do not contain these or other unapproved antibiotics. All chicken and duck breast jerky products with a "Best Before" date of January 29, 2015 and later have been fully tested for and do not contain these antibiotics.

It is important that you know that all Dogswell and Catswell products remaining on the market are safe to feed as directed.

We have issued a press release to make our consumers like you aware of the situation. We also identified the stores that received the product, and contacted them to destroy any affected products in their possession (if any).

We are doing everything we can to resolve this situation quickly and ensure that our consumers like you can feel confident feeding Dogswell and Catswell products to their companions, as we do here.

To learn more about the affected product, we invite you to read our "frequently asked questions" below. If you would like to speak with someone live, you can call us at 1-888-559-8833 or email us at info@dogswell.com. If we are unable to get to your call or it is after hours, please leave us a message and we will get back to you as quickly as possible.

We thank you, our valued customers, for your understanding, and we hope to be able to regain your trust.

Yours,

Brad Armistead
The following Dogswell and Catswell brand chicken and duck jerky products, with a "Best Before" date of January 28th, 2015 have been recalled:
Breathies
Happy Heart
Happy Hips
Mellow Mutt
Shape Up
Veggie Life
Vitality
VitaKitty
If you have a package of any product involved in the recall, discontinue feeding immediately and call Dogswell at 1-888-559-8833 for a full refund.
And please check your labels! Avoid food and treats that have been imported from China!