Residents in a San Jose, California neighborhood are feeling a mix of emotions — fear, anger, and grief mostly — after a serial cat killer who was sentenced to 16-years in prison was released early, after serving only 4 years.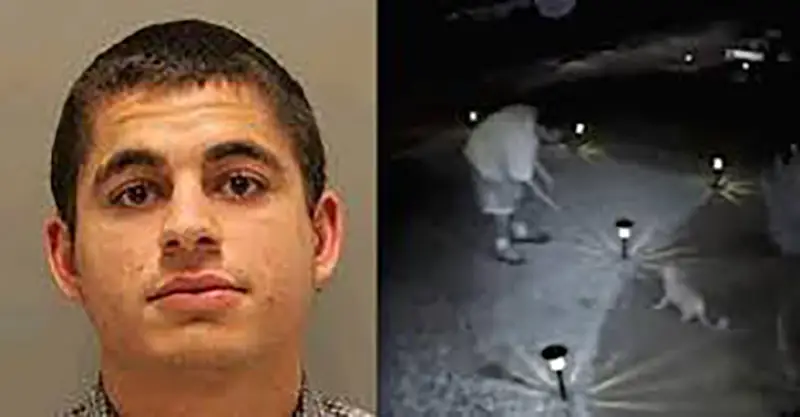 According to court documents, cats first started disappearing from San Jose's Cambrian Park neighborhood around September 2015. Security camera footage captured a young male suspect luring and grabbing a 17-year-old cat named GoGo from a woman's front porch. That cat was never found. Then 24-year-year old Robert Farmer was arrested the following month when police found him sleeping in a car, covered in fur and blood.
San Jose police found an unidentified orange tabby dead in the car, along with cat collars, fur, and numerous bloodstains. It was later determined that the tabby had been sexually abused.
Robert Roy Farmer, the son of a retired San Jose Police Department captain, was originally charged with three felony counts of animal cruelty, one count of attempted animal cruelty, and one misdemeanor count each of battery and being under the influence. But, DNA tests on blood, fur, and other items found in his car eventually led to 21 charges of felony animal cruelty.
By the time he faced a judge in July 2017, Farmer was found responsible for the deaths of 21 cats — Angel, Gogo, Rayden, Thumper, Jupiter, Traveler, Babe, Ichigo, Tiger, Orange Tabby Doe and "Does" 1 through 11.
Santa Clara County Judge Sharon Chatman read the names of each one of then-26-year-old Farmer's feline victims aloud in court as she handed a cat killer the maximum sentence possible.
Because Farmer was diagnosed with antisocial personality disorder by a court doctor, Deputy District Attorney Alexandra Ellis urged the judge to consider mental health reports that stated Farmer had a "profound lack of empathy and remorse" for his crimes and "significant anger" demonstrated towards his family. The doctor also considered him a possible danger to the community, with a prognosis for recovery that was "poor, with potential escalation to higher life forms in the future."
Judge Chatman said that Farmer was "a danger to the community" and sentenced him to 16 years in jail — the maximum sentence possible — for killing and torturing cats that he snatched from a San Jose neighborhood. He was also ordered to stay away from the Cambrian Park neighborhood where he took the cats and he is not to own or care for any animal for 10 years after his release.
Shockingly, on March 1, 2022, only 4 years into his 16-year sentence, San Jose Cat Killer, Robert Farmer, was released from custody.
Victims were informed of the killer's release via an email from the California State VINE, a victim information service, on the day he was returned to the streets. Residents of the 95124 Cambrian Park ZIP code area are requested to contact the Santa Clara County Sheriff's Office if he is seen in the area.
It's a sad day for animal lovers and advocates. If statistics hold true in this case, Robert Farmer is likely to repeat his crimes.
The Catington Post is reader-supported. That means, if you make a purchase through links on our site, we may earn an affiliate commission. All images and names which are not the property of The Catington Post are the property of their respective owners.