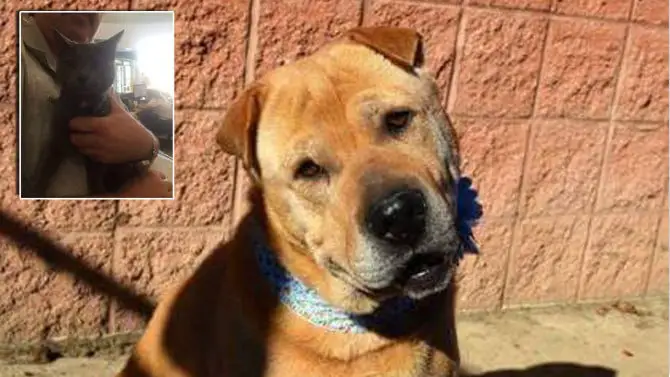 Well, here's a paw-some story! Leopard, a 6-year-old Shar-Pei at Cuyahoga County Animal Shelter in Ohio, who is recovering from a cancerous tumor, was out for a walk with a volunteer when she laid down on a sewer grate and refused to move.
"Upon closer inspection the volunteer noticed a young grey cat stuck in the sewer," said Mindy Naticchioni, an administrator at the Cuyahoga County Animal Shelter in Ohio.
While the cat was dehydrated and hungry, she is healthy and is now also staying at the shelter. "Had Leopard not alerted us that something was going ok with the sewer, we may not have known the cat was even in there. Leopard is a hero," Mindy told InsideEdition.com.
Leopard, the hero dog is still looking for a home. It's been hard to find the right family for her because she has special needs. Hopefully the right family will hear her story and give her (and maybe her kitty friend!) the perfect forever home.