Are you the type to get up at the crack of dawn and shop on Black Friday or do you prefer to shop from the convenience and comfort of your cat-themed pajamas? Things may be a bit different this year – stores are extending their Black Friday deals to week-long events and most shopping can be done online if you're not ready to brave the holiday crowds yet. Either way, there's no denying shopping season is well underway. And those of us who share our homes with cats are sure to include them in our shopping plans! I stock up on cat litter for the entire year on Black Friday!
With so many stores having huge sales, it can be difficult to plan and navigate your way around to find the absolute best deals. So, to help you (and your cat) out, we've compiled a list of all the best Black Friday deals for cats! Happy shopping!
We will update this list as new deals are announced, so keep checking back!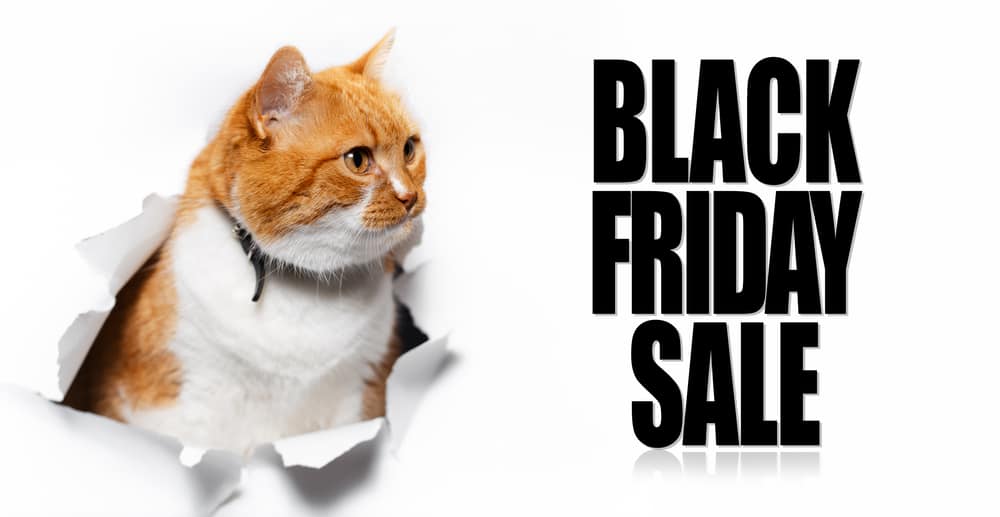 Petco
Online and in stores 11/26-11/29
50% Off Holiday Tails Collection toys, beds, and accessories
BOGO Free WholeHearted cat treats
Up to 50% Off water fountains
Up to 50% Off Cat beds and furniture
PetSmart
Online 11/26-11/27, In stores 11/27
2 for $25 Arm & Hammer cat litter 28lb & 40lb boxes
50% Off holiday cat beds, toys, and accessories
50% Off Whisker City and Meowijuana cat toys
Amazon
Amazon's Holiday Deals deals are up now, and other items will be on sale from now until Black Friday. Since Amazon is an online store, new sales will go live 24 hours per day.
Farm & Home Supply Center
11/23 – 11/29, Closed on Thanksgiving
Up to $5 Off premium cat food (brands include Whole Earth Farms, Taste of the Wild, Wildology, Fromm, Nutro, Natural Balance, Canidae, and others
30% off all toys
25% off all treats
Tractor Supply
Deals 11/24 – 11/28, Closed on Thanksgiving
Paws & Claws Scoopable Cat Litter 35-pound pails $8.99
$10 Off Blue Buffalo Cat Food 11lb bags
40% pet beds
Bogo 50% off cat toys and treats
Meijer
11/22 – 11/28
Bogo 50% off Blue Buffalo food and treats
Bogo 50% off Pet Bowls, treat jars, and feeders
Buy 2, Get 1 Free Meijer Cat Litter 10-40 lbs.
Buy 3, Get 1 Free Purina cat treats
Bissell Pet Hair Eraser Turbo Vacuum $129.99
Pet Supermarket
11/27 – 11/30
$10 Off Seresto Flea collars
$5 Off Greenies cat treats 9.75oz tubs
Bogo 50% off Nutro Cat Food 12-pack and 5lb bags
Bogo FREE Earthborn Holistic 5lb bags
10 for $10 Weruva canned cat food
Extra 50% Clearance items
$15 Off Nature's Miracle 1-gallon jugs (Friday only)
50% off all holiday cat toys (Friday only)
Pet Supplies Plus
Regular store hours. Deals 11/23 – 11/29
50% Off Holiday Cat toys and scratchers
50% Off holiday cat apparel and accessories
50% Off Play On or PS+ Cat Beds
Play On Scoopable Cat Litter 35lb pail $9.98
Bogo Free Blue Buffalo dry cat food
50% Off select varieties of cat food, treats, toys, and catnip