Cats need a water fountain for many reasons. They need to stay hydrated, and a water fountain is an easy way to make sure they always have fresh water. A water fountain also encourages them to drink more water, which is good for their overall health. And, let's be honest, cats love playing with water, so a water fountain is a great way to keep them entertained.
We did a lot of research to find the best water fountains for cats, and we think we've found the perfect ones. These fountains are all easy to set up and use, and they're sure to keep your cat happy and hydrated. So, if you're looking for the perfect water fountain for your cat, read on.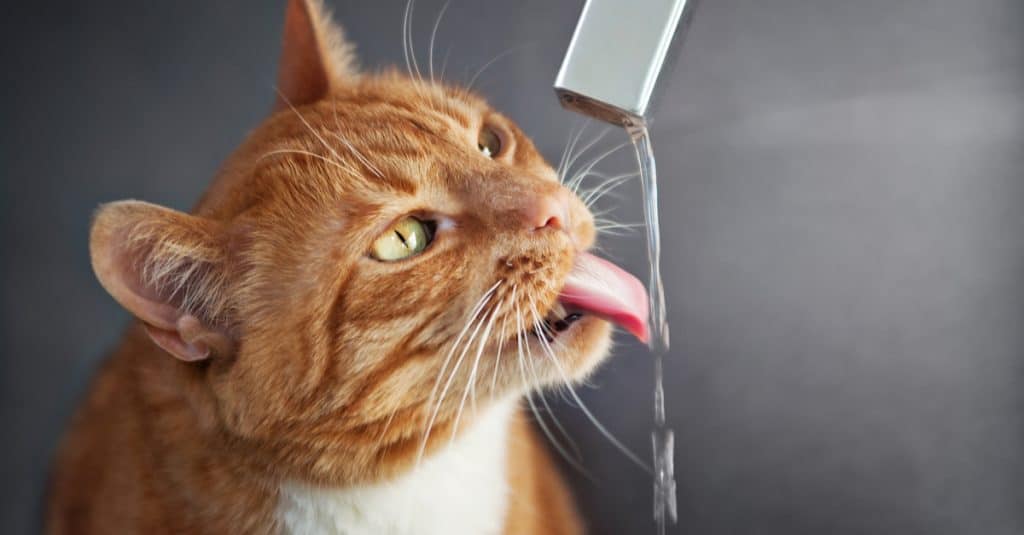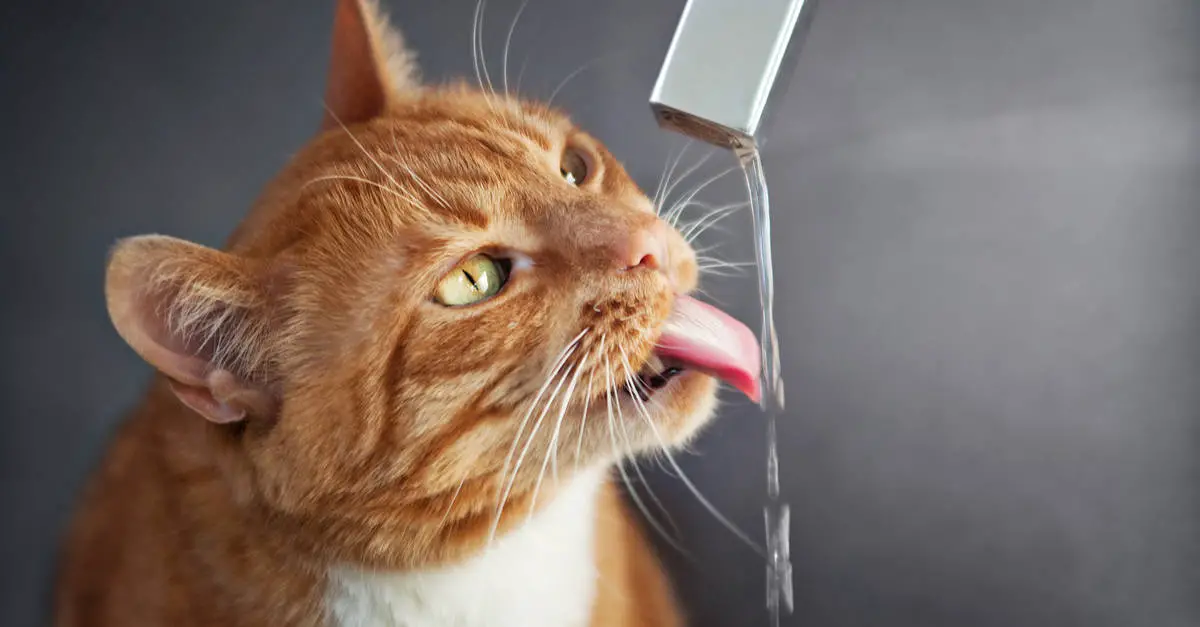 Have you ever found your cat licking water from a dripping faucet? Studies have shown that animals – and cats in particular – prefer to drink from moving water rather than still water found in a traditional bowl. Additionally, since our cats get most of their water intake from the food they eat – and are often fed a diet of dry kibble – many cats are in a constant state of dehydration. Fortunately, water fountains can help entice cats to drink more.
Choosing a water fountain for your cat is far more important than you may realize. Cats hail from the hot, arid desert of the Nile Crescent and their ancient ancestors developed in such a way as they were able to obtain most of their water intake from the food they caught. But, over the years, we have forced a diet of dried kibble on them, putting them in a constant state of dehydration. This lack of water can lead to health issues, like urinary crystals and kidney disease.
As cat owners, it's important to understand that cats often need to be coaxed to drink enough water. This is where the water fountain comes into play.
With that in mind, we've scoured the market to bring you the Best Water Fountains for Cats.
Factors we considered in choosing the Best Water Fountains for Cats:
Size: Of course, one obvious consideration when choosing a water fountain for a cat is the size. You don't want it to be too large or your cat may avoid it. On the other hand, a fountain that needs to be refilled multiple times a day is probably too small.
Materials: Fountains come in a variety of styles and materials, including ceramic, stainless steel, glass, and plastic. Most of these fountains focus on dropping water to entice your cat into drinking, but others rely on recirculating pond-like water for the finicky feline.
Filters: Many fountains use replaceable filters to remove any chemicals and improve the water's natural flavor. 
Appearance: While this isn't the most important factor, the water fountain's appearance does play a role in the purchase decision. We considered whether our top picks would be an attractive addition to your home.
And the top picks are…
Best Overall Water Fountain for Cats:
Petsafe® Drinkwell Avalon Dog and Cat Water Fountain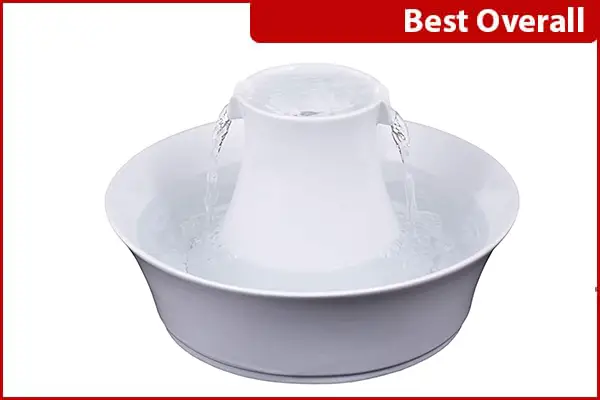 Pros: The perfect cat fountain will keep your cat's water supply fresh and clean, encouraging him to drink more water. It should also be affordable, durably constructed, nice to look at, and easy to clean. The Drinkwell Avalon Dog and Cat Water Fountain checks all the boxes. 
With its modern design and 70-ounce capacity, the Avalon Fountain is ideal for households that have more than one cat (and they say, cats are like potato chips – you can't have just one!). The bowl design not only minimizes spills and splashes, but also provides a large drinking area to accommodate pets with large or flat faces. It also makes checking the status of the water (Is it dirty? Does it need a refill?) a complete breeze.  The sound of the falling water in the fountain is whisper-quiet making it easily approachable by scaredy cats. The fountain provides dual filtration including an activated carbon filter for freshness and a foam filter to capture hair and debris. Avalon is easy to clean, too. The ceramic bowl and ceramic tower are both dishwasher safe.
Cons: While the replacement filters are very reasonably priced, they may need frequent changing (every 2-4 weeks as suggested by the manufacturer) and cleaning the fountain requires some disassembly.
"One of my cats has only one kidney, so getting her to drink water is important, and had been a challenge until we bought this fountain. This is an excellent fountain for cats, the cats are attracted to it. Previous fountains we have tried splash the cats while they are drinking, so my cats wouldn't use them. This fountain is perfect for them." -S.M.
Click here to shop for your PetSafe Avalon Water Fountain
Best On-A-Budget Water Fountain for Cats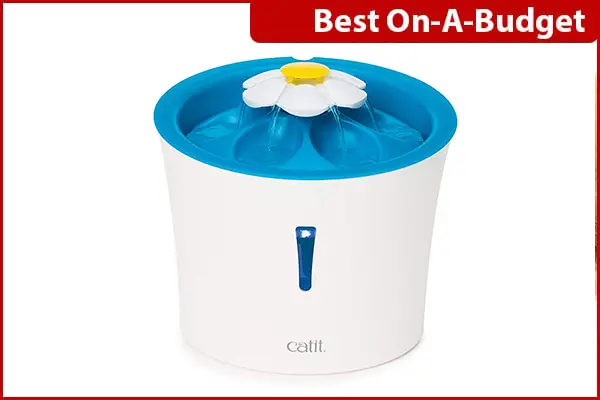 Pros: Fans of the Catit Senses line of toys and feeders will recognize this fountain, as it blends in seamlessly with their other products. The flower fountain is light on your budget but big on features! The BPA-free plastic fountain holds a whopping 100-ounces of water (great for multiple cat homes). It includes a triple-action filter that purifies your cat's drinking water for 30 days. What's more, you can adjust the flow of the water to suit your cat's drinking style – from a light trickle to a flowing stream of water. And, unlike regular water bowls, the Catit Flower Fountain pushes only filtered, running water to the surface. This prevents your cat from having access to dirty water. Additionally, any time we've used Catit water fountains, the pump was a whisper-quiet workhorse. AND, this new blue version comes with a handy water level indicator that wasn't on their older green model!
Cons: While we do think it's really cute, if you're looking for a fountain that will blend in with your home decor, this may not be the right option. The fountain is very simple to clean but does require some disassembly.
"I have 11 cats and have tried several different fountains. Some were noisy, many had pump failures, and most of them were difficult to clean. This doesn't have any of those problems, plus you know the cats are only drinking clean, filtered water. I also think it stays cleaner by standing farther off the ground, and not having the open bowl design that allows more "stuff" to end up in the fountain, including cat toys." – P. Smith
Click here to shop for your Catit Water Fountain
Best Premium Water Fountain for Cats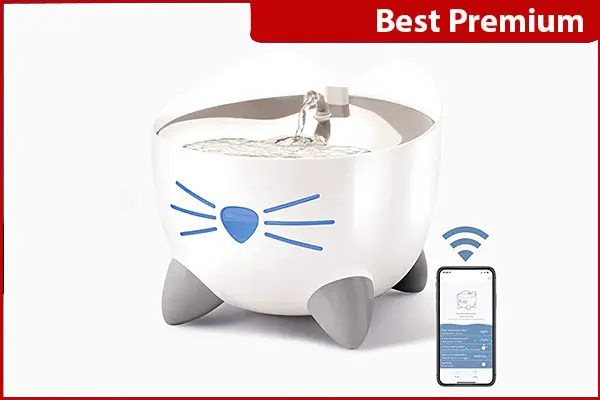 Pros: For those who want only the very best for their cats, we present the impressive Catit Pixi Smart Fountain. Is your cat's water dirty? Does the bowl need to be refilled? Is it time to change the filter? There's an app for that! That's right, Pixi can be monitored with its own smartphone app! Water level and filter change alerts tells you when the water level is low, when water quality is impure or potentially harmful, and when the filter needs changing. That's not all, though. The fountain has three stages of filtration to purify your cat's drinking water – first, a screen mesh to trap hair and dissolved solids. Second, an activated carbon filter to remove odor and bad taste. And last, an ion exchange resin filter that purifies water. Pixi's adorable nose isn't just there for looks — it's also a nightlight so your cat can find water at all hours. PLUS, it lights up different colors to indicate things like when to refill it will water or when to change the filter. And last, but most definitely not least, three times a day Pixi sterilizes the water using UV-C light to kill 99% of bacteria and viruses. WOW!
The fountain holds 2L of water in its BPA-free bowl. But even big bowls run out of water sometimes. That's okay with the Pixi fountain. If you miss filling it up, it's got an automatic shut-off to avoid burning up the pump. What's more, you can control the amount of flow to satisfy your cat's preference.
Cons: The Pixi only supports a 2.4 GHz Wifi signal. This is fairly common with home wifi devices but can cause some connectivity issues among users.
Click here to shop for your Catit Pixi Smart Water Fountain
Notable Mentions:
Because there are as many varieties and styles of cat fountains as there are of cats, no single fountain will be perfect for every situation. With that in mind, we couldn't ignore these other fountains!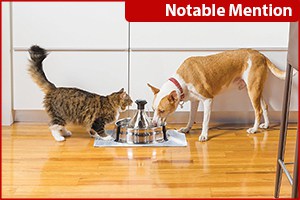 Best Water Fountain for Multiple Pets:
Drinkwell 360 Multi-Pet Stainless Steel Dog and Cat Fountain
The PetSafe Drinkwell Stainless Multi-Pet Fountain provides convenience for you while giving your pet plenty of water to stay hydrated – an entire gallon of water, to be exact. The free-falling stream keeps water moving, and an activated-carbon filter removes bad tastes and odors giving your pet the best way to stay hydrated and healthy.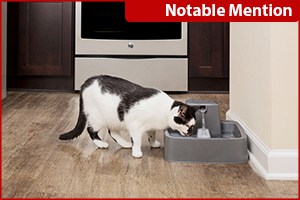 Budget-Friendly Fountain for More Than One Cat:
PetSafe Drinkwell 1-Gallon Pet Fountain
The PetSafe Drinkwell 1-Gallon Pet Fountain features a massive 1-gallon bowl—enough for a large clowder of cats (They also make a 1/2-gallon and a 2-gallon version!). It has a free-falling water stream with adjustable flow control that you can adjust from nearly silent circulation on the lowest setting to a tranquil stream on the highest. The flow control allows you to tailor the water flow to your pet's needs. When it's time to refill, simply use a pitcher to fill the bowl to the desired level. This fountain was specifically designed with no hard-to-reach crevices to clean, making it a breeze to maintain. Includes one carbon filter.
*As part of our review process, The Catington Post may have received sample products to test. Our opinions and recommendations are unbiased and remain our own.
Found this review helpful? Pin it!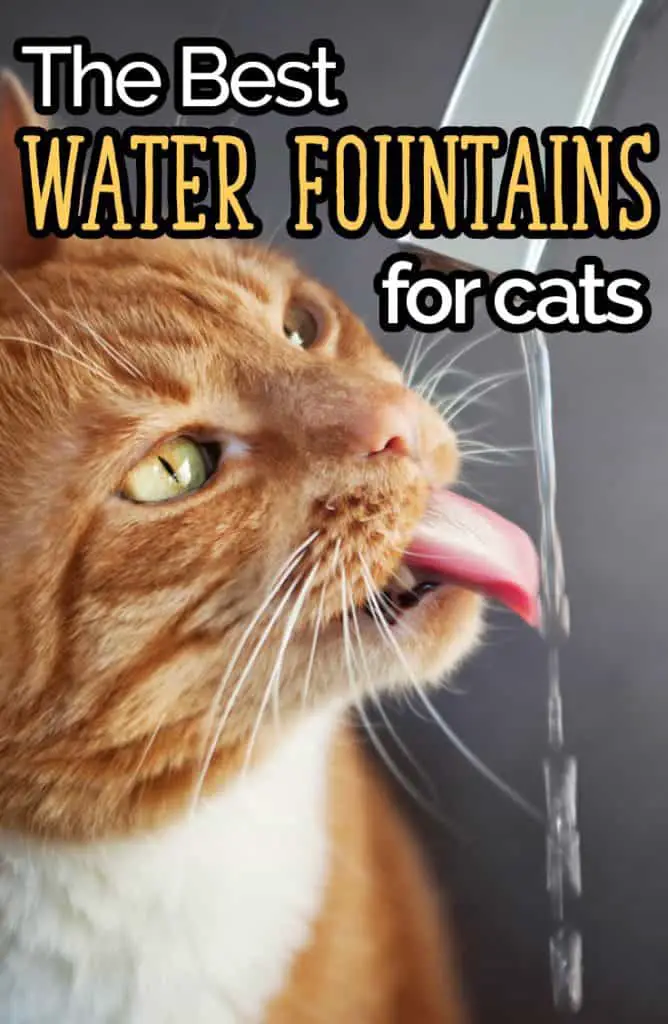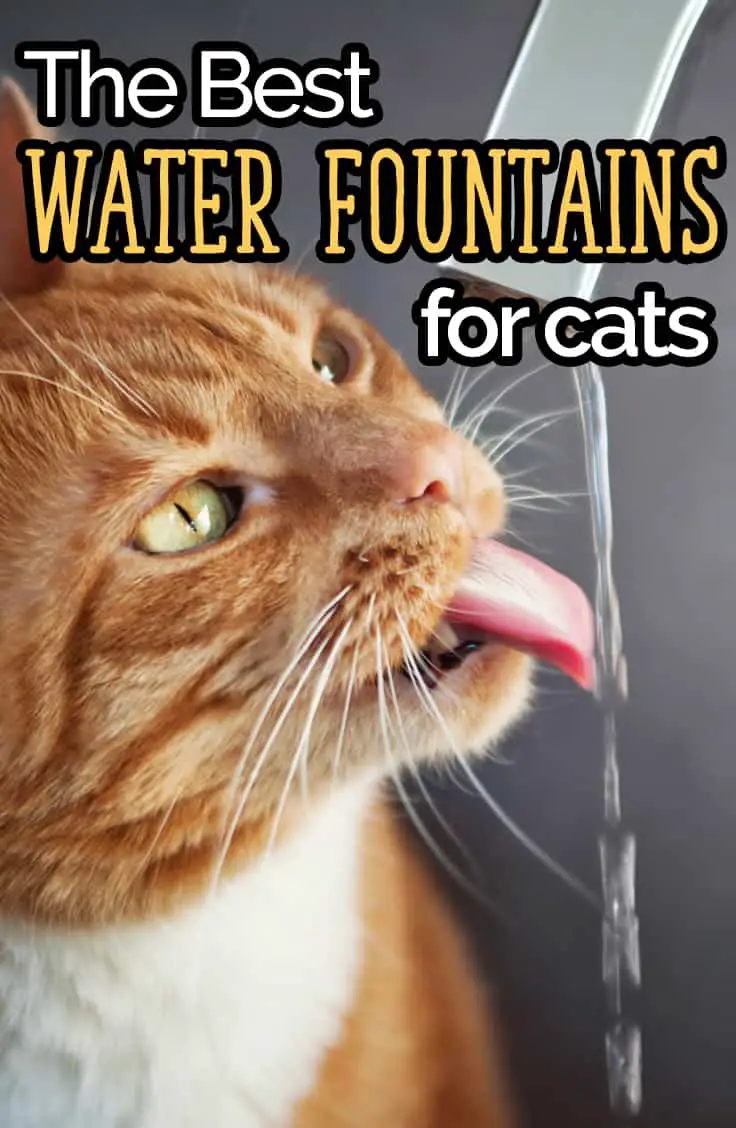 The Catington Post is reader-supported. That means, if you make a purchase through links on our site, we may earn an affiliate commission. All images and names which are not the property of The Catington Post are the property of their respective owners.