Have you met Lil Bub? Well, I did and it was everything I'd hoped for…and more.
Her tongue hung from her mouth and rested gently upon the leather couch where her dude, Mike, sat, exhausted after 2 straight days of interviews, panels, and meet and greets with Bub's adoring fans. It was all a part of CatConLA, a 2-day event – like ComicCon, but for cat people like you and me.
I tried desperately to act like a professional and failed miserably at hiding the fact that I was totally geeking out at the chance to meet her. There really is something magical about Lil Bub. You feel it when you're in the same room with her. When I looked into her eyes, I felt like we would be whisked on a brightly colored journey through time and space to her home planet and — you get the idea. It's a good thing I had pre-written some questions for Mike and Bub.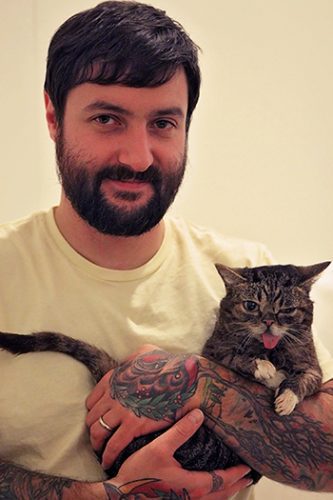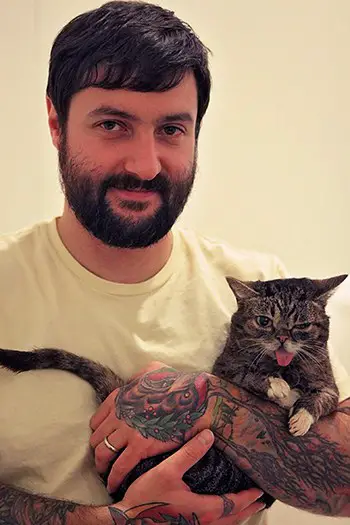 Lil Bub always seems so agreeable, just very relaxed in the arms of her Dude. Mike had mentioned the previous day during a panel titled, "My Cat's An Internet Celebrity and How I've Dealt With That" that Bub's comfort always comes first – if she's unhappy, he never hesitates to take her out of a situation. So I was curious if she ever has a mean streak.
"You know, she very rarely dislikes people," Mike told me. "But she's very intuitive and can really sense a person's intentions and sort-of their core being. And so she has hissed at people. Very rarely. David Foster was one of them."
He elaborated, "It's often males who aren't cat people and think they can just stick their hand in an animal's face and they don't like that."
Turns out, Bub isn't one of those cats that will seek out a non-cat person and climb on their lap. "She's the opposite," Mike said. "It's not about being a cat person or not. It's about being a genuine, kind, good-on-the-inside person. No offense to David Foster, I don't personally know him, but I think Bub has a problem with him."
Bub may be "lil" but she was a huge draw for the crowds who paid up to $150 each for a chance to meet and get a selfie with the famous kitty. It's not for profit, though. Every dollar Mike and Bub make doing meet and greets goes to Lil Bub's Big Fund for special needs pets and local rescues.
What exactly is Lil Bub's Big Fund? It's a partnership with the ASPCA, but what Mike says most people don't understand is that 100% of the money collected doesn't go to the ASPCA. It's actually distributed through grants to shelters all over the country – big and small – specifically set aside to help homeless pets with special needs.
Special needs pets are defined by the Big Fund as those that need special care or extra help in order to get adopted. That includes those with physical deformity, birth defects, and developmental disabilities like Bub, but it also includes pets that are blind, deaf, injured, have permanent diseases like FIV or diabetes, and even senior pets.
"So, anytime we reach a certain amount of money, the ASPCA announces that grants are open for Lil Bub's Big Fund, and then shelters can apply for these grants by writing proposals." Mike continued, "We've worked hard at this, and it's been really successful. We've already awarded $130,000 in less than a year and a half."
You can donate directly to Lil Bub's Big Fund at www.aspca.org/lilbub and a portion of the proceeds from anything purchased from Lil Bub's The Bub Store also go to the Big Fund.
After our chat, I asked Mike if I could take a photo with him and Lil Bub. Unfortunately, this was after 2 days of CatCon craziness and Bub was tired. True to his word, Mike didn't put Bub in a situation she wasn't comfortable in – and I totally respect that. So I settled for a Bub plush doll, happy to know my purchase was supporting such a wonderful cause.