When the Easter Bunny goes hopping down the bunny trail to your house on Easter Sunday, don't let him forget to leave a basket for your cat! Include your kitty in the Easter fun by creating something special – and safe – for him or her to enjoy. After all, cats are family, too!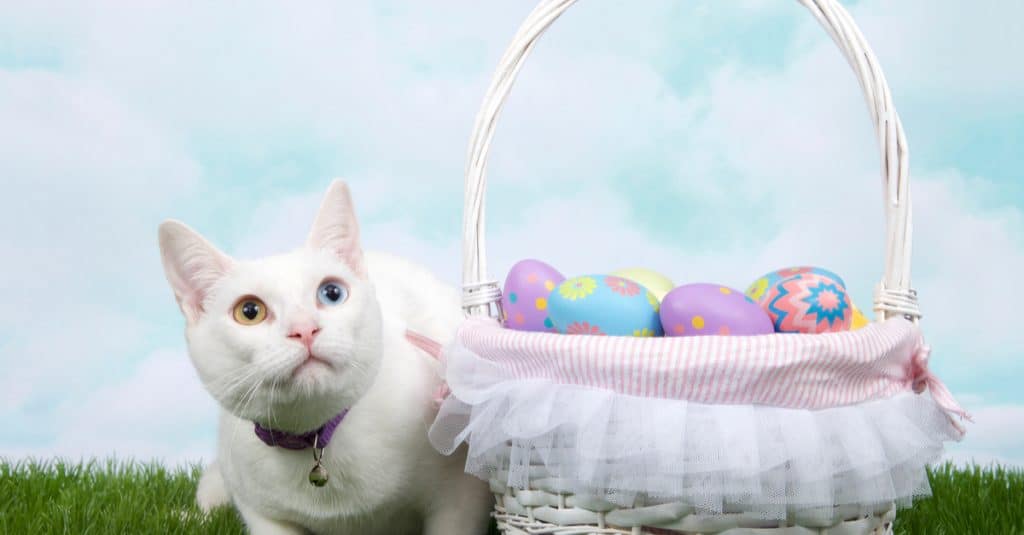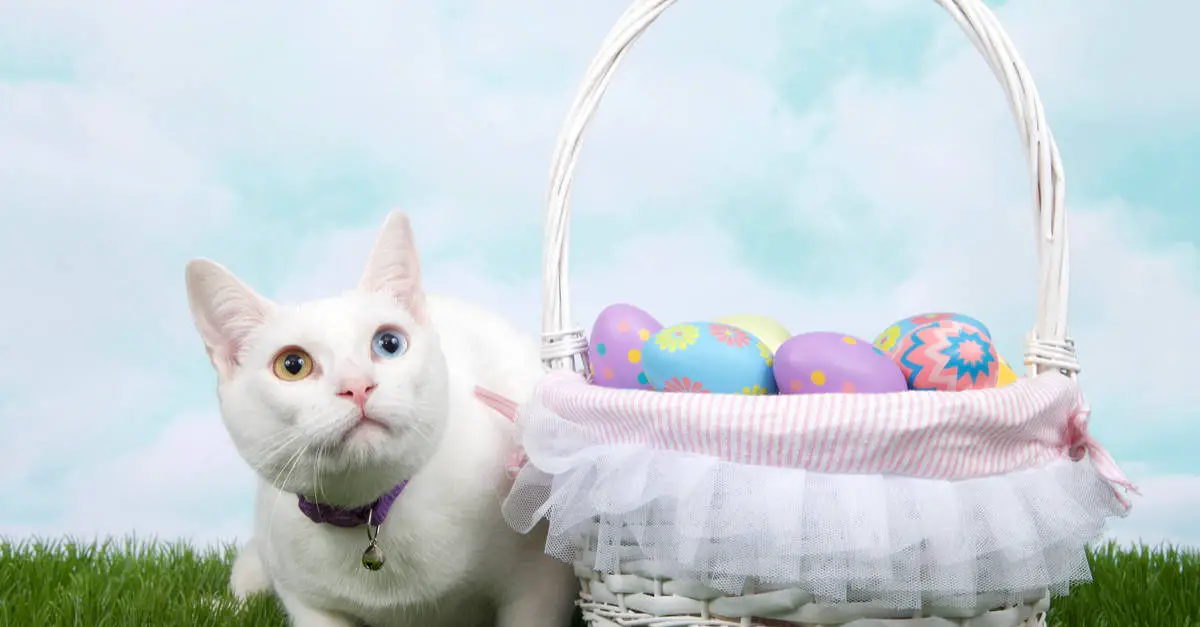 We've picked some of our favorite Easter and Spring-themed toys and treats that we think would be purr-fect to put in your cat's Easter basket. 
Feeling lucky? We put one amazing Easter basket together and one lucky cat parent will win one for their cat! Check out what's in the basket and then enter to win it at the bottom of this article!
What's In The Ultimate Cat Easter Basket?
Obviously, you won't put chocolates in a basket for cats, since it contains caffeine and theobromine, both of which are highly toxic. And, you don't want to use plastic Easter grass because it can cause an intestinal blockage if your cat swallows it. Here are our picks:
Catit Senses 2.0 Grass Planter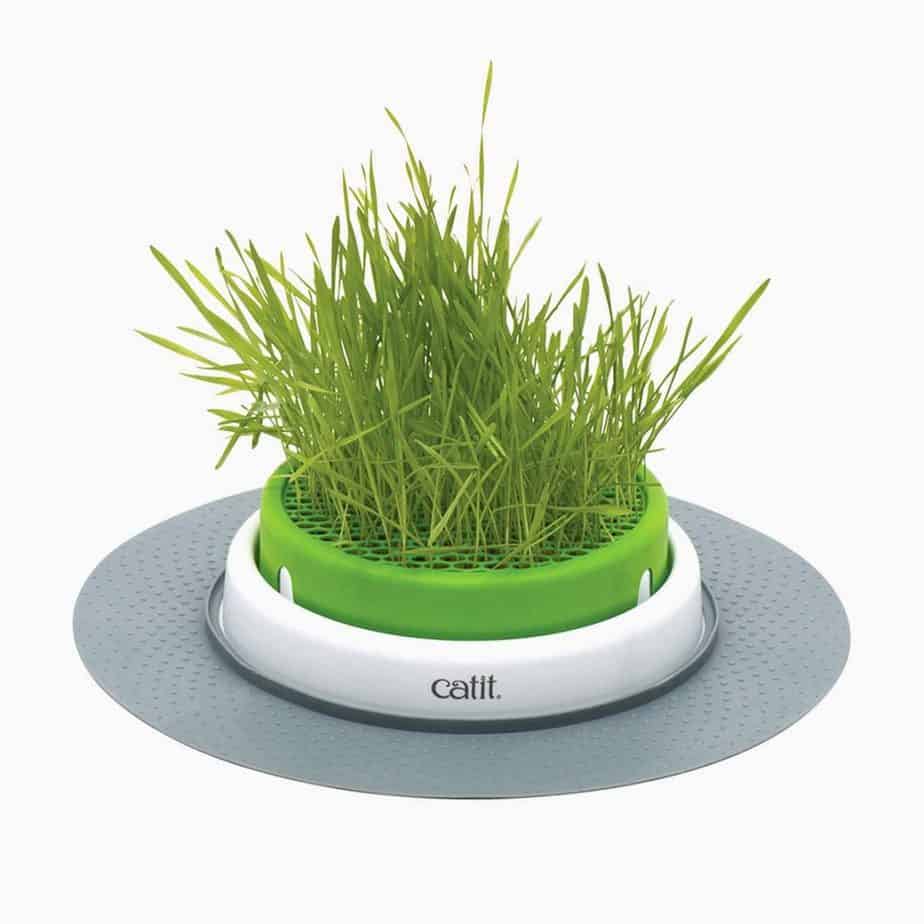 What's more Spring-y than real, live, fresh grass? It's no secret that cat love to gnaw on fresh grass, and for good reason — it helps with hairballs, it freshens their breath, it's a normal part of their ancestral diet, it gives them minerals they don't get anywhere else, and it helps save your houseplants! That's why we're excited to include the Catit Senses 2.0 Grass Planter in our ultimate cat Easter basket.
What makes it the best? Unlike other pots, the Catit grass planter is harder to knock over because of it's low and stable design. The grid cover prevents digging, so no more dirt on your floor. And, it can be combined with the other popular Catit Senses circuit toys!
Yeowww! Catnip Toys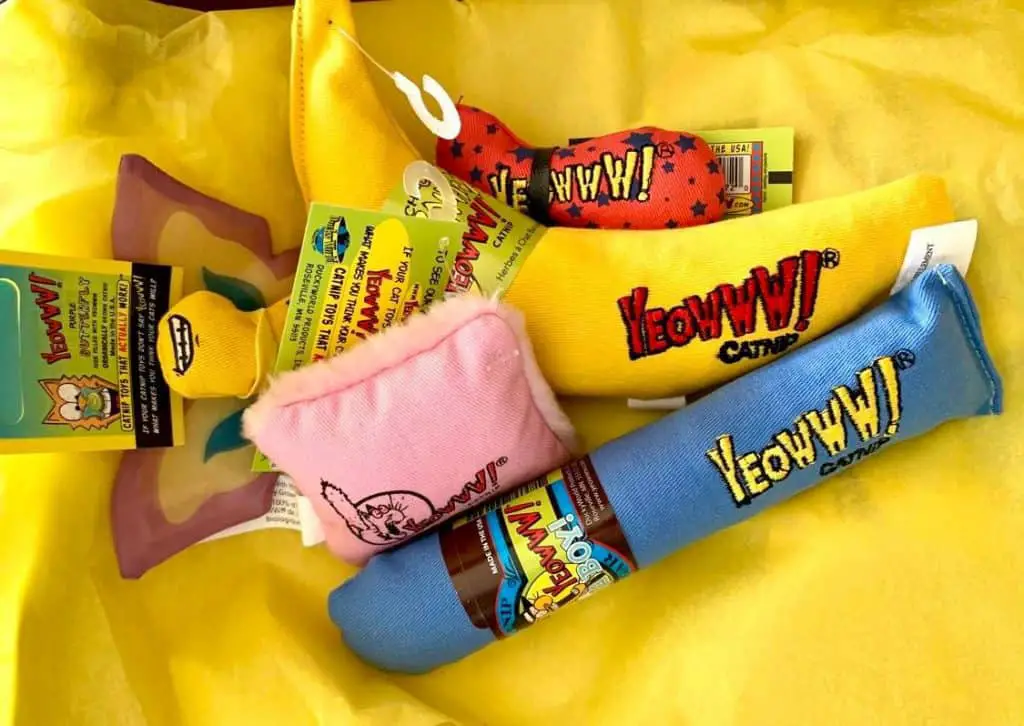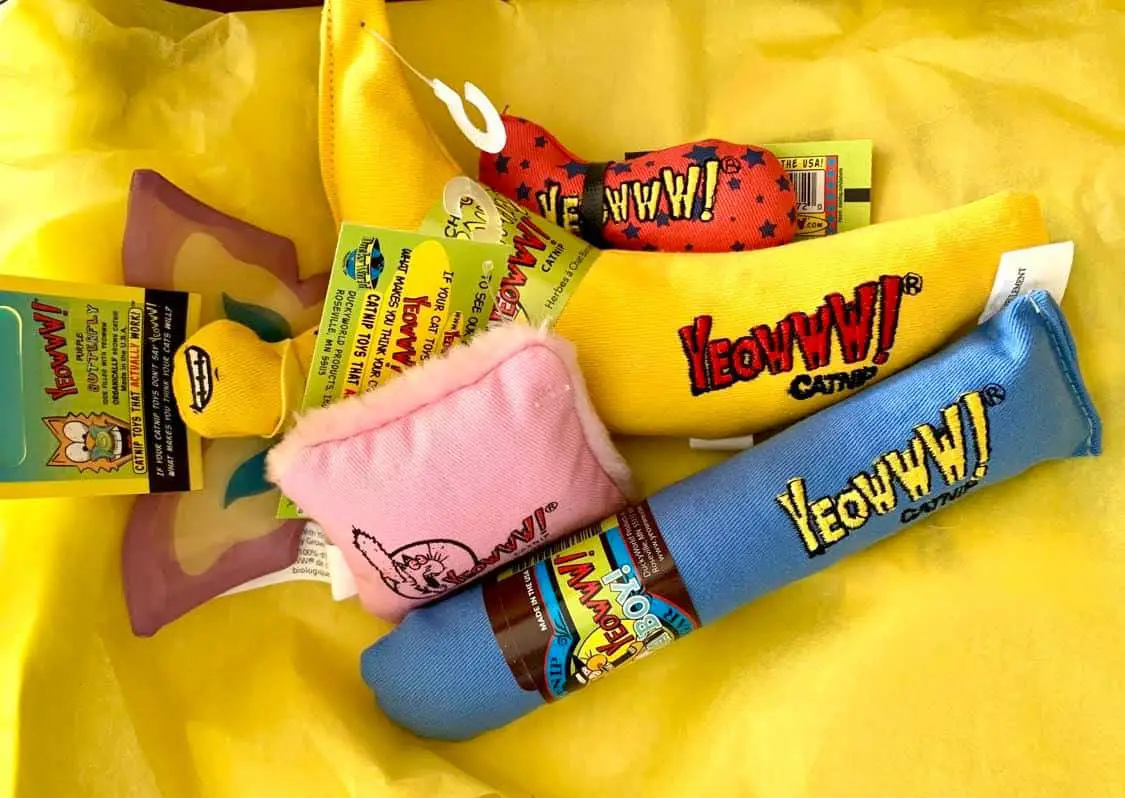 No Ultimate Cat Easter Basket would be complete without the best catnip toys on the planet. Anyone who's ever treated their cat to Yeowww! Catnip knows they're the best! (As I'm typing this, the cats in my office are circling my desk like sharks as the overwhelming aroma from the box of their catnip toys floods the room!) Ducky World, the makers of Yeowww! catnip toys sent us an impressive assortment of Spring-themed toys for your cat's ultimate Easter basket, including a banana, a blue cigar, a pink pillow, a purple butterfly, an (my cat Walter's personal favorite) a stinky sardine! And they threw in an assortment of stickers and pins for your little humans, too.
What makes them the best? There's no stuffing in these toys — the catnip is the stuffing! And the catnip is very potent, 100% organic. You'll notice the difference.
Loving Pets Bella Roma Travel Bowls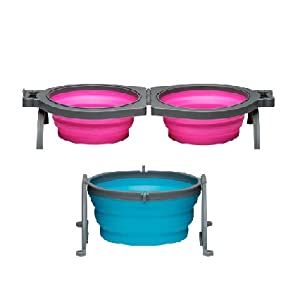 Do you share your life with an adventure cat? Have we got the purrfect Easter basket accessory for you! Whether you are going around the corner or around the world, Bella Roma Travel Bowls and Diners are the Ultimate bowl for the pet and pet-parent on-the-go. Patent-pending designs feature integrated locking lids to store food* and built-in legs to support the bowl/diner, preventing unwanted collapse while your pet is feeding or drinking. Bella Roma Travel Bowls and Diners are dishwasher safe, plus the bowl portions are made of flexible BPA-free silicone. They are not only light weight but they pack flat and can be hung from a backpack, purse, belt loop or even leash using the Free carabiner. What's more, they come in pawsome pink and blue Easter colors — how could we now include them in the Ultimate Cat Easter Basket?!
Catit Spinning Bee Interactive Cat Toy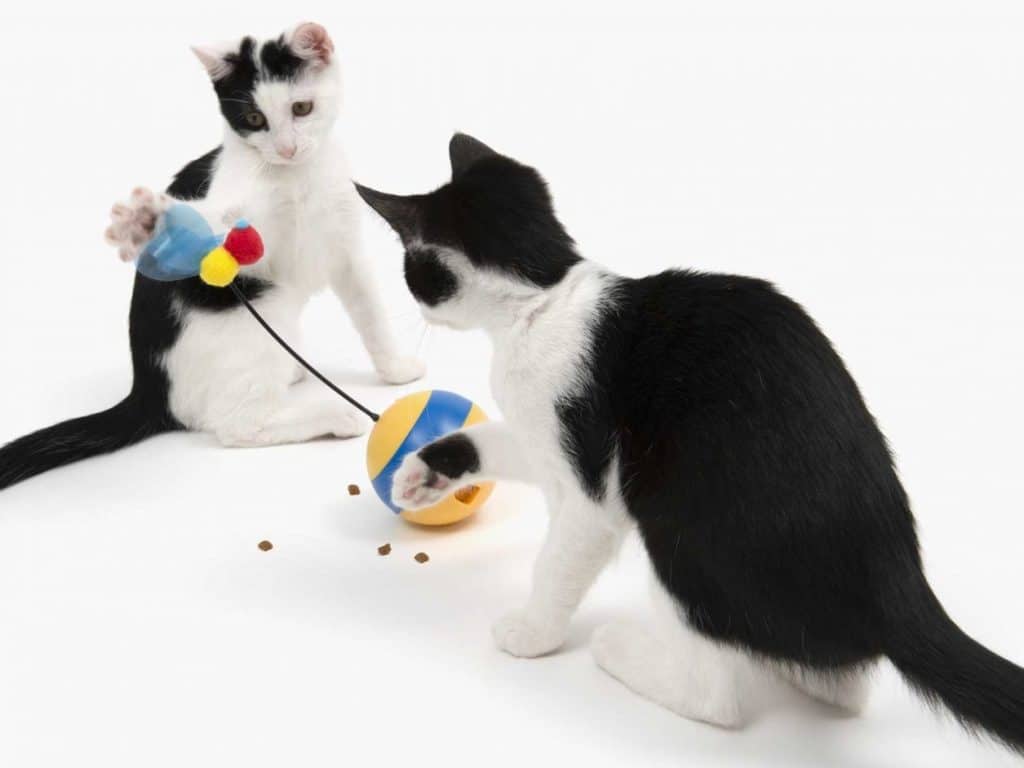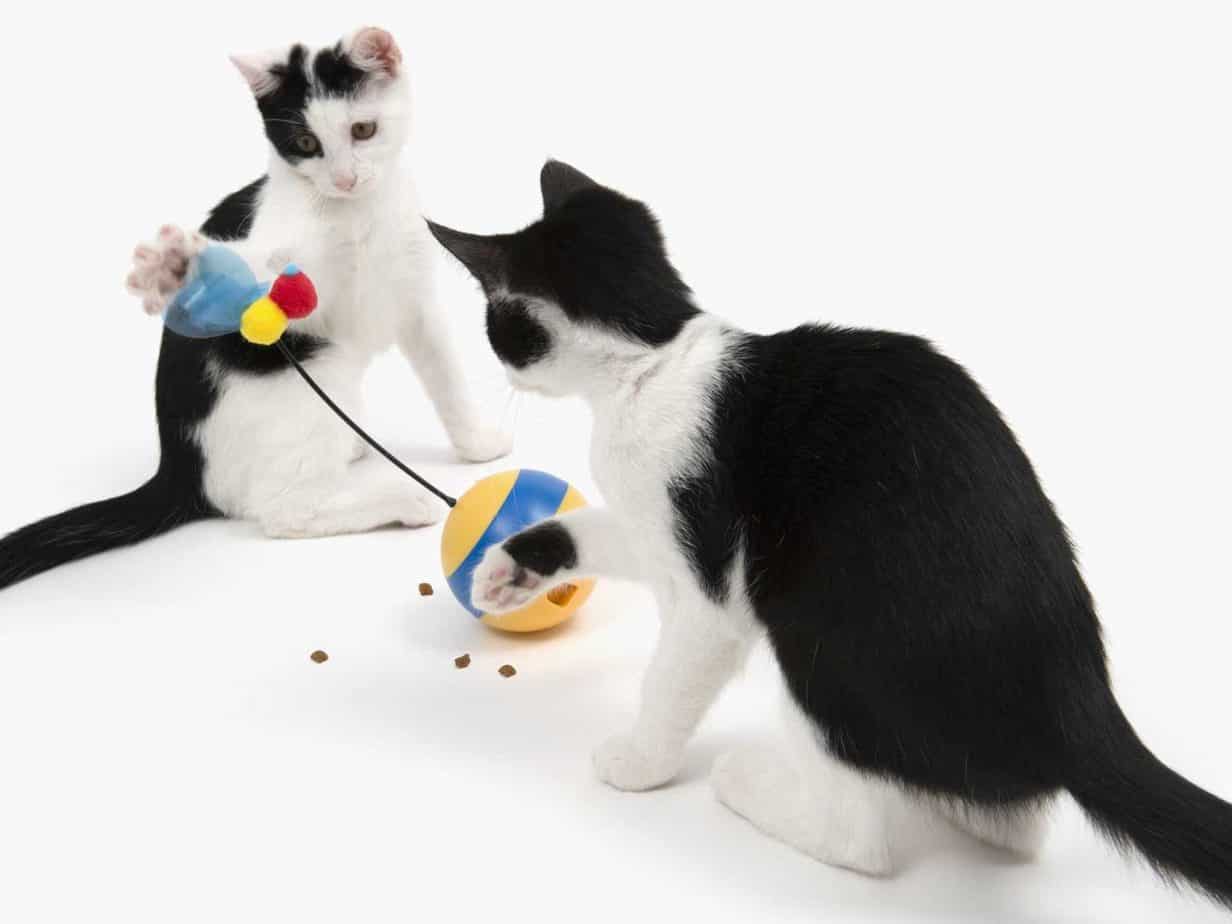 What's the buzz about? The Catit Play-Spinning Bee Interactive Cat Toy! This kitty toy has got it all—watch your fur-ever friend swat, paw and pounce as this latest addition to her collection becomes her favorite playtime pal. The battery-operated ball spins, dispenses treats, and sends out laser beams to keep your cat happy and entertained. The ball's unpredictable spin pattern encourages physical activity and agility and supports kitty's overall health.
And since the Spinning Bee is also a treat dispenser, we're including a bag of Catit Nibbly treats to fill it up with. They're artisanally baked crunchy treats from Canada, with no corn, wheat, or soy.
DERMagic Feline Rosemary Shampoo Bar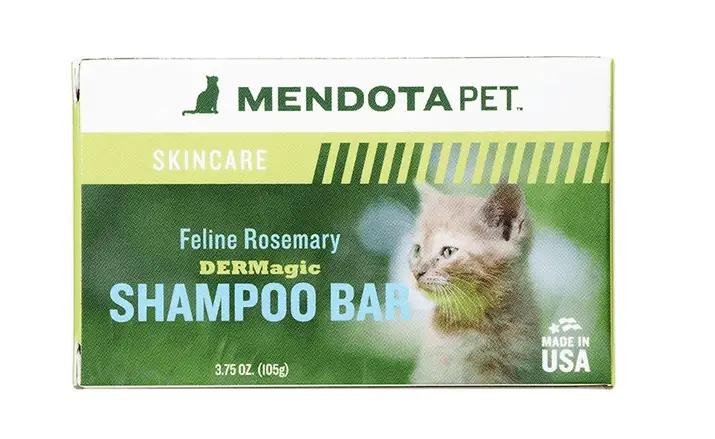 Green Clean your cat!  You might think it's weird to use a bar of soap to shampoo your pet — until you try it! When you have a wriggly cat in the sink, one hand does double duty with a shampoo bar! DERMagic bars lather beautifully with no sulfates, rinse easily and cleanly, they're portable meaning no more spills and they smell wonderful. You and your pets will love these, and one 3.5 oz bar will outlast a 12-ounce bottle of liquid shampoo for a great value too! 
Rosemary essential oils have been used for years to help improve blood circulation, moisturize hair and skin, and prevent hair loss. DERMagic has incorporated this healing oil into a lightly-scented shampoo bar that allows for you to hold the cat with one hand, while creating a thick, rich, easily-rinsed lather with the other. This helps make bathing a cat an easy, relaxing experience. (This is the ONLY shampoo I can use with my very sensitive-skinned hairless Sphynx cat that doesn't upset his skin.)
ZoomaChew Treat Dispensing Spiral Mouse Toy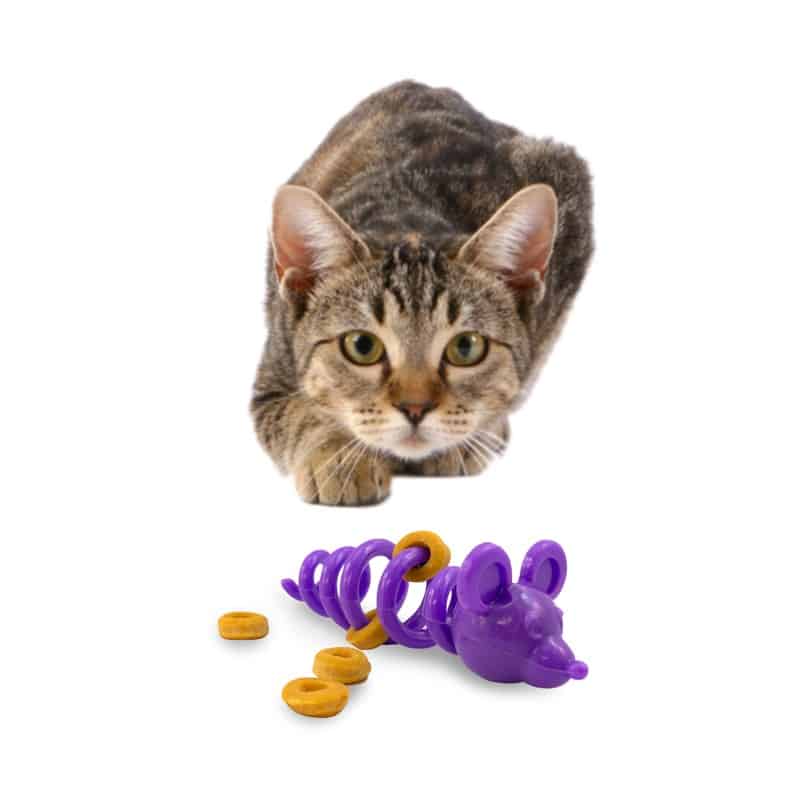 This toy was just launched at a huge international pet expo at the beginning of the year and it was one of the things that caught our eye, so we were so excited when they agreed to include it in our Ultimate Cat Easter Basket! Treat your cat to playtime with the new ZoomaChew Treat Dispensing Spiral Mouse Toy! Just loop the toy mouse with the included treats and watch your cat pounce and spiral around – taking playtime to another level!
Why do we love this toy? Lots of reasons! It encourages healthy exercise and helps keep cats entertained through rewarding play. This treat puzzle will challenge and stimulate your cat's mind, keeping him entertained for longer periods of time. It encourages active play, keeping your cat active during the day. The toy comes with a small bag of treats, but we're including an extra bag of ZoomaChew chicken flavor cat treats made especially for the spiral mouse toy.
Unique Pet Care Cat Odor + Stain Remover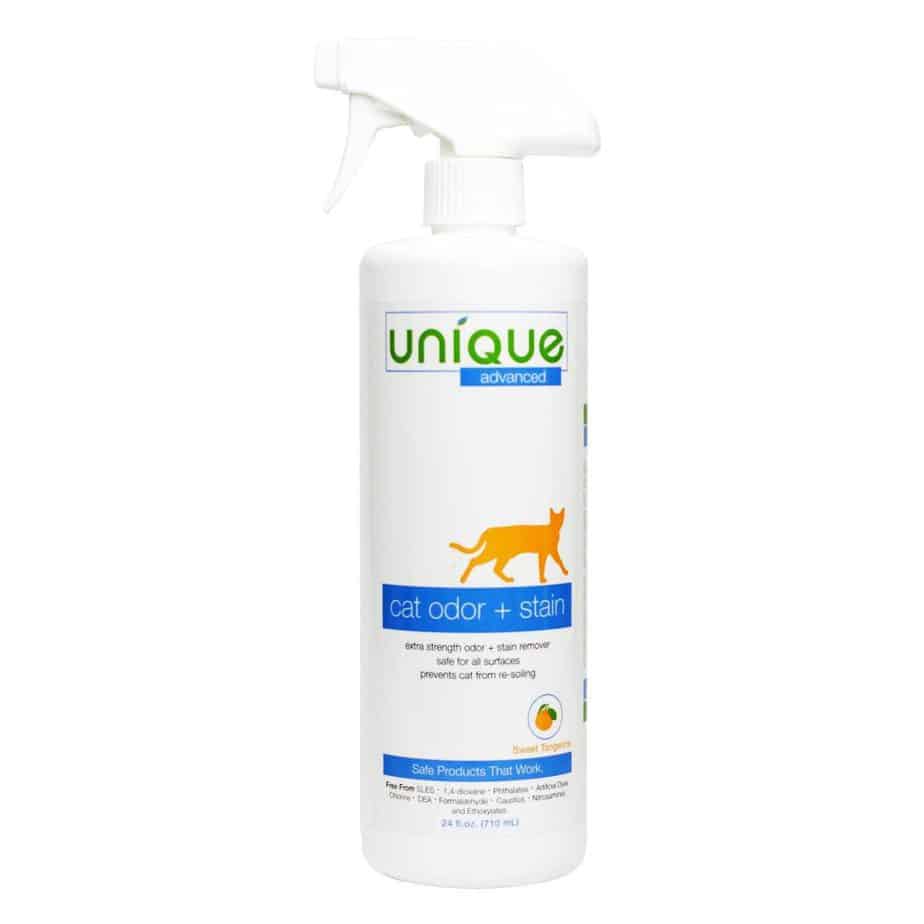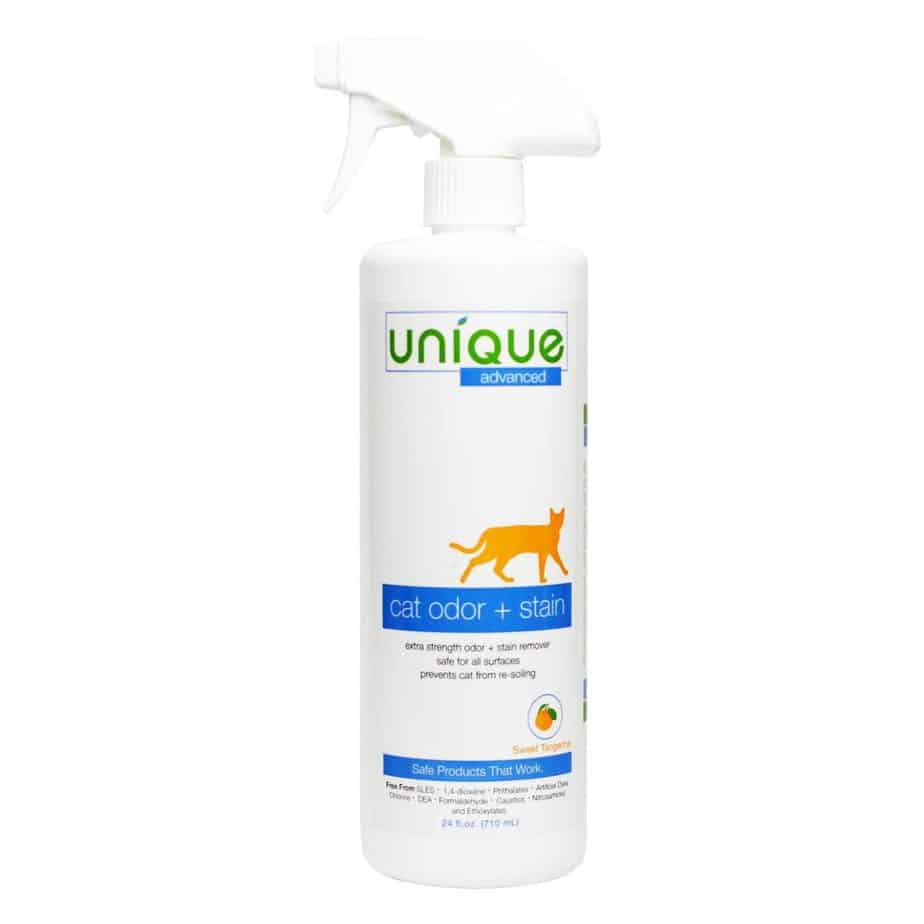 Okay, we'll admit it, this product is more for you, the cat parent than it is for your cat. But you should get something, right? Every once in a while a product comes along that totally blows your mind. In our case, it's Unique Pet Care's Cat Odor + Stain Remover — because it works, of course, but it's also safe for our four and two-legged families — free of phthalates, artificial dyes, chlorine, formaldehyde, caustics, and all the other horrible things that are common in a lot of stain and odor removers.
So what makes Unique, well, unique? It uses bacteria, enzymes, and probiotics to destroy odors and stains – not mask them. Savvy cat parents know you have to completely eliminate a stain to avoid having your cat make the same mess in the same spot again. This is a product everyone on our staff uses and swears by, and we're thrilled to share it with you and your fur family!
Loving Pets Purely Natural Cat Treats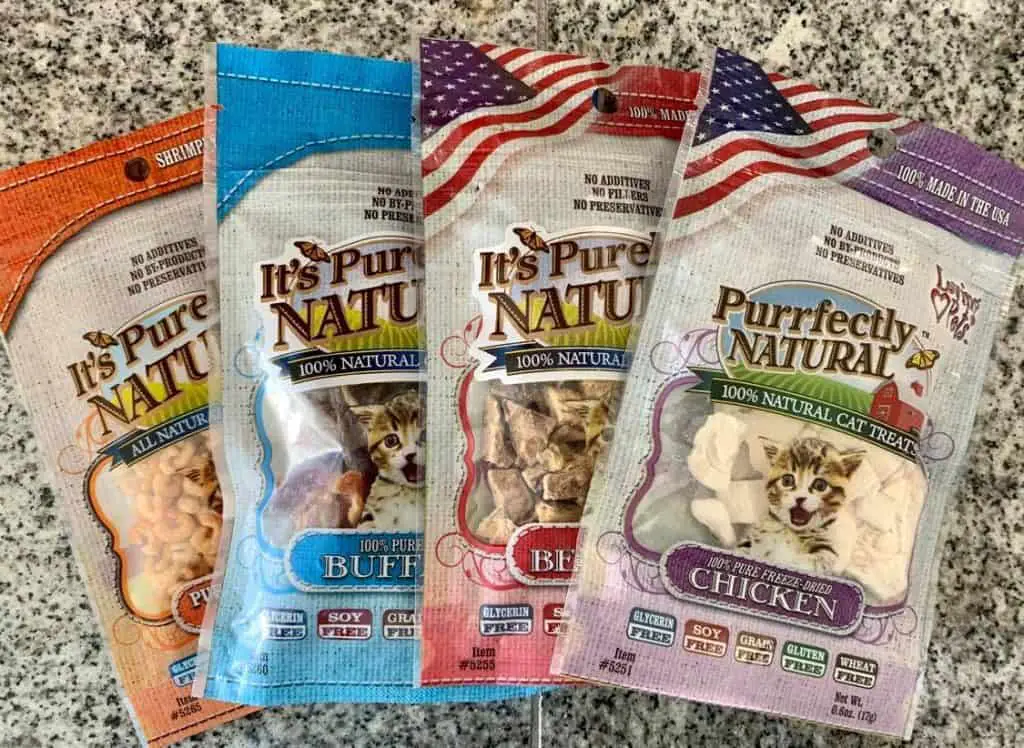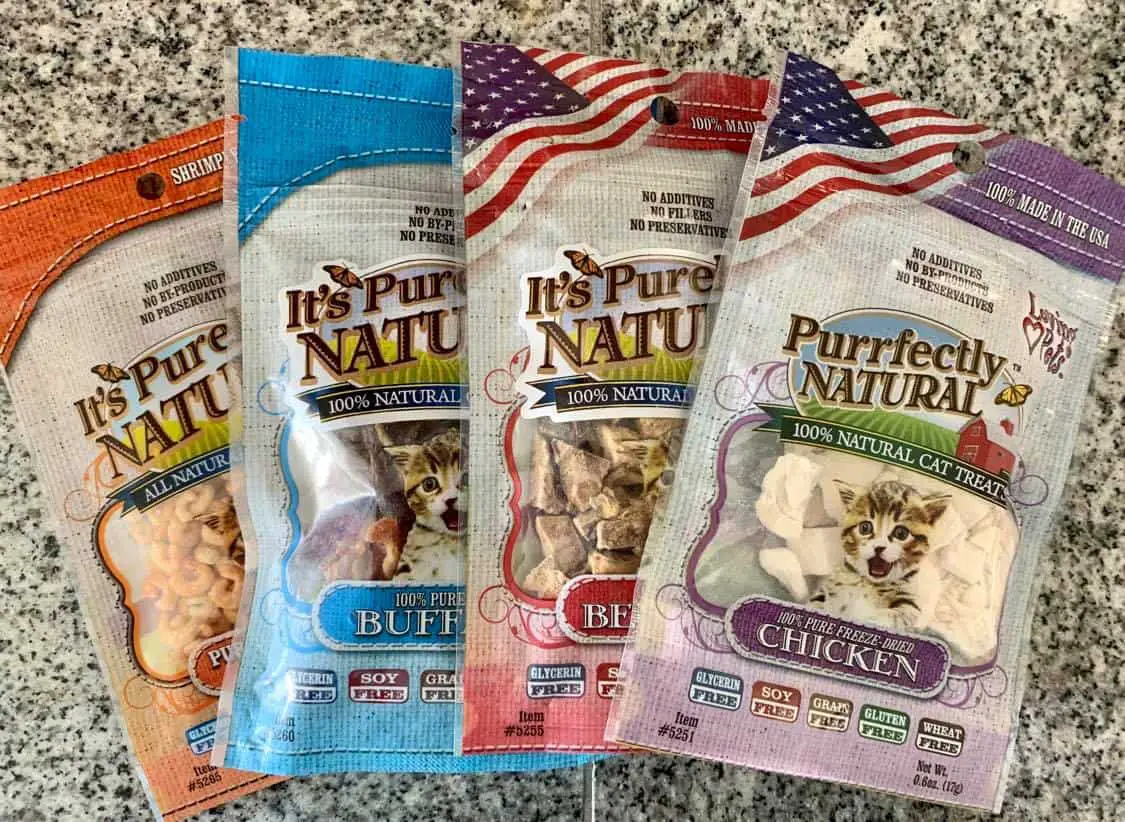 When Loving Pets creates any new pet treat, they always begin with simple, healthy, all-natural ingredients. No additives, no glycerin, no artificial preservatives or fillers are ever used. They only use the highest quality ingredients. Their new line of gourmet cat treats, It's Purely Natural freeze-dried treats, are no exception. We think they are some of the best and healthiest cat treats available. Try a bag today – we're sure your cat will love them!
Our Ultimate Cat Easter Basket includes a bag of each of their four available flavors — 100% pure freeze-dried chicken, 100% pure dried beef lung, 100% pure dried buffalo, and pure freeze-dried shrimp. The single-ingredient treats are low-calorie and purr-fect for cats who have food sensitivities and diet restrictions.
EarthKind Stay Away Ants Pet-Friendly Pest Control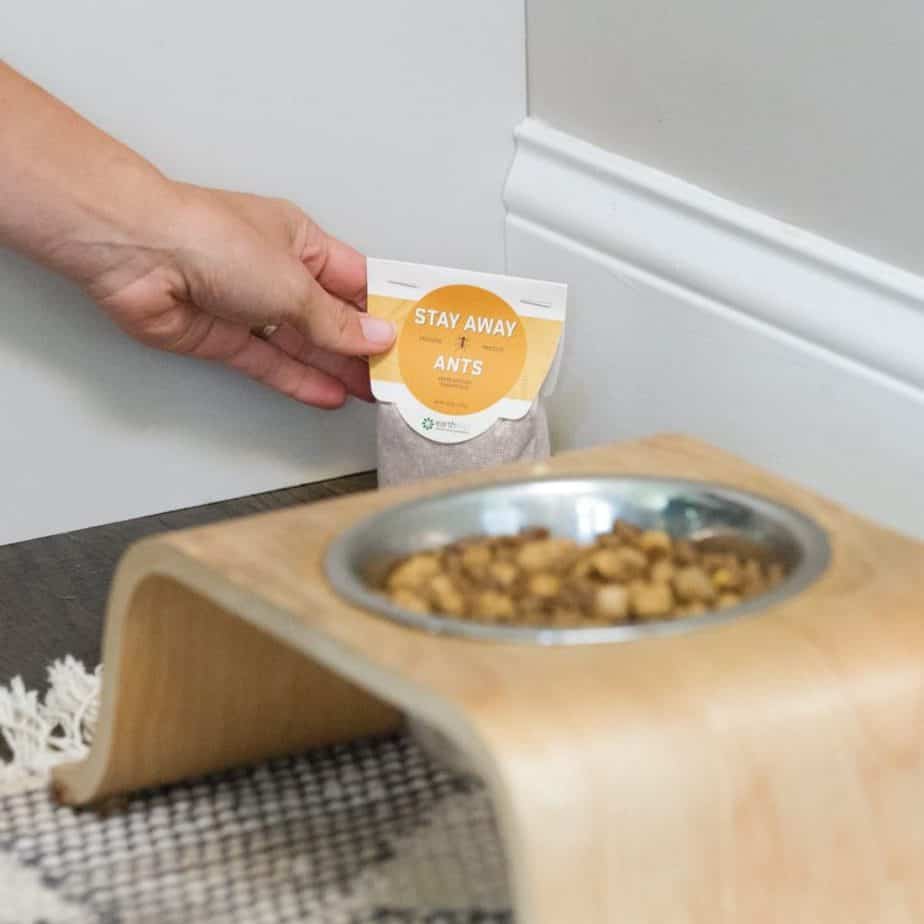 Did you know that rodenticides and insecticides are among the top 10 household toxins that poison pets every year? Insect and rodent poisons can be just as toxic to our curious pets as they are to the pest itself. Common active ingredients include long-lasting anticoagulants, which can prevent animal's blood from clotting, Cholecalciferol, which can lead to kidney failure in animals, and Bromethalin, a neurotoxin that can result in tremors, seizures, and paralysis. With pets being great mice catchers, they risk being second-hand poisoned by the rodent/insect, too.
So, as we gear up for spring, it's time to choose pest prevention that doesn't put our beloved pets in harm's way. And we can do that by choosing pest control that's safe for our cats, like the products from EarthKind, a USA-based pest control developer, designer and bio-manufacturing pioneer. They're on a mission to "preserve the good, prevent the rest" by developing natural proactive alternatives to protect the spaces where we live, work and play from pests and odors.
Our Ultimate Cat Easter Basket includes EarthKind's Stay Away Ants. Ants are very particular about the foods they collect and carry back to their colonies. Stay Away Ants pouches, placed where food particles are present, keeps them out of the treated area by emitting a scent pleasant to people, a blend of lemongrass, peppermint, and thyme, but offensive to super-sensitive ants.
Ready to order? If you visit Earthkind.com and join their mailing list, they'll send you a coupon code!
RompiCatz Rustlin' Mylar Teaser Toys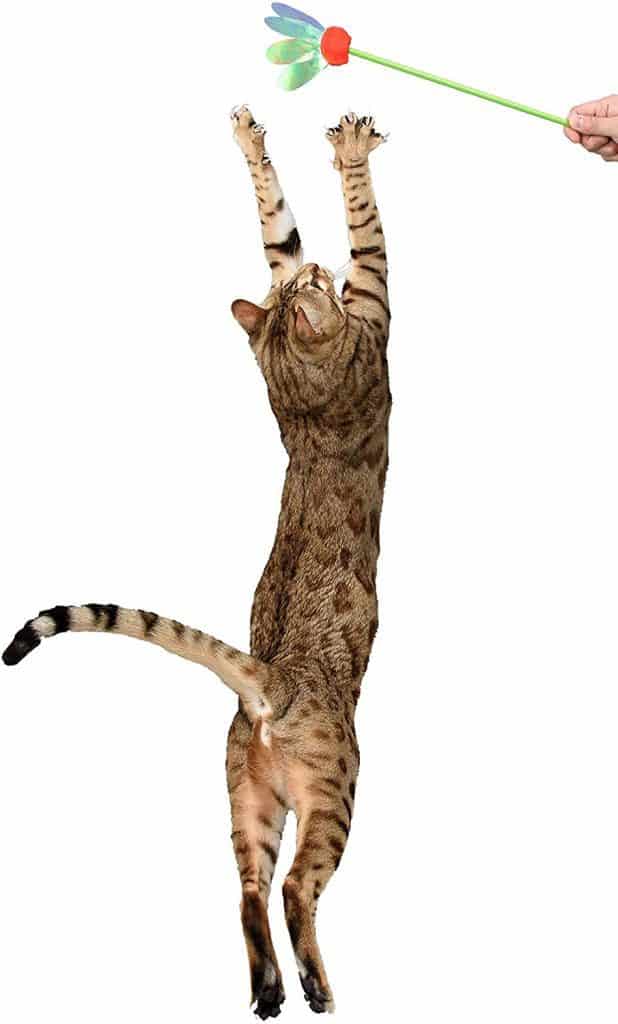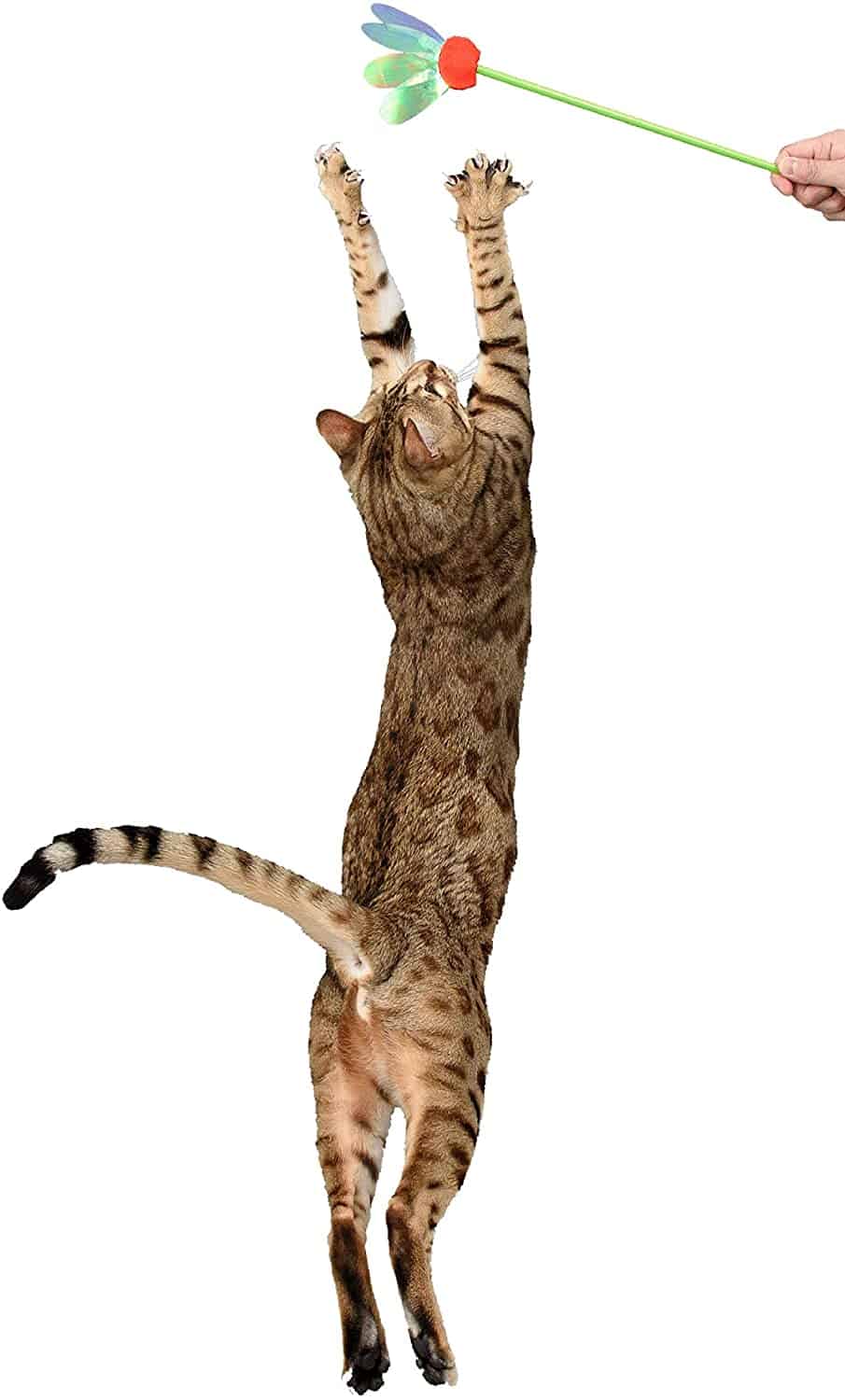 We would be amiss if we built an Ultimate Cat Easter Basket that didn't include a set of wand toys from our friends at RompiCatz! Cat Behaviorists and trainers agree – interactive play is an absolute necessity for a happy cat, and that means a toy that you and your cat play with together. Not only is it fun, it provides valuable exercise and helps strengthen the human-animal bond — and isn't that important to all cat lovers?
We absolutely adore this new line of mylar teaser wands from Rompicatz. Brought to you by the same people who created the popular line of Neko Flies teasers, you can be assured they're built with safety and quality in mind. The sparkling, fluttering, iridescent mylar 'wings' immediately grab a cat's attention and make a crinkling sound they can't resist! And since we couldn't choose a favorite, we've got their Rustlin' Iridescent Teaser, their Rustlin' Winged Bug Teaser, and their Rustlin' Butterfly Teaser for your cat's Easter basket!
The Missing Link Pet Kelp Well-Being Formula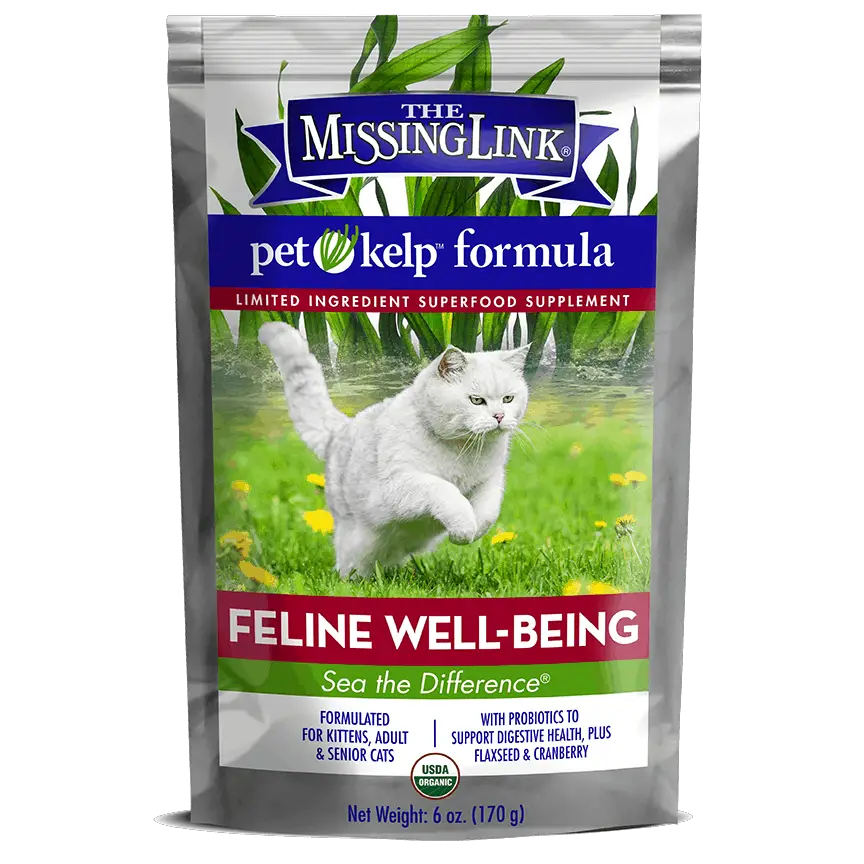 Kelp is one of the most nutrient-dense products on Earth and nearly all species can eat it. According to some sources, it contains over 70 vitamins and minerals, in addition to lots of trace elements. Most importantly, it can help increase your cat's energy, improve their immune system, and aid in digestion. Cats crave some green in their diet, so why not try supplementing with kelp for some improved health?
Support your feline friend's best health with one spoonful a day of The Missing Link Pet Kelp Well-Being Formula. This superfood supplement adds beneficial bacteria to your cat's digestive tract with the natural goodness of organic kelp, flaxseed, antioxidants, and probiotics. The Missing Link Pet Kelp Well-Being Formula provides the essential vitamins and minerals to support your cat's overall health, hardiness, and happiness with a simple sprinkle of this organic limited-ingredient superfood supplement. Puuuuurrrrrfect!
Andis Flea Comb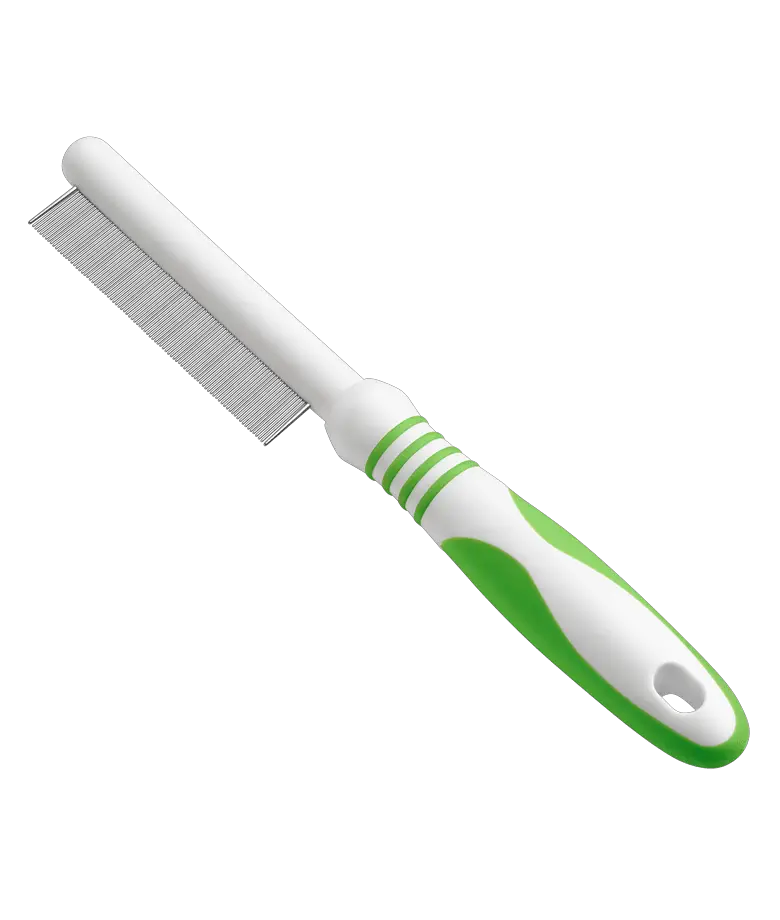 Spring time brings blooming flowers, new growth, and…that's right, fleas. Tackle the problem with this flea comb by Andis. It's soft-grip handle comfortably removes tangles, dirt and loose hair, stimulates hair and skin follicles, and helps find those pesky fleas.
Keep Reading, and don't forget to enter below to win an Ultimate Cat Easter Basket for your furriest friend!
One more thing:
While we think celebrating Easter with a cat is a purr-fect way to spend the holiday, it's important to be aware of a few deadly dangers that are common at Easter. No one wants to spend a holiday in the animal emergency room!  
• Keep lilies out of your house. Many lilies (including Easter lilies) are toxic to cats. Even the tiniest amount ingested, including just the pollen or water from a vase, can result in severe kidney failure and death. Lilies are very common in flower arrangements, so double check any arrangements that come into your house. 
• Keep traditional Easter baskets for kids away from your kitties. What is considered a fun treat for kids could become a deadly hazard to a cat. These things include plastic Easter grass, chocolates, and artificial sweeteners. 
• Having family over for Easter? Give your cat a safe, quiet place to escape the festivities. 
Happy Easter! 
Enter to Win:
a Rafflecopter giveaway