Are you the type to get up at the crack of dawn and shop on Black Friday or do you prefer to shop from the convenience and comfort of your cat-themed pajamas? Things will be a bit different this year – some stores are extending their Black Friday deals to month-long events and most shopping can be done early online. In fact, many stores that have been open on Thanksgiving Day in years past have decided to stay closed on the holiday and lots of them have already started their "Early Black Friday" sales.
Either way, there's no denying that the holiday shopping season is well underway. And those of us who share our homes with cats are sure to include them in our shopping plans! If you find deals that are good enough, you can stock up on litter and food for months. Or, grab some extra for your favorite cat shelter — they can definitely use it.
With so many stores having huge sales, it can be difficult to plan and navigate your way around to find the absolute best deals. So, to help you (and your cat) out, we've compiled a list of all the best Black Friday deals for cats for 2022! Happy shopping!
We will update this list as new deals are announced, so keep checking back!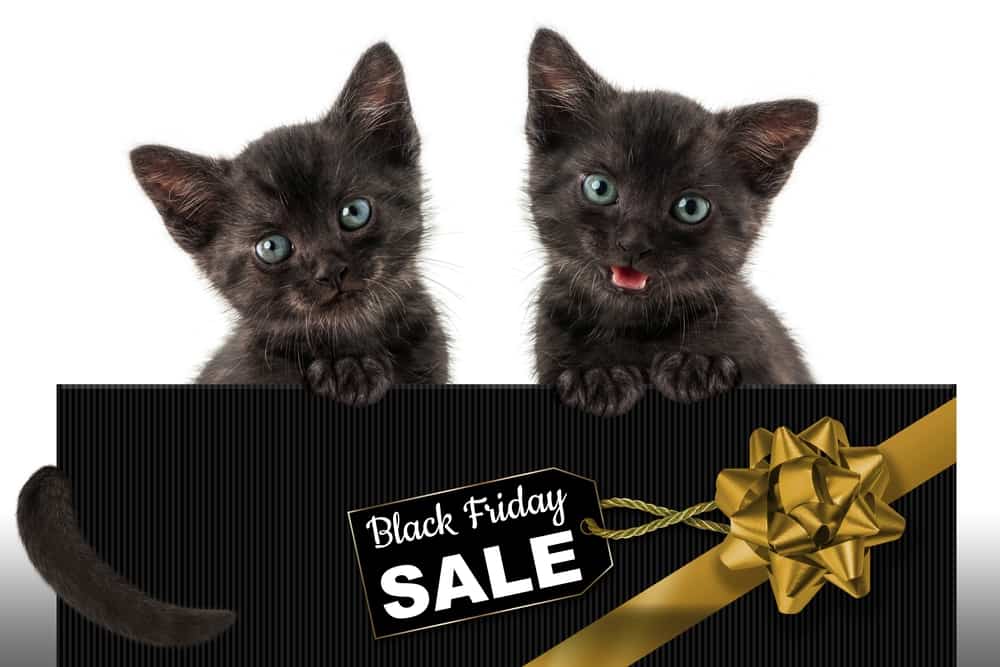 Chewy
Online deals now through 11/27
• Chewy has tons of PAWsome deals for cats for Black Friday! Shop early and save up to 40% on cat supplies.
Pet Supplies Plus
Regular store hours. Deals 11/21 – 11/27
50% Off select Play On holiday apparel, toys, and beds
2 for $25 Play On cat litter
$15 Off Natures Miracle
BOGO Free select small bags of cat food, including Blue Buffalo, The Honest Kitchen, Catit, & Earthborn
BOGO Free select cat treats and wet food
50% Off select cat furniture
$7 Off Fresh Step and Clump & Seal Slide cat litter
Petco
Regular store hours. Online starting at 12AM Friday
Up to 50% Off More & Merrier Holiday Collection
Up to 50% Off cat toys
Up to 50% Off cat beds and cat trees
Up to 50% Off Health & Wellness for cats
Up to 35% Off Pet Tech & DNA kits
PetSmart
Regular store hours. (Closed Thanksgiving) Online starting 12AM Thursday
Buy 3, Get 2 Free select cat treats
BOGO 50% Off select cat meal toppers
Deals on Scoop Away, Fresh Step, and Arm & Hammer cat litter
50% Off holiday cat collars
50% Off holiday toys, clothing, beds, & more
Amazon
Amazon's Early Black Friday deals for pets are up now, and other items will be on sale from now until Black Friday. Since Amazon is an online store, new sales will go live 24 hours per day so be sure to check often!
Notable bargains for cats include:
Walmart
Online starting 11/14
BISSEL Crosswave Pet Wet/Dry Vacuum $199
Rural King
November 23-27 (Closed Thanksgiving)
FatCat Big Mama's Double Wide Scratchy Box $8 Off
Tractor Supply Co.
November 22-26 (Closed Thanksgiving)
$30 Off 63″ Cat Craft Activity Tree
30% Off Orthopedic beds
The Catington Post is reader-supported. That means, if you make a purchase through links on our site, we may earn an affiliate commission. All images and names which are not the property of The Catington Post are the property of their respective owners.