Written and Illustrated by Bob Eckstein 
Probably more than any other animal, the cat has enjoyed a level of fame and popularity that is unmatched in the world. Sure, gorillas had their King Kong and dogs had Lassie and Tin Tin's Snowy. Even horses had Mr. Ed. But these were all fictional characters. There are real cats that have been on some truly amazing journeys. We rank now the Top 9:
9. Tuxedo Stan
Tuxedo Stan, a black and white cat who ran for mayor of Halifax, Nova Scotia in the 2012 election. After announcing his candidacy, he had the backing and endorsement of many celebrities of note including Anderson Cooper and Ellen DeGeneres. Tuxedo's platform in the political party formed by friends called "The Tuxedo Party of Canada" was to raise awareness of the growing feral cat population. He was kicked out of the race because he did not have a birth certificate but enough money was raised for a new vet clinic.
8. Grumpy Cat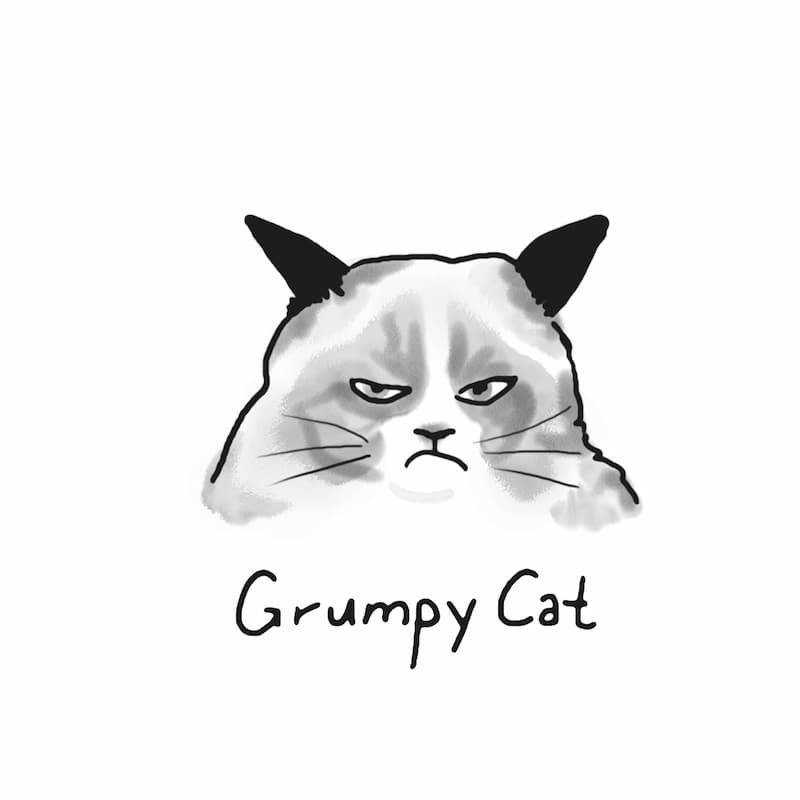 Grumpy Cat has over 12 million followers online, even though the Internet sensation has left us since 2019. Her real name was Tardar Sauce and she was a spokesperson for Friskies and Honey Nut Cheerios.
7. Bob
Bob, a British cat who saved a London busker's life. In 2007 he found the cat at his homeless shelter where he was in a drug rehab program. James Bowen was drawn to the intelligent cat and he spent the last of his savings taking care of him. Bowen later wrote a bestselling book in 2012 that spent 76 weeks in the UK Top 10 bestseller list called A Street Cat Named Bob and later The World According to Bob. Bob played himself in the movie version in 2016. 
6. Hamish McHamish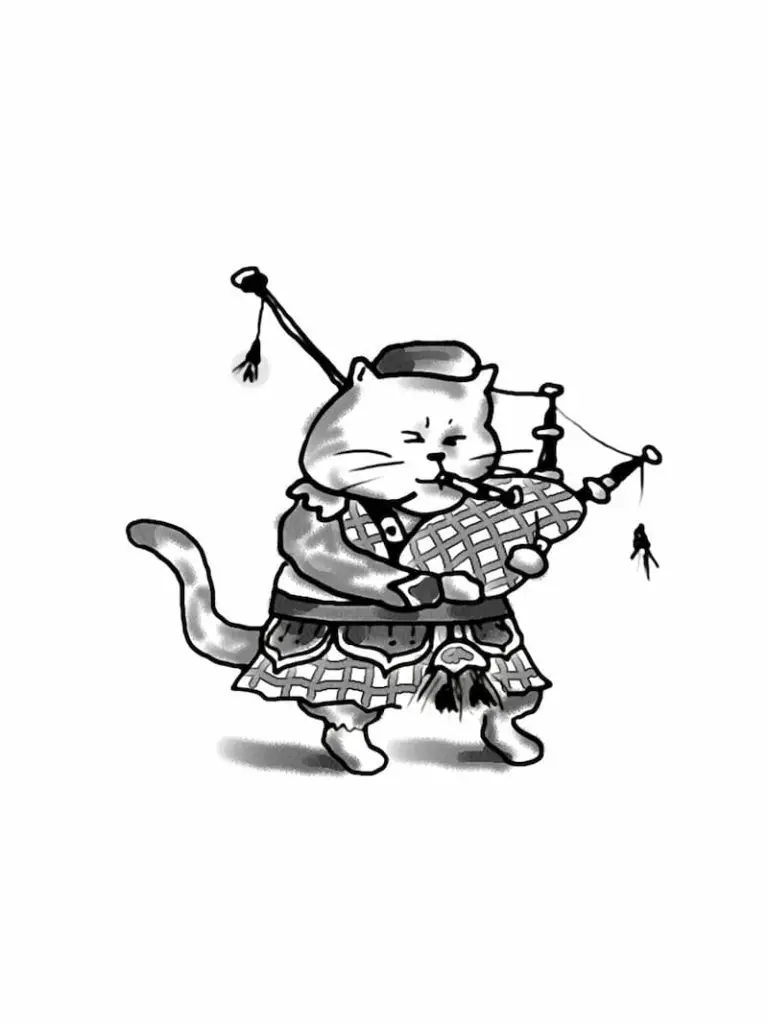 Hamish McHamish was a famous British socialite. He was the subject of a book (Hamish McHamish of St Andrews: Cool Cat About Town, by Susan McMullan), appeared on BBC-TV's The One Show (2013), and various newspapers and visitors would seek him out to be photographed with him. There is a permanent memorial to Hamish in St. Andrews, rare to have happen while the animal is still alive. A bronze statue was sculpted by David Annand, and the feline made a brief appearance at the ceremony.
5. Choupette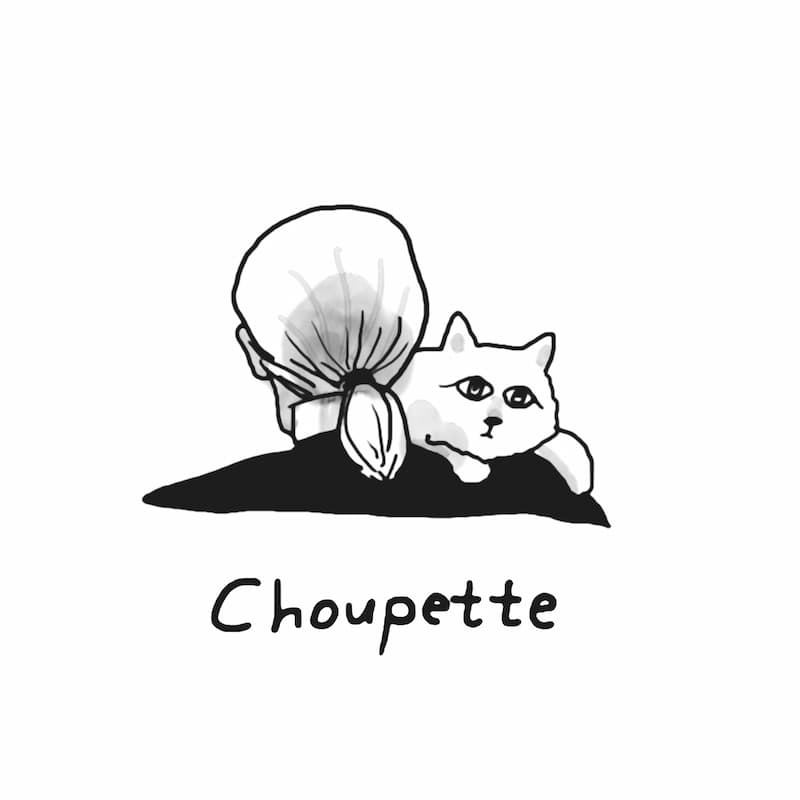 Choupette is the cat of fashion icon Karl Lagerfeld. Lagerfeld boosted, "Choupette, is the most famous cat in the world…hates other animals and she hates children. She stays always with me and she has two personal maids." She reportedly made $3.3 million in modeling gigs—one "for cars in Germany and the other was for a Japanese beauty product…She is the center of the world. If you saw her, you would understand. She is kind of Greta Garbo."
4. Blackie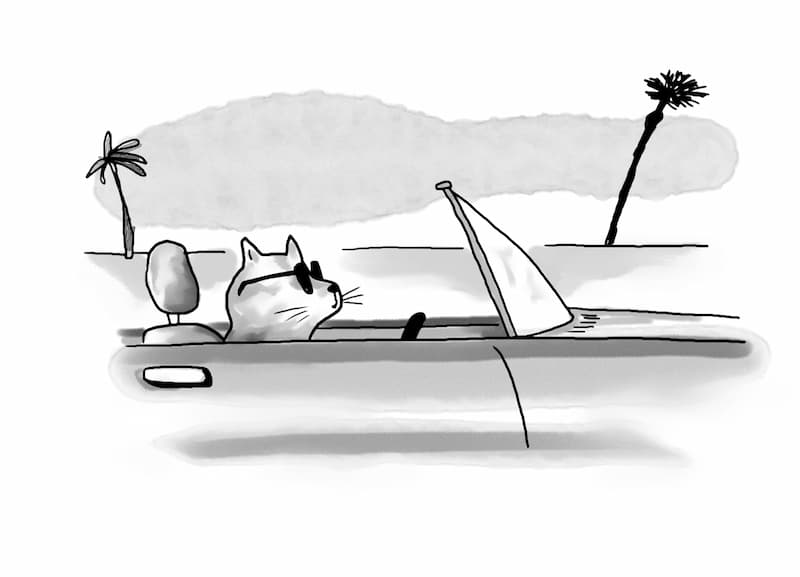 Blackie was one of the world's wealthiest cats ever after inheriting its owner's estate worth $13 million in 1988. Blackie's owner was a British antiques dealer named Ben Rea, who died in 1988. 
3. Godfather Cat
Godfather Cat was just a stray cat in the studio that became one of the most iconic things in one of cinema's greatest movies. Francis Ford Coppola told CNN in 2022, "Marlon Brando was so ingenious of how he approached every scene…in the first scene of The Godfather, I just took a cat off the floor, which is the studio cat. It wasn't a prop cat. And I just put it in his hand. He didn't say to me, what do you want me to do with the cat? No, he just did it."
2. Felicette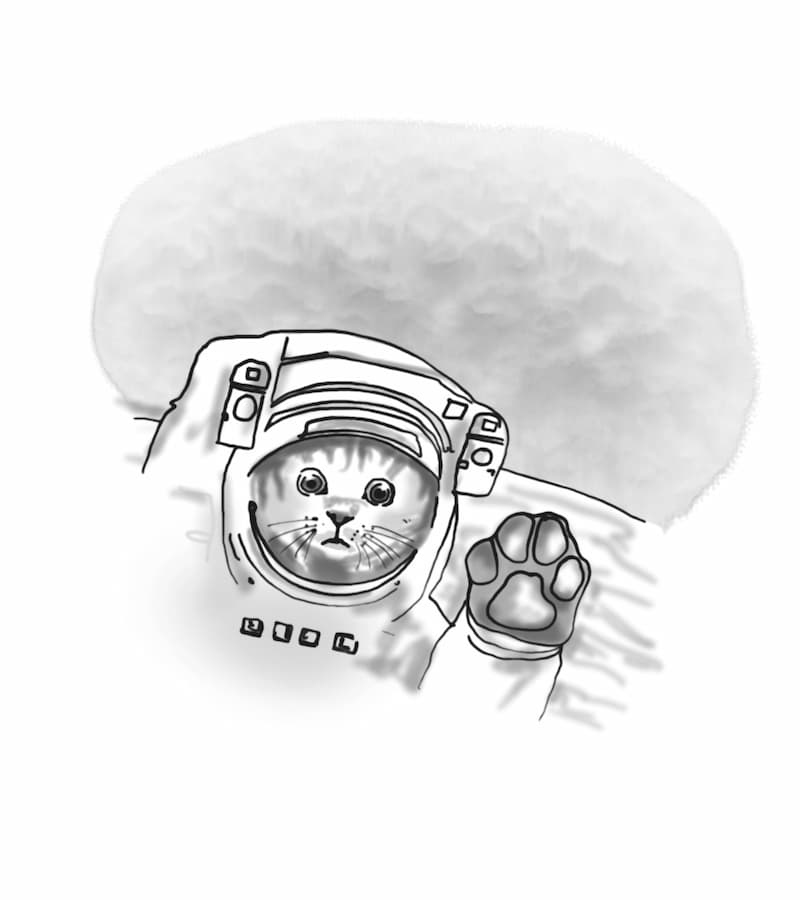 Felicette is the only cat who went into space. This stray cat was one of a dozen found on the Paris streets and trained to be an astronaut. In October 1963, she was strapped into a container and the rocket launched from a base in the Sahara desert and flew about 100 miles into space and spent several minutes in zero gravity, while scientists monitored her progress via the electrodes implanted in her brain. Then the capsule detached from the rocket and she parachuted safely to Earth and was retrieved. Scientists euthanized her a few months later to study the impact of space travel on her brain. In the 1990s, Felicette appeared on commemorative stamps in her memory.
1. The Unsinkable Sam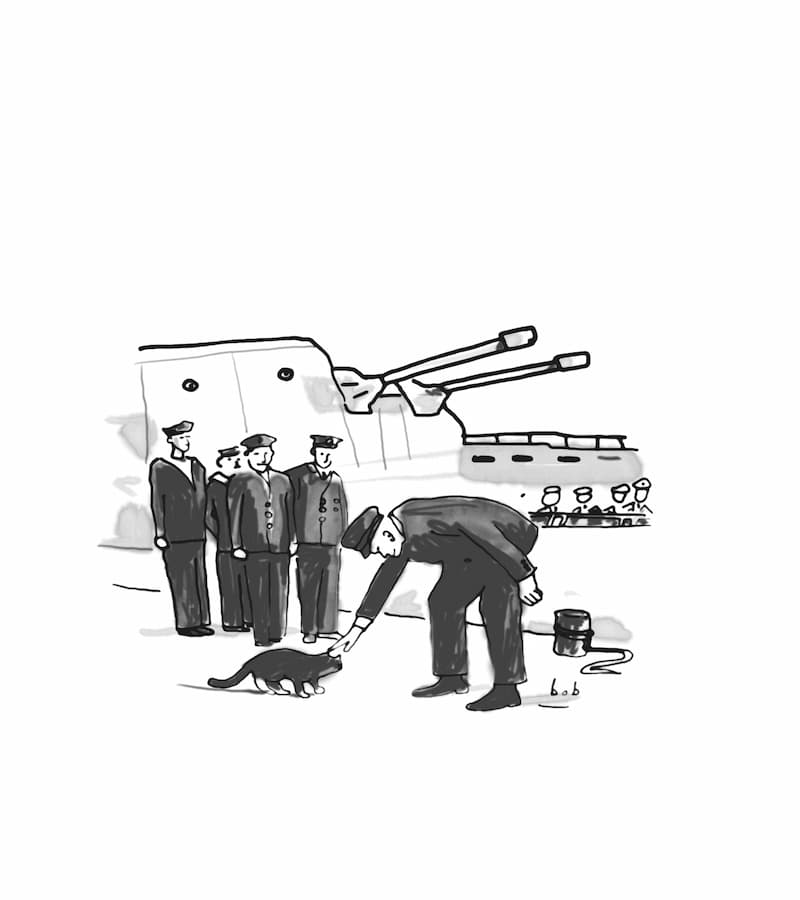 The Unsinkable Sam was the ship cat on both sides of the war and the most famous mascot of the British Royal Navy. Orginally a soldier of the German battleship Bismarck, the British rescued the cat after they sank it. The cat then worked on the HMS Cossack until it was torpedoed by the Germans. He survived making it to Gilbraltar until transferred onto the aircraft carrier HMS Ark Royal. This ship was torpedoed in 1941 but Sam survived again. This time he was transferred to dry land to the offices of the Governor of Gilbraltar before being sent back to the United Kingdom. He saw out the remainder of the war living in a seaman's home in Belfast in the "Home for Sailors." 
Honorable Mention: Simon of HMS Amethyst. Won numerous military medals and only cat to have won the PDSA's Dickin Medal (for rat-catching and morale-boosting during the Yangtze Incident in 1949). He rose to rank of Able Seacat.
About the Author
Bob Eckstein is an internationally-known, award-winning illustrator, New Yorker cartoonist, and NY Times bestseller. He is also an adjunct professor and host of The Cartoon Pad. His new book is The Complete Book of Cat Names (That Your Cat Won't Answer to, Anyway).