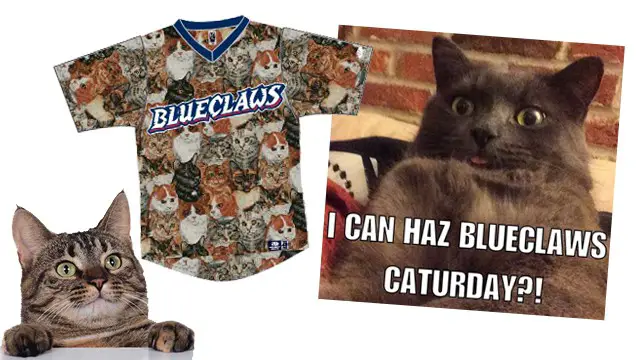 Baseball has gone to the cats! Philadephia Phillies affiliate, the Lakewood BlueClaws from Lakewood, New Jersey, will wear cat-covered jerseys on Saturday, July 9 when they take on the West Virginia Po. The BlueClaws are having CATurday – a salute to cats and what promises to be a Purrfect night at the ballpark:
Fans are encouraged to bring their cats to the game (will need to sign a waiver and be in a case or on a leash and cats are admitted with a $2 Paw Pass). There will be songs, movie clips, promotions, memes, and more fun as well!

There will be a special guest appearance by Miss Kitty. The speciality drink "The Black Cat Cocktail" will be available in the Coors Light WRAT Trap. There will be a special rendition of Take MEOW Out to the Ballgame, and a special CATurday T-Shirt will be available in the Claws Cove.
SAVE Rescue Shelter of Toms River will also be on site to collect cat items for donation and they'll have adoptable cats on site! The special cat jerseys will be auctioned off to benefit BlueClaws Charities.
For tickets, call 732-901-7000 option 2 or click here to order online.
It may come as a surprise, but cats and sports have a lot of history together… Click here to see cats' long history of interrupting sporting events!