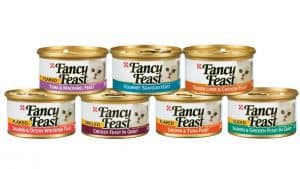 A lawsuit filed against Nestlé SA  alleges that the pet food manufacturer knowingly supported a system of slave labor and human trafficking in it's production of Fancy Feast cat food, according to attorneys at Hagens Berman.
A nationwide class-action lawsuit was filed against the company for it's involvement with a Thai partner, Thai Union Frozen Products PCL, which was used to import 28 million pounds of seafood-based pet food for top brands sold in the US (some ingredients which were allegedly obtained through slave labor). The lawsuit alleges that the  pet food manufacturer hid its involvement with human rights violations from the public.
"By hiding this from public view, Nestlé has effectively tricked  millions of consumers into supporting and encouraging slave labor on  floating prisons," said Steve Berman, managing partner of Hagens Berman. "It's a fact that the thousands of purchasers of its top-selling pet  food products would not have bought this brand had they known the truth – that hundreds of individuals are enslaved, beaten or even murdered in  the production of its pet food."

According to the complaint, men and boys who are trafficked from Thailand's poorer neighbors, such as Cambodia and Burma, are reportedly sold to fishing boat captains in need of crews. These individuals are then forced to work dangerous shifts lasting up to 20 hours a day with little to no pay. Failure to work often results in beatings and even death.
Often trafficked from Thailand's poorer neighbors such as Cambodia  and Burma, men and boys are sold to fishing boat captains needing crews  to man their fishing boats, according to the complaint. The work is  dangerous and exhausting with shifts lasting up to 20 hours a day with  little or no pay, with refusal or failure to work to a supervisor's  satisfaction resulting in beatings or even death.
"Instead of true employment, men and boys are sold as slaves by brokers  and smugglers to fishing captains in Thai ports in need of labor. Once  sold, these men and boys (hereafter 'Sea Slaves') enter a modern form of  indentured servitude where they are required to work to pay off the  price the captains paid to purchase them," the complaint states. "These  Sea Slaves are frequently resold to other fishing boats while out at  sea, often at higher prices than their price at port. As a result, Sea  Slaves are involuntarily forced into longer and longer periods of  servitude as their debt grows and the price of their freedom becomes  ever more elusive."
The 29-page complaint filed on Aug. 27, 2015 in the U.S. District Court  for the Central District of California alleges that Thai Union oversees  canneries, "mothership" fishing vessels, and smaller fishing boats. This  structured pyramid of fishing fleets ensures that individual fishing  boats operate at great distance from any port, without oversight.  Deckhands operating Thai Union's fishing boats work as modern day  slaves, according to a recent New York Times article, "Sea Slaves: The  Human Misery that Feeds Pets and Livestock."
The nationwide class action seeks to "deliver reimbursement to consumers  who would not have purchased these products had they been aware of these  human rights violations," and also seeks injunctive relief requiring  Nestlé to "end deceptive marketing".  The suit accuses Nestlé of violating the California Unfair  Competition Law, Consumers Legal Remedies Act and False Advertising Law.
"Nestlé had the resources to combat this and could have – should have –  chosen not to support these egregious human rights violations," Berman  said. "Nestlé has failed to uphold its responsibility to ensure the  absence of slave labor in its supply chains – and even worse, Nestlé not  only supported these human rights violations, but forced consumers to  unknowingly do the same."
According to the suit, the  Bureau of International Labor Affairs of the United States Department of  Labor confirms that fish and shrimp from Thailand are likely the  product of forced labor. The complaint states that despite protection of human rights listed  as one of Nestlé's Corporate Business Principals, the "pet food giant  has failed to live up to its own ideals".
We contacted Nestlé Purina who responded with the following statement:
We at Nestle Purina agree that forced labor has no place in the supply chain. We require all of our suppliers to respect human rights and prohibit forced labor. The elimination of forced labor in Southeast Asia is a shared responsibility, and we are committed to being part of the solution.
Hagens Berman Sobol Shapiro LLP is a consumer-rights class-action law firm with offices in nine cities. The firm has been named to the National Law Journal's Plaintiffs' Hot List eight times. More about the law firm and its successes can be found at www.hbsslaw.com. Follow the firm for updates and news on Twitter at @ClassActionLaw.
Individuals who have purchased Fancy Feast cat food may  contact Hagens Berman by emailing petfood@hbsslaw.com or by calling  206-623-7292. Find out more about the class-action lawsuit against  Nestlé by clicking this link.