It's no secret that cats will climb just about anywhere. This kitty proved that even vending machines aren't off limits – especially when they're filled with warm, soft toys (er, cat beds?).
This cat in Serbia needed a warm place to escape the sub-freezing temperatures. So, according to New York Post, he climbed into this claw machine outside a movie theater in the town of Vrnjacka Banja: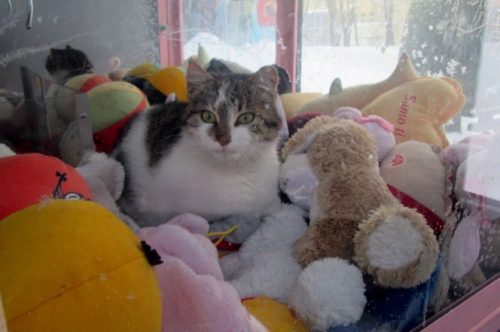 With snow and temperatures plunging to -2 outside in Serbia, this plucky feline somehow sneaked into — or was placed into — a claw game machine.

Posted by New York Post
The cool kitty chilled out inside the claw machine, totally unfazed by passersby who tried to "win" him by playing with the machine. Fortunately, police soon arrived to help him out.
It's not known what happened to the kitty. Hopefully he was taken to a local rescue with a warm bed.
It's cold outside brrr #cats pic.twitter.com/hRyGdqWkO2

— Valentina Mitrovic (@vanjamitrovic) January 6, 2016