Easter is a time for celebrating new life. All the wonderful ways we celebrate this holiday, by feasting on chocolates, hunting eggs, decorating, and stuffing ourselves silly can actually be potentially harmful for our furry feline friends. Since we'd all rather have our kitties at home celebrating with us instead of spending Easter in the emergency room, here are some precautions you can take to ensure your cat stays safe, healthy and happy this Easter!
Easter Lilies – A BIG no-no for households with cats!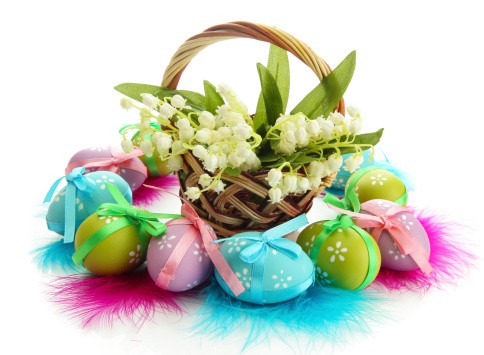 Use extreme caution when bringing any flowers into your house if you've got cats. Especially lilies, because many of them are poisonous. Easter lilies are especially toxic to cats. Just 1 or 2 leaves, or even the pollen from the plant, can kill a cat! Does your cat like to chew on plants? Chewing on a lily can send your kitty into severe kidney failure within 24 hours.
Safe Alternatives:
Roses, African daisies and orchids are non-toxic to cats, though you should discourage your cat from eating them anyway.
Chocolates and Candies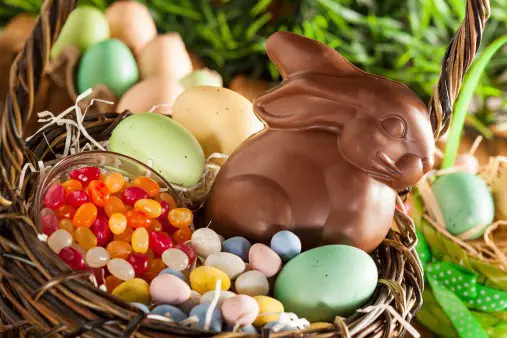 Chocolate bunnies, candy eggs, and all the other sweet treats we stuff into our Easter baskets usually contain caffeine and theobromine, both of which are harmful to cats. The symptoms of chocolate poisoning include vomiting, diarrhea, rapid breathing, increased heart rate and low blood pressure. Severity of symptoms depends on the type of chocolate your cat ingests, but if you suspect your cat has eaten any type of chocolate, you should bring him or her to the vet immediately for a physical exam, blood work and urinalysis. Additionally, you should keep any Easter basket filler away from your cat, as it could cause a blockage if a curious cat ingests it.
Safe Alternatives:
Cats actually don't have the receptors to taste sweets, so there's no point offering them anything sweet! Instead, give them meaty treats intended for cats – who are obligate carnivores. Look for healthy, USA-made treats for cats. You can even try rabbit treats, if you want to stick with the Easter theme.
Easter Eggs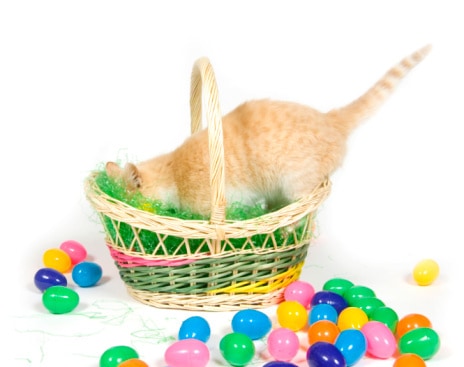 If you plan to hide real eggs around your home, be sure to create of list of all your hiding spots and make sure they're all accounted for after the hunt is over. A misplaced, rotten egg – should your cat decide to eat it – could be full of mold, bacteria and other yucky, toxic stuff that could quickly turn a fun family game into a trip to the animal hospital with a sick pet.
Safe Alternatives:
Use plastic eggs and fill them with toys or even catnip! If you still want to hard boil and color eggs with family, go for it! But save those eggs to eat…yum!
Easter Feast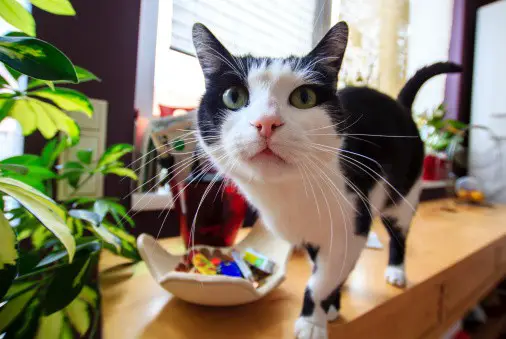 One of the best parts about Easter is the feast, right? But all that wonderful food can cause serious problems for our cats if we aren't very careful. It's important to be particularly aware around the holidays, especially if you have a cat that likes to beg, and if you've got guests in your home that tend to be suckers to those pleading, sad kitty cat eyes.
Common Easter foods, like ham and pork are high in salt and fat, both of which are bad for cats in high quantities. Uncooked dough from bread, if ingested, can be fatal if it rises in your pet's belly. Desserts that may contain chocolate, raisins, or grapes would be toxic to your cat if he snuck a bite. It's best to keep kitty out of the kitchen and away from the table during your Easter feast.
Safe Alternatives:
Why not give kitty his very own special Easter feast, like a can of high quality cat food the same flavor meal you're having! You can even serve it on a fancy dish if you want.
What special ways will you celebrate Easter with your cat? Tell us below!
If you found this helpful, Pin it!