Did you learn something new in Part One: The Cats with Charm?  Perhaps that Grumpy Cat isn't a ragdoll or that Colonel Meow has nine inch long fur?  If you haven't read it, go take a look!  Many things can make someone famous, such as being an internet star, helping out in politics, or just being different, such as these fifteen cats.  This second article is about the cats that have made history, help run America, and paved the way for other felines.  Please join us later for Part Three: Those Odd Furballs.
The First First Cat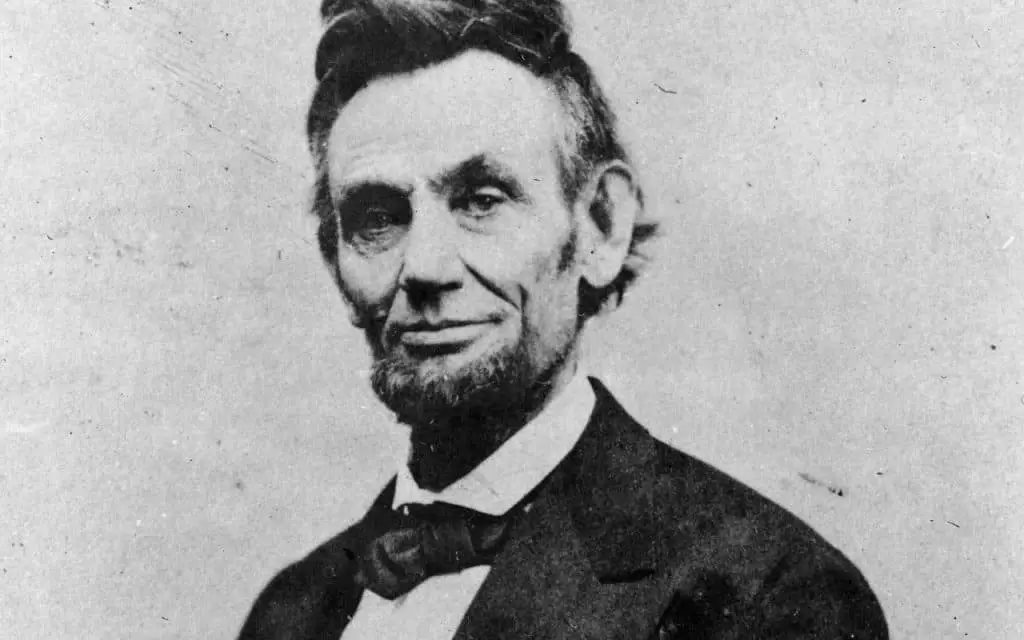 Tabby was the first cat to live in the White House, alongside Abraham Lincoln, his wife, and his son Tad, who owned the cat.  Tad asked his father if it was alright to bring his cat to DC with them, and Lincoln thought a feline in the White House was a fantastic idea.  They all lived peacefully at the White House, however, during a Presidential dinner; Lincoln fed Tabby from a golden fork.  Tabby was later joined by another cat, Dixie, in the White House.  Lincoln was quoted saying that Dixie was "smarter than [his] whole cabinet."  
Tuxedo in the White House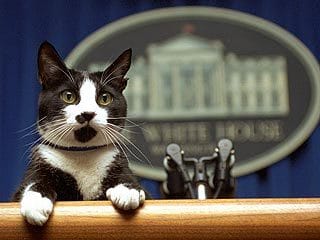 Socks was owned by Chelsea Clinton, President Bill Clinton's daughter.  The feline was noticed for his fur pattern, the tuxedo.  His fame grew and from there: he hosted a children's version of the White House website, was featured in video games for the Sega Genesis and Super Nintendo, and was the subject of Hillary Clinton's book.  He even joined Hillary as she visited seniors and children.  He had many special locations in the White House, but the Oval Office was his favorite.  Unfortunately for Socks, the Clintons adopted Buddy the dog, whom the cat didn't like.  Eventually, Socks moved to Maryland with Betty Currie, the secretary when the Clintons left the White House in 2001.  He passed away in 2009 from cancer.
The Feline Detective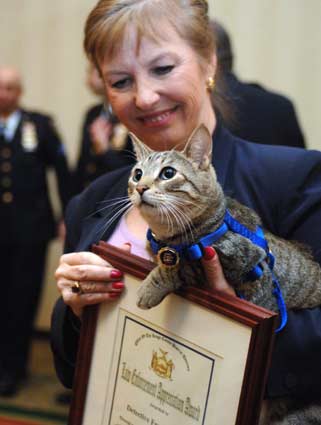 Fred started out on the street and managed to help the police catch an unlicensed veterinarian!  In September 2005, he was picked up in Brooklyn by animal control, and it was discovered he had pneumonia and a collapsed lung.  His treatment wasn't making him better, so the kitten was going to be put down.  Luckily Carol Moran adopted the kitty along with his brother and they were named Fred and George, respectively, after the Harry Potter characters, the Weasley twins.  Fred eventually got better, from Moran's love, care, and more treatments.  In February of 2006, Fred was volunteered by Moran to assist in catching Steven Vassall, a man posing as a veterinarian for seven years.  The police went undercover and contacted Vassall about neutering Fred.  The parties met up in an apartment and talked terms; Vassall charged the agent $135 dollars.  It was all caught on camera, red handed, and he was convicted and received three years of psychiatric treatment and five years of probation.  For his acts of bravery, Fred was awarded with the Law Enforcement Achievement Award, along with a detective badge.  He used his status to work for charity and appeared at benefits.  Sadly, in August 2006, after playing with George and Moran's dogs in the yard and on the street, Fred was hit by a car and passed away.  Moran buried him in her yard and planted flowers on his resting place.
The Kitty Mayor
This cat was found with a litter of kittens in a box in the parking lot of Nagley's by Lauri Stec in 1997.  The owner of Nagley's chose Stubbs because he had no tail.  That year, there was an election, where the people didn't like candidates. As a joke the town of Talkeetna wrote in Stubbs, and the feline won the election.  Stubbs uses Nagley's as his base of operation.  Everyone loves him as mayor: he runs his office honestly, the townspeople don't pay sales tax, he doesn't raise taxes, and he boosts the economy with tourists.  People send him letters and thirty five people on average try to meet him as he surveys and visits local business every day.   Everyone, even dogs, respect him, though in 2013, that didn't stop a dog from attacking Stubbs.  The honorary mayor survived the attack, but he suffered from bruised hips, a punctured lung, a crushed sternum, and a wound on his leg.  He received donations to help pay for his injuries from around the world, and Nine Lives Foundation paid for the bill which came to three thousand dollars.  Stec donated most of the five thousand dollars in funds to Pironis of Golden Pond Veterinary Services who took care of the feline's injuries.  His trauma didn't keep him from office, because in 2014, the Alaskans elected him to run for Senate.  He lost the race, but that doesn't keep him from enjoying water with catnip in it from a wine glass every day.  He's in retirement now, though he's still runs the office, celebrating his twentieth year in office this year.
The Cat that Helped Solve a Murder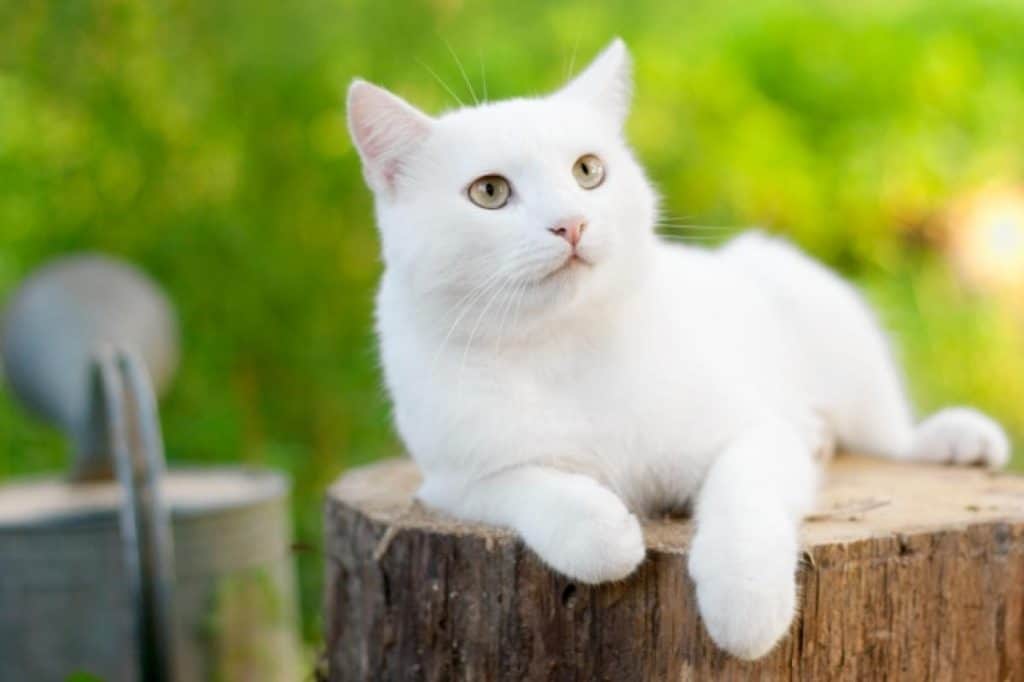 This white cat paved the way for nonhuman DNA being used as evidence for future murder trials.  Her owner, Douglas Beamish didn't know how important his cat Snowball would be.  It all started in October 1994, when Shirley Duguay disappeared and was found murdered.  Her ex-husband, by common law, Beamish, was the likely suspect.  Their relationship was consisted mostly of loud arguments, Beamish had a prison record, and he had a poor reputation with the ladies.  He disappeared the night she disappeared but there was no evidence that linked him to the crime or to where Duguay was discovered.  A jacket with Duguay's blood and about twenty white hairs was recovered where her body was found.  Constable Roger Savoie and scientist Stephen O'Brien were the only people who thought the hair was useable, everyone else laughed at them.  Together, they determined, to a 45 million to one odds, that the fur was Snowball's.  The court convicted Beamish with this evidence among more that the police had found, and he was sentenced eighteen to life in prison.
These felines sure have made history and influenced America, haven't they?  Thank you for reading the second part of the three part series about fifteen famous cats.  The final part is about cats that have very strange stories.  
About the Author: My name is Danielle Stone, and I went to school to be a Veterinary Technician.  I have always loved animals and I've had a couple of cats and a dog.  Oh and I love Felix the Cat!