The Douglas County Sheriff's Office is asking for the public's help in identifying a person who may be involved in abandoning a severely matted cat at the Douglas County Animal Shelter in Gardnerville, Nevada.
Early last Thursday morning, the man pictured above was recorded leaving a carrier near the front door of the Douglas County Animal Shelter. Inside the carrier was a neutered gray male cat, whose fur was so matted, he had to be sedated and shaved. The cat had sores on his skin from the matted hair.
This was an extreme case of neglect that has probably been going on for years.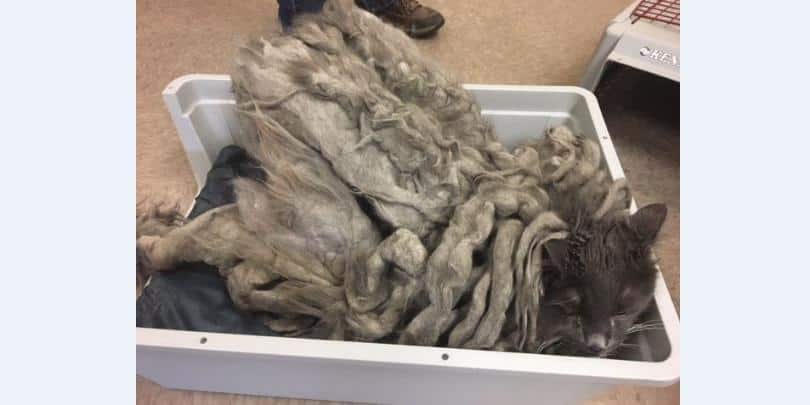 Surveillance video shows at 5:41AM August 16, an older male with a gray goatee, red shirt, jeans and a baseball cap got out of a vehicle on the passenger side and went to the front door with the animal carrier, and left, abandoning the cat.
A reward is being offered to anyone with information leading to the arrest and/or conviction of the person responsible for the neglect.
Anyone with information is asked to call DCSO Dispatch at (775) 782-5126, Douglas County Secret Witness at 775-78-CRIME (775-782-7463), or DCSO Sergeant B. Hubkey at (775) 782-9905.
UPDATE: The cat, now named Bob Marley, was adopted on August 26th. According to Douglas County Animal Care & Services, "This boy has such a loving personality and he is enjoying his ability to move freely again. He will make a wonderful addition to a new home."