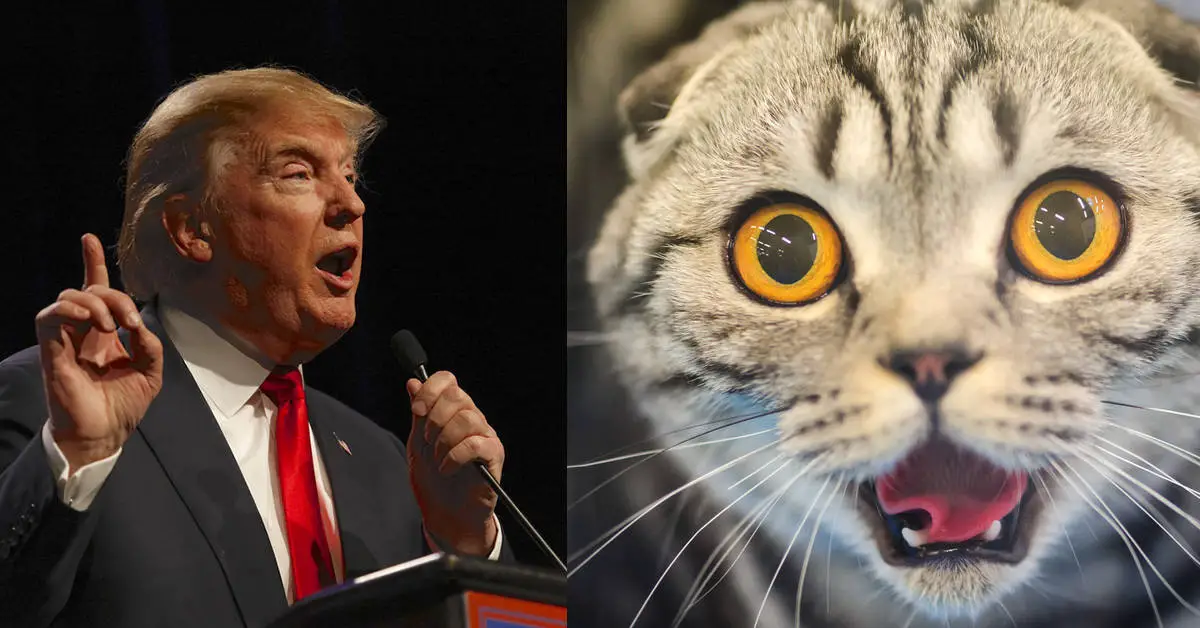 While our future commander-in-chief is often blasted for his off-the-wall social media antics – he finally did something The Catington Post can get behind. President-Elect Donald Trump followed the popular cat-centric Twitter account @EmrgencyKittens.
Really, the jokes practically write themselves.
Trump only follows 42 accounts – so it's no surprise that the internet took notice when Emergency Kittens became lucky 43. Then the tweets started:
People say Trump is so mean but would a mean guy follow Emergency Kittens on twitter? #MAGA pic.twitter.com/UFPcQ6H5dw

— Bid Bolton (@bidbolton13) January 2, 2017
@LilithLovett @realDonaldTrump @EmrgencyKittens That's actually kinda cute, Trumps a cat person.

— 🌺Ethel Cross❤️ (@_Ethel_Cross_) January 2, 2017
@DarkRazorZ @EmrgencyKittens Being the 45th president of the United States, commander in chief, and family man can get stressful sometimes

— HUSKIE IN THE NAVY (@NavyHuskie) January 2, 2017
Russians hack "Emergency Kittens" Twitter acct

Trump

— John Tharp (@JohnPTharp) January 2, 2017
@MAGAtrump5 @EmrgencyKittens pic.twitter.com/fAaU8PzsG7

— NothingButTheTruth (@DiscoverTruth4u) January 2, 2017
donald trump just followed the emergency kittens account. guess you could say he's grabbing twitter by the pussy

— rachel (@rachelamatiaraa) January 2, 2017
Been following @EmrgencyKittens for ages. This is *not* something we should be mocking Trump for.

— Dan Kennedy (@dankennedy_nu) January 2, 2017
And how did Emergency Kittens respond to their new follow? They tweeted this:
2017 definitely started off with a bang amiright? pic.twitter.com/IjoYvz56Fc

— Emergency Kittens (@EmrgencyKittens) January 2, 2017
Unfortunately, after all the attention he received, Trump quickly unfollowed the kitten account before they had a chance to send him this direct message:
It's a Meowntain. But he unfollowed before the punchline. pic.twitter.com/emcQanPx4Y

— Emergency Kittens (@EmrgencyKittens) January 2, 2017
It's not clear whether the follow was intentional (we'd like to think it was…because KITTENS!) but, sadly it was short-lived. Curious what will happen on Twitter when Trump officially takes office later this month?
Special Assistant to the president and Deputy Chief Digital Officer Kori Schulman explained:
On Twitter, the handle @POTUS will be made available to the 45th President of the United States on January 20, 2017. The account will retain its more than 11 million followers, but start with no tweets on the timeline.