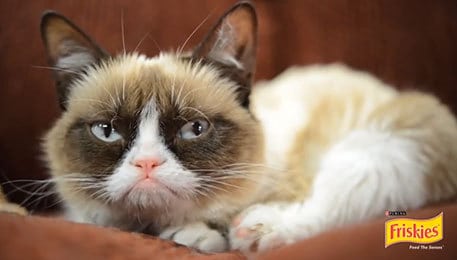 The perpetually P.O.'d internet sensation Tardar Sauce, more famously known as Grumpy Cat, has just landed herself an endorsement deal with Nestle Purina – she'll be the new spokescat for Friskies brand cat food.
The endorsement was announced by St. Louis-based Nestle Purina Pet Care on Tuesday, but the terms of the deal were not released.
Grumpy Cat, for the one person on the planet who doesn't know her, was catapulted to internet fame after her owner's brother posted her frowning face on the popular social media site, Reddit.
She's recognized by her permanent scowl and has become a fixture on Facebook and Twitter. In fact, her Facebook page has more than a million likes and her Twitter feed is followed by over 110,000 people.
Grumpy Cat was featured in this Friskies online video series earlier this year:

In addition to her new deal, Tardar has been making appearances around the country with the release of her new book, Grumpy Cat, A Grumpy Book. Fans that attend her appearances can have their photo taken with the cranky kitty. She also has a line of merchandise and is rumored to have a movie deal.
Huffington Post reported that Friskies intends to first honor the famous feline by presenting her with a lifetime achievement award:
The feline will receive the award Oct. 15 in New York as Friskies honors the best cat videos of the year as chosen through an online vote.