Being a cat owner requires you to spend time utilizing preventive measures to keep your cat safe and healthy. They can be magnets for trouble, after all, and it falls to you to minimize the fallout. If you have a cat with a penchant for exploring outside, one of your key actions is to help them avoid attracting fleas that can be hazardous to their health and your home.
But what happens if these steps fail? If you're lucky enough to only have a single flea, this may not be a huge issue. However, if your cat brings multiple fleas into your home, you're likely to have an infestation on your hands.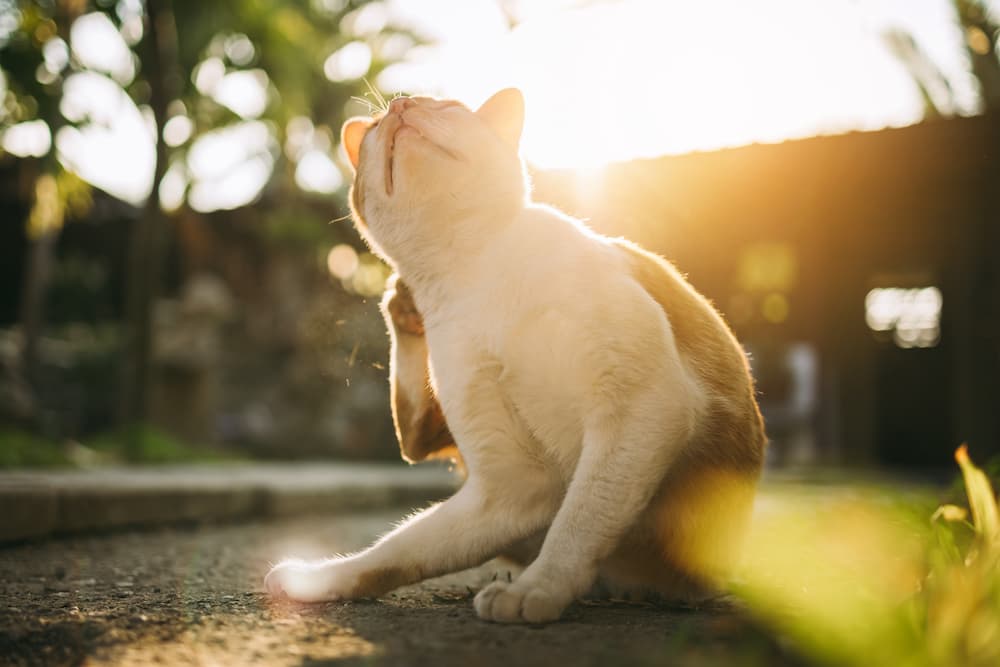 So, let's take a look at what you can do to combat a flea infestation.
Treat Your Cat
Your first step should be to treat your cat for fleas. The symptoms of fleas on your cat may well have been the first indication an infestation was underway. While there is certainly a need to protect your home and your family from any issues, it's important to recognize that your cat is likely to experience significant discomfort.
The treatment should begin with a bathing routine. Give your cat a bath utilizing a shampoo designed to kill fleas. It may be the case that your cat is not exactly thrilled about the idea of a bath. If they find water particularly distressing, there are also sprays on the market. Remember, cats are more sensitive to the toxic effects of pyrethrums and organophosphates than dogs, so NEVER use flea control products intended for dogs on a cat.
As you're undergoing the process of addressing the infestation of your home, it's important to keep your cat protected from further fleas. Utilizing a flea collar for a period of time can be a useful precautionary measure. You may also need to continue regularly bathing them in the flea shampoo and topically treating any bites they have.
Clean Thoroughly
Your next action should be to tackle the infestation around your home. Unfortunately, fleas can lay up to 10 eggs per day. If this isn't dealt with effectively, you're likely to get into a relentless cycle that is unpleasant for both you and your cat. This comes down to utilizing thorough cleaning protocols.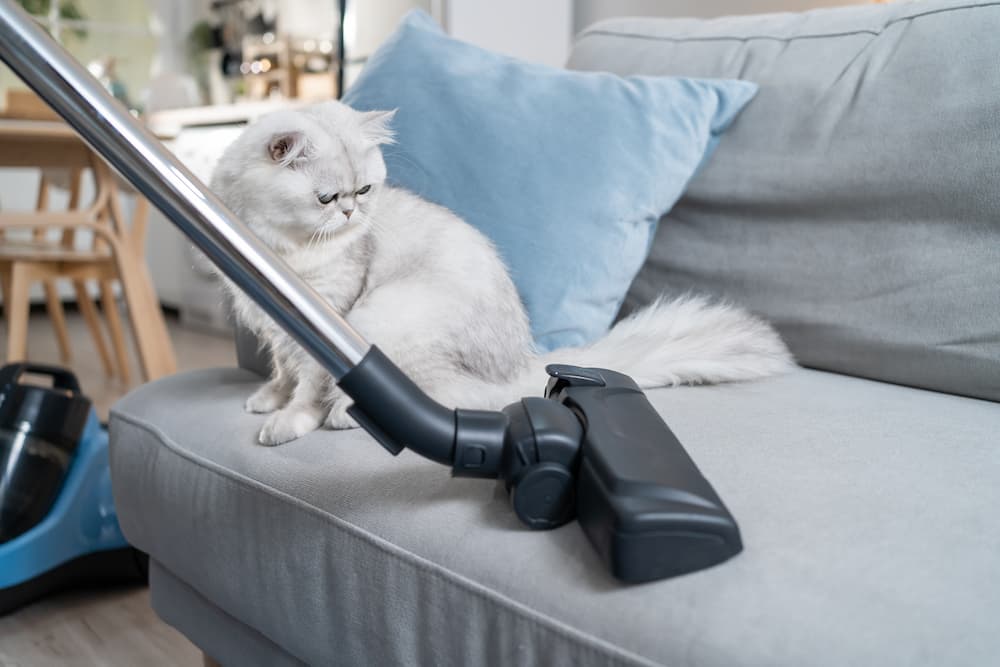 Removing fleas from your home environment begins with a complete vacuuming of your home. Make sure you dispose of the vacuum bag afterward. Following this with steam cleaning your carpets and soft furnishings helps to ensure as many fleas as possible are killed. It's then important to make sure the fleas stay away. Utilizing a chemical insecticide or a rudimentary flea trap can take care of any lingering pests.
It may also be necessary to take steps to ensure there are no fleas in your yard. The last thing you want is to thoroughly clean your cat and your home only for your pet to bring them back in from your outdoor space. Fleas love places that are shaded, humid, and warm. So clean up any debris, trim back your bushes, and mow your lawn regularly.
Contact Pest Control
There may be times you can't tackle the infestation by yourself. Perhaps every time you think you've cleaned enough, you find new evidence of fleas or their eggs. You may also not have the time, energy, or ability to take care of the problem to the extent it needs. In this case, it can be wise to call in a professional pest control company.
Your primary focus in this instance should be on the safety of your cat. It's important to understand that some pesticides may be toxic to your pet, with chemicals able to be not just inhaled but also absorbed through your cat's feet. It can be worth seeking out a pest control company with experience in treating homes with animals as they can often take preventative measures and give expert advice. If particularly harsh chemicals are needed, boarding may be necessary for a period of time.  
Remember, too, that chemicals can linger for some time after the house has been treated. Talk to the pesticide company about what the expected life span of the chemicals is. Importantly, gain information from them about the early signs of toxicity in cats. This can give you and your pet valuable time to seek treatment if necessary.
Conclusion
As a cat owner, flea infestations can be a serious issue. There are steps you can implement personally. This includes bathing your cat with an appropriate shampoo or spray treatment and performing a thorough cleaning routine in your home. However, if you find a pest control professional is necessary, be sure to take measures to protect your cat from potential exposure to toxic chemicals. Infestation is a frustrating experience, but it's in the best interests of your cat and your family to address it immediately.
About the Author: Katie Brenneman
Katie Brenneman is a passionate writer specializing in lifestyle, mental health, and animal-related content. When she isn't writing, you can find her with her nose buried in a book or snuggling with her cat, Clementine. To connect with Katie, you can follow her on Twitter.
The Catington Post is reader-supported. That means, if you make a purchase through links on our site, we may earn an affiliate commission. All images and names which are not the property of The Catington Post are the property of their respective owners.