If you're looking for a quick and easy (and fun!) craft project for your cat – look no further! You don't even need a sewing machine or major crafty skills to complete this project! In about half an hour and with minimal supplies, your feline friend can have an adorable new comfy, cozy bed. Here's how: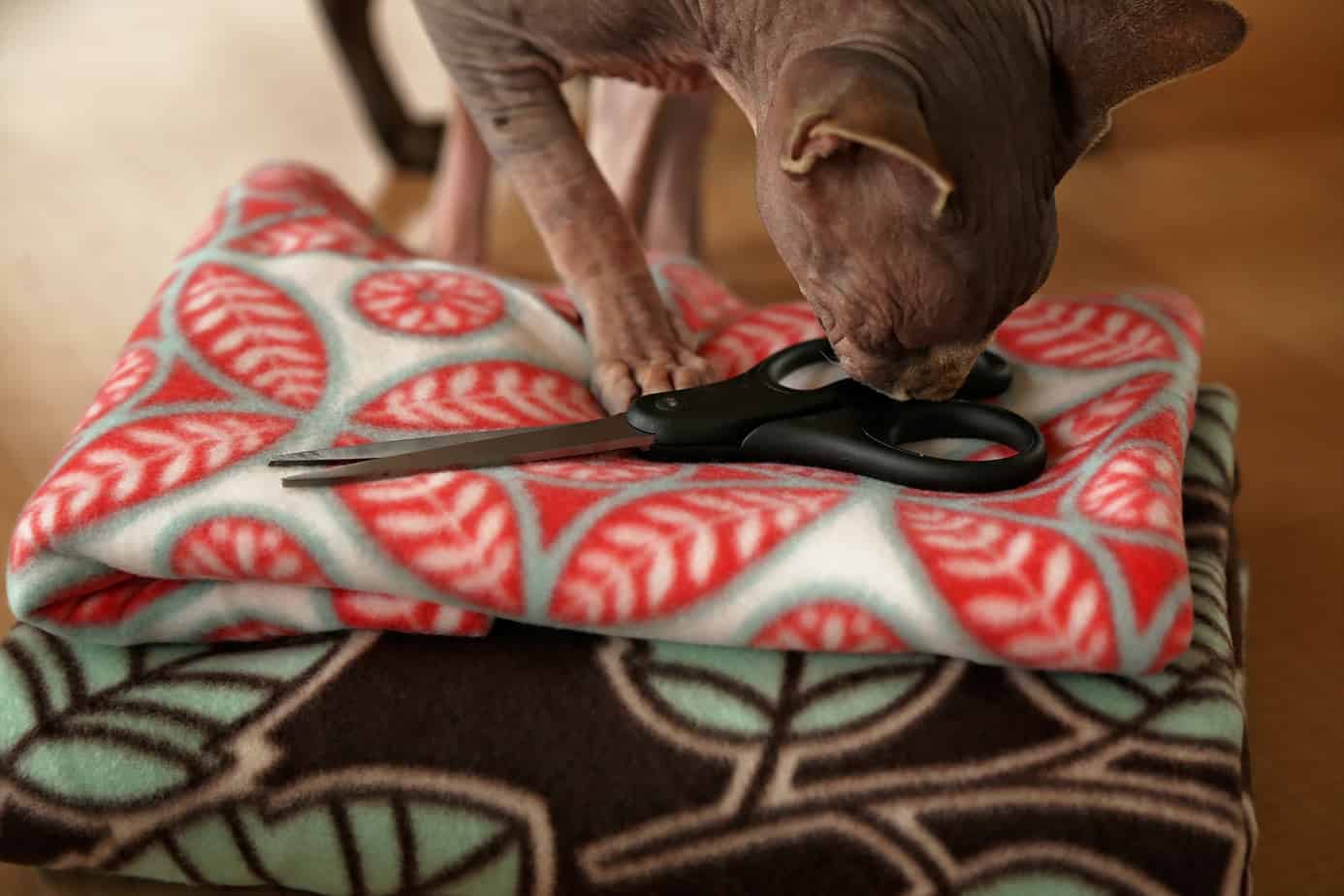 What You'll Need:
A yard of fleece
Scissors
A bag of Poly-fil Stuffing
A ruler or straightedge
Step 1: Cut Your Fleece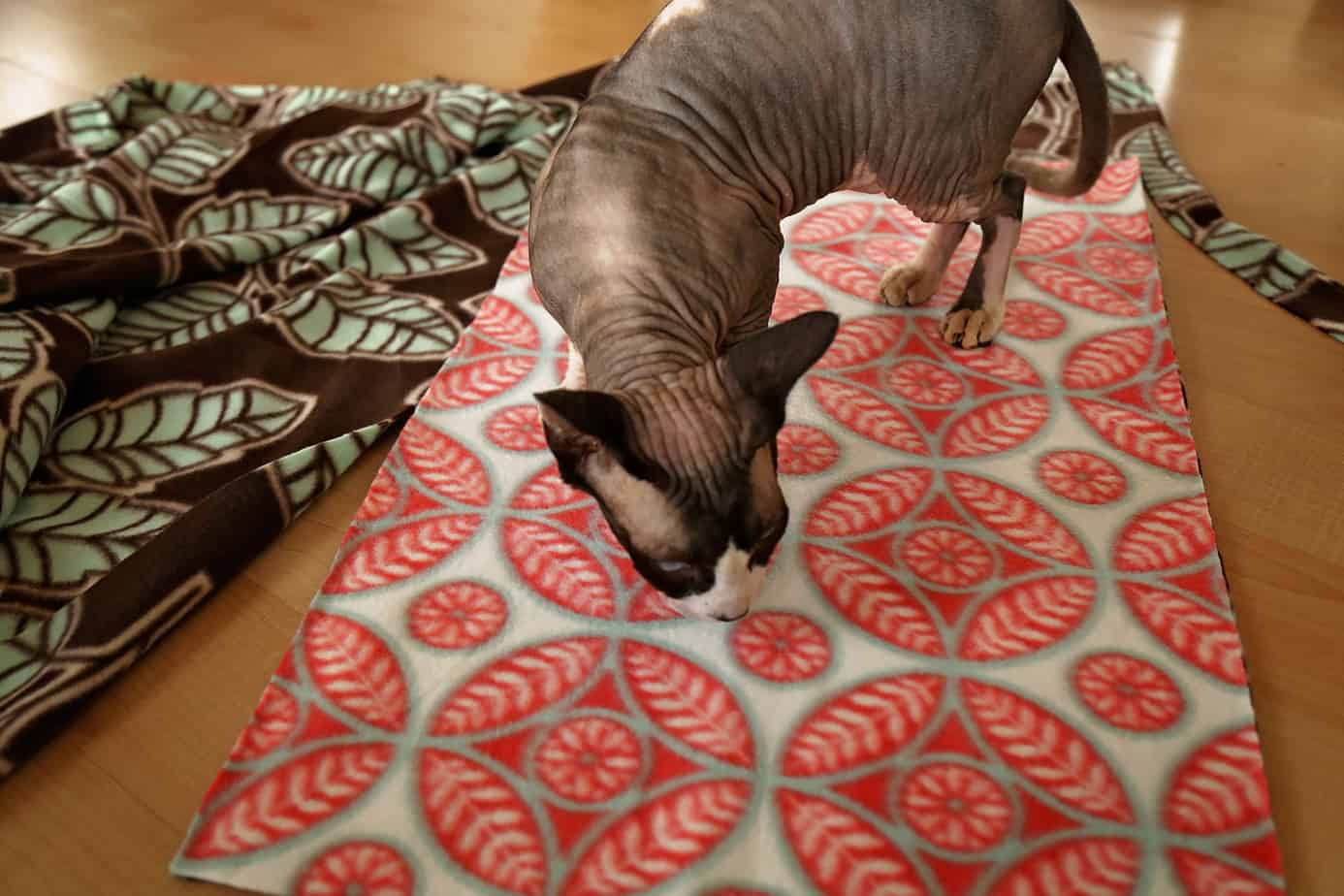 To begin, you'll want to cut your fleece out to the size and shape of whatever you want your cat's new bed to be. It can be anything you choose – square, rectangle, round, or even heart-shaped! I chose to make a bed that would fit inside my cat's carrier, so it's a long and narrow rectangle. When you cut out your shape, add an additional 3 inches to each side. For example, if you want your final bed to be 24 inches wide, you should cut the fleece 30″ wide – that's adding 3″ to each side.
When you're cutting the fleece, cut two pieces. They can be the same fabric, or different coordinating designs. It's important to cut them out together at the same time so that they line up perfectly. Your cat will probably help you with this step.
Step 2: Cut the Fringe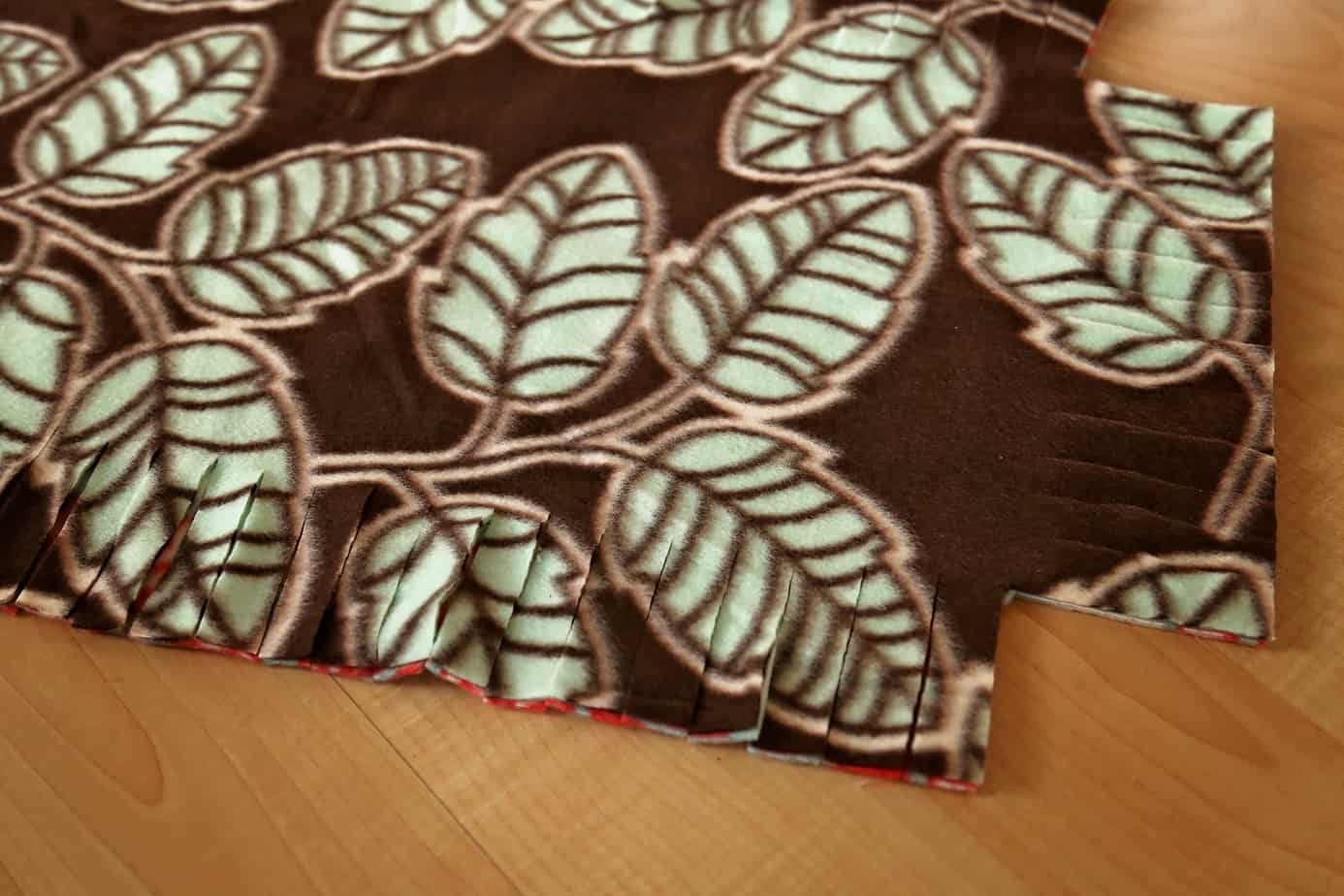 After you've cut your two pieces of fleece, it's time to cut 3 inch long strips all the way around the edge. Remember the extra 3 inches of fabric you added? That's what it was for! Be sure to keep your two pieces of fleece together while you cut your strips so that when you're done, they line up perfectly together. Cut the strips about 3/4″ to an inch wide all the way around. You'll end up cutting off the corners, as shown. Your cat will probably try to help with this step, too. Just watch out for kitty paws!
Step 3: Start Tying Knots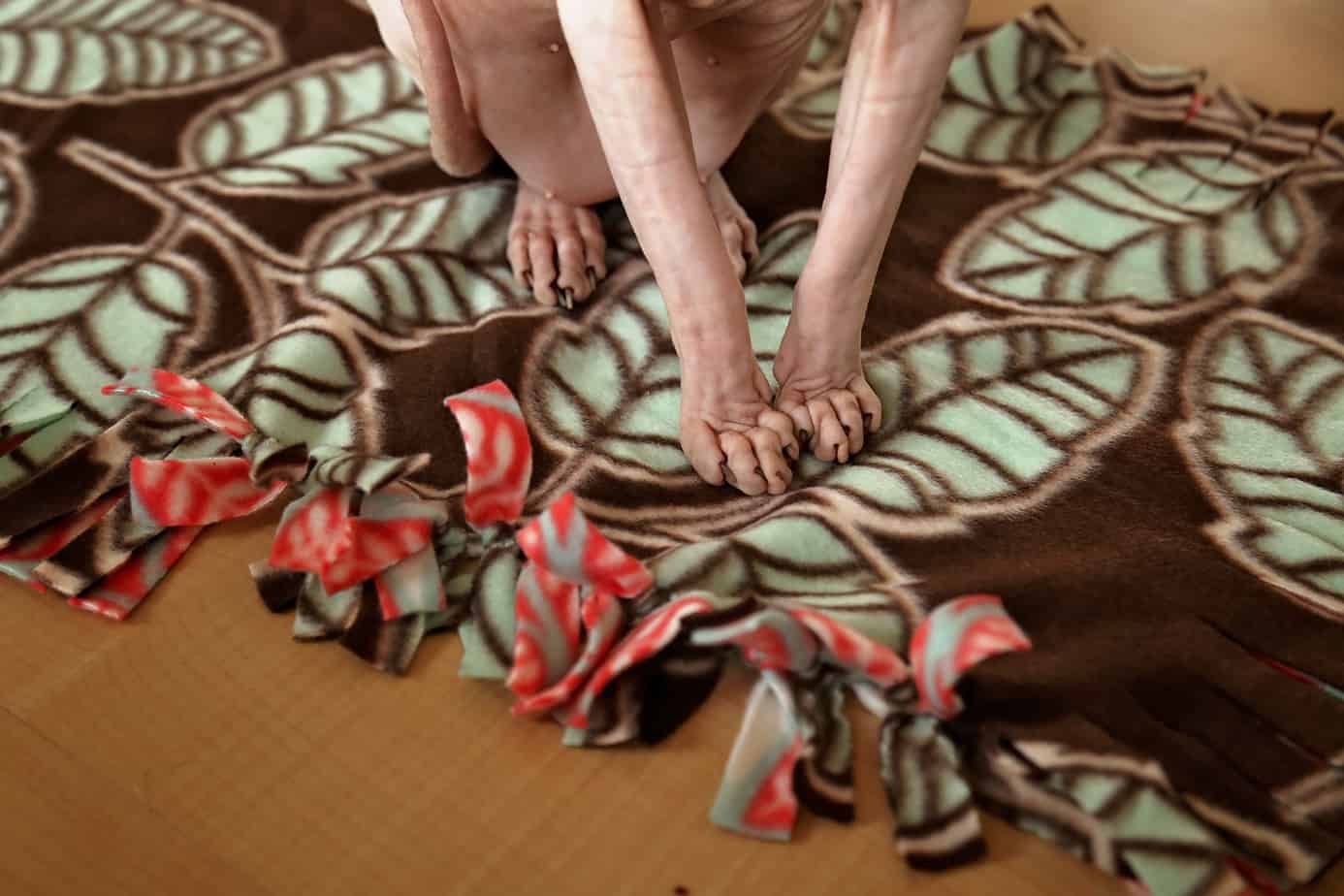 After you've cut all the fringe, start at one corner and tie the two pieces of fleece together strip by strip. Tie a tight double knot to ensure your bed doesn't come apart. Work your way all the way around the bed, but stop before it's completely tied shut – you'll need to leave an opening large enough to fill the bed with stuffing.
Your cat will help you with this step, too.
Step 4: Stuff It!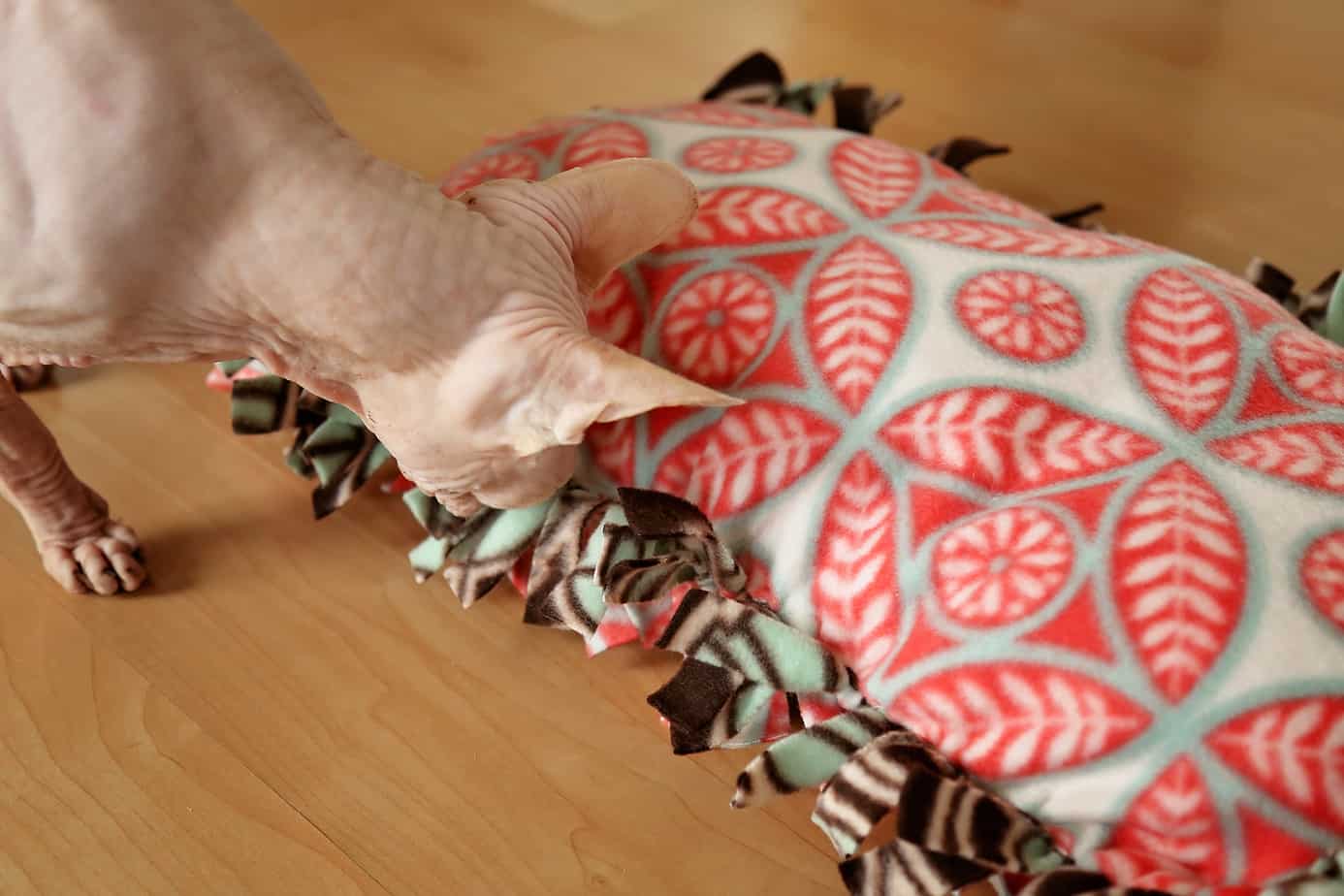 Fill the bed with Poly-fil. It's a good idea to pull the stuffing out of the bag it comes in and "fluff" it first before you stuff it into the bed. That'll make the bed softer and comfier for your kitty. Be sure not to overstuff it, too. You want the bed to be squishy and soft to lay on – not a hard, overstuffed ball! After the bed is stuffed to your satisfaction, simply finish tying the remaining strips. Your cat will definitely help you with this step.
You're finished! Now let your cat enjoy his or her new bed (if he hasn't already taken ownership of it, that is!)
My cat bed was made specifically to fit in the cat carrier, but it turned out to be a perfect fit for our window seat, too!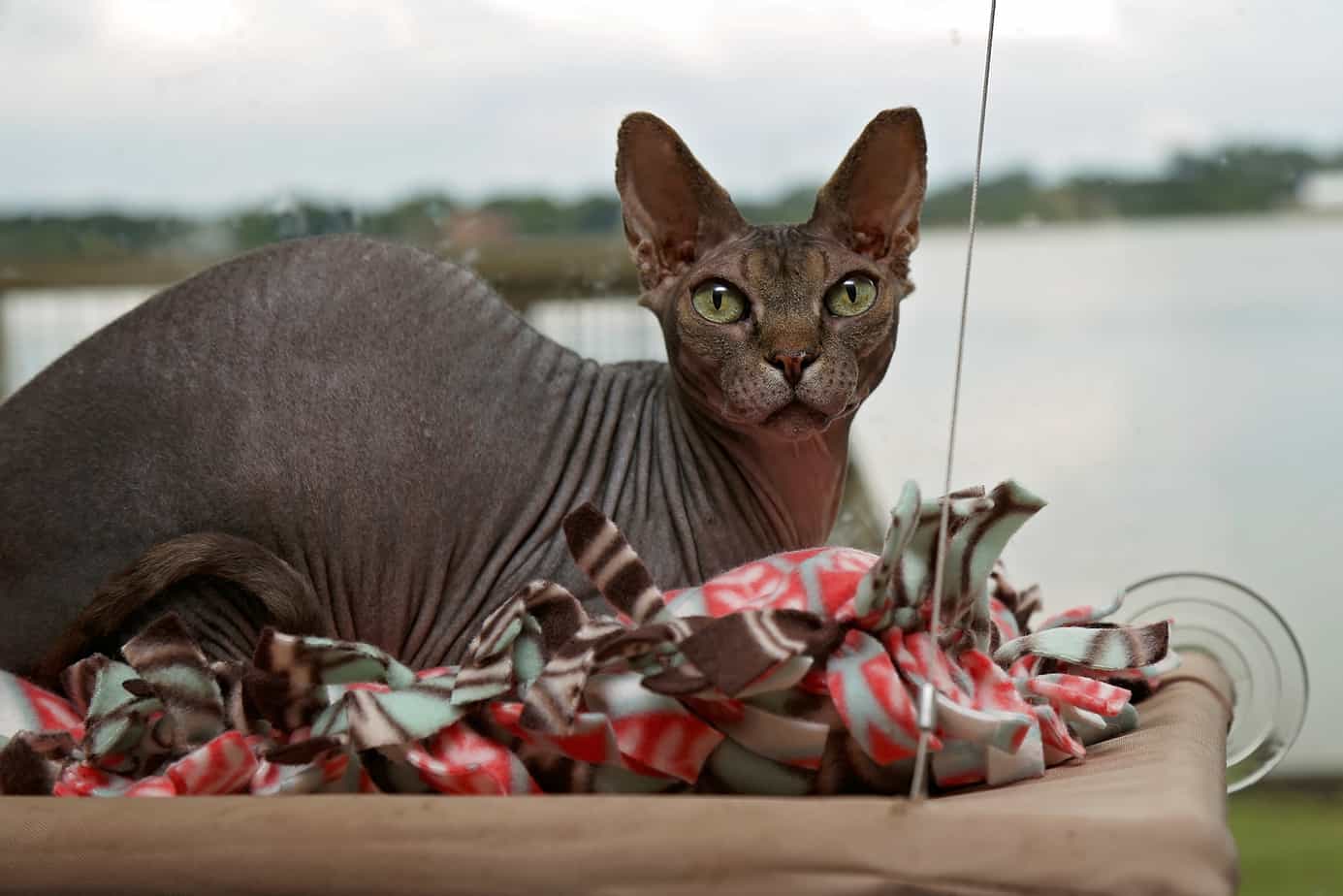 What To Do With Those Leftover Supplies:
You'll have leftover fleece from your project. Depending on how much you have left, here are some fun things you can make with them:
Catnip Knots
Cut your fleece into wide strips, put about half a teaspoon of loose catnip into the center of the fleece and tie it into a knot. Voila! Quick and easy catnip toys!
Mini Catnip Pillows & Catnip Kickers
Using the same process you used to make your no-sew cat bed, make a miniature version. But, when you fill the pillow with stuffing, mix in a handful of loose catnip, too. Or, try a variation that's long and narrow for a fun catnip kicker!
If you liked this article, pin it!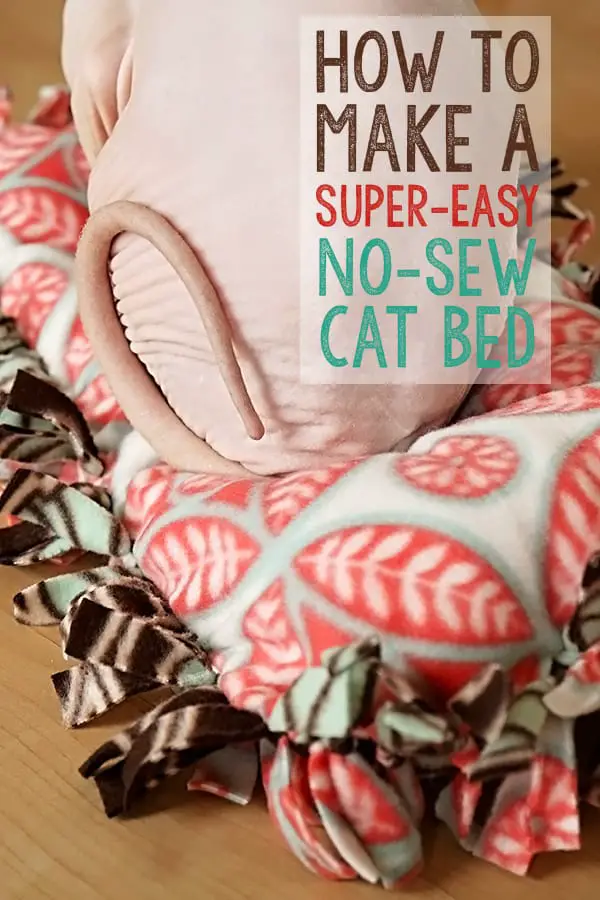 The Catington Post is reader-supported. That means, if you make a purchase through links on our site, we may earn an affiliate commission. All images and names which are not the property of The Catington Post are the property of their respective owners.