The Humane Society of Hawaii is investigating after something disturbing was found at a Waikiki apartment building.
A pet cat named Smokey was found dead. And if that's not disturbing enough, after his body was found, someone reported having found a note a month earlier warning that this would happen if people kept feeding the outdoor cats. So now they think Smokey's death wasn't an accident.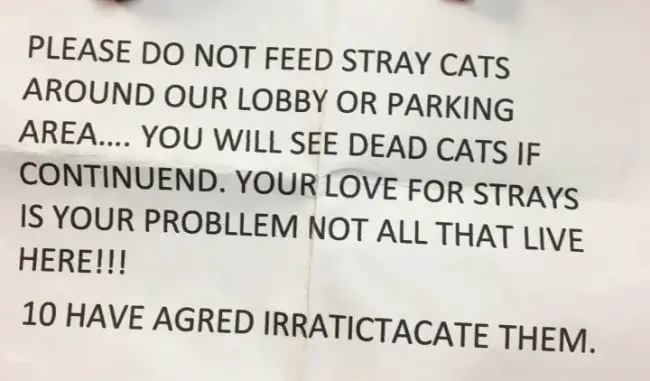 Now, in Hawaii, pet cats are allowed to be free roaming as long as they can be identified with a collar and tag or a microchip and they must be spayed or neutered.
The Humane Society is taking statements and trying to determine if Smokey's death was accidental or had something to do with the threatening note that was posted in the elevator. They said it would've been better if they'd been told about the note when it was found – because they may have been able to prevent this from happening.
They also say neighbors are having problems with free roaming cats, are urged to call the Hawaiian Humane Society at 356-2254 – don't take matters into your own hands. "We try and work with both sides. Usually responsible pet owners take some responsibility to realize (they're) inconveniencing their neighbors," said Harold Han, field services manager for the Hawaiian Humane Society.