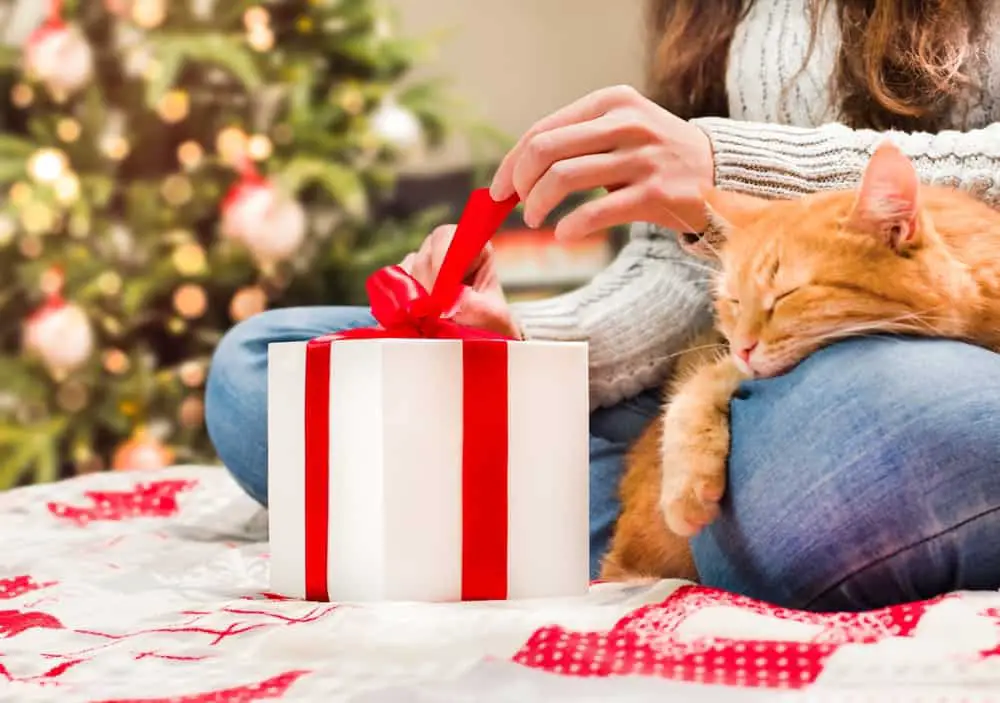 It's the meow-lidays! And with thousands upon thousands of gifts and gadgets for cats and cat lovers, finding the perfect, unique gift can be, well, less than merry.
That's why we've searched & scoured, tested & tried, sampled & tested to bring you our 2021 Holiday Gift Guide!
Here they are — our favorite holiday gifts for a cat or the meowvelous purrson that loves them:
Gift for Cat: Meowijuana Catnip Toys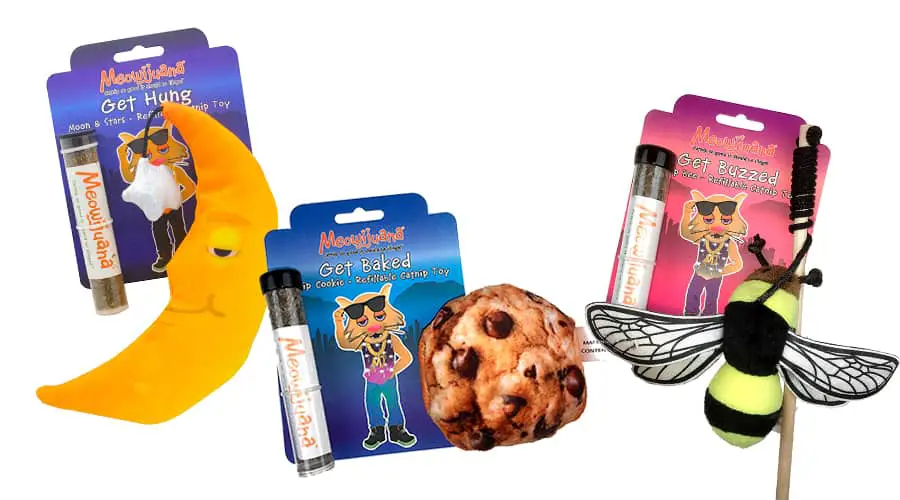 If you find a gift guide for cats that doesn't include catnip toys — stop reading it! They obviously don't know what cats love! This year, our cats went crazy over Meowijuana…catnip so good it should be illegal! We love these toys because, first of all they're absolutely adorable, but they're also refillable with high-quality extra-potent organic catnip. So when your cat starts to lose interest, simply refill it with fresh 'nip for a more potent buzz! Meowijuana offers a wide range of toys, for kitties who like to kick, there's the "Get Hung" Moon & Stars toy. Or, cats can toss around a hilarious "Get Baked" chocolate chip cookie. If they like to swat, they can "Get Buzzed" with an adorable catnip bee wand toy! Of course, you can also stock up on Meowijuana's pawsome catnip in a variety of different blends.
---
Gift for Cat: Catit Pixi Water Fountain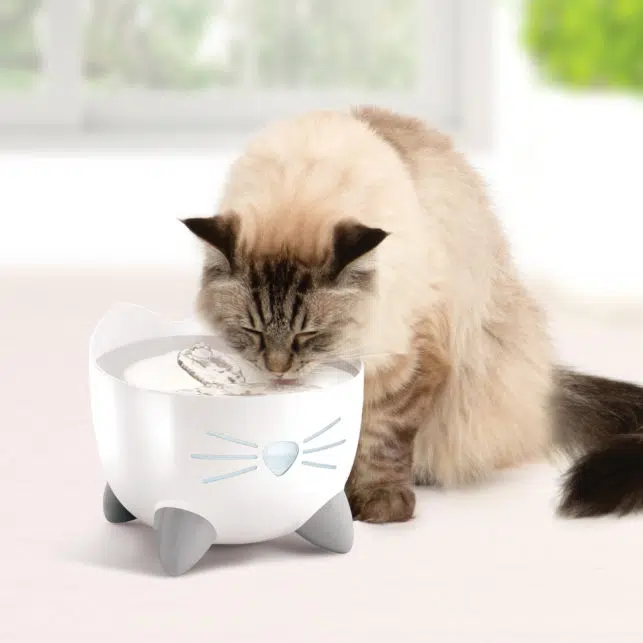 Have you ever found your cat licking water from a dripping faucet? Studies have shown that cats prefer to drink from moving water rather than still water found in a bowl. Additionally, since our cats get most of their water intake from the food they eat – and are often fed a diet of dry kibble – many cats are in a constant state of dehydration. Fortunately, water fountains can help entice cats to drink more. Enter the new (absolutely awww-dorable) Pixi cat fountain from Catit – it's hydration at its cutest!
Not only is it cute, though. Pixi lets you adjust the amount of flow to suit your cat's preferences. It also can sense when the water level is too low and will shut off automatically to avoid burning out the fountain's pump. Also, Pixi's "nose" will light up red to alert you that it's low on water. Pixi is available in 4 cool colors and a version with a stainless steel top. For our high-tech cats, there's also a Pixi Smart Fountain and a Pixi smart feeder.
---
Gift for Cat: Sleepypod Mobile Pet Bed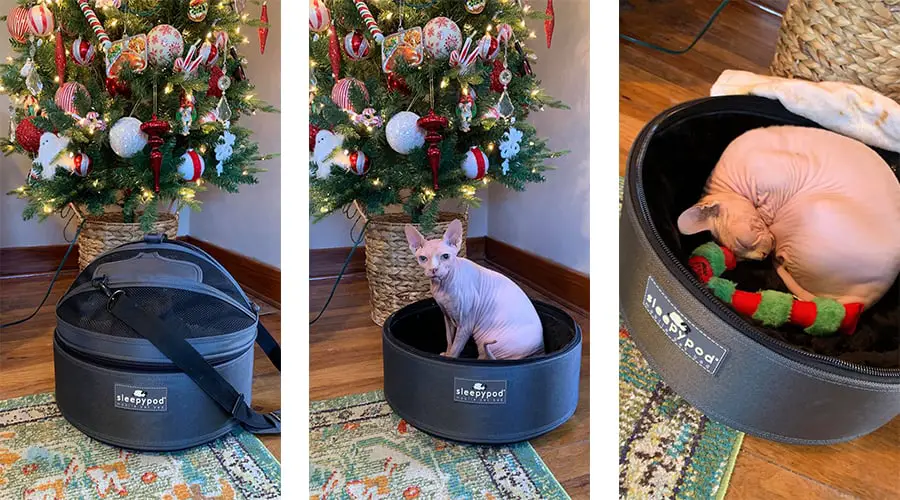 Is it a carrier? Is it a bed? It's a Sleepypod — it's a bed, a carrier, a car seat, and a safe space all in one. Sleepypod pampers your pet in luxurious ultra-plush and foam, providing comfort and security. But that's not all. Many cats hate their carriers. Trips to the vet or rides in the car are stressful, sometimes even traumatic. But with the Sleepypod, they are transported in their safe space. While at home, it serves as a luxurious bed. During travel, it's a cozy, comforting, familiar carrier that they aren't afraid of. What's more, Sleepypods are crash-tested – yes, you read that right – Sleepypod puts their carriers through stringent safety tests to include crash testing at the standard set for child safety restraints! After all, our cats are like our children!
---
Gift for Cat Parent: iRobot Roomba j7+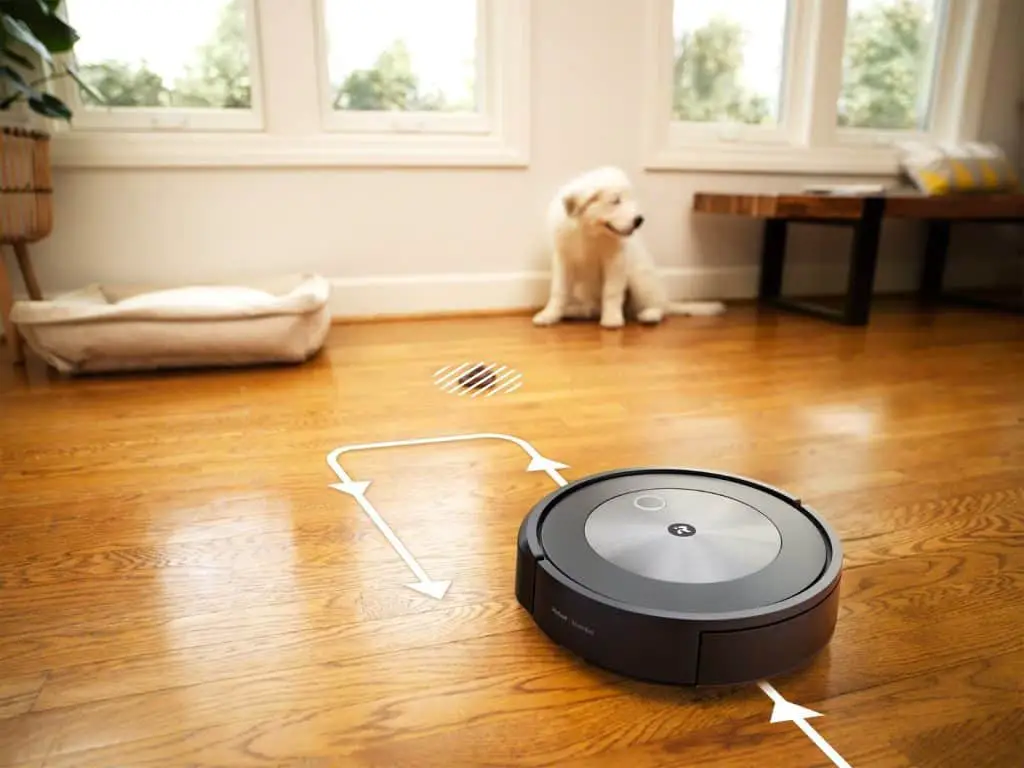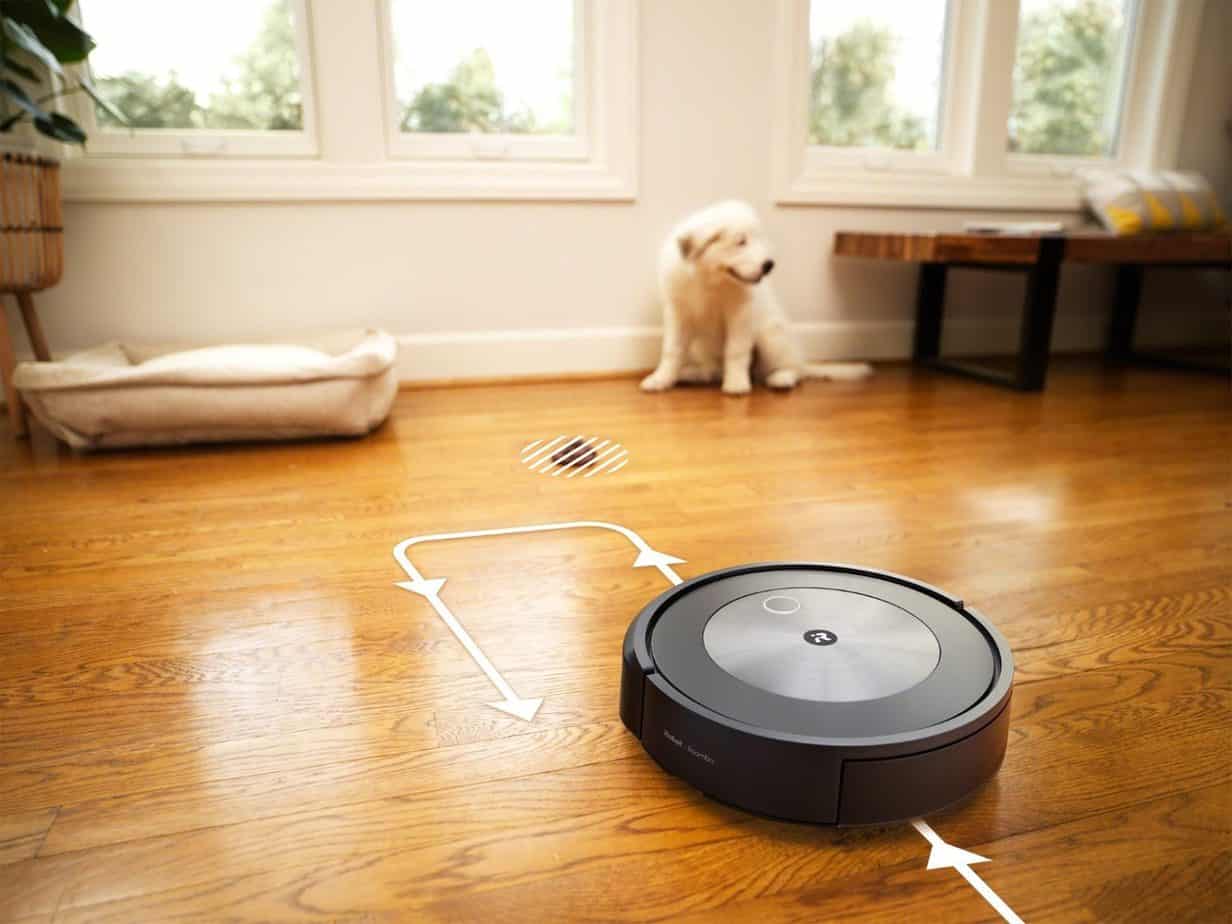 Every pet parent remembers the photos that went viral a few years ago after a Roomba ran over puppy poop and left a zig-zag of smears all over the floor. We all laughed our tails off…but imagined the horror, too. Have no fear, pet parents! Launched just this past September, the Roomba j7+ is iRobot's latest robot vacuum that can now identify and actively avoid your pet's waste – a lifesaving feature that's worth having for the holidays and beyond. iRobot even went as far as to back this robot vacuum with the Pet Owner Official Promise (P.O.O.P.), where iRobot will replace any Roomba j7+ that doesn't avoid solid pet waste. You've gotta love the way iRobot tackled this problem head-on for pet parents!
I've been testing out my new Roomba j7+ for a while now. I wanted to be sure it could handle litter scatter and fur before I would recommend it. And, this little thing is PAWSOME. It's surprisingly powerful and can handle area rugs, hardwood floors, and tile. It takes a few days to map out your house when you first start using it. Then you can simply put it on a schedule, set it, and forget it. When it's done vacuuming, it rolls itself right over to its charging base, empties itself, and gets ready for the next cleaning day. Once it's mapped out your home, you can use the iRobot phone app to tell it to go clean a particular room. For instance, say one of the cats kicked out a bunch of litter onto the floor? Tell Roomba to go clean it up for you before that litter makes its way to your bed!
Litter on the floor and tufts of cat hair in the corners are a thing of the past because my Roomba does a quick whole house vacuum three days a week. And check this out — this robot has a camera on the front, so if there's an obstacle it doesn't recognize, it will send a photo to your phone so you can instruct Roomba to avoid or clean around it. Simply amazing. My cats are not afraid of it in the least, either. They are more intrigued by it than anything and follow it around the house while it vacuums.
Now here's one more thing that's really cool. If the Roomba's pricetag makes it seem untouchable — you can now purchase your Roomba j7+ through iRobot's Select program. You get a cutting edge cleaning robot, a dedicated Support Team, new accessories automatically shipped as you need them, and a premium protection plan, all for $29 a month. This might be one gift you'll want to keep for yourself!
---
Gift for Cat: Adjustable String Wand Toy by RompiCatz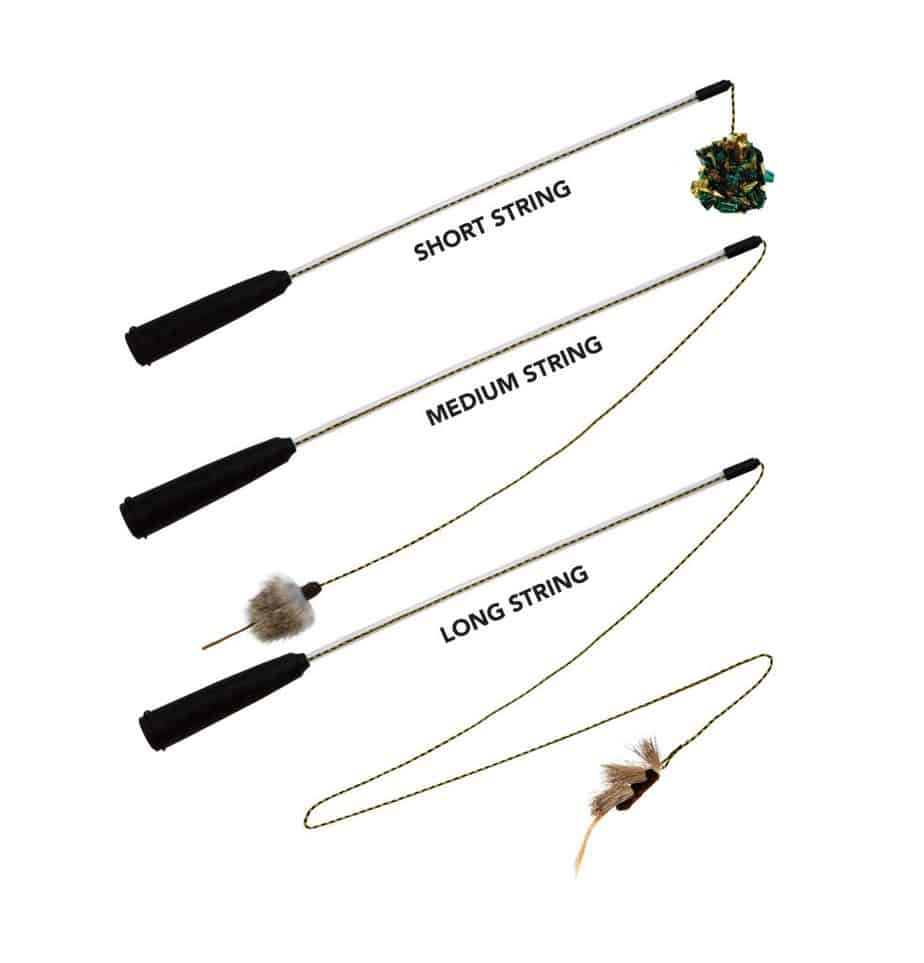 We've written about the merits of wand toys for cats many times over the years. There are so many wand toys on the market — but RompiCatz has managed to reinvent the wheel with their Adjustable String Wand Toy! RompiCatz has made a name for themselves with their widely loves Neko Flies and Critter Collector Series cat toys, but what makes this toy great, is that you can change the length of the string to accommodate your style of play that day…and change it again the next day! How cool is that? The excess string is stored in the handle of the toy. What's more, all that string can be stored in the handle when you put the toy away, so — no more tangled toys! The toys are extremely well-built and durable, but once the toy gets destroyed by gnawing kitties, you can buy replacement attachments. It's available in a crinkle ball (my cats' favorite), a mouse, or a bug.
---
Gift for Cat Lover: Pawmistry: Unlocking the Secrets of the Universe with Cats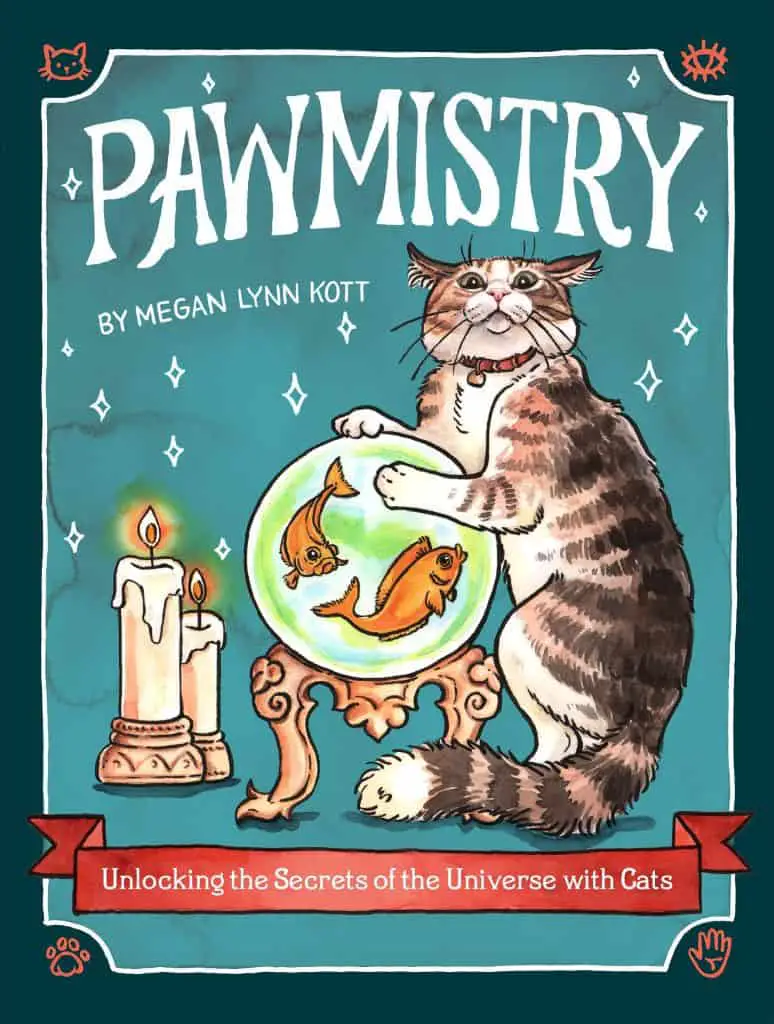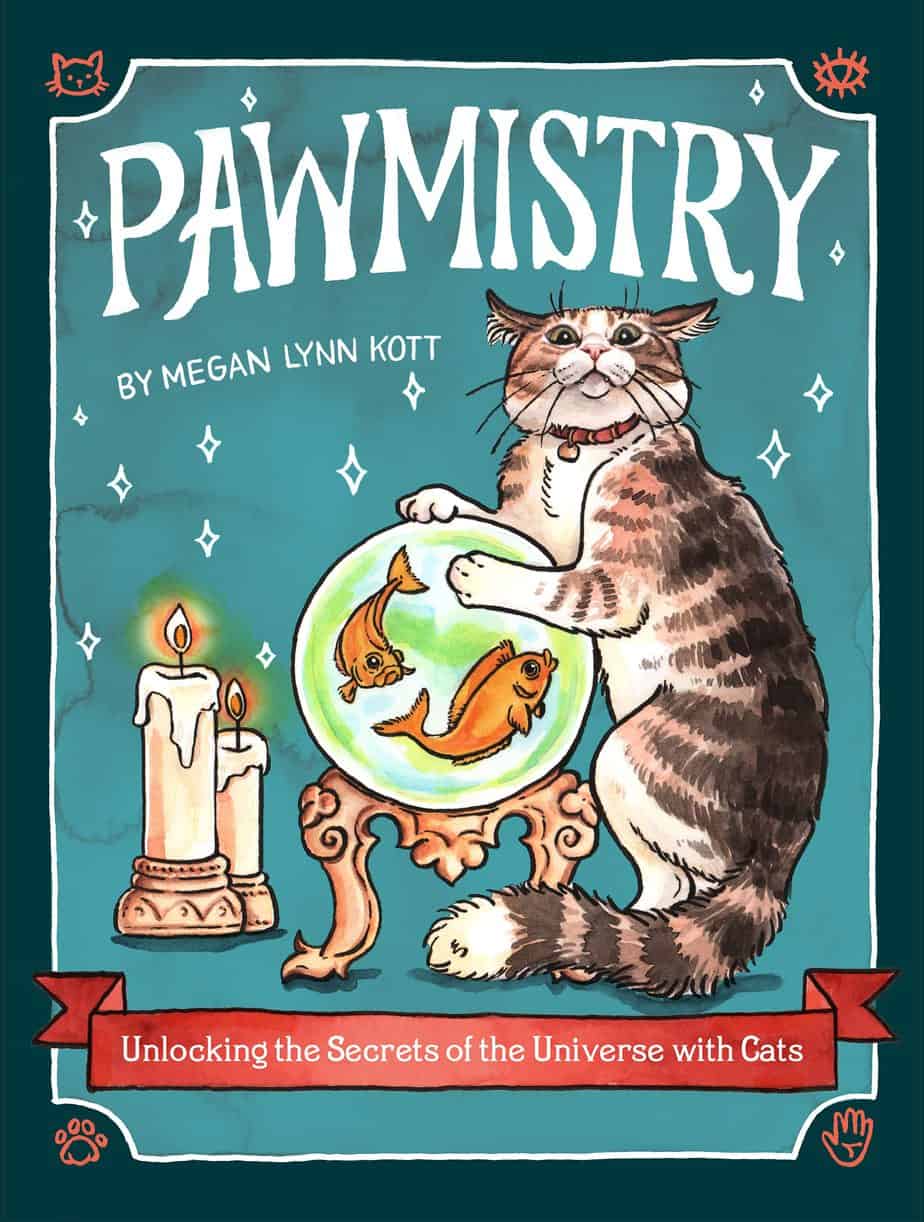 This is a brand new book for 2021 that's a purrfect present for cat lovers that are also into all things mystical! If you're looking for a gift for a friend who loves crystals, tarot, magic, AND cats — look no further!
Pawmistry is a tongue-in-cheek guide to the feline oracle and the supernatural signs your cat may leave behind. Written and illustrated by the beloved creator of Cat Tarot Megan Lynn Kott, this playful and informative book offers instruction in a number of types of divination to practice with your cat, where messages and portents may be delivered by scattered cat toys, particular tail positions, and sleeping on your face. What does that barf in your shoe really mean? You may even consider learning the dark magic of their litterbox leavings (if you dare). Each section includes write-in pages to record your own cat's messages from the universe, and a removable, fold-out Feline Divination Board included with the book will allow you to take your arcane partnership to the next level.
---
Gift for Cat Parents: 6-Month Pawp Membership — The Gift of Peace of Mind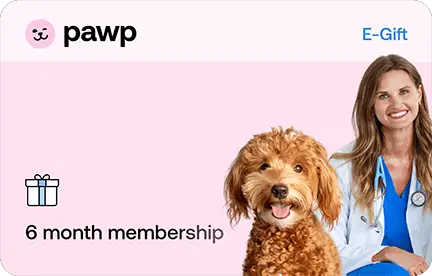 Pawp is a pet insurance alternative, whose ultimate goal is to reduce the number of pets who are euthanized every year due to financial reasons (which, sadly, accounts for 66% of all cases.) I became a Pawp subscriber last year after one of my cats, Mandy went into heart failure. Her medical expenses drained thousands from my pet emergency fund and maxed out my CareCredit card. I was worried that if any other emergencies happend before I replenished my account or paid down my credit card, I'd be in serious trouble. I found peace of mind by subscribing to Pawp. For just $24 a month, my entire fur-family is covered for up to $3,000 and there are no exceptions. That means even if Mandy had another heart-related emergency, she would be covered, too.
Pawp is instant and unlimited, connecting members to experienced vets within two minutes for both general pet questions and more serious issues. If the Pawp Vet determines that a pet needs emergency care, the member will have access to $3,000 in emergency funds to be used at the clinic of their choice one time per year. No copay, no deductible, and no paying it back.
Now, just in time for the holiday season, Pawp is offering 6-month Gift Memberships for just $99! That's six months of 24/7 pet care for health, nutrition, and behavior, a $3,000/year safety net for a vet emergency, and Unlimited, on-demand online vet visits. What's better than the gift of peace of mind?
---
Gift for Cat: Snif-Snax Advent Calendar for Cats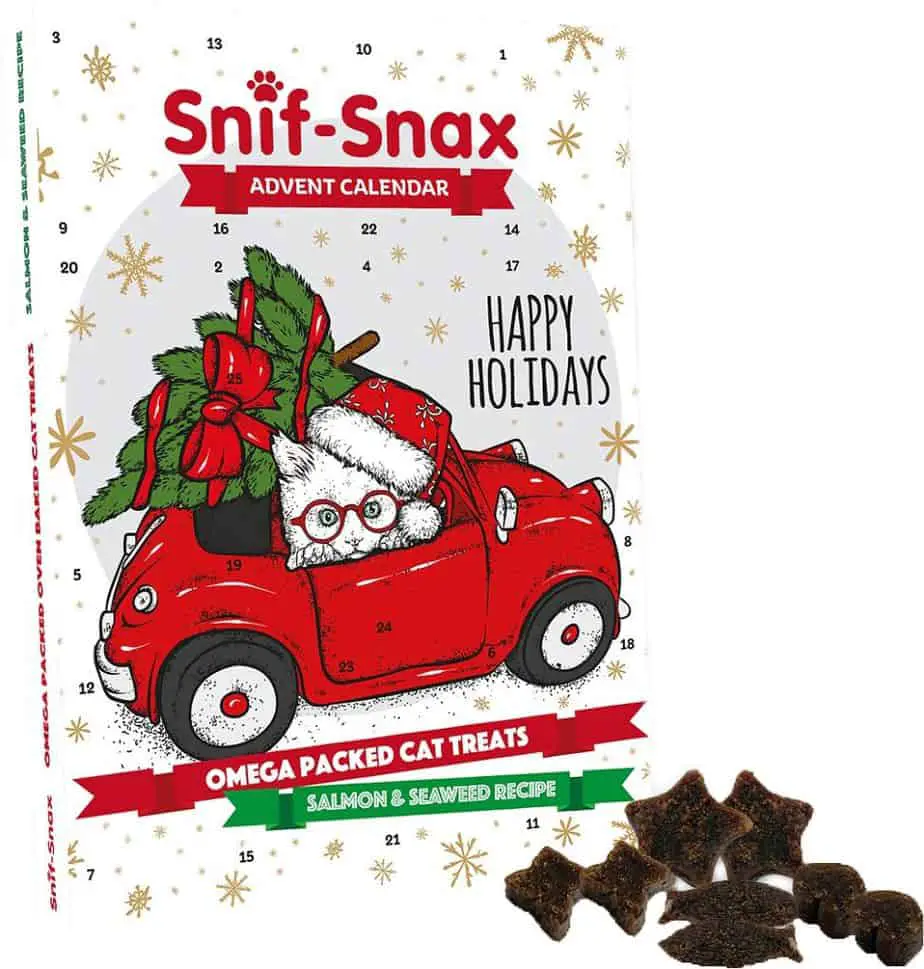 There are a lot of advent calendars on the market for dogs, but so few for cats! I finally found one this year!
Now your cat can count down the days until Christmas by enjoying purr-worthy, high-quality salmon and seaweed treats with Snif-Snax! I cheated and opened December 1 a few days early so my cat Norman could be an official taste-tester. (We'll never recommend something without testing it first!) He's been trying to break into the package since I brought it home two weeks ago, anyway. He gives the treats two paws up! He was purring at top volume while he ate them, and he definitely doesn't do that with every treat he gets! I will say, these treats were hard and chewy, so your cats that prefer softer treats may not like them as much as he did.
The calendar includes 25-days worth of treats that are crafted using high-quality Atlantic salmon that was raised in northern Scotland without antibiotics. They are grain-free, GMO-free and naturally rich with omega-3 fatty acids, DHA and EPA. Counting down the days until Santa Claws arrives has never been so exciting! Each day you peel back on the calendar, you'll find a small packet of 5 or 6 treats for your festive feline. Snif-Snax Advent Calendar is available at Chewy!
---
Gift for Cat Lover: Cat Trivia 2022 Page-A-Day Calendar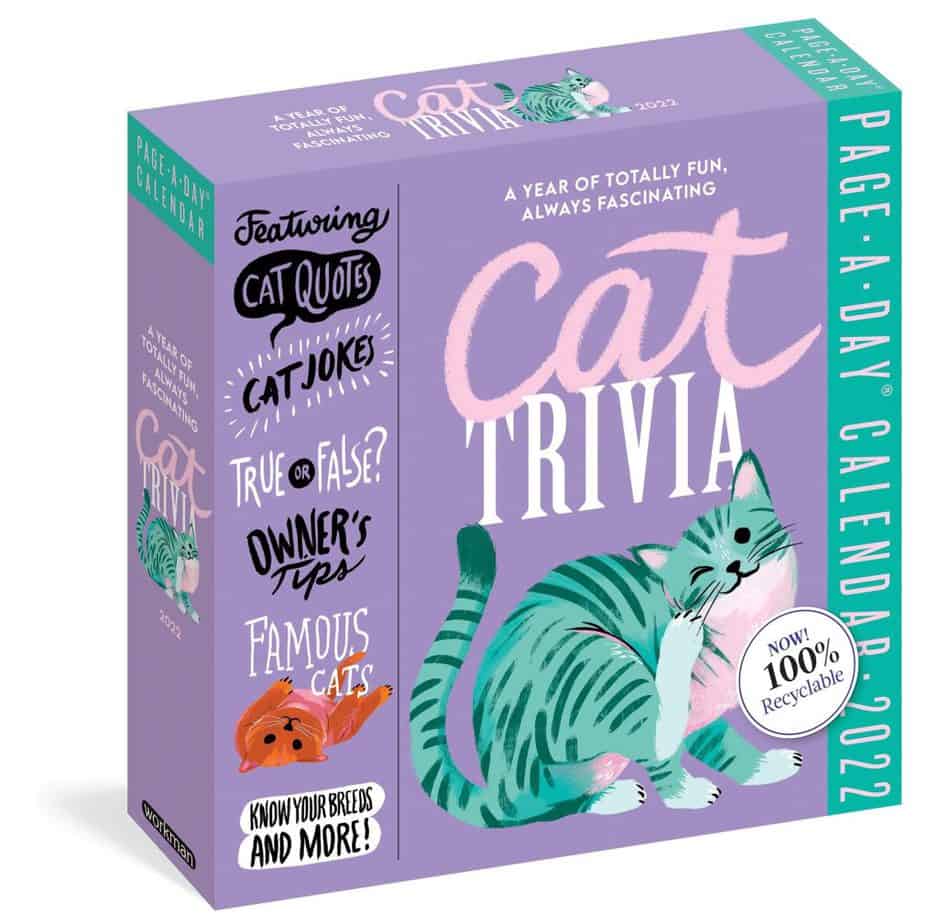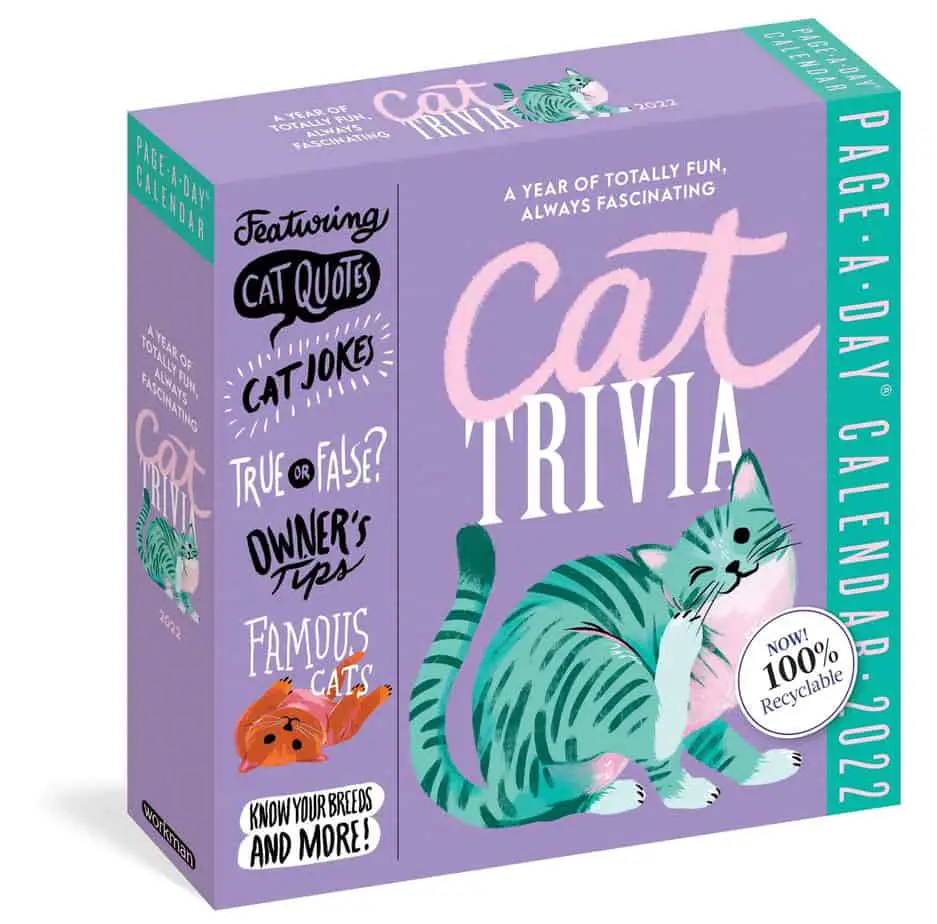 Cat lovers will purr with delight at a new year of trivia, quizzes, tips, and more, adorably illustrated in full color. A great gift for your office holiday gift exchange!
True or False: The Cornish Rex breed can be traced back to a single kitten named Kallibunker. (True! Born in 1950 in Cornwall, England, Kallibunker had curly hair due to a genetic mutation.) The Word on Wildcats: Did you know Snow Leopards, found in Central Asia, can leap up to 50 feet?
Plus, Owner's Tips, Name That Breed, Why Does My Cat Do That?, You Gotta Be Kitten Me!, and quotes and sayings, including this Italian proverb: "A cat's sneezing is a good omen for everyone who hears it."
---
Disclaimer: We were given some of these products in exchange for an honest review. This post contains affiliate links. If you make a purchase after clicking them, we may get a small commission. The Catington Post is dedicated to finding the best products for cats and we will never recommend a product that we don't love.