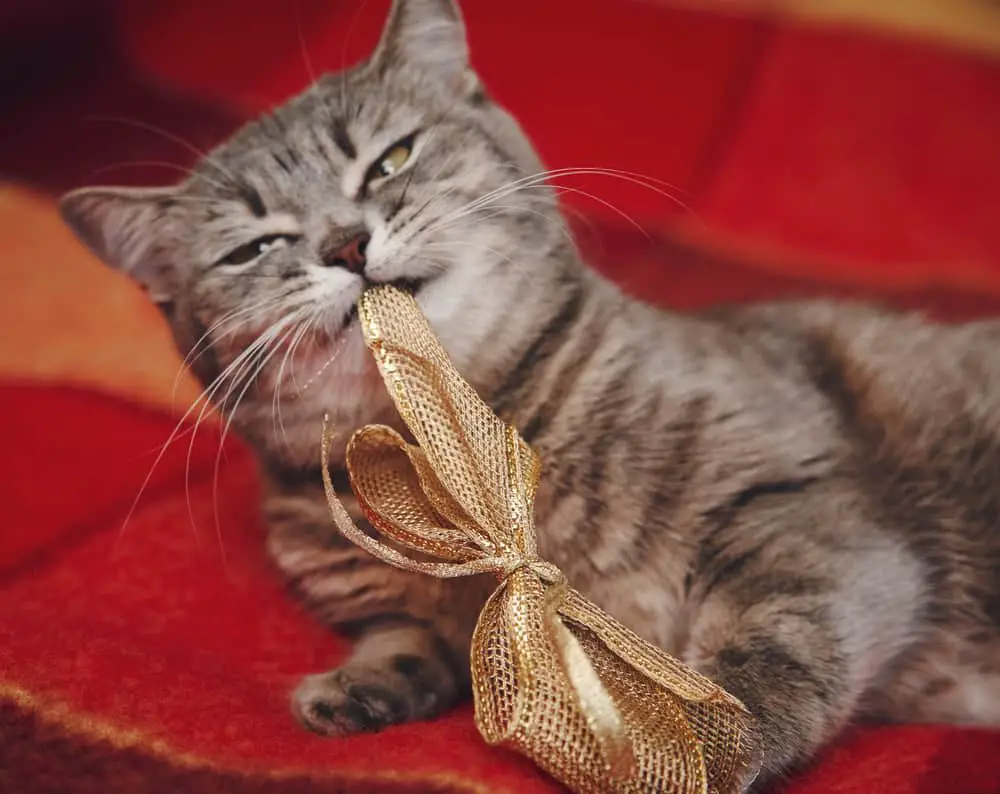 It's the meow-lidays! And with thousands upon thousands of gifts and gadgets for cats and cat lovers, finding the perfect, unique gift can be, well, less than merry.
That's why we've searched & scoured, tested & tried, sampled & tested to bring you our 2020 Holiday Gift Guide!
Here they are — our favorite holiday gifts for cats and the meowvelous people that love them:
Yeowww! Catnip Toys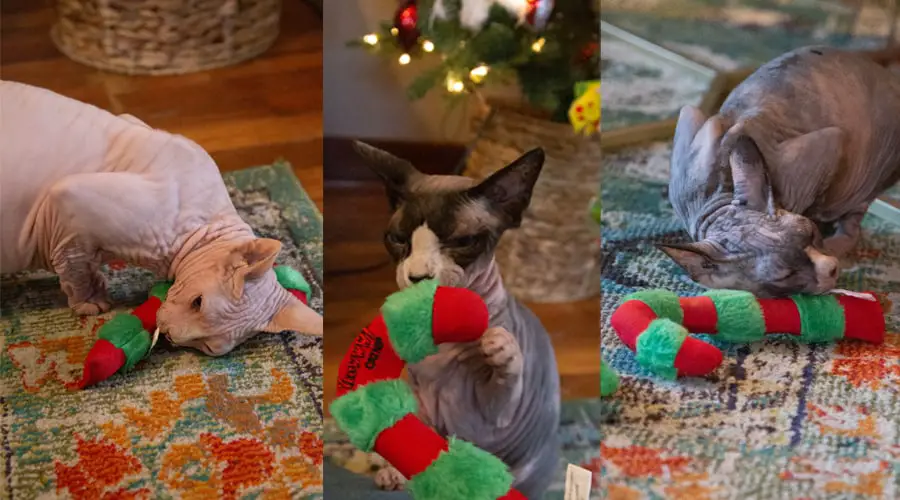 If you find a gift guide for cats that doesn't include Yeowww! catnip toys — stop reading it! They obviously don't know what cats love! What makes Yeowww! catnip toys so special? You'll know the difference as soon as you see one in person. There's no filler — they are 100% stuffed with organically grown (and super potent) catnip that drives cats wild. As you can see from the photos, my cats were especially drawn to their Catnip Candy Cane, rubbing their faces all over it, rabbit kicking it, and smacking each other! We had a full-blown catnip party over here. If you're looking for holiday-themed toys, they've got a catnip Christmas tree, and an adorable stocking, too. Of course, their Chi-CAT-a Banana is always a fan favorite. If your kitty loves crinkly toys, check out their lady Krinkle Bug (yes, she's packed full of 'nip, too!) or their newest toys, the Yeowww! Sun, Moon & Stars set….so cute! If you celebrate Hanukkah, they've also got a catnip dreidel!
Custom Renaissance Pet Portraits by Crown & Paw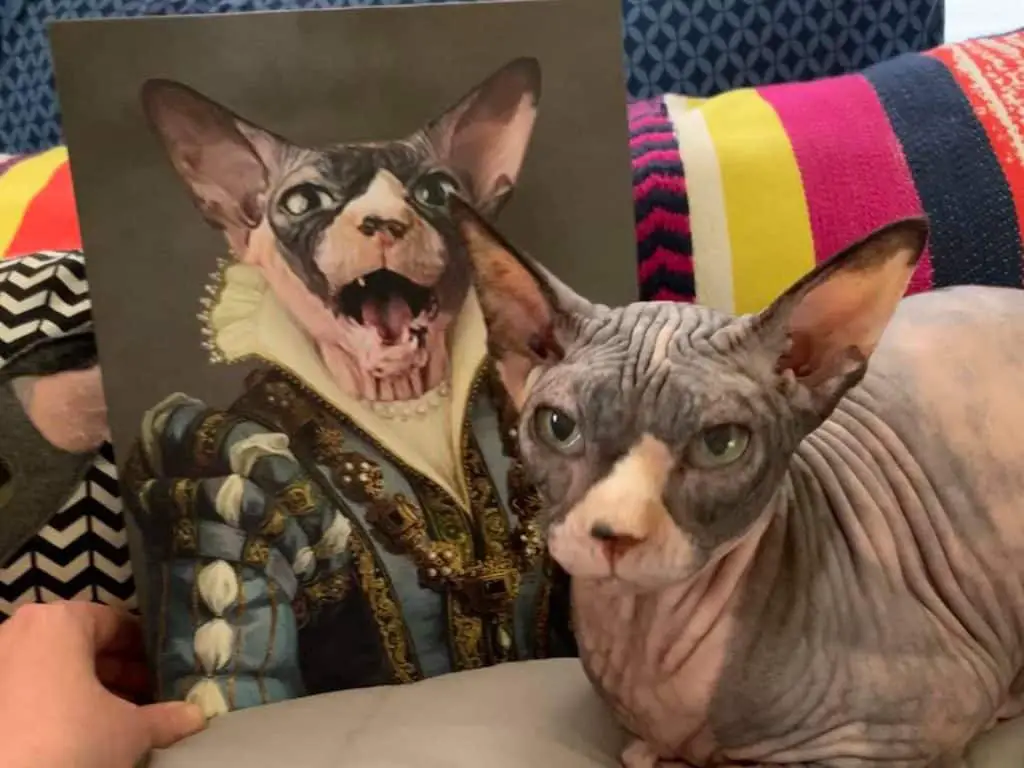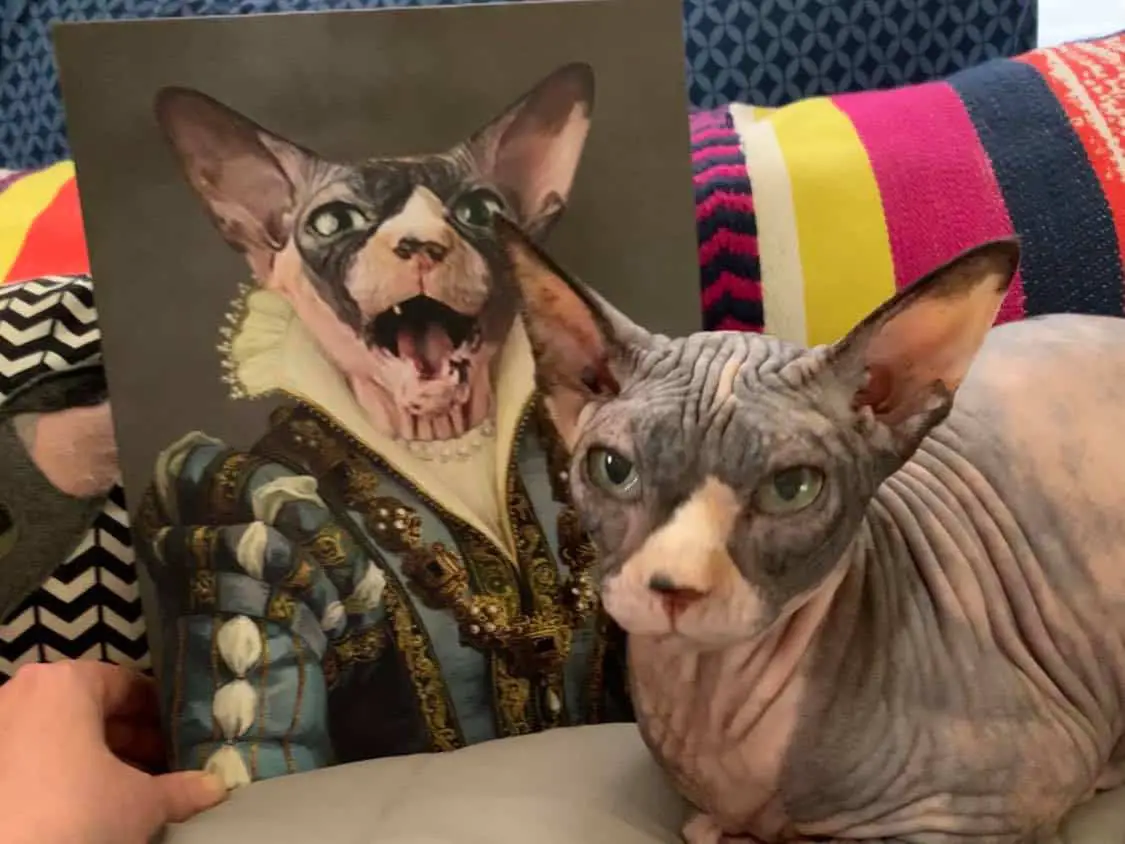 Here's a purrfect gift for anyone who's totally obsessed with their cat (like me!) — a custom Renaissance portrait, er PAWtrait by Crown & Paw! Mandy, the Sphynx cat shown above, was recently diagnosed with end-stage Restrictive Cardiomyopathy and given about 3 months to live. She's passed the 3-month mark and still doing well, but I know her time with me is limited. This portrait sums her purr-sonality up just perfectly. She's such a queen! While I have a million photos of her, this painting is so unique and special, it's something I'll treasure long after she's gone. Now she will always rule over her kingdom!
Dancing Dot Laser Cat Toy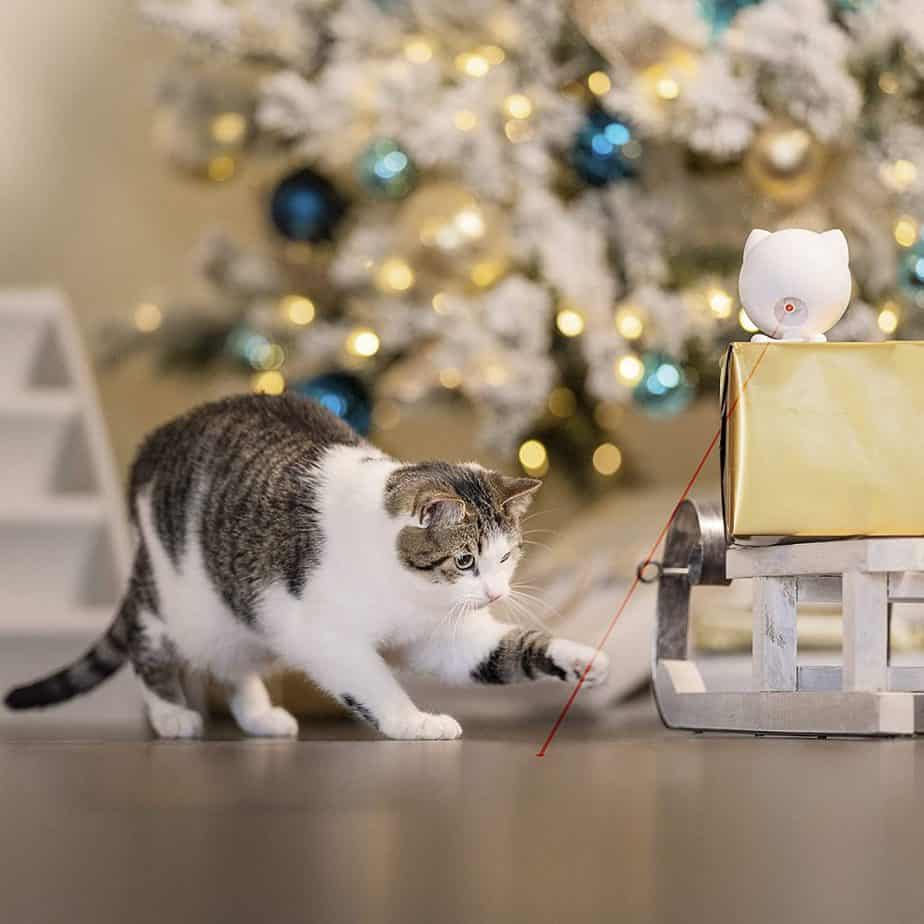 It's no secret that cats love to chase the "red dot!" But, as cat parents, we sometimes worry about the safety of laser toys. You don't have to worry with the Dancing Dot Laser Cat Toy from PetSafe! It's built with a Certified Class 1 laser that's completely safe for your cat to play with. I love the Dancing Dot because you can use it virtually anywhere. It's got feet, so you can set it on any flat surface but it also has a strap so you can hang it from a door handle or hook. And, you can set it and forget it – either press the button for one second to have it run for 15-minutes or hold it for 3-seconds and it will play for 15-minutes every 2 hours all day long to keep your kitty entertained even while you're away! How cool is that? The higher up you place the Dancing Dot, the farther and faster the dot will move, so you can move the toy around to keep your kitty challenged.
Cat Mom Wall Planner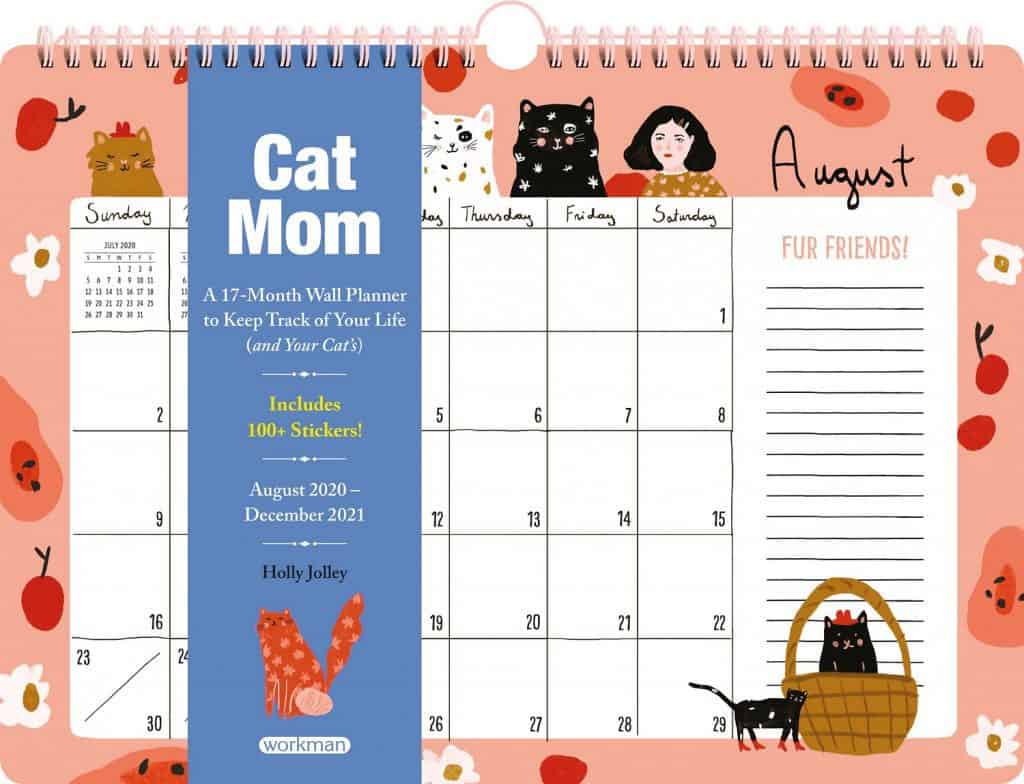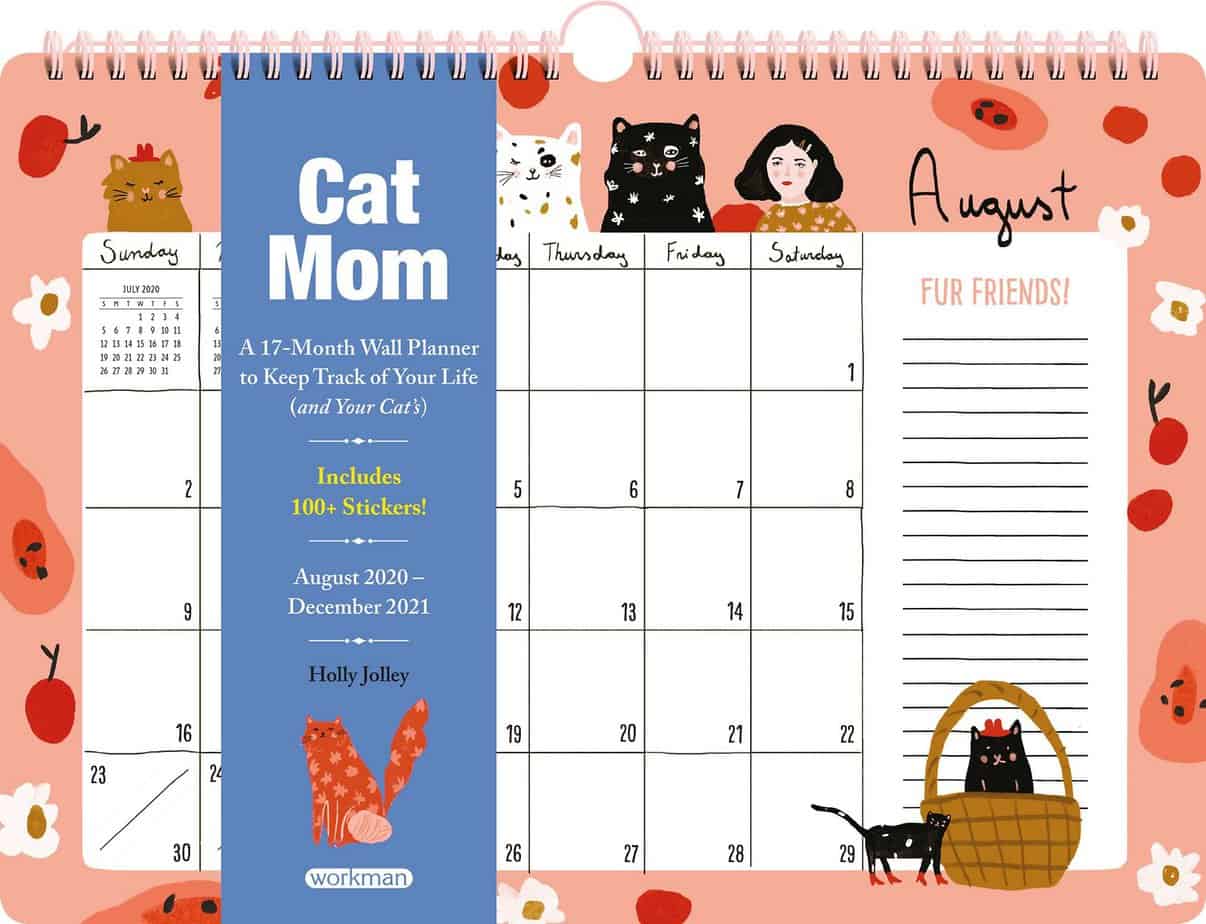 If you're looking for a great gift for a cat mom, look no further than this too cute Cat Mom wall planner. It's the perfect marriage of practical and cute —and a lively tribute to the special relationship between a woman and her cat(s). Cat Mom features monthly grids with plenty of room for all her plans and notes, plus Holly Jolley's quirky illustrations and text that will make every cat mom smile with recognition: Home is where my cat is! Plus, it comes with more than 100 stickers to mark vet appointments, Friday night snuggles, and other not-to-be-missed moments.
50 Ways to Wake Your Human: A Collection of Cat Cartoons by Scott Metzger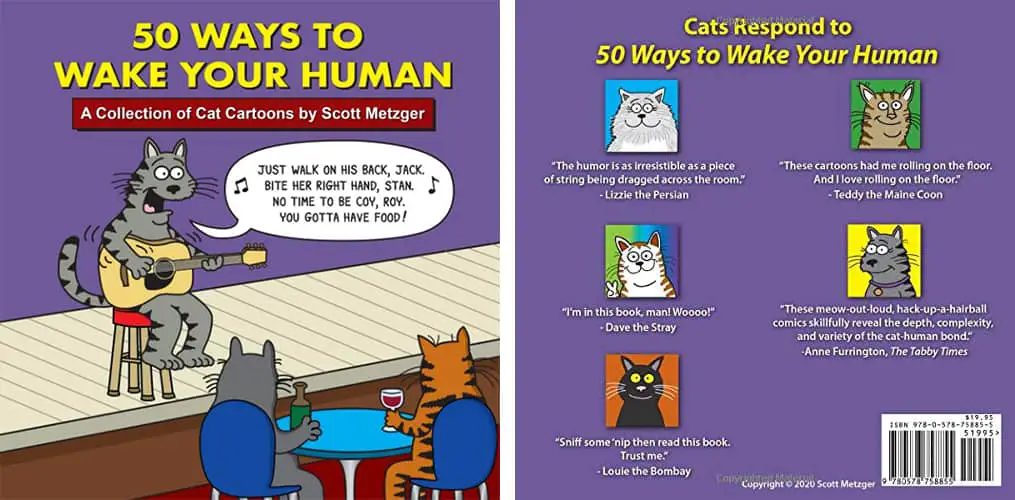 If you've followed The Catington Post for any amount of time, you know that we are huge fans of the cartoonist, Scott Metzger. His cat cartoons (cat-toons?) are not only hiss-terical, but it's obvious that he is a true lover of cats. 50 Ways to Wake Your Human is his second collection of cat cartoons. Cat lovers will appreciate the comics, which highlight the ridiculous behavior of felines (and humans) through topics such as music, social media, parenthood, relationships, and living in quarantine. This book will make you laugh, smile, and further appreciate our weird, furry friends who wake us up in the wee hours of the morning.
Sleepypod Mobile Pet Bed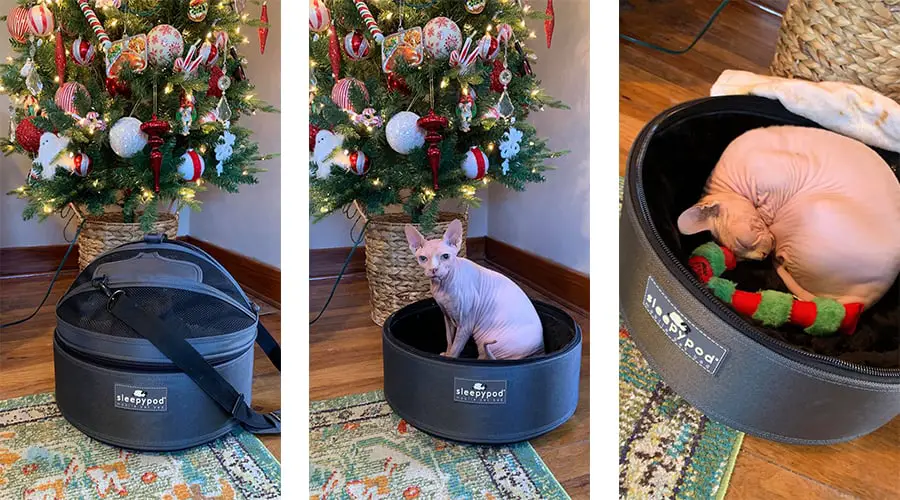 Is it a carrier? Is it a bed? It's a Sleepypod — it's a bed, a carrier, a car seat, and a safe space all in one. Sleepypod pampers your pet in luxurious ultra-plush and foam, providing comfort and security. But that's not all. Many cats hate their carriers. Trips to the vet or rides in the car are stressful, sometimes even traumatic. But with the Sleepypod, they are transported in their safe space. While at home, it serves as a luxurious bed. During travel, it's a cozy, comforting, familiar carrier that they aren't afraid of. What's more, Sleepypods are crash-tested – yes, you read that right – Sleepypod puts their carriers through stringent safety tests to include crash testing at the standard set for child safety restraints! After all, our cats are like our children!
Catit Cat Play Treat Spinner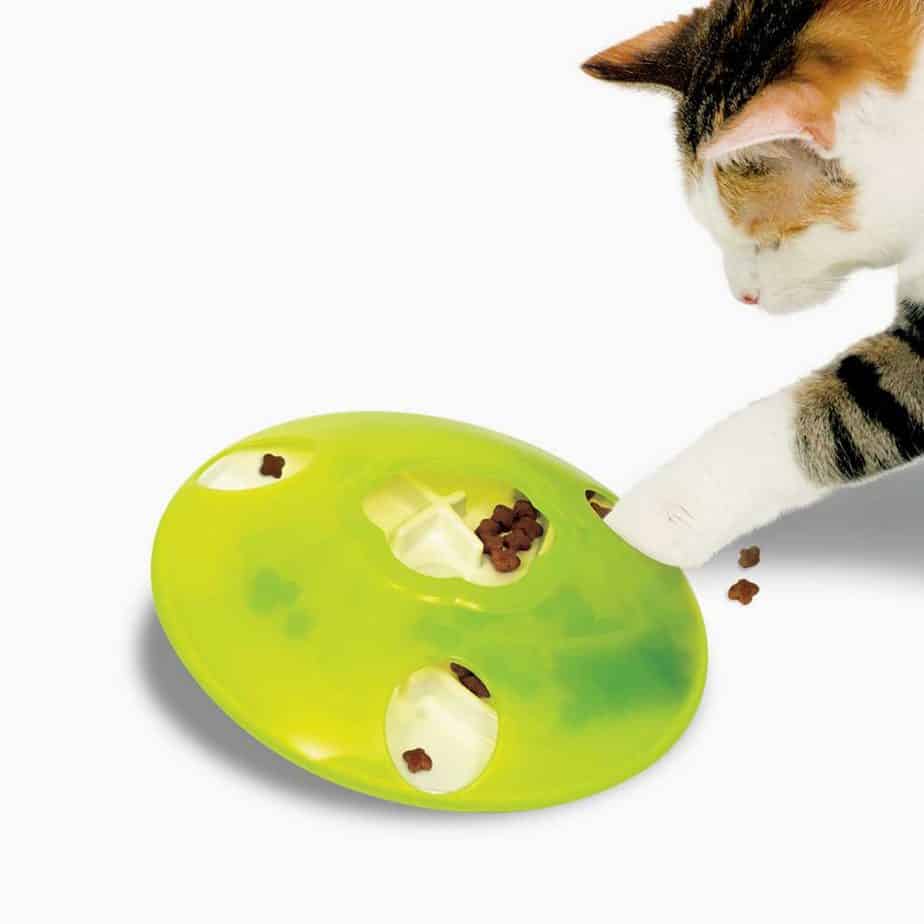 Is your cat always begging for food? Does your cat eat too fast and then throw it up? Is your cat always getting into trouble? If you answered yes to any of these, then your cat would benefit from using the new Catit Cat Plat Treat Spinner! To use it, you put your cat's favorite dry cat treat or dry cat food into the flower-shaped top opening and let your cat do all the work. Cat puzzles are great to use as cat feeders because they challenge your cat to use their natural instincts and hunt for their food. They eliminate "scarf and barf" because they force your cat to slow down when they eat. And, they give bored cats something fun to do! I love this one because the soft silicone top is easy to remove so you can clean the crumbs and "food dust" out of it, while many other food puzzles are extremely difficult to clean.
Adjustable String Wand Toy by RompiCatz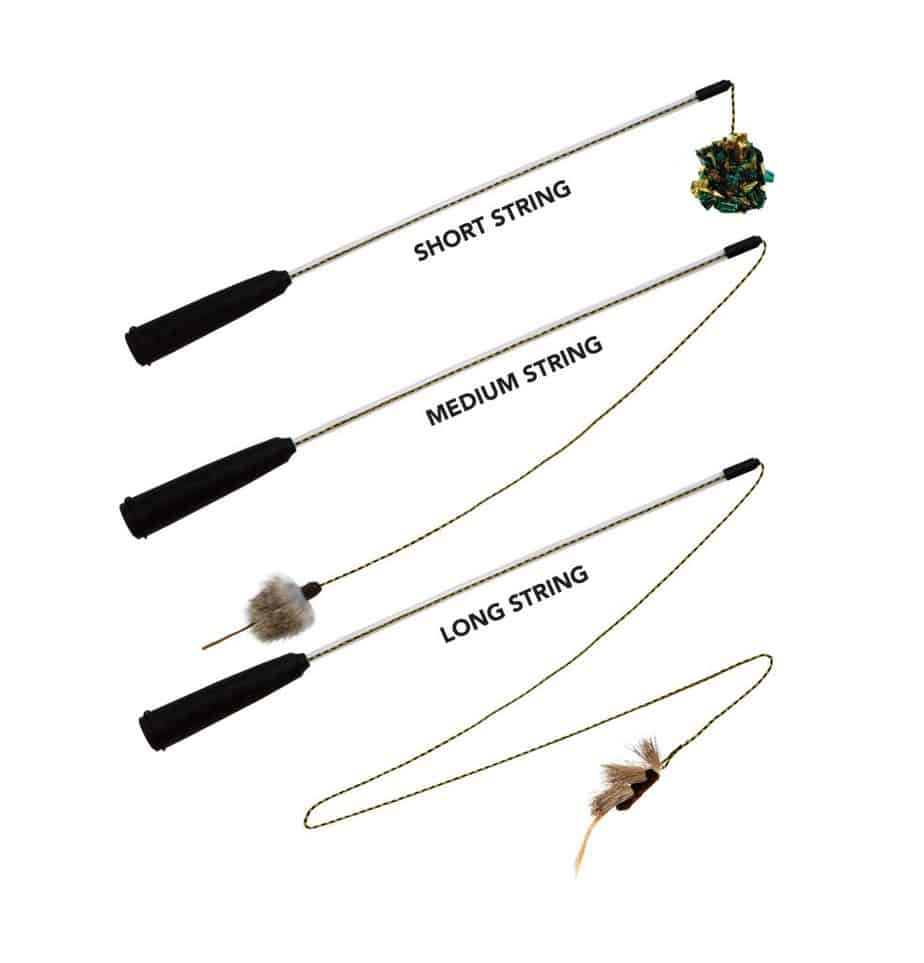 We've written about the merits of wand toys for cats many times over the years. There are so many wand toys on the market — but RompiCatz has managed to reinvent the wheel with their brand new Adjustable String Wand Toy! RompiCatz has made a name for themselves with their widely loves Neko Flies and Critter Collector Series cat toys, but what makes this toy great, is that you can change the length of the string to accommodate your style of play that day…and change it again the next day! How cool is that? The excess string is stored in the handle of the toy. What's more, all that string can be stored in the handle when you put the toy away, so — no more tangled toys! The toys are extremely well-built and durable, but once the toy gets destroyed by gnawing kitties, you can buy replacement attachments. It's available in a crinkle ball (my cats' favorite), a mouse, or a bug.
RompiCatz has offered a coupon code to Catington Post readers! $3 Off your purchase at www.rompicatz.com with the code CATPOST2. Valid in the US only.
Pioneer Ultimate Cat Scratching Post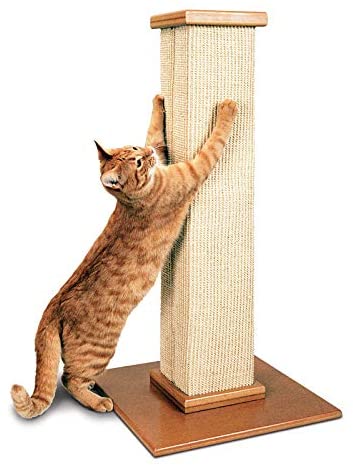 Though it can annoying at times, scratching is a natural cat behavior. In fact, it serves a few functions. Whether we like it or not, cats need to scratch! However, what is normal to our tiny furball can become rather frustrating to deal with for pet owners like us, especially when our cat starts to destroy our furniture or even scratch family members. That's when it becomes vitally important to get a scratching post that actually works. A common mistake cat parents make is they buy any old scratcher and then wonder why their cat won't use it. The scratching post you buy really does make a difference! First, most of the scratchers in stores are too short. They need to be tall enough that your cat can use it to do a full body stretch — sometimes that's why the tall back of your sofa is so much better! But also, it needs to be sturdy and not too scratchy on their sensitive paws. All of my cats have done the research and give the Ultimate Cat Scratching Post two paws up!
Disclaimer: We were given some of these products in exchange for an honest review. This post contains affiliate links. If you make a purchase after clicking them, we may get a small commission. The Catington Post is dedicated to finding the best products for cats and we will never recommend a product that we don't love.