Pilot the cat went missing a decade ago. His family never expected to see him again. In fact, they had moved away from the home they shared with him in California – all the way to Colorado – so you can imagine the surprise when they learned he had been found in the aftermath of the devastating Tubbs wildfires in Santa Rosa!
The cat, who was 3-years-old when he went missing, was found on October 31st by a Good Samaritan who was out searching for her own cats in the rubble left by the fire just over a mile from where he disappeared 10 years ago.
Jenn Thompson couldn't believe it when she got the call that her cat had been found. Pilot's microchip was scanned and traced back to her. She told the Longmont Daily Times-Call,
"It's pretty crazy. I got off the phone and told my husband, and he's like, 'You're going to go get him, right?'"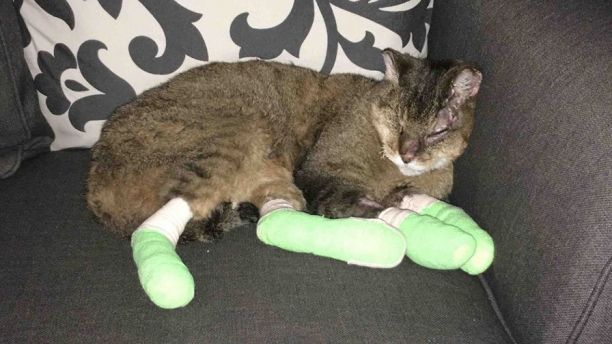 The cat underwent two surgeries to amputate five of his toes after suffering "severe burns" in the fire, but, according to the Times-Call, is settling into his "new" home just fine.
"I think he recognized my voice and that was pretty cool. When I brought him back, he definitely recognized my daughter. Definitely. She was 8 when he went missing. Right away, he went and cuddled up with her. I had no doubt. It's like, OK, he knows my kid."
Thompson started a GoFundMe campaign in the hopes of raising $500 to help pay for Pilot's surgeries. So many people were touched by his story, she was amazed by the donations that came pouring in. As of now, people have donated more than $6,500 for the cost of his surgeries and medical care.
"When I got the first donation, I cried. Everything has been so surreal. And just how many people have been interested and supportive and on Pilot's side, it's been really cool."