Cat's typically do not enjoy their world being upended and not having control over where they are going. I can certainly understand that! 
However, there are times when moving is simply inevitable, and, regardless of what they want, we often take our dear cats along with us.  
So, how can we make the transition easier for these usually independent pets? 
Here are some moving tips to minimize your furry friend's stress: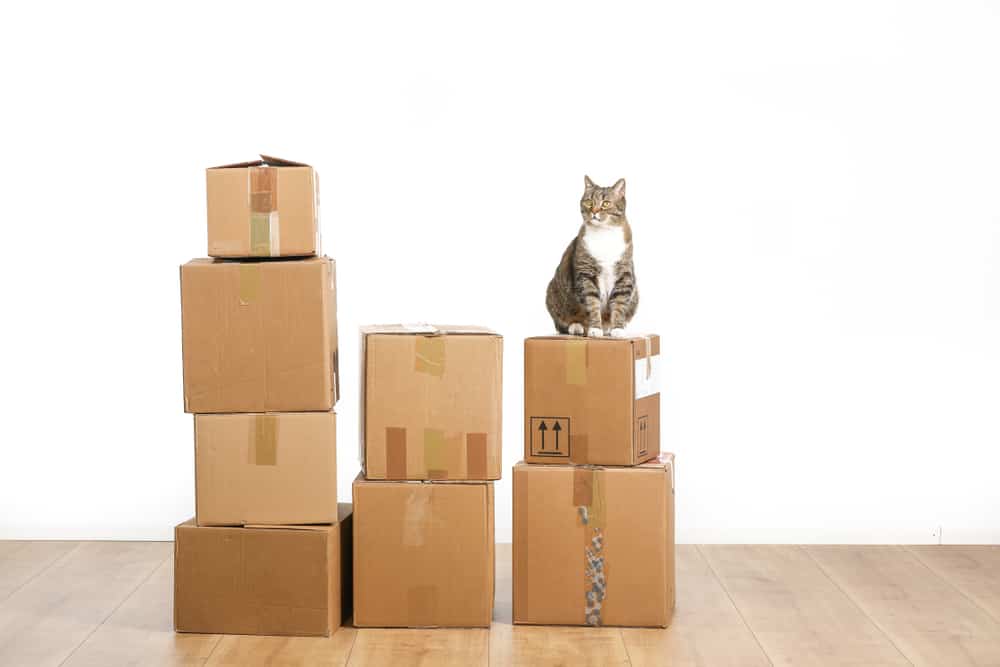 Before the move
Choose the mode of transportation and prepare for it. Driving is always better than flying, but sometimes you don't have a choice. Regardless, make sure you have everything you need for the trip.
For flights, it's important to check with the airline to make sure you follow their regulations and have all the paperwork in order on moving day. 
If driving, work on acclimating your cat to being in the car. Start by simply sitting in the car with your cat, then take drives starting with short drives and progressively taking longer trips. 
Prepare paperwork, prescriptions, and other medical details. Keeping a file of all the paperwork for your cat is important in case of an emergency, to help when finding a new vet, and to have handy should anything unexpected happen. Stock up on prescriptions just in case you won't have time to get them filled in the weeks following your move. 
Update tags or microchips. Microchips are great, but make sure you update the details with your most current contact information and your new address. Same for tags!
During the move
Keep your cat isolated while packing up. This may be difficult, but with all the hustle and bustle of moving boxes, you don't want your cat to get caught up in the fuss. Tuck them in a room and close the door to make sure they stay safe. It might stress them out initially, but trust us, the moving process will stress them out more. 
Pack a kitty-bag. We suggest including: 
Water from your old home.
Medical and vaccine records.
Familiar toys and blankets.
Litter box necessities.
Harness and leash. 
Meals and snacks, although we recommend pets traveling on an empty stomach. 
Cleaning supplies for unexpected accidents. 
Don't feed your cat right before departure. Often animals are stressed on moving day and food in the stomach often doesn't help. To avoid any travel accidents while on the road or (worse) in the lane, make sure your cat has an empty stomach and had a litter box visit before you leave. 
After the move
Set up a cat corner. Or at least make sure there is a spot where you can make an area that belongs to your cat. Include the litter box, food and water bowl, and any other items that are dear and comforting to your kitty. If possible, make sure it is in a space where you can close the door and let your cat rest calmly while you unpack. Plus, you can escape to play or score some cuddles for your own sanity.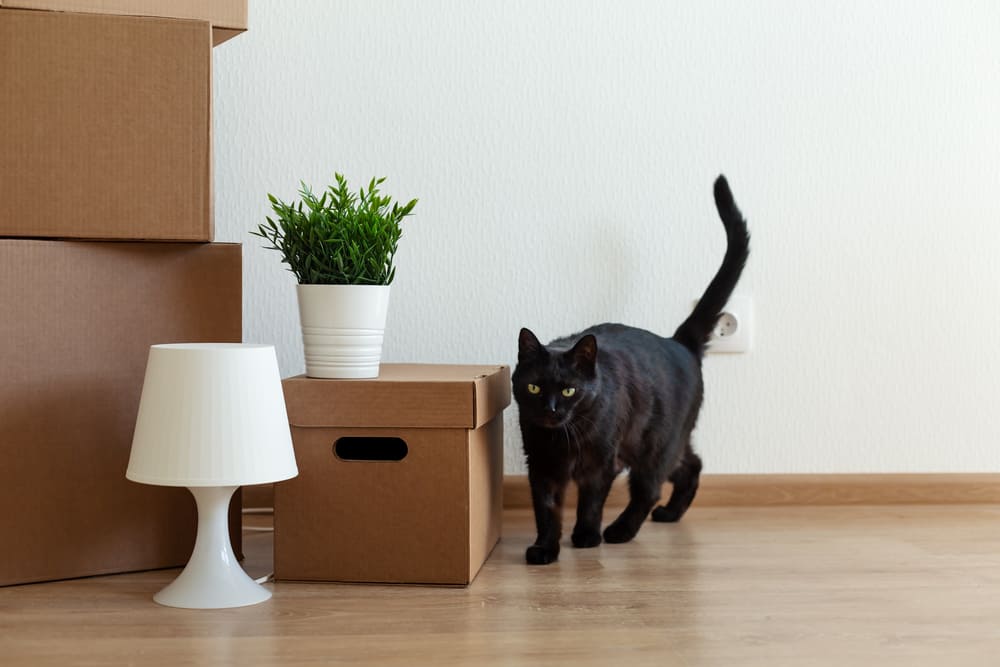 Give it time. Getting used to their new surroundings will take time. There are new spaces, smells, and general environmental changes that will take time for your cat to familiarize with. Be sure to gradually let your cat explore your new home. 
Keep Calm and Purr On
Moving houses with a cat can be tricky, but it's far from impossible. 
The most important thing is to remember that your cat is intelligent and adaptable. (Just like we are!) Give your cat, or cats, the love, patience, and care they need throughout the process. With time and they will feel perfectly calm in your new home. 
For more pet-friendly move tips check out this visual guide from moveBuddha: Guide to Moving with Household Pets: Safely Relocating your Furry, Feathered, and Scaly Friends