Back in May, a one-day-old baby bobcat was brought to the Haywood Animal Shelter in Waynesville, North Carolina after a series of storms left him an orphan. Sarge's Animal Rescue in Waynesville took the baby in and named him "Ricky Bobby," or "Bob" for short. That same day, a nursing cat named Sweet Pea and her four kittens were dropped off at the shelter. If Bob was going to survive, he would need Sweet Pea's milk. Within 15 minutes of meeting Bob, Sweet Pea accepted the bobcat as her own and became his surrogate mother.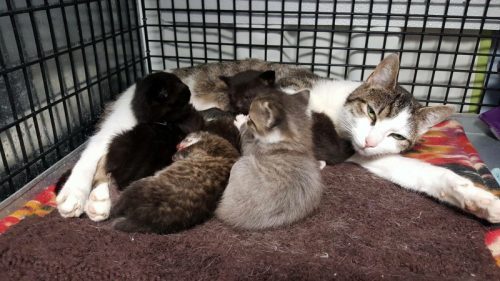 According to The Citizen-Times:
A staff veterinarian at the Western North Carolina Nature Center began regular check-ups and Sarge's Animal Rescue started consulting with a biologist at the N.C. Wildlife Resources Commission. A plan was devised to care for the bobcat until he was weaned and ready for release.
Last week, Bob was transported to the May Wildlife Rehabilitation Center, where he will be kept away from humans, will learn to catch live prey, and will be introduced to another bobcat. All this in hopes that Bob will pick up his natural instincts so he can be returned to the wild.
Sarge's Animal Rescue posted a video on their Facebook page of Bob "saying goodbye" to the cat who saved his life:
For information on Sarge's Animal Rescue Foundation, visit 
www.sargeandfriends.org
 or call 828-246-9050.