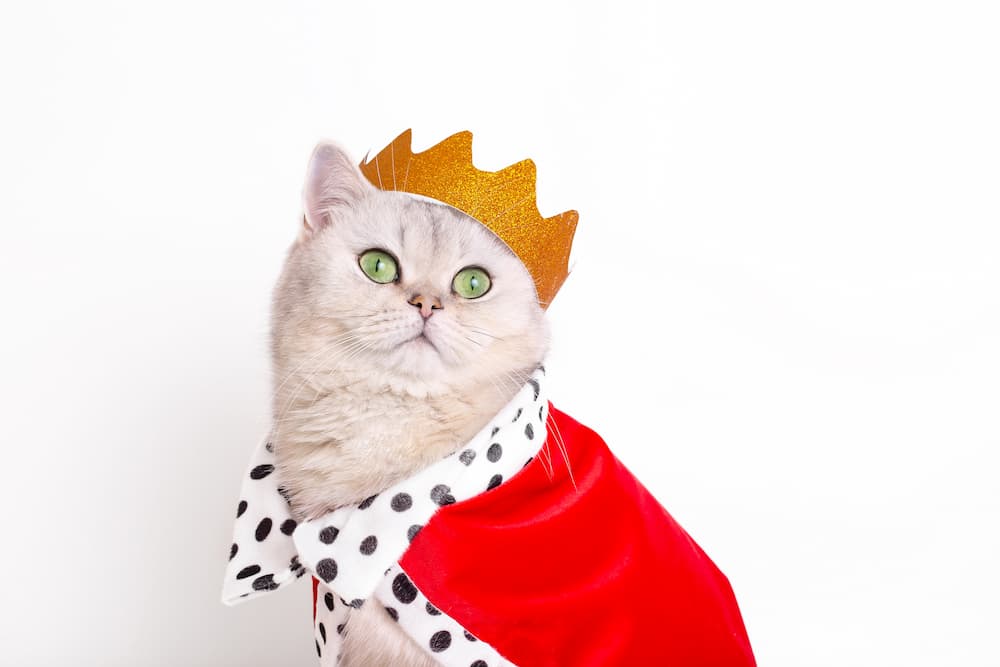 To all the crazy cat ladies and gents out there, have you ever looked at your fur baby and thought, "You deserve the finer things in life?" If your purse strings are feeling generous, you're in the right place. Because if there's one thing we know, it's that cats are the unappointed royalty of our homes and they deserve to be pampered, right?
From golden litter boxes to diamond-studded collars, the world of luxury cat products is more expansive (and a bit more extravagant) than one might think. But rest assured, it's not all about glitter and gold. Many of these high-end accessories are designed with your cat's comfort and needs in mind, combining opulence with functionality.
Ready to give your kitty the ultimate luxe life? Grab a cup of tea, make yourself comfortable (or as comfortable as you can be with a cat on your lap). Let's dive into the world of feline luxury!
Why Cats Deserve the Finer Things in Life
Cats, with their majestic strut and air of nonchalant independence, are undoubtedly some of the most splendid companions a human could wish for. They are the epitome of elegance and grace, yet they can flip the switch and channel their playful, kittenish charm at a moment's notice. They're there for us when we need a healing purr, a "helping paw" with work (mainly by sitting on our keyboards), or a comical distraction in the form of a box fascination phenomenon.
And that's precisely why these divine feline creatures deserve to be pampered with the very best! Cats, unlike their canine counterparts, are quite particular in their likes and dislikes. They have a refined taste (literally and metaphorically), and they like to carry themselves with dignity (that is, until the laser pointer comes out). So, it's about time we acknowledge their royal status by treating them with luxurious accessories that rival their regal charm. After all, a king or queen deserves nothing less than the best, right?
Luxury Cat Products Worth Splurging On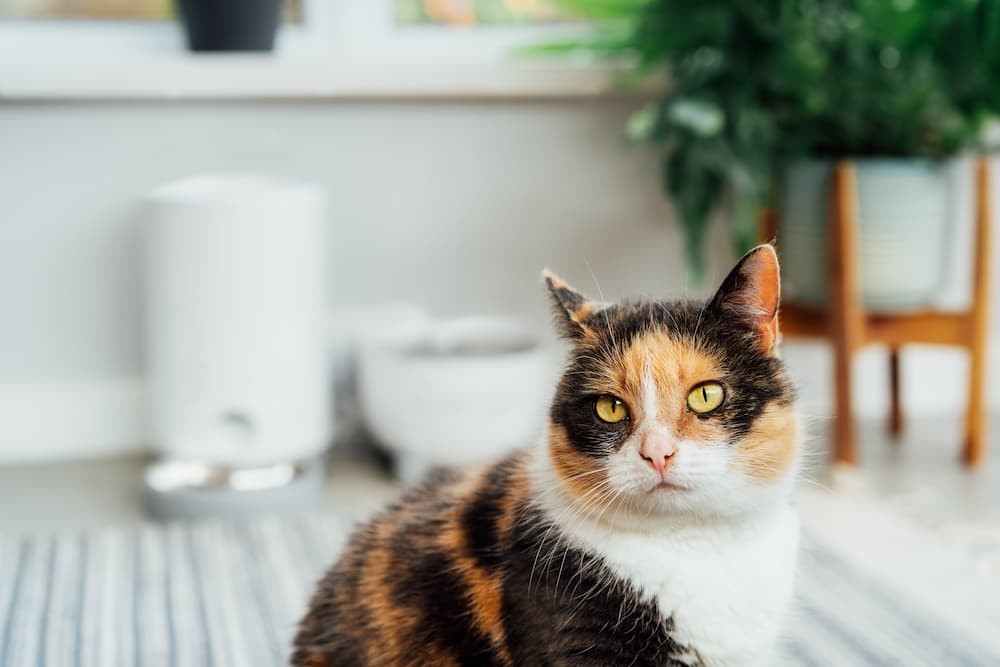 Cat Tree
A cat tree is not just a piece of furniture; it's a sanctuary for your feline friend. These multi-tiered structures offer a plethora of benefits for your cat's exercise and entertainment needs. Cats love to climb, scratch, and perch, and a high-quality cat tree provides all these opportunities.
Our top recommendation for a high-end cat tree is the MAU 73″ Tall Modern Cat Tree Scratching Tower. This modern masterpiece of a cat tree is the perfect blend of style and functionality. It features four plush sleeping spots, multiple scratching posts, sturdy sisal rope scratch-friendly surfaces, interactive toys for playtime fun, and solid construction. Your cat will love curling up in this stylish tower that offers both function and luxury!
Cat Bed
Cats spend a significant portion of their lives snoozing, and providing them with a comfortable, cozy sleeping spot is essential for their well-being. A luxurious cat bed not only keeps your pet snug but also adds an elegant touch to your home decor.
Pamper your cat with the Enchanted Home Coco Pet Sofa. This plush pet sofa fits cats of all sizes and provides an ultra-comfortable spot for them to relax. It features a classic velvet upholstery that brings out the elegance in your home, along with a cozy bolster for extra comfort. Plus, it's easy to clean and maintain – what more could you want?
Cat Water Fountain
Encouraging proper hydration in cats is important for their health and well-being. A great way to do this is with a cat water fountain, which adds a fascinating feature to the home that will keep your curious kitty occupied for hours!
The Catit PIXI Smart Water Fountain is our top pick for luxury cat water fountains. This state-of-the-art, Wifi-enabled fountain has a modern design with LED lights that will add a unique touch to your home and provide fresh, clean water for your furry family member. The water flow is adjustable, which is perfect for cats who prefer shallow or deeper waters. Plus, the triple filter ensures clean and hygienic water all day long!
Cat Toy
Cats need stimulation to stay active and entertained, which is where a good cat toy comes in handy. Toys that are both interactive and luxurious can really brighten your pet's day!
Our top pick for luxury cat toys is the Interactive Laser Toy from Casa Leo. With five laser patterns and extra-soft silicone exteriors, these laser toys are fun for pets and pet parents too! Use the dial selector to switch between five fun laser patterns (dot, mouse, butterfly, star, and smiley face). When you're done playing recharge the laser with the stylish USB-C charging bracelet. They look great attached to your keychain, purse, or backpack. Plus, it looks sleek and luxurious – your cat will love chasing after this high-end toy!
Cat Carrier
It's essential to have a carrier for your cat, whether it's for vet visits or for travel. Comfort and safety should be the top priorities when selecting a carrier.
Our top pick is the Sleepypod Mobile Pet Bed. This carrier is like no other – it's as luxurious as it gets! The Sleepypod Mobile Pet Bed features superior cushioning, a cozy fleece liner, and adjustable ventilation panels. Best of all, it doubles as a cozy bed when it's not being used for travel. That way, your cat will always love their carrier!
The Importance of These Luxury Cat Products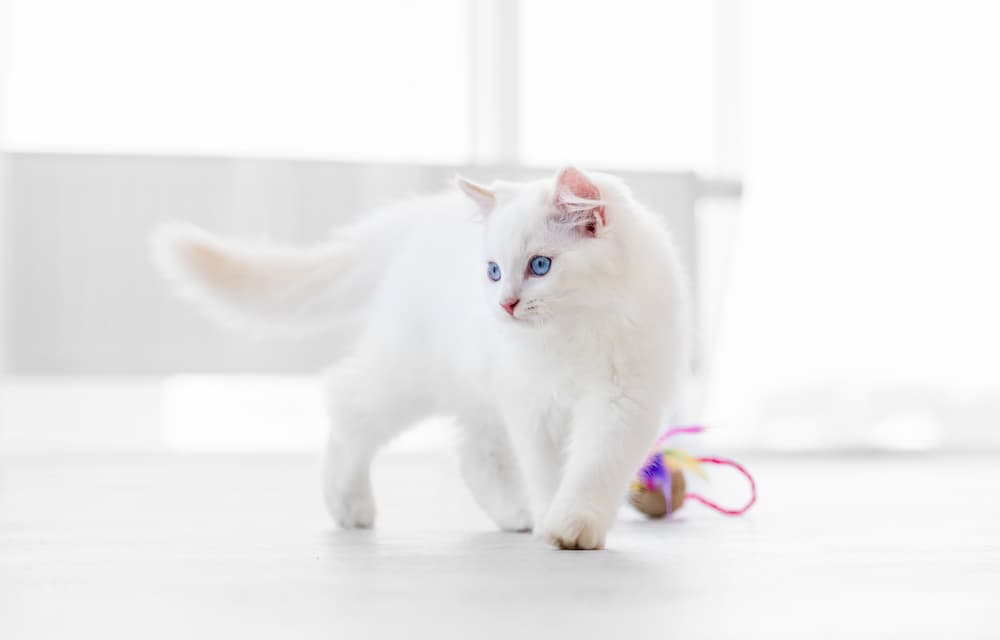 Investing in luxurious cat accessories is not merely about indulgence; it's about understanding and catering to the unique needs and preferences of your pet. Cat trees and interactive toys provide the necessary stimulation and exercise for your cat, keeping them physically active and mentally engaged. A high-quality cat bed and a comfortable carrier offer the comfort and security your feline friend craves, contributing significantly to their overall well-being.
A cat water fountain, one might argue, is a luxury – but in reality, it serves a critical purpose. Cats are notorious for not drinking enough water, and the continuous flow of a water fountain can encourage better hydration habits, ultimately leading to improved health. Meanwhile, the cozy, plush sofas and beds are not just about comfort – they also give your cat a sense of territory, a place in your home that is exclusively theirs.
In sum, all these high-end accessories are about ensuring the physical health, mental stimulation, and emotional well-being of your feline companions, while also acknowledging and celebrating their unique personality traits. And isn't that what pet ownership is all about? Sure, these luxurious items might be a bit of a splurge, but seeing your feline friend's contentment is absolutely priceless!
Conclusion
In conclusion, providing your feline friend with luxurious accessories is not just about spoiling them but also about enriching their lives. These accessories, which range from cozy cat beds to interactive toys, cater to your cat's physical, mental, and emotional needs, promoting their overall well-being. A cat tree provides much-needed exercise and entertainment, a plush bed offers a comfortable spot for those cat naps, an interactive toy keeps them mentally stimulated, and a water fountain encourages healthy hydration habits.
As cat lovers, it's our responsibility and privilege to provide the best for our pets. The joy and companionship they bring to our lives are immeasurable, and they deserve nothing less than our best. So why not pamper them with these luxurious accessories? Not only will you enhance their comfort and well-being, but you'll also create a shared space that truly feels like home for both of you. So don't hesitate – treat your feline friend to these luxurious accessories today. After all, there's no better sight than a purring, content cat!