If you're a cat-crazy parent, Temu is your dream come true! There are tons of cat products on Temu. This online mecca has everything from the practical to the downright silly — all sure to make both you and your furry friend purr with joy. Whether it's comfy bedding for a kitty or tantalizing toys to get them excited, TEMU has got you covered!
Temu has anything and everything you can think of — for people and pets. Not to mention, you can order with confidence; shipping is fast and the products are of good quality. Plus, if you sign up for text notifications you'll be alerted of all kinds of coupons and lightning deals that make these already amazing prices even better!
Cat Products You Won't Believe You Can Find On Temu!
If you're unsure about Temu, the team here at Catington has personally placed multiple orders on the app. We were pleasantly surprised by the speed of shipping and by the quality of the items. Just be sure to carefully read the descriptions and the measurements, as some items are smaller than expected.
Take a look at our favorite cat items below and get ready to roll over with excitement.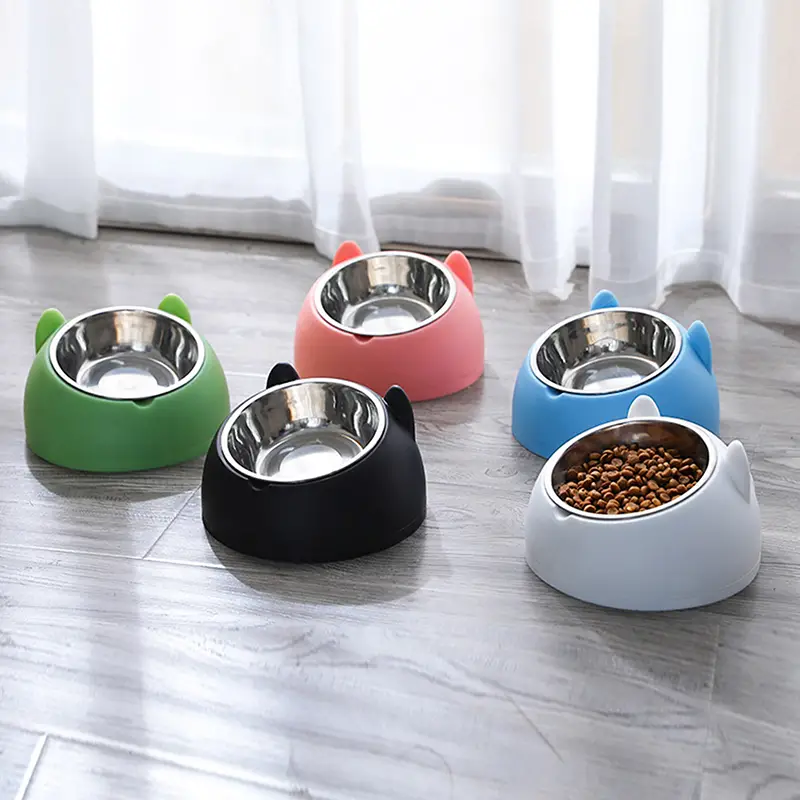 Say goodbye to messy meal times with this durable stainless steel cat dish. Designed with a non-slip base, this dish prevents spills and messes from ruining your floors. Suitable for both food and water, it's perfect for all your furry friend's needs. And the best part? It's easy to clean and maintain, so you'll have more time to snuggle with your cat. Plus, for less than $5, you can't go wrong. With a cute cat design and a variety of colors to choose from, meal times just got a little more fun. And the angled design ensures your cat will have no problem reaching every last morsel.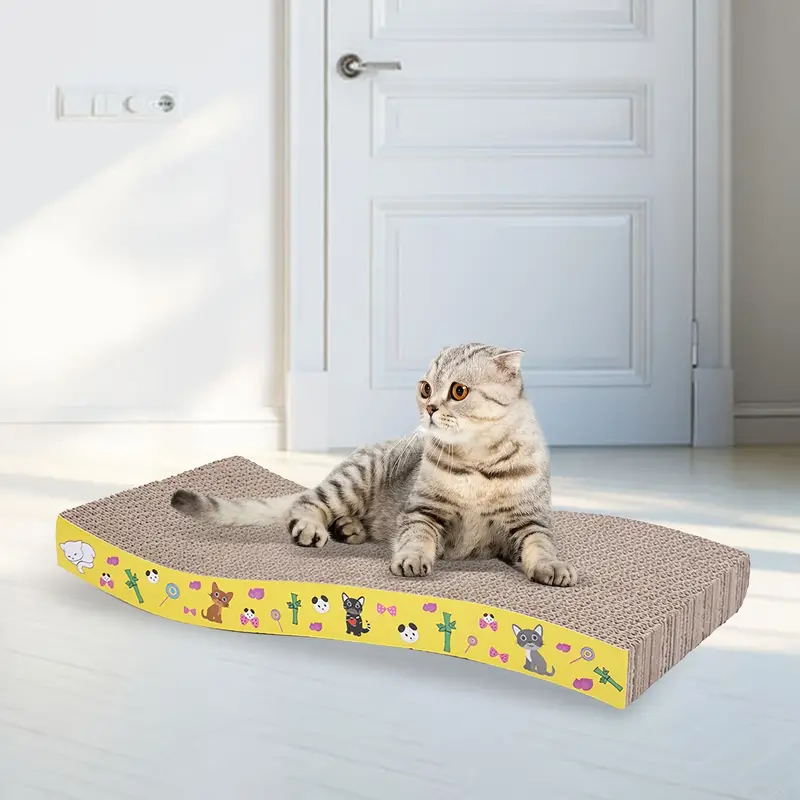 If you're a cat lover, you know that keeping your furry friend entertained and happy is a top priority. And when it comes to scratching, sometimes your furniture can become an unintended victim. That's where this corrugated cardboard scratcher comes in! Made with high-quality materials, this scratcher is durable enough to withstand even the toughest of scratchers. Plus, it provides hours of entertainment and exercise for your cat while protecting your furniture. And the best part? It's portable and easy to move to any room in the house, so your cat can scratch to their heart's content. And at less than half the price of retail, it's a steal for any cat parent.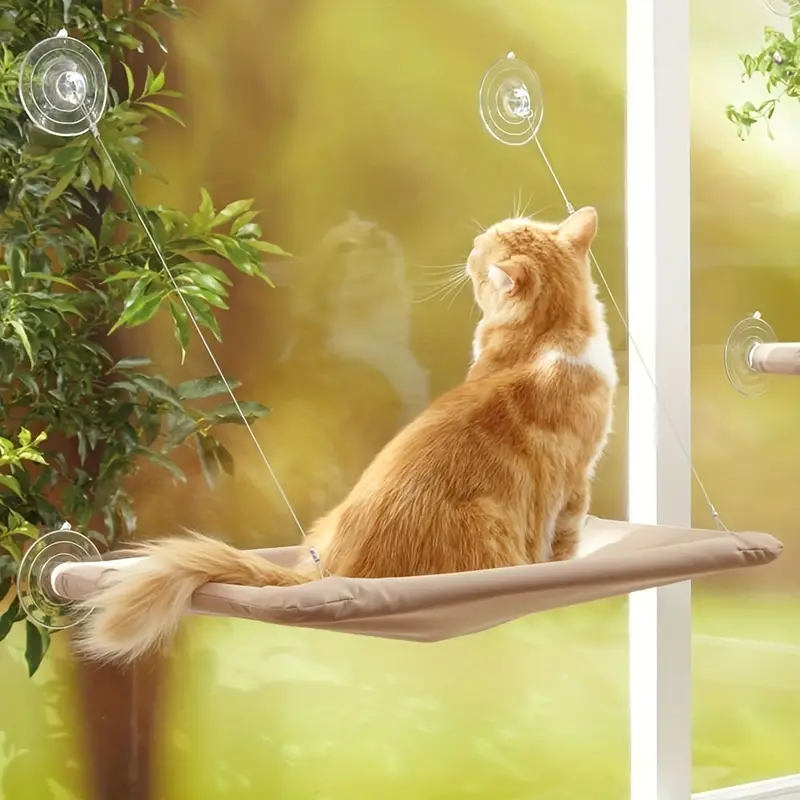 If you're a cat lover, you know that they love to find cozy spots to nap and relax in. That's why this window seat is a must-have. Not only is it easy to install with its suction cups that can be attached to any smooth surface like windows or glass doors, but it's also incredibly comfortable and cozy for your furry friends. Plus, the hammock is designed to save space, making it great for small apartments or homes. It gives your cat a front-row seat for bird-watching!
Are you looking for a way to take your furry friend on outdoor adventures while keeping them safe from harm? Look no further than this escape-proof cat harness! Designed with your cat's security and comfort in mind, the vest-style harness features adjustable straps for a perfect fit and a quick-release buckle for hassle-free on and off. Made with high-quality materials, this durable harness is perfect for walking and comes in a variety of colors to suit your feline friend's style. Whether you're exploring the great outdoors or simply taking a stroll around the block, this escape-proof cat harness is the perfect accessory for your furry adventure partner.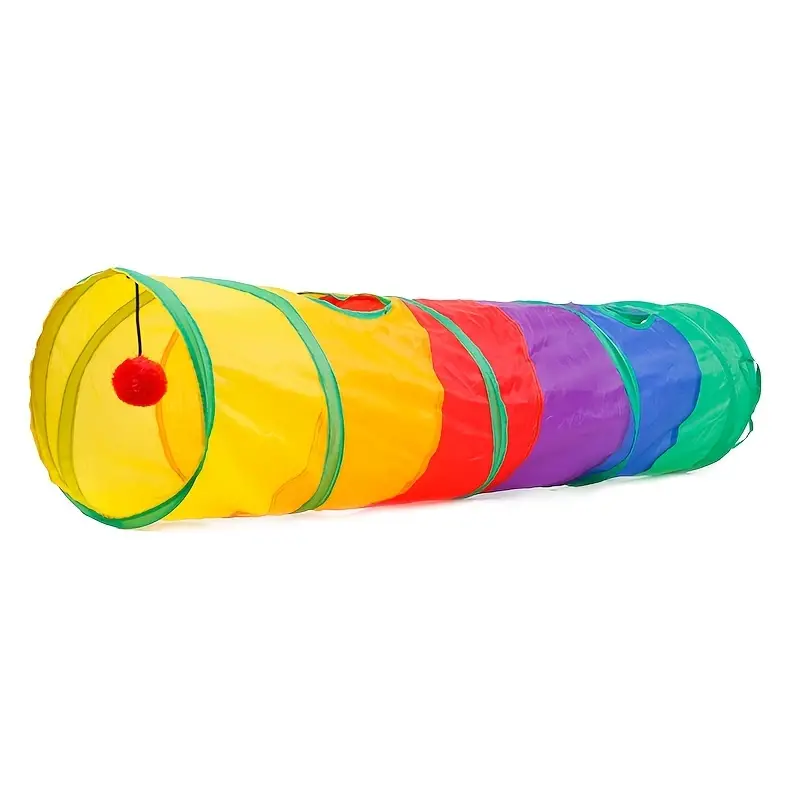 Are you tired of seeing your indoor cat lounging around, looking bored and unstimulated? Say no more! This multicolor cat tunnel with two holes is just what you've been looking for to keep your furry friend entertained for hours. Made with high-quality, durable materials, this cat toy is built to withstand even the most curious and active cats. Plus, the vibrant colors and playful design add a pop of color to your home decor. Simply unfold it and let your cat explore and play to their heart's content. Trust us, your feline friend will thank you for this safe and stimulating indoor playtime option.
How to Find Cat Products on Temu
First, you'll need to visit Temu.com online or download the Temu app. (Use these links to get a $100 coupon bundle and 50% off your first order!) Then, find all your cat-related products and accessories with ease by searching "cat" in the top search bar. Or, if you don't know what you're looking for just yet, scroll through the selection of pet supplies to find everything from cat furniture to litter scoops and toys!
After you place your order, you'll receive your items within a week to ten days. Get ready for meow-velous shopping experience unlike any other!
Just remember, these great deals won't last forever, so get shopping and make sure your cat is living their best life! So, there you have it — some of the incredible deals on cat products we found at Temu! Now's the time to stock up and save so you can keep your furry friend happy. Happy shopping!