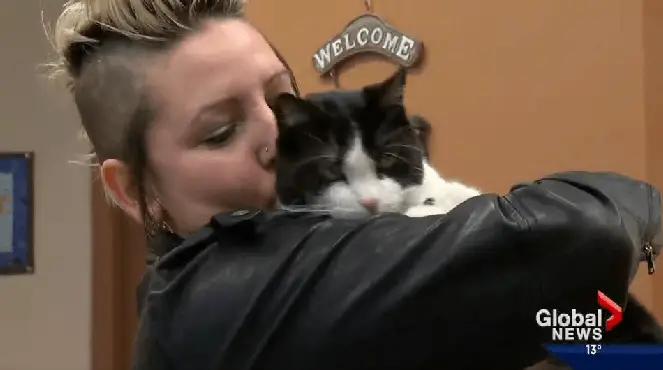 Krista Sylvester got the surprise of a lifetime when she got a phone call from the Britannia Kingsland Veterinary Clinic in Calgary, Alberta, Canada informing her that her lost cat had been found. It was a surprise, because her two cats were definitely safe at home – she was looking right at them! After they explained it was a black and white cat whose records dated back to 2003, she realized they had found Phoenix – her black and white kitty who had disappeared more than a decade earlier!
"I was a little bit shocked …. I never thought I'd see him again."
A client had brought Phoenix into the clinic after he was found wandering the neighborhood. While the kitty didn't have a microchip, he did have an old, faded identification tattoo in his ear that linked him back to a now-closed veterinary hospital. Undeterred, the clinic reached out to the Calgary Humane Society, which happened to have his ownership records on hand. Since she was the last owner on record, Sylvester is still responsible for the kitty, and he was returned to her.
picking up my cat after he was lost for over 10 years today… crazy! #yyc #crazycatlady #reallife #thecatcamebacktheverynextdecade

— Krista Sylvester (@IwroteIT) October 27, 2016
Phoenix snuck out of Sylvester's backyard more nearly 12 years ago and has finally returned. Where has he been? There's no way of knowing for sure, but he appears to have been living with someone and is in good health, though slightly overweight. Before being reunited at the vet's, Sylvester said she hoped his recent owner would hear about him and come forward.
"I feel bad because I know he has a real owner who is probably missing him. So I would be more than happy to return him to his home."
Now that they've been reunited, she's rethinking that. "I want to keep him if it works out," she said. "But at the same time, if someone recognizes him and they raised him, for the last 10 years then they can let me know and we can work it out."