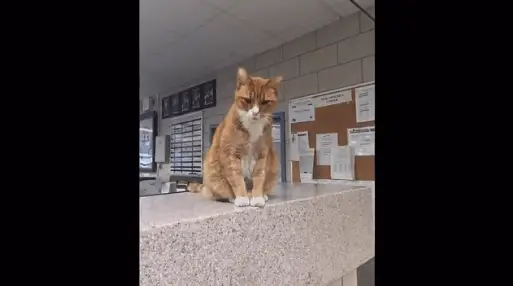 Popo was a special orange and white tabby cat that lived at the 33rd Precinct in Washington Heights in New York City. A beloved member of the police force, he passed away last weekend at age 11.
Commanding Officer Wilson Aramboles tweeted:
We regret to announce the passing of 33 Pct member "POPO". A loyal friend and family member for 11 years. R.I.P. 2005-2016 🙏 pic.twitter.com/IMArueWAkQ

— NYPD 33rd Precinct (@NYPD33Pct) December 31, 2016
Many people tweeted their condolences to the precinct, including:
@NYPD33Pct So sorry to hear about Popo. My husband used to work in the 33 and told me about Popo on many occasions.

— Patricia Papageorge (@trishpapageorge) January 1, 2017
@NYPD33Pct my sympathy on your loss of Popo, best looking officer in your precinct. Rest in paradise Popo.

— Elliott (@elliott96) January 1, 2017
@NYPD33Pct I am SO sorry for your loss. It is obvious from the images that #POPO was a welcomed & loved member of your family. #RIPPOPO 😿☮️💙

— Patient Zero (@PatientZrow) January 2, 2017
@NYPD33Pct my condolences for Popo 😢 pic.twitter.com/7rTclPAlVv

— Jackie (@Demoniclady) January 2, 2017
@NYPD33Pct Thank you to the NYPD for keeping NYC safe and thank you to the 33Pct for taking care of POPO. May He Rest in Peace.

— John Smith (@JohnSmi57701609) January 2, 2017
It's clear that Popo was deeply loved and will be missed by the officers and staff at the 33rd Precinct. Hopefully they'll find another rescue kitty to love soon.