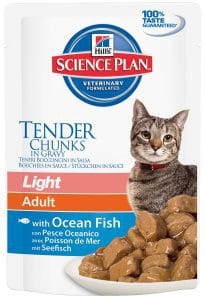 Hill's Pet Nutrition is voluntarily recalling specific manufacturing batches of the single serving cat food pouches identified by date codes listed below. Due to an error by an ingredient supplier, the products contain high levels of iron. Iron is an essential nutrient in a cat's diet but too much iron may cause digestive upset, including diarrhoea and vomiting, and have more serious health effects.
The issue in the United Kingdom is limited to the products and date codes listed here. No other date codes of these product or other Hill's products are affected by the recall at this time.
If you have purchased the recalled product, do not feed it to your cat, and consult your veterinarian in case of concern. Also, if you have purchased any of the listed products with the specified date codes, please return it to the place of purchase for a full refund under Hill's 100% Satisfaction Guarantee. The recalled products should have been removed from store shelves, so that what is currently available on shelf is safe to feed as intended.
If your product of choice is not available, store personnel can suggest a suitable alternative product or you can contact Hill's at 0800 282 438 or email: HillsUKCustomerservices@hillspet.com for advice.
Regarding the incident, Hills says:
"At Hill's we take great pride in the quality and safety of our pet food products. We deeply regret this situation occurred and can assure you that we are working with our suppliers to further improve product safety procedures and prevent a similar mistake from happening again."
Click here for a complete list of the affected products.