June and Michael Ratcliff moved to the Mediterranean island of Cyprus from England in June of 2002 hoping to begin a peaceful, simple life relaxing in the sun by the sea.
Their life turned out to be anything but simple. They discovered an island full of cats and dogs in desperate need. They don't have the time or the money for relaxation and enjoyment, but instead struggle every day to help the poor cats and dogs that are suffering to survive and avoid cruelty.

Together June and Michael created the Cyprus Pride House, and have dedicated their lives to helping the sick, injured, abandoned, abused, and neglected cats and dogs that inhabit the island. Over the years they have rescued, rehabilitated and rehomed hundreds of abandoned and abused cats and dogs. They also run a program of neutering and feeding street cats and dogs.
June and Michael have rescued cats that have been hit by cars, resulting in broken bones and many other injuries. Many cats have the flu, worms, diarrhea, and respiratory infections, often result in a cat losing its eyesight. Several are simply starving to death. Kittens are thrown onto the street or in trash cans, too young to survive alone, or left hungry and scared after their mums are killed by cars. They have hand-reared so many kittens, some from just hours of them being born and even straight from the corpse of their mother who got killed on the road.
Take Marley for instance – her pregnant mother got hit by a car and left to die. A good samaritan rushed her to the vet where, sadly, she died. The vet quickly opened the mum up in the hope to save the four kittens inside, but they were all dead except for Marley. June and Michael happened to be there at the time and took Marley to Cyprus Pride House. She is now grown up and happily living in her forever home in the UK.
The island of Cyprus is overrun with stray cats and dogs – and there is nowhere for the poor creatures to go. Cyprus Pride House doesn't have the capacity to take them all in – there are far too many!
We do find homes for many of the animals we rescue, but not enough for the amount we often take in – one goes out to a new home and another five come in!
Thankfully, with the help of friends and supporters back in the UK, June and Michael are able to rehome these cats and dogs in the UK and also to other European countries.
Through a network of volunteers CPH has flown hundreds of cats and dogs to loving forever homes in the UK and across Europe. All animals are neutered, microchipped, vaccinated, wormed bathed, hold pet passports and are flown to selected airports. A minimum adoption fee is required, the rest of the costs are met by the fundraising efforts of CPH supporters.
We have rehomed many hundreds of cats and dogs all over Europe, so please consider adopting wherever it is you live. All the Cyprus cats and dogs are so affectionate, never aggressive, just sometimes afraid, but who can blame them. They make wonderful loving pets.
Cyprus Pride House has an 'adopters' group on Facebook where adopters get to share their stories and pictures. Here are some of the lucky ones in their new homes, relaxing, having fun and a loved part of the family: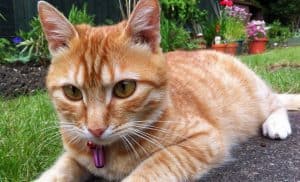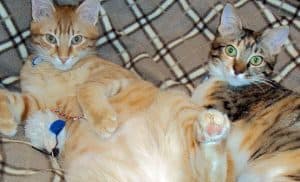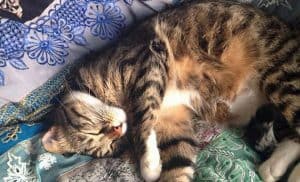 Sadly, CPH constantly struggles to raise funds on a monthly basis, yet June and Michael face new cases of abandoned, abused and injured animals every single day.
Could you offer a home to a Cyprus cat or dog?
Please help them by donating, adopting, fostering, volunteering or fundraising. For more information please visit: www.cypruspridehouse.com
email junemichaelcyprus@yahoo.co.uk or on their Facebook page.
Debra Jacobs is a great supporter Of Cyprus Pride House, having adopted a little grey tabby kitten from them in July this year. Miracle is now 8 months old and is a wonderful addition to the family even though she is a live wire! The process of adopting her was so easy with June and Michael's help.  It started with an application form, followed by a home check.  After paying an adoption fee, Debra collected Miri from Heathrow airport on the 21 July 2015. On the same flight, were another four kittens and cats on their way to their forever homes via Cyprus Pride House.