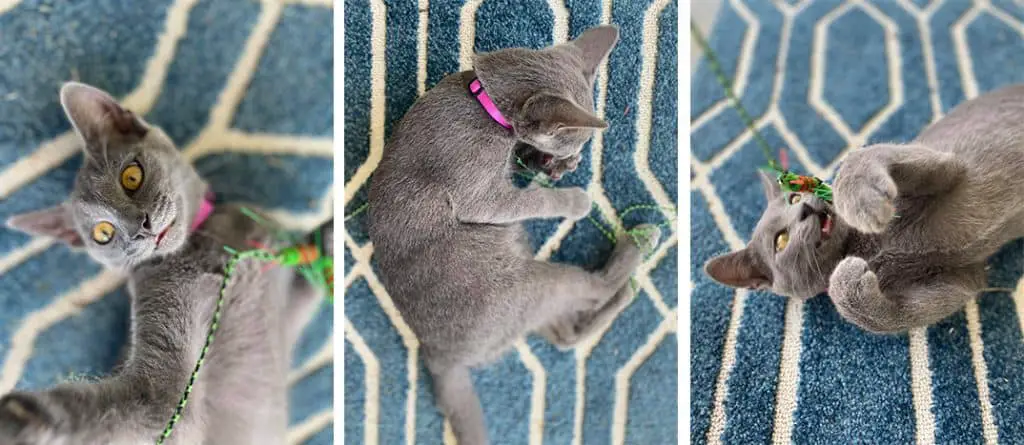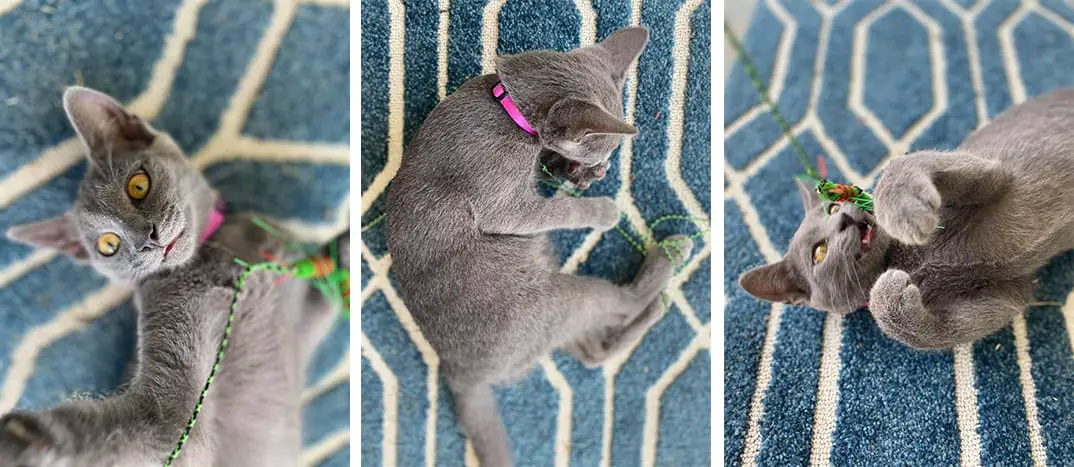 Cat Behaviorists and trainers agree – interactive play is an absolute necessity for a happy cat. Not only is it fun, it provides valuable exercise and helps strengthen the human-animal bond — and isn't that important to all cat lovers?
Cat Behaviorist, Pam Johnson-Bennett explains, "Interactive play involves YOU. The concept is simple. You use a fishing pole-type toy to create prey-like action. If you're going to truly have a "think like a cat" mentality when it comes to cat behavior, you have to conduct a game that allows your cat to act like the athletic hunter she was born to be. With the interactive toy, you move it so the target at the end of the string can wiggle, slide, dart and creep around the room. When you move the toy like prey, it will stimulate the hunter in your cat."
Understanding the importance of interactive play, I was more than happy to try out the new Critter Collector Series of interactive toys from RompiCatz.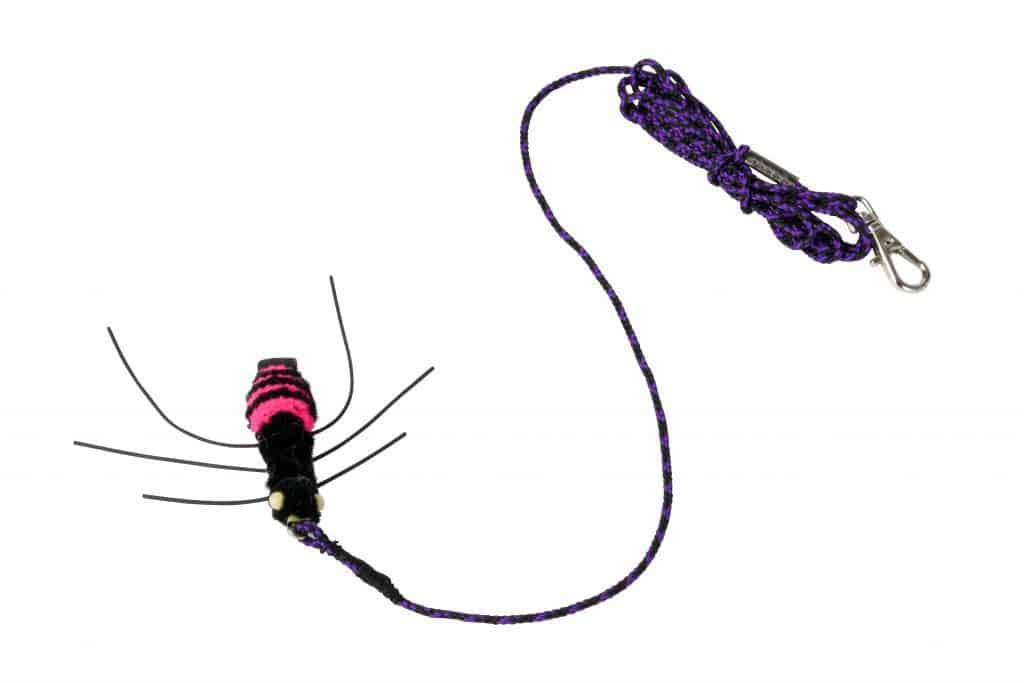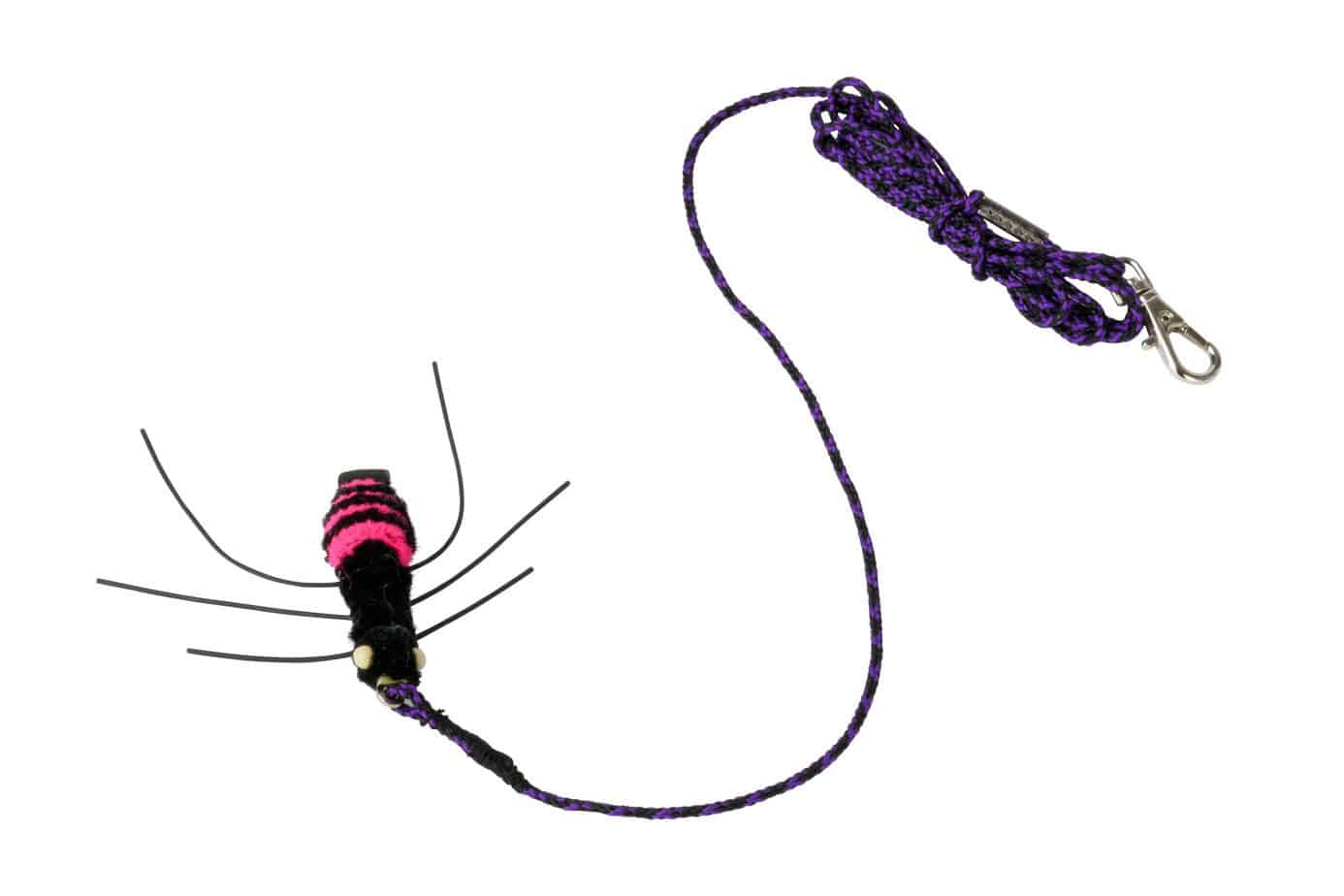 If these toys look familiar to you, it's because they're made by the same company that made the wildly popular Neko Flies toys from years past. They've been updated, improved, rebranded, and repackaged and they're even better than they were before!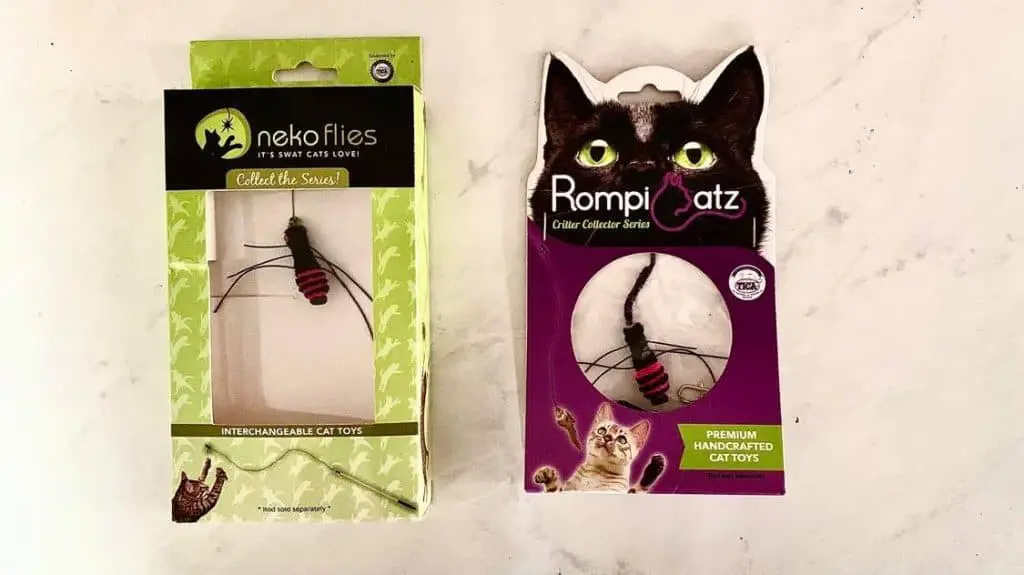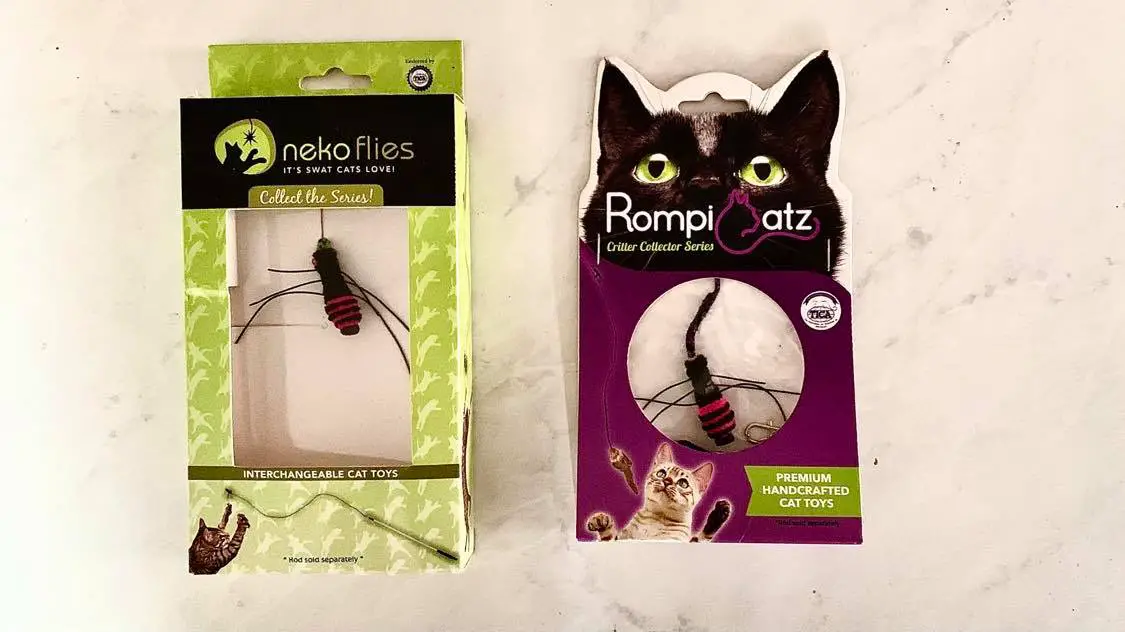 The Critter Collector Series consists of a rod and 7 separately purchased interchangeable attachments that look like realistic critters — from a shimmering dragonfly, to a jiggly, fuzzy centipede, and a gliding, flying bug to a furry mouse. Fortunately, the toys are quick and easy to attach to the rod — because as soon as my cats saw me pull the Bugzbird out of its packaging they started circling around my legs. It was time to catch the bug!
Now the real test began. Could RompiCatz stand up to the teeth, jaws, and flying claws of my crazed, prey driven cats? To my pleasant surprise, yes! Despite the chewing, swatting, yanking, jumping 5 feet in the air and catching, dragging me across the room with Bugzbird in mouth, the RompiCatz stayed intact. Not a wing or string out of place! The cats were going crazy. I wore out long before they did…and the Bugzbird never took a beating. I highly recommend RompiCatz — my go-to toy for interactive play with the kitties.
(I've had lesser toys fall apart and cheap wands break in half by now. No joke.)
So how did RompiCatz come to be? Ellen, the company's owner and a multiple cat parent herself, was dissatisfied with toys available in the cat marketplace and decided to create a toy that would measure up to her and her cats' particular needs. Now, RompiCatz has multiple products, from mylar wand toys and awesome cat beds, but the Critter Collector Series is the idea that started it all.
Check out the toys in action:
A word of caution – the Critter Collector Series toys are designed so well to look like prey, that your cats will try to "kill" them after play time is over! Ellen tells us, "We have had many customers tell us their cats have opened doors and drawers to get at the toys, please put away in a safe place after playing."
Get your paws on your own Critter Collector Series wand and BugzBird attachment toy! Available on Amazon or at your local independent pet store.
Or enter to win one below!
(Sorry, giveaway is limited to our friends in the USA only.)
a Rafflecopter giveaway
Disclaimer: We were given product in exchange for an honest review. This post contains affiliate links. If you make a purchase after clicking them, we may get a small commission. The Catington Post is dedicated to finding the best products for cats and we will never recommend a product that we don't love.