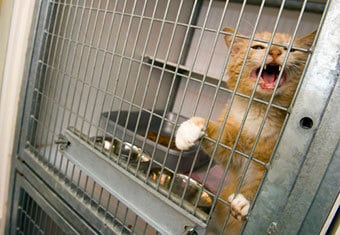 A certified pre-owned car sale, with no money down and zero percent financing is bound to bring out hordes of car shoppers. Well, taking this idea to a nobler cause, ASAP, the nonprofit organization which takes care of all of the cats at the Santa Barbara County Animal Shelter in Goleta, CA hosted its third annual Certified Pre-Owned CAT Free Adoption Event!
According to the Santa Barbara Independent, this organization is in it's third year of holding the wildly successful event. ASAP, is noted for being the first organization in the US to work with a municipal shelter to stop the killing of adoptable cats for population control.  However, they also became the first animal rescue organization in the region to offer free adoptions when they held the first Certified Pre-Owned Cat Sale two years ago. Since 2011, the event has provided loving adoptions for over 160 cats. The special adoption weekend for 2013 was held on Saturday, August 17 and Sunday, August 18 at 5473 Overpass Road in Goleta, CA.
Throughout Santa Barbara County, cats and kittens are flooding into shelters and rescue groups, especially as "kitten season" swells the number of animals needing homes. There are 70 adoptable adult cats waiting for homes at ASAP, and over 40 adoptable kittens, plus more than 60 kittens living in foster care. In addition to the cats and kittens arriving daily, ASAP is committed to helping out the overwhelmed North County shelters in Lompoc and Santa Maria by taking some of those cats and kittens as space permits. The Certified Pre-Owned Cat Free Adoption Event makes it possible to get many of these cats into homes more quickly, improving their quality of life while reducing the strain on the county's shelters.
So what can a person expect at a certified used cat event? First of all, the usual $75  adoption fee is waived. There is also 0% down payment, 0% financing and no monthly payments; in other words, 100% free! Whether you prefer black cats, striped cats, Siamese cats, little cats, chubby cats, it doesn't matter because there are many shapes, sizes, colors and models available, even some scratch and dent models needing extra TLC. There are also brand new 2013 models up for adoption.
Potential adoptive owners should be prepared to meet ASAP's standard adoption criteria, including home ownership verification or landlord approval. A driver's license or other valid identification is required for all adoptions. But the most important qualification for adopting a cat is to  be a kind, responsible, patient cat loving human. Cats from a shelter may need extra love and attention and therefore it takes a special person to provide this kind of care.
Many happy felines are now living in loving homes thanks to the efforts of ASAP, county shelters and all the humans involved in holding these adoption events. We at the Catington Post think that this is a wonderfully creative idea and hopefully other shelters in the country will follow this successful model and hold cat sales events of their own. But just remember… Sorry, no trade-ins!
For more on information on this special event, please call 805-683-3368 or visit: www.asapcats.org