A tattoo artist in China caused outrage after he filmed himself tattooing his pet 4-month-old kitten and then uploaded the video to his Weibo (Chinese social media) account. The man, who goes by the name Qiangzi, has run a tattoo parlour in Jining, China's Shandong Province, for the last seven years.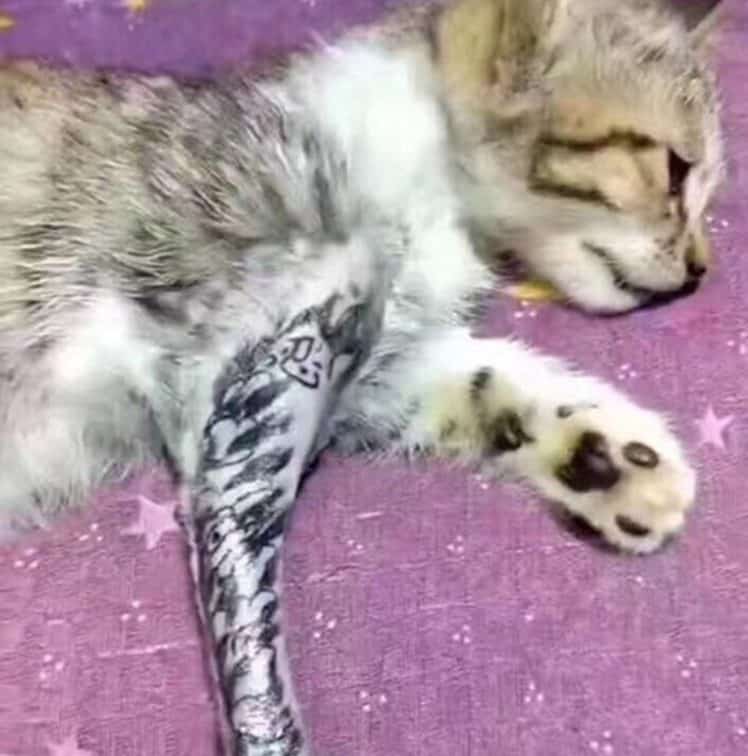 Quangzi told MailOnline: 'The ink contains plant extract and will cause no harm to the animal. The tattoo will fade out as skin changes over time." He sedated the kitten first with anesthetic he said he bought from an animal hospital. Photos and video show the Chinese character 'endurance' tattooed to the kitten's right leg.
Quangzi told a reporter the tattoo is "a form of art" and that's why he wanted to give it to his kitten. However, he was not prepared for the backlash he got from animal lovers after he uploaded the video to social media.
One person on Weibo wrote:
'Did you have the cat's permission before doing this?'
Another said:
'You can practise on a piece of pork, or even buy synthetic skin on Taobao. Why did you do it on an animal?'
That's when Quangzi apparently realized his mistake and took the kitten to Zhangying Stray Animal Rescue, a nearby animal rescue center, to beg forgiveness from the public. Zhu Enxia, 55, the founder of the rescue centre, confirmed to MailOnline that the cat was being looked after by them, and the tattoo is healing and fading.
She also stated that, while Quangzi has expressed his desire to have the cat back, she would not give the cat back to him. Instead, the cat is waiting for a new owner.