As much as you'd love to spend 24-hours a day with your cats, for most, it's simply not possible. Luckily, several pet camera manufacturers understand the attachment to our pets and have created some great ways to stay in touch while you're away from home!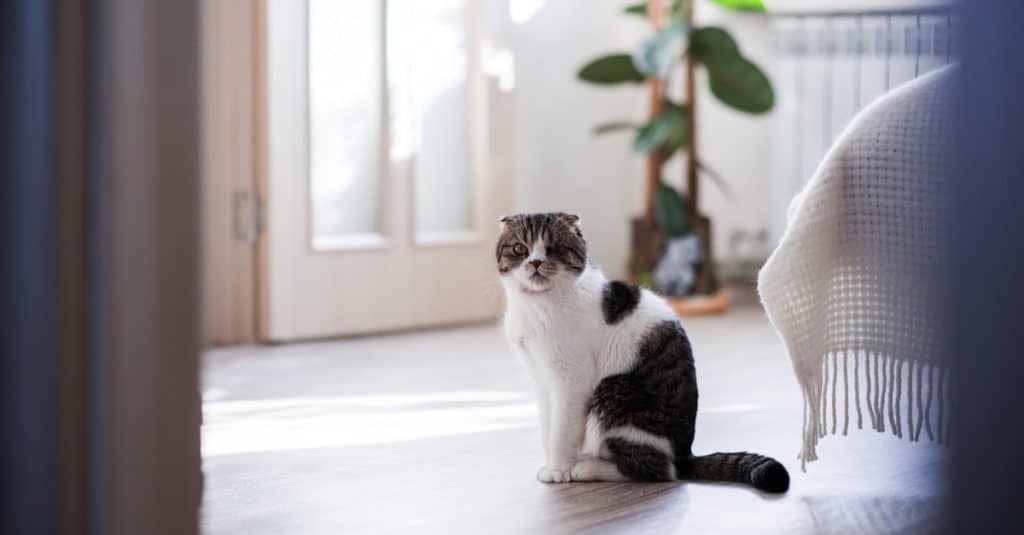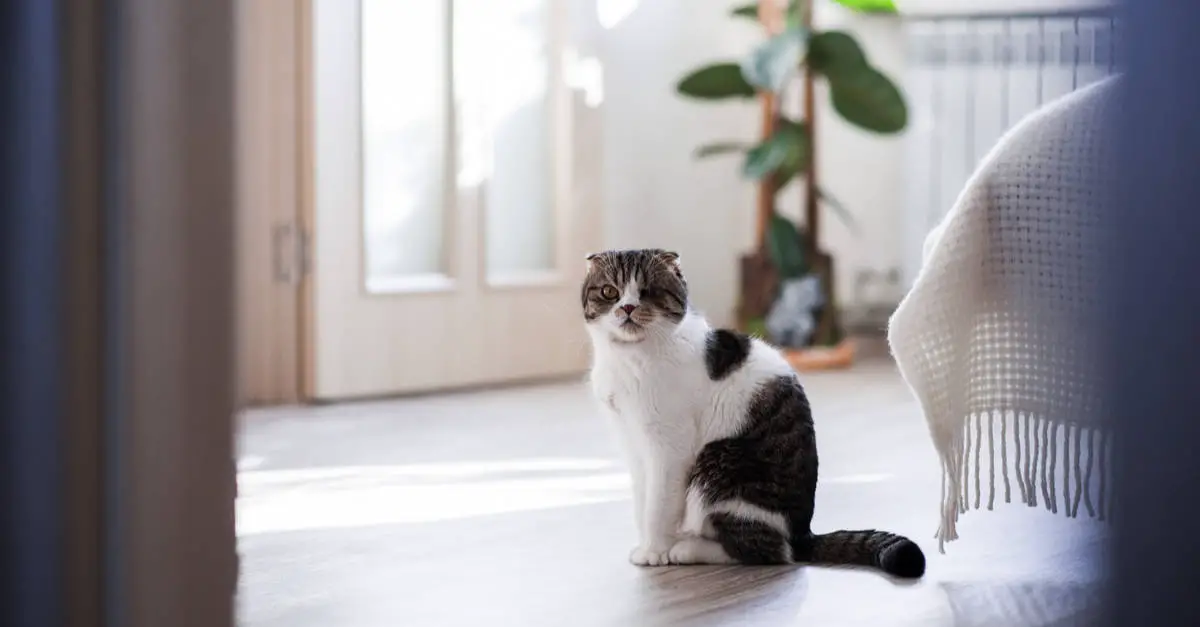 More than a standard home surveillance camera, pet cameras offer added features and benefits tailored specifically for pets, while still offering the sense of security that comes with around-the-clock monitoring and recording.
So, whether you just want to peek in on your adorable cat, check to make sure he's not getting into trouble, or even want to toss a treat and say "hello!" we've scoured the market to bring you the Best Pet Cameras for Cats!
Factors we considered in choosing the Best Pet Cameras:
Ease of Use: A pet camera should be easy to install, easy to set up, and easy to use, without requiring a degree in engineering or an electrician's license. Beyond setup, it should be simple to access remotely with an app or login available across a broad range of devices and operating systems. In selecting our top picks, we considered how easily the device could be installed and used by the average pet parent.
Features: Naturally, a pet camera will allow the user to remotely view their pet from anywhere. But, added features, tailored specifically for pet parents, such as noise or activity alerts, two-way audio, panning, nighttime vision, or high-definition video recording are also important. Additional perks might include the ability to dispense treats, remotely "play" with your pet, play music, or snap photos to share over social media.
Quality: There are dozens of surveillance cameras marketed to pet parents that offer a broad range of features and functions, but not all cameras are created equal. We considered both the quality of the video recording and the quality of the device in determining the best pet cameras.
Subscription Requirements: Many home surveillance and pet cameras offer video recording and storage, but requirements and costs for cloud storage vary greatly from camera to camera. Our top picks offer free or low-cost cloud storage for saving videos and snapshots of your furriest family.
Appearance: While this isn't the most important factor, the camera's appearance may play a role in the purchase decision. We considered whether our top picks would be an attractive addition to your home.
And the top picks are…
BEST OVERALL PET CAMERA FOR CAT OWNERS: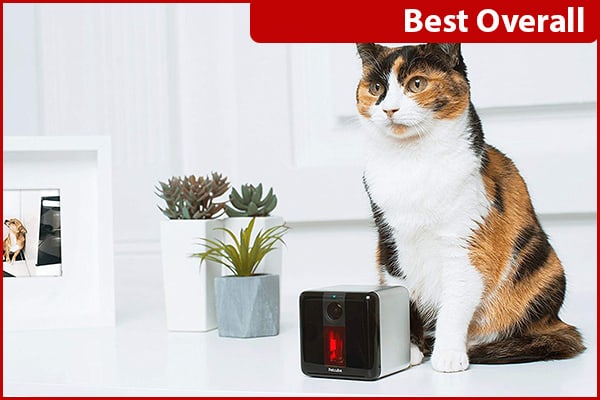 Pros: For our top pick, the Best Overall pet camera for cat owners, we wanted a device that, first and foremost, had great video quality, easy set-up, and user-friendliness. Next, the camera needed to have some cool cat-centric features that made it more than just a camera. And third, it needed to be reliable and an attractive addition to the home. The PetCube Play Wifi Camera checks all the boxes.
With crisp, clear 1080p high-definition video and night-vision, it's easy to check-in on your cat day or night from anywhere in the world on your smartphone. Taking it a step further, the PetCube offers two-way audio, allowing you to not only listen in but to talk to your cat, too. And, with sound and motion alerts to your phone, you'll never miss any of the excitement at home while you're away. As an added bonus, this pet camera has a built-in laser that you can play live or schedule for auto play, which helps relieve boredom when you aren't around.  Your cats can play while you're away! And, with the added ability to keep tabs on both your cat and your home, you'll enjoy the sense of security that comes with home surveillance. Plus, it comes in black, silver, and rose gold so you'll have no trouble finding one that seamlessly matches your home's decor.
Cons: While the PetCube Bites does offer access to recorded video footage for the last four hours, extended video recording requires a subscription to their cloud service for a reasonable fee.
"Super easy to set up. The wide view captures an entire room from corner to corner, much wider than any other camera I've seen. Night vision works great, laser works great, picture quality is great, but sound quality isn't perfect – you'll hear a delayed echo on your phone when you turn sound on. Not a major issue though. The only major downside to this product is that you'll become addicted to watching and playing with your kitties. Why would I do my job at work when I can watch my kittens sleep for 12 hours a day? Maybe the app should track how long you watch the camera for and send you polite reminders that maybe you have an unhealthy addiction…" –Victoria
Shop for PetCube Play on Amazon
Shop for PetCube Play on Chewy.com
BEST ON-A-BUDGET PET CAMERA FOR CAT OWNERS
Yi 1080p Home Camera & Pet Monitor
Pros: While the Yi Home Camera and Pet Monitor isn't loaded with tons of bells and whistles, you simply won't find a better wifi-enabled pet monitoring camera at such a low price point. Period.
That doesn't mean the Yi isn't without its important features, though! In addition to crisp, clear 1080p high definition, wide-angle video recording that streams seamlessly to your smartphone, the Yi offers infrared night-vision, allowing you to see clearly even in near pitch-black conditions. Add two-way audio, allowing you to both hear and speak to your cat, motion/noise alerts sent instantly to your smart device, and the ability to link multiple cameras to a single account and you've got an inexpensive, yet totally reliable and solid home and pet monitoring system. Plus, the Yi automatically records and stores several seconds of video (with sound) when motion or noise is detected free of charge. Insert a microSD memory card into the device to store hours of video without the need for a cloud subscription.
Cons: The Yi camera isn't packed with features and functions that many other pet cameras offer, like treat dispensing, but is a simple, no-frills camera for peace of mind and a sense of security.
As I live alone in a managed apartment building, I wanted to install a camera to monitor the inside of my apartment when I am not home. Mainly, I want to be alerted when maintenance or building management enters my apartment for maintenance requests. Additionally, as I have a cat and I sometimes am gone for a night – I wanted to be able to monitor his activity and ensure he's fairing well.
"1. Very easy to set up. It connected without any trouble to my WiFi and was very user-friendly. The app is a breeze.
2. I purchased the micro chip SD card separately so clips are saved beyond the 24 feed (until the card is full and then it will begin to record over itself).
3. It's very lightweight, so though it is meant to be sat atop a table or shelf, I used the Command Velcro Strips and wall-mounted it for a birds eye view of my apartment. Works like a charm.
4. I like the intercom feature. I am able to talk through it – whether it be to someone inside the apartment or the cat (hey, he gets lonely) and the microphone in the camera can pick up replies as well.
5. My favorite part is that you can choose when you receive alerts. Obviously, when I'm home on the weekend, I don't want an alert every time I pass in front of the camera so I set it to weekdays only. From there, you can even choose the hours during which you get alerts. So if you work 9am-5pm, you just set it up for those hours and a nifty alert with a 6 second clip of what triggered the alert is available via the app.
Great camera for easy indoor use. I would definitely recommend as the quality of the image and sound can't be beat at this price point."  -Melin
Shop for Yi Home Camera and Pet Monitor on Amazon
BEST PREMIUM PET CAMERA FOR CAT OWNERS
PetChatz HD Video Treat Camera
Pros: There are so many amazing features in the PetChatz HD, it's hard to list them all! PetChatz did not skimp on quality, features, and functions when they designed what they call the PetChatz Digital Daycare system. Providing your pet with a level of interaction and entertainment second only to you actually being home with them.
The PetChatz HD is the ONLY pet camera that offers two-way video, allowing your pets to see you, too! In addition to high definition video, crisp, clear audio, and the ability to dispense treats on demand to your cat, PetChatz even has games and entertainment for your cat to enjoy while you're away. When you're not video chatting with your best furry friend, he can lounge in his favorite bed and watch DogTV from his own personal TV screen, mounted right at nose level. And, the PetChatz releases calming aromatherapy scents each time you "call" your cat, easing anxious pets that don't like being left alone.
PetChatz records video, allows you to share over social media, and stores videos and images without the need for any subscription service (So, while you may be paying more up-front for this device, you could save in the long run). Plus, they have one of the most top-notch, on-the-ball customer service departments we've ever had the pleasure of working with.
As an added bonus, PetChatz offers several add-on accessories, including our favorite the PetChatz PawCall, a small paw-print shaped device that allows your pet to call you with the press of a paw!
Cons: Initial setup can be tricky and does require a screwdriver and ability to mount the device to a wall (or to purchase the optional separate stand). You'll need a strong wifi signal or the device will need to be mounted near your wireless router, which can be somewhat limiting when determining where to place the unit. But, if you encounter any problems during setup, PetChatz customer service is absolutely outstanding and will assist until setup is complete.
"I recently went on vacation for nine days, and used PetChatz once or twice a day. My cats (Tonkinese) responded in amazing fashion. This was important to me, as my female Tonk has separation anxiety…when I'm gone, she barely eats. Her being able to see me, and me, her, made a huge difference. Heretofore I've read very little regarding how cats respond to PetChatz. Well, I was pleasantly surprised. Even with no treats, they responded (they would sit in front of the screen and look at me). Suffice it to say, I'm a huge fan!"  -Scott
Shop for PetChatz HD Video Treat Camera on Chewy.com
Shop for PetChatz HD Video Treat Camera on Amazon
NOTABLE MENTIONS:
Because there are as many varieties and styles of pet cameras as there are of dogs, no single camera will be perfect for every situation. With that in mind, we couldn't ignore these notable mentions!
Best Pet Camera That's Actually a Toy:
GOSH EasyPlay Robotic Treat Ball Camera
The EasyPlay Robotic Treat Ball is more of a toy than a monitoring or surveillance camera, but we couldn't leave this off the list. Basically, it's a treat dispenser puzzle toy that you can control remotely. And, it's got live video feed, so you can watch (up close and personal from the ball's eye view) as your cat knocks the ball around to release treats. The EasyPlay is a great way to encourage play while you're away. And, while your pet must interact with the ball to release the treats, you can "drive" the ball around the room (from anywhere in the world) using the EasyPlay app on your smartphone. Three separate treat compartments you set to a timer mean your clever cat won't empty to toy in the morning and be done for the day but will be encouraged to play several more times.
Shop for the EasyPlay Treat Ball on Amazon
Found this review helpful? Pin it!